Oakland Raiders' 5 Biggest Offseason Decisions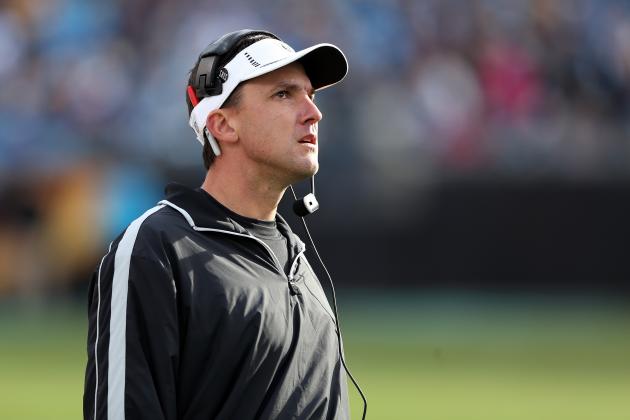 Streeter Lecka/Getty Images

In the 2013 NFL offseason, the Oakland Raiders will have plenty of significant decisions to make. Being in the second offseason of the new management regime, these decisions will be crucial to the franchise's development process.
While it is likely that Dennis Allen returns as head coach, a season like this will surely spark some serious re-evaluation on the rest of the coaching staff and of course in regards to player personnel.
Here are the five biggest decisions facing the Oakland Raiders this offseason.
Begin Slideshow

»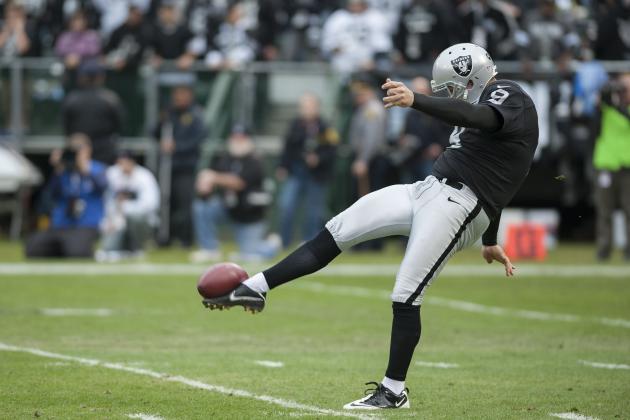 USA TODAY Sports
Shane Lechler becomes a free agent at the end of the 2012 season.
It is not too often that the contract status of a punter is among a team's most important offseason decisions. When you're talking about arguably the best punter of all time, who has long been a leader on this team, it becomes quite important.
With Shane Lechler's contract expiring at the end of the season and the Raiders already having a young and talented Marquette King waiting in the wings, the team has an interesting decision to make.
It is extremely unlikely that the Raiders would now be willing to pay anything close to the massive contract that Lechler last received. With the salary cap situation and significant amount of needs elsewhere, it is simply illogical to spend $4 million on a punter again.
What this will come down to is whether Lechler would be willing to accept a contract that pays him significantly less than what he has been paid for the last four years.
If not, Marquette King will take over. The fact that King was kept on board throughout training camp and the regular season tells us that the Raiders were planning ahead for this very situation.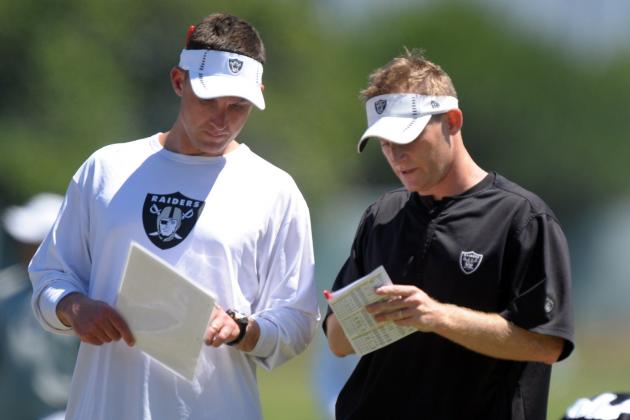 Kirby Lee-USA TODAY Sports
Dennis Allen and Jason Tarver will decide on a defensive system to build around.
As bad as the defense has looked at times this year, it has actually started to come together and play better down the stretch despite the rash of injuries it had in the secondary, it missing Richard Seymour and the Rolando McClain issue and suspension.
Upon the hiring of Dennis Allen and then DC Jason Tarver, there was much talk about a switch to a 3-4 defense. Tarver ran the 3-4 defense—and successfully so—at Stanford, but the Raiders' defensive personnel were better suited for the 4-3.
Now, with the personnel turnover likely to continue in a big way this offseason, a change to the 3-4 front becomes more realistic.
With the players they are likely to lose—without even considering who they may cut—it is safe to assume that many of the Raiders' draft picks will be on the defensive side of the ball in April's draft.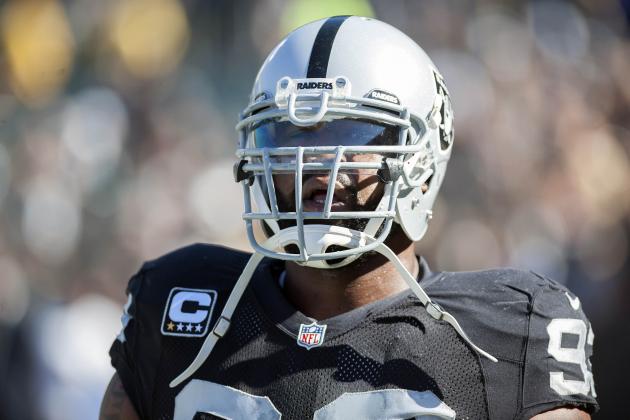 Ed Szczepanski-USA TODAY Sports
Tommy Kelly is one of several veteran players with big contract numbers.
Last offseason, Reggie McKenzie started his tenure in Oakland by attacking the dire salary-cap situation. He did so by ridding the team of some ridiculously huge contracts handed out in previous seasons. This included the likes of Stanford Routt and Kamerion Wimbley, to name a few.
These cuts certainly hurt the team's talent level for this year, but they were extremely necessary for the future of the franchise. With the salary-cap situation now slightly better but still not where it needs to be, we can expect more veterans to be released. But the question is, who?
With the emergence of Desmond Bryant, the flashes of potential from Christo Bilukidi, as well as Lamarr Houston's capability to move inside, Tommy Kelly is one player who becomes expendable. Considering his struggles rushing the passer this season, his age (32) and his big contract, he could very well be released.
Kelly is not the only one with a big contract and big cap number who could be let go. Other players include LB Rolando McClain, WR Darrius Heyward-Bey and QB Carson Palmer.
Either way, we know that a lot of changes are going to be made as the rebuilding process continues.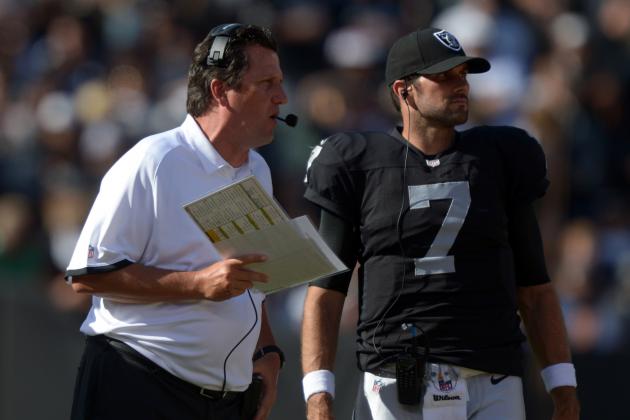 Kirby Lee-USA TODAY Sports
Greg Knapp's offense has been among the league's worst in 2012.
One would be hard-pressed to find fans within the Raider Nation that would like to see Greg Knapp return to his offensive coordinator position in 2013. Throughout this season, Knapp's offense, with largely the same personnel as a quite successful unit from 2011, has been horrendous.
The zone-blocking scheme has been a difficult transition for both the offensive line and the offense's best playmaker, Darren McFadden. The passing game has not been much better, despite some meaningless garbage-time stats making it look that way.
It is easy to assume that this kind of regression from a returning group of talented players on the offensive side would certainly forecast the departure of the OC and his system. However, Dennis Allen's hiring of Knapp and support of his system does make it a little bit tougher.
While for the sake of continuity it may not be a given, a change needs to be made. After a full season, it is strikingly obvious that the Raiders' players are not a fit for Knapp's system. Going back to an offensive scheme similar to that of Hue Jackson's from 2010 and 2011 would make the rebuild that much smoother.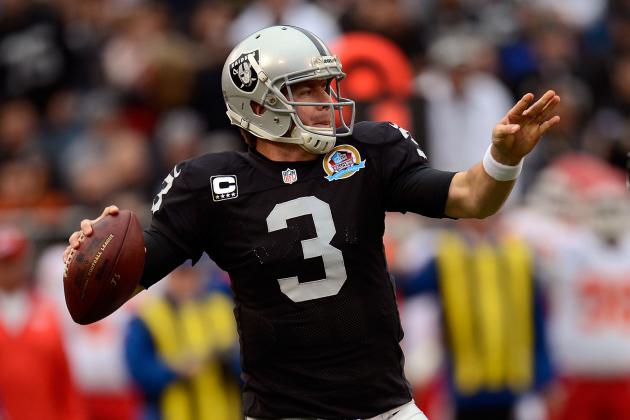 Thearon W. Henderson/Getty Images
The Raiders must decide whether or not to keep Carson Palmer as their QB.
While Carson Palmer may still have a tendency to throw some ill-advised interceptions, his play has been anything but the problem for the Raiders this year. In fact, without Palmer, this team could have found it difficult to win one game let alone the four thus far.
However, Palmer is now 33 years old. By the time this Raiders team is ready to compete, say in 2014 or beyond, he could very well be closer to retirement than to his prime playing years. With that said, do the Raiders move on now?
By releasing Palmer, the Raiders could save some of the massive salary that they owe him over the next few seasons. Salary cap space has and will continue to be at a premium, so that could be a deciding factor.
Whether the Raiders decide to keep Palmer or make the move for a younger QB via free agency or the draft will certainly be one of their most important decisions this offseason.