Holiday Bowl 2012: Grading Baylor and UCLA's Performances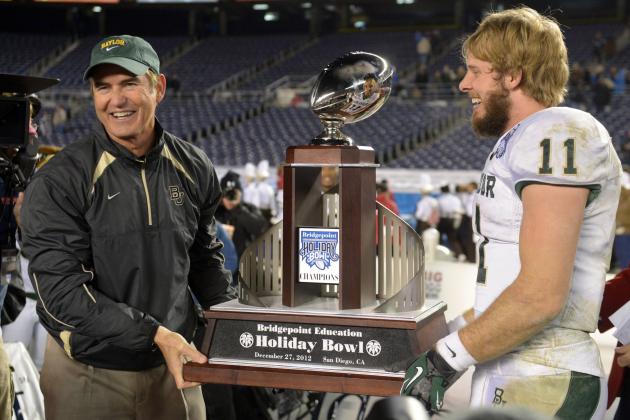 USA TODAY Sports

The 55,000 in the stands at Qualcomm Stadium on Friday night for the Holiday Bowl were primarily UCLA constituents, but on the field it was all Baylor, as the Bears of the Big 12 Conference cruised to a 49-26 victory over the Bruins of the Pac-12.
Baylor dominated up front, eclipsing 300 yards on the ground en route to an overall overwhelming performance. The Bears secured a 35-10 halftime lead and coasted through the final two quarters of play.
On the other side, the oft-maligned Baylor defense put together a strong performance against the high-flying UCLA offense, shutting down the Bruins' talented running back Johnathan Franklin.
With the win, the Bears improved to 8-5 on the year—a respectable finish while trying to replace 2011 Heisman Trophy winner Robert Griffin III. UCLA, meanwhile, will end its 2012 campaign at 9-5, a welcome change after consecutive losing seasons.
Here are the position-by-position grades for both teams from Friday night's Holiday Bowl.
Begin Slideshow

»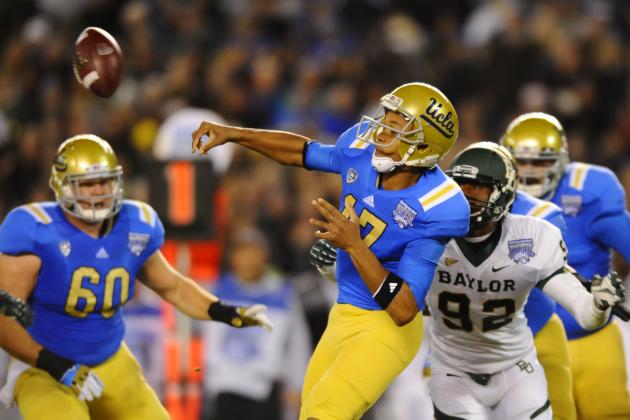 Christopher Hanewinckel-USA TODAY Sports

Nick Florence, Baylor: A
His stat line wasn't all that impressive. The senior Baylor quarterback was just 10-of-13 for 188 yards and two touchdowns—a relatively underwhelming performance for a player who averaged nearly 350 yards' passing per game.
However, Florence put together a mistake-free performance in his final game in a Baylor uniform and made enough plays to keep the UCLA defense honest, allowing the Bears to accumulate an immense rushing total.
Finally, Florence also made a number of plays with his feet, going for 37 yards and his 10th rushing touchdown of the season.
Brett Hundley, UCLA: B
Hundley didn't have his best game of the season, but it wasn't entirely his fault. The Bruins trailed nearly the entire game and Johnathan Franklin couldn't do much on the ground.
This put even more pressure on the freshman quarterback. With two offensive linemen out, he was under too much consistent heat from the Baylor defense to make the necessary plays.
He avoided interceptions, which was what he needed to do in this game, but he really didn't have enough help around him to lead this team to victory.
He ended up 26-of-50 for 329 yards and three touchdowns—a solid performance. But when a team is crushed like UCLA was, the QB has to receive some of the blame. Particularly when that team goes a combined 4-of-25 on third and fourth downs.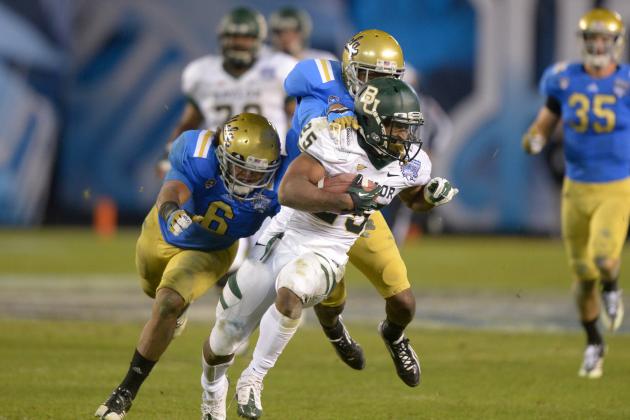 USA TODAY Sports

Baylor: A-
This game was won on the ground, and a lot of that was thanks to the dynamite performances put together by Baylor backs Lache Seastrunk and Glasco Martin.
Seastrunk backed up his 2013 Heisman talk with a huge performance: 138 yards and one touchdown. Martin had a great game as well, excelling in short-yardage situations en route to 98 yards and three touchdowns off of 21 carries.
The only things keeping these two from an "A" or even "A+" rating were two late fumbles. They each coughed the ball up once late in the game, giving UCLA a shot at the comeback. Luckily for them, the Bruins squandered the chances, coming away with just three points from the two turnovers. Regardless, those late mistakes can't happen.
UCLA: D-
UCLA might as well have left Johnathan Franklin back in Westwood. The school's all-time leading rusher simply didn't show up on Friday night, carrying the ball 14 times for just 34 yards.
He couldn't do much of anything on the ground, and that put a lot of unneeded pressure on the Bruins' freshman quarterback.
The only thing keeping Franklin from an "F" rating is the fact that two UCLA offensive linemen left the game with injury. That did hurt his chances in the game. Nonetheless, Franklin is much better than he showed against Baylor.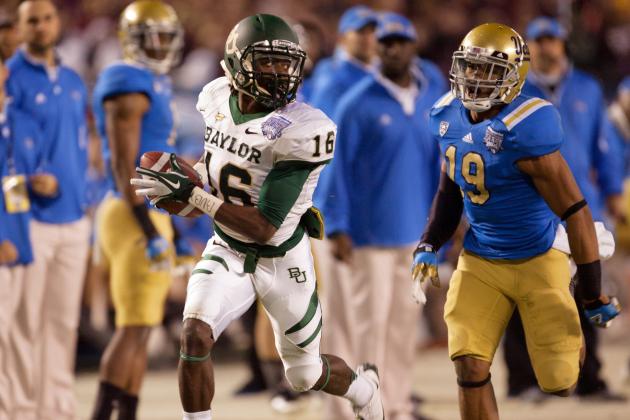 Kent Horner/Getty Images

Baylor: A
Not a whole lot was asked of the Baylor receivers in San Diego, especially relative to the regular season. Florence attempted just 13 passes on the night, but Terrance Williams, Tevin Reese and company were there to make plays when they were needed.
Reese and Williams each had two receptions for 68 yards, while Reese hauled in one of Florence's two touchdown passes. Antwan Goodley also had a good night, catching Florence's first pass and later coming back with a touchdown grab—his two receptions totaling 19 yards.
Levi Norwood and Lanear Sampson also each added a reception for a combined 17 yards. Again, not the gaudy numbers these guys are used to putting up, but I'm sure they're happy with the result.
UCLA: B
Hundley threw the ball a lot in this one, so naturally he was let down by his receivers a time or two. There were a number of drops by the Bruins, but there were also some nice plays made by the Baylor secondary.
Still, through Hundley's 50 pass attempts, leading receiver Jerry Johnson managed five receptions for 116 yards. Shaq Evans had a few bad drops, but he also hauled in seven passes for 82 yards and a score.
Finally, freshman Logan Sweet added the touchdown that wasn't at the end of the game, just the second reception in his young career and his first touchdown—even though he didn't actually make it into the end zone.
Overall, some nice statistics from this group, but a few more plays from the UCLA pass-catchers could have changed the complexion of this game.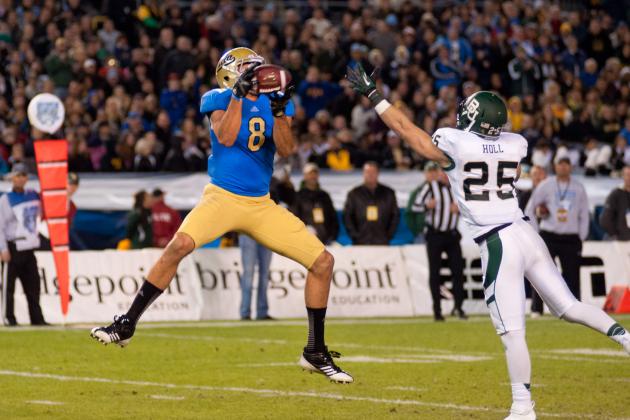 Kent Horner/Getty Images

Baylor: C-
Jordan Najvar ended up with a pair of receptions for 16 yards, which is a very modest game. Normally that would earn a solid grade in conjunction with some strong blocking.
However, Najvar broke the golden rule, producing one of Baylor's three fumbles—a fumble that resulted in a UCLA touchdown. To his credit, the junior was trying to fight for a third-down conversion in the play, but the bottom line is the bottom line.
Ball security is always the top priority, especially with a 21-point lead. Somehow, Baylor managed to win despite a negative-3 turnover margin, which is a credit to this Bears defense. Najvar owes the BU defenders a "thank you."
UCLA: B+
Joseph Fauria had a good game for UCLA. Baylor had trouble accounting for him all night, as he went for 59 yards and a touchdown off of five receptions.
He made a lot of timely plays for the Bruins as well. The only problem was that he didn't have the ball in his hands enough.
His presence near the goal line and in short-yardage situations could have helped the UCLA cause a lot, but he disappeared at times in those key situations.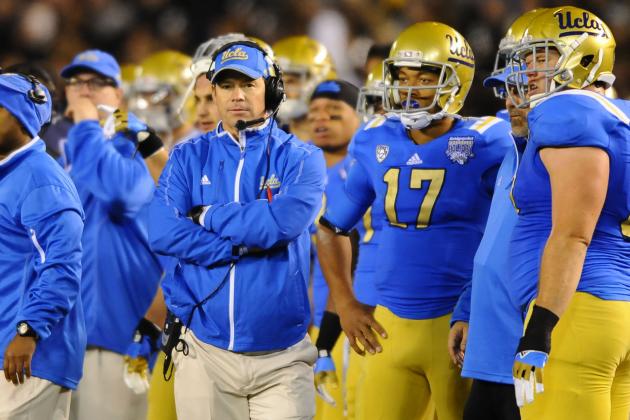 Christopher Hanewinckel-USA TODAY Sports

Baylor: A+
The big Bears up front deserve a lot of credit in this one. Baylor controlled the point of attack from start to finish on Friday, which resulted in a team rushing total of more than 300 yards.
Baylor's lead backs—Seastrunk and Martin—averaged 6.4 yards per touch, while the Bears tallied 4.6 per rush as a team.
Meanwhile, Florence was sacked only once and was never under too much pressure. When he was, he was usually able to escape the pocket without issue.
Most importantly, this unit didn't commit a penalty. No holding calls, no false starts, no problems for this group.
UCLA: F
UCLA lost two starting offensive linemen early in the contest on Friday. That really hurt this unit, and it showed in all facets of the game.
Despite the losses, none of the Bruin offensive linemen were able to step in or step up and cement the unit.
As a result, Brett Hundley was sacked six times for a loss of 36 yards, which disrupted his rhythm for the whole game.
Meanwhile, the best rusher in UCLA history only averaged 2.4 yards per rush, while the team recorded a pitiful 1.2 yards per carry. Baylor saw this weakness in UCLA and exploited it over and over again—and the Bruins just couldn't do anything to counter it.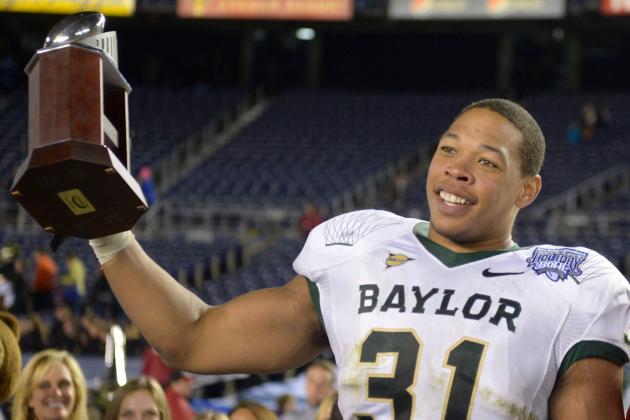 USA TODAY Sports

Baylor: A
Chris McAllister had a monster game at defensive end on his way to earning defensive player of the game honors. He had five tackles, two sacks and a broken up pass.
Gary Mason added a trio of tackles, a sack and a pass breakup on the opposite end, and Baylor simply controlled the action up front all game.
As previously mentioned, UCLA didn't do anything well on the ground, and Hundley was under constant pressure. The Bruin offense was out of sorts all game; that started up front with a strong effort from the Baylor line.
UCLA: D
On the contrary, UCLA was blasted up front. The Bruins were worked off the line of scrimmage all night as the Baylor running backs gouged them on the ground.
Owa Odighizuwa, Datone Jones and Cassius Marsh had their moments rushing Baylor's Florence, combining for a few sacks, but the consistent pressure wasn't there.
That pressure wasn't there because the Bears hardly even needed to pass the ball, because UCLA couldn't stop anything on the ground.
Just as the Baylor success started up front, the UCLA struggles started in the exact same place.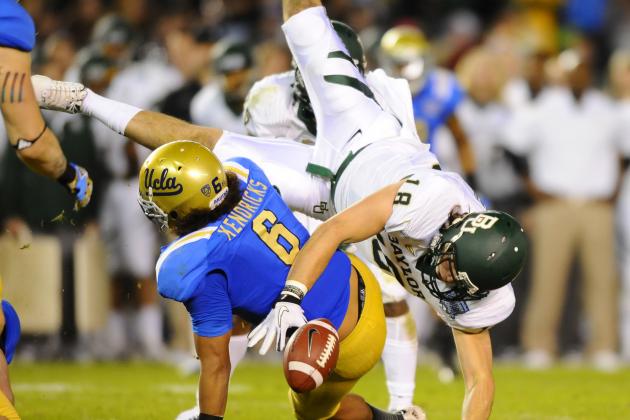 Christopher Hanewinckel-USA TODAY Sports

Baylor: A
Baylor has one of the more underrated linebacking corps in the nation. As usual, Bryce Hager, Eddie Lackey and Sam Holl each put together strong performances in stuffing the UCLA offense and running attack.
Hager had nine tackles, two tackles for a loss and a sack. Lackey had five tackles of his own, three of which were for a loss, including one sack. Holl, who plays more of a hybrid safety/linebacker role, had a game-high four pass breakups to go with four tackles.
UCLA: C
The UCLA linebacking corps had a very busy night, as Baylor ran the ball 67 times.
Eric Kendricks showed that he may have been the best defensive player on the field, recording a game-high 14 tackles and two forced fumbles.
Just behind him, Jordan Zumwalt and Anthony Barr combined for 19 tackles and a fumble recovery.
These are impressive stats for any trio of linebackers, but the most impressive stat in the equation was Baylor's 306 yards on the ground.
It's tough for a linebacker corps to earn a good grade when they were run over or run around all night long.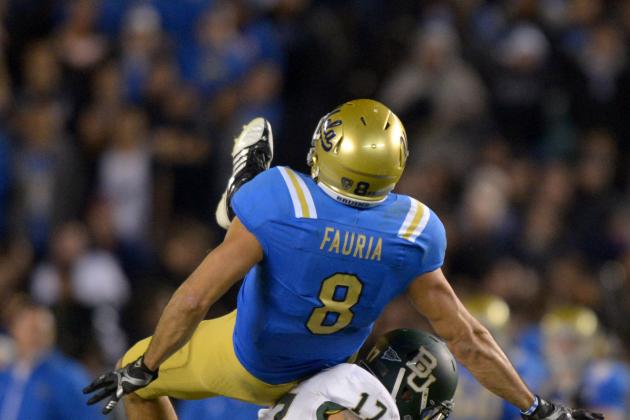 USA TODAY Sports

Baylor: B+
Brett Hundley eclipsed 300 yards passing and found the end zone three times, which can't really be considered a successful night for a secondary.
However, this secondary also made some very nice plays throughout the night. Chance Casey, Mike Hicks, Ahmad Dixon and Joe Williams combined to have five pass deflections.
Also, considering Hundley's 50 total attempts, he could have had a lot more than 329 yards if it weren't for a few nice plays made by this group.
UCLA: B
Not a whole lot was asked of the UCLA secondary, as Baylor attempted just 13 passes on the night. Still, 10 of those 13 ended up in the hands of a Bear receiver, as Florence threw for nearly 200 yards and two scores.
Aaron Hester made a very nice play on one of Florence's throws, but that was one of few wins for the Bruins secondary on the night.
UCLA was crushed, but it wasn't really the fault of this secondary.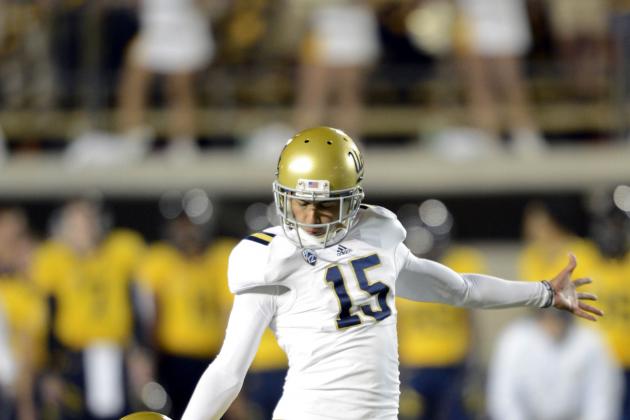 Bob Stanton-USA TODAY Sports

Baylor: C
Baylor's kick coverage team was arguably its biggest weakness in this game. The Bears were gouged on both punt and kick returns, forcing their defense to pick up the slack.
Fortunately, the defense did manage to do just that, masking the special teams' deficiencies.
The kicking unit wasn't called on for Baylor, and Spencer Roth did an adequate job while punting the ball just four times.
UCLA: A-
The UCLA special teams unit did what it could in this game. Ka'i Fairbairn nailed both of his field goal attempts on the night, including a 40-yarder.
Punter Jeff Locke dropped three punts inside the 20-yard line and had two punts of more than 50 yards, while Baylor had no significant returns of any kind.
The Bruins, on the other hand, had a 51-yard kick return from Steven Manfro and a 43-yard punt return from Shaq Evans.
The lone blemish on the night for this unit was a fumble by Manfro that was recovered by UCLA.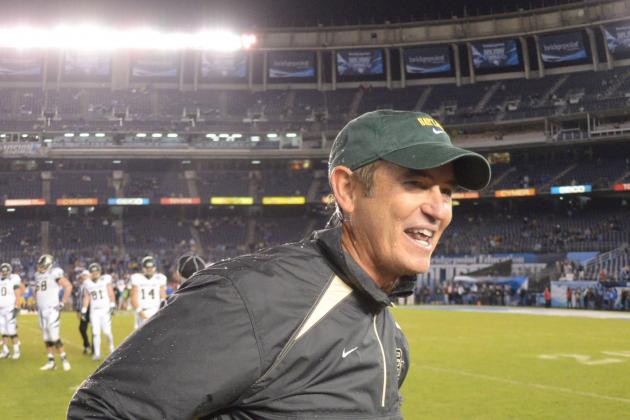 USA TODAY Sports

Art Briles, Baylor: A+
I can't say enough about Art Briles. He once again proved that he is one of the most underrated coaches in college football.
In a few years' time, Briles transformed Baylor from the doormat of the Big 12 to a program consistently earning bowl bids and building national respect.
Against UCLA, Briles brought a clearly well-prepared team into battle and didn't make a notable mistake all night. He was aggressive and reliant on the run early on and continued to rely on the ground game down the stretch.
Most importantly, he kept his team from becoming too complacent and letting UCLA back in it. There were a few hints of that happening in the second half, but he quickly righted the ship, and Baylor came through with a very convincing bowl victory.
Jim Mora, UCLA: C
Jim Mora made a few questionable calls in this game, including eight fourth-down attempts—only three of which were successful.
The losses on the offensive line contributed to an early big hole for the Bruins. After falling in that hole, they seemed to be a step behind the Bears at all times.
Briles' team seemed better prepared from the start in this one, and Mora was out-coached a bit.
Regardless of this outcome, a lot must be said about Mora's job with the Bruins this year. He took a team that was coming off of consecutive losing seasons, and he brought them within four points of a conference title.
With the young Hundley under center and Mora at the helm, the future is bright in Westwood.