21 Moments in Sports That Athletes Regret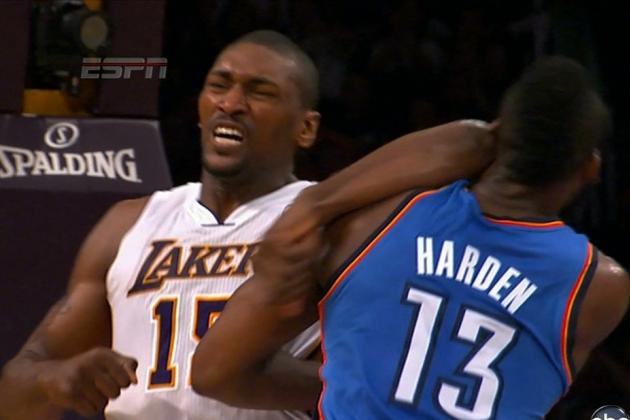 Image via berzin.blogspot.com
"I did not inhale." "It's not like I wanted to urinate in your bed." "She told me she was eighteen, officer."
There aren't enough slides in the world to cover all the things we've done in our lives that we've ended up regretting.
Fortunately, however, most of us make our big mistakes outside the lens of the national media's cameras, and only have to shoulder the shame and humiliation in front of our friends and family.
Athletes, on the other hand, are not so fortunate—every pig-headed play, botched publicity stunt and heinous foul they pull on camera gets recorded, replayed and picked apart by people like your friendly, neighborhood Bleacher Report writers.
They're everything from completely wrong to delectably moronic—they're the sports moments athletes just want to forget ever happened.
And they promise—it wasn't their best day.
Begin Slideshow

»
Von Wafer misses the dunk, obliviously celebrates his missed slam and then runs into his own teammate in order to round out the final dish of this three-course meal of failure with a side of turnover sauté.
Wafer owes Jermaine O'Neal and the city of Boston an Edible Arrangement and a sincere apology after this regrettable catastrophe.
The jury is still out on whether or not this was just an excuse for him to take off his shirt, but Cristiano Ronaldo went out of his way to assuage a fan whose nose was broken by one of the shots the star striker sent wide of the posts in a match against Getafe CF.
Ronaldo obviously regretted the incident, and all in all it worked out to be a win-win for both parties. The fan got some swag and a story he'll never forget, and Ronaldo probably ended up receiving an Acqua Di Gio endorsement out of it.
He saw the net and instinct kicked in for J.R. Smith, who immediately snatched the ball and stepped out of bounds to pass it back in.
Little did Smith realize he had just gathered up an air ball and converted it into a turnover faster than you can shake your head in disappointment.
Few of you may know the etiquette of cycling, and I know fewer of you care, but there is a gentleman's rule in the Tour de France that says you don't attack the yellow jersey holder if he experiences a mechanical failure.
However, Team Astana rider Alberto Contador decided to go full-on Honey Badger and attack yellow jersey holder Andy Schleck after Schleck's chain derailed in a mountain stage of the 2010 Tour de France.
The attack ended up giving Contador the overall lead for the Tour and stripped Schleck of his yellow jersey.
Contador said he was sorry for the controversial move, and claimed he didn't see Schleck's chain drop, but he certainly had no problem with taking the lead he established and going on to win the whole Tour.
Big Baby severely overestimates his leaping ability after trying to capitalize on a Miami Heat turnover with a breakaway dunk.
Davis ends up just kind of half-rubbing the ball on the rim and half-bulldozing Chris Bosh to pick up a foul. I don't know how he felt about it, but I've climbed to the top of a hill and made a blood offering in order to atone for less atrocious deeds than this play.
"I've only seen [two consecutive air balls] happen once before...I think."
Let me tell you, once is more than enough times to see most things in life, and I feel for the commentator who has been forced to see a professional basketball player chuck up back-to-back air balls on two separate occasions in his broadcasting career.
Watching Griffin's dueling air balls reminds me of the time I accidentally watched five minutes of Sex and the City because I thought it was a revamped Clarissa Explains It All—regrettable, hard on the retinas and something I hope my future children never have to live through.
She kicked, she punched. She yanked ponytails.
New Mexico soccer player Elizabeth Lambert pulled pretty much every vicious move she could short of throwing a treble hook at an opposing player and yelling "GET OVER HERE!!"
But despite all her underhanded and malicious efforts, Lambert and her lady Lobos couldn't stop BYU from rolling to a 1-0 win.
Lambert was suspended from the team following a review of her actions during the game, for which she has since apologized—saying her actions were "indefensible" and could've been "blown out of proportion" due to the fact they occurred in a women's game.
But I think we all know the truth—a punch is a punch, no matter what equipment you're working with when you throw it.
Rasheed Wallace unleashed a nearly lethal downpour of facepalm on the floor of the United Center after scoring on his own basket in a game against the Bulls.
Harvey, Harvey, Harvey...
After receiving a penalty for holding, Rams offensive lineman Harvey Dahl decided it was high-time to pull back the F-bomb bay doors and let the incendiary language fly in an official's face.
It was the perfect plan, or so Dahl figured right up until realizing that said referee was mic'd up and in the middle of announcing his holding penalty. Dahl's verbal barrage came rebounding back to him off every wall in Edward Jones Stadium and he was flagged again, this time for his outburst.
Dahl apologized in a postgame interview, saying his words were "a mistake."
Considering Javale McGee approaches basketball with the same "YOLO" attitude that 19-year-old girls reserve for grain alcohol at a Jason Aldean concert, I can't say for sure whether or not the NBA's goofiest player actually has the capacity to regret.
But if McGee does, I'm sure he spends many a night on YouTube shaking his at the multitude of bonehead play compilations his ridiculousness has inspired.
"Go, go, go!! Oh...Wait, NO!!!"
In one play Kent State special teams player Andre Parker made national news and became an Internet sensation for returning a punt the wrong way this spring in a game against Towson.
There's no word of whether or not he apologized for his boneheadedness, but I think it's safe to say that after several weeks atop ESPN's "Not Top Ten" videos, Parker is thoroughly sorry for this blunder.
Long before they were on-air buddies, Shaquille O'Neal and Charles Barkley were mixing it up in the paint on the basketball court.
And this one particular time, well, tempers were running on red and the heat of the game got the best of both big men, and the basketball icons had a brief throwdown under the hoop that, in retrospect, is as laughable as it is regrettable.
She's a fierce competitor and typically a class act, but Serena Williams can really lose her biscuits when she feels as though she's been cheated.
Which is precisely what occurred when Williams was called for a foot-fault on match point against Kim Clijster in 2009. The controversial call caused Williams to go full-on baby-crazy and direct a stream of threatening expletives at one of the venue's line-judges.
Realizing it wasn't her shiniest moment and regretting the explosion, Williams apologized to the viewing public and her fans.
I'm almost sorry to include this one, and we're tired of flogging this old Flipper, but what must be done, must be done.
James' "Decision" was a regrettable and pandering affair for the nation's attention, and even the "Chosen One" himself has said he regrets the way things went down.
It's good that he's showing a bit of humility because we all do things we regret. I regret having a few too many Bud Diesels at a party in high school and passing out in the shower around my friends and their Sharpies.
But the difference is that afterward, I don't go on national television and ask America, "What should I do? Should I scrub these suggestive arrows and phallic symbols off of my face and the small of my back? Should I remind you that this will likely happen again?"
Mental errors cost the Fab Five and the Michigan Wolverines basketball team a chance to take home the 1993 NCAA national championship in men's basketball.
With 19 seconds left in the game, Michigan forward Chris Webber lucks out at as refs miss his drag-of-the-foot traveling infraction. He then proceeds to dribble down the court right into a trap set by two Tarheels on the far corner, where he then decides calls for a timeout—a timeout the team didn't have.
As per NCAA rules, the referee hit Webber with a technical foul, the Wolverines lost possession and Michigan went on to lose to North Carolina 77-70.
Webber hasn't publicly admitted to much regret concerning the play, but his former teammate Jalen Rose has gone on the record saying the incident "screwed [Webber] up emotionally."
I'm all for avant-garde combat techniques, but French soccer captain Zinedine Zidane's headbutt and red card in the closing minutes of the 2006 World Cup Finals in Germany was one of the worst ways a match could end.
France's soccer captain was ejected from the game after delivering a vicious headbutt to the sternum of Marco Materazzi, the attack spurred on by remarks made by the Italian defender in reference to Zidane's sister.
Zidane ended up issuing a vague apology for his actions, but never stated he regretted showing Materazzi the business end of his chrome dome.
A heartfelt apology—in 140 characters or less.
It's the kind of regret only Metta World Peace would try to express after committing an act which in any other situation would've been landed him an assault and battery charge.
Peace apologized via Twitter saying he sorry for delivering an elbow to James Harden's temple that would've left most of us permanently bereft of our ability to conjugate verbs and taste salty foods.
It's OK though, folks—according to Peace's tweet he "remember[s] when [he was] hit by Marc Gasol the same way." So it's cool.
It was supposed to be the easiest part of the night for Dallas Cowboys quarterback Tony Romo.
His only job before becoming the starting quarterback for the Cowboys was place holding kicks.
But with nerves high and a playoff win on the line, something went very wrong when the long snapper sent the ball Romo's way and the Cowboy's quarterback fumbled a long snap for the first time in his NFL career.
Romo's blunder cost the Cowboys the game, sent the team home from the playoffs and naturally left the quarterback emotionally destroyed and apologizing through tears during the postgame interviews.
For those of you who have lived in a storm drain or a mason jar for the last eight years, the "Malice at the Palace" was a game-ending brawl at The Palace of Auburn Hills between the Indiana Pacers and Detroit Pistons that spilled over into the stands November 19, 2004.
Drinks were thrown, Ron Artest jumped into the stands and the Pacers Jermaine O'Neal executed several devastating "Falcon Punches" on fans before any semblance of order could be restored to the stadium.
The Malice at the Palace was one of the most brutal, out-of-control moments in American sports history, but it's been reported that Ron Artest does indeed feel remorse for his actions, and has even went as far becoming friends with John Green, the man who instigated the entire meltdown by throwing a drink at Artest.
Who can forget this one? Mike Tyson's ear-biting blood frenzy against Evander Holyfield on national television is a solid gold oldie of down-right regrettable moments in sports history.
It shocked the world, or it did on paper, at least—one of the premiere boxers in the sport taking chomps out of his opponent's ear in back-to-back rounds right in front of the referee.
After the second bite—and after Holyfield finally lost one of those pesky hard-to-lose inches of cartilage on his left ear—the match was called off, and Holyfield was given the victory.
In a strange twist of events, a more mature (but arguably no less crazy) Tyson apologized to Holyfield in 2009 on The Oprah Winfrey Show, and Holyfield accepted his apology.
Bruins defenseman Marty McSorley's two-handed smashing of Philadelphia Flyers Donald Brashear was a moment of violence in sports that truly borders on breathtaking in its scariness and ferocity.
The attack earned McSorley an indefinite suspension from the NHL and an assault charge in a Canadian courtroom. McSorley apologized for his actions, and tried to explain that he had been aiming at Brashear's shoulder pad with his stick in the hopes of initiating a fight.
The judge didn't believe him, and neither do I.