The Complete Bettor's Guide to NFL Week 17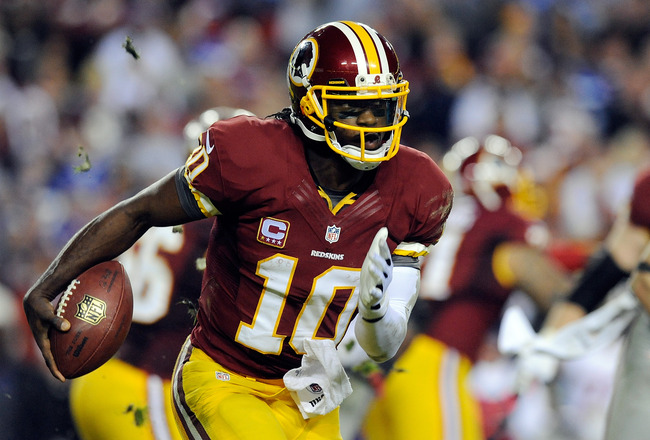 Patrick McDermott/Getty Images
As the regular season in the NFL wraps up, there's still time to pick winners before postseason football gets underway.
Week 17 features plenty of great matchups with several teams vying for a shot at the playoffs, while others attempt to better their positions in the playoff picture.
The following is a preview of all 16 games in the final week of the regular season with spread info provided by footballocks.com
Tampa Bay Buccaneers @ Atlanta Falcons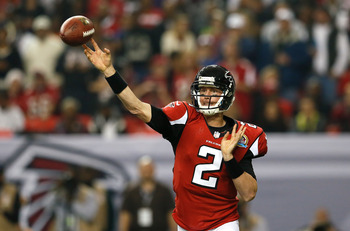 Kevin C. Cox/Getty Images
Spread: Off
Favorite: Atlanta
Underdog: Tampa Bay
TV Info: 1:00 p.m. (ET) on FOX
Almost a no-brainer here. The only way Tampa Bay's odds of winning this game would increase is if Atlanta decides to rest its starters this week.
Comfortably in the playoffs with the NFC's best record, the Falcons will attempt to build momentum going into the postseason with an easy win over their NFC South rivals on Sunday afternoon.
The Buccaneers, meanwhile, will do whatever it takes to snap a five-game losing streak that began in Week 12 after Matt Ryan led a late-game comeback to seal the deal in a 24-23 victory over Tampa Bay.
Atlanta is just 252 yards shy of setting an all-time NFL record for passing yards in a season, and Ryan will attempt that feat against the league's worst passing defense.
Dallas Cowboys @ Washington Redskins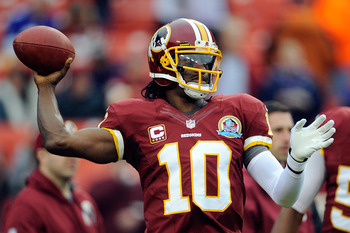 Patrick McDermott/Getty Images
Spread: -3
Favorite: Washington
Underdog: Dallas
TV Info: 8:20 p.m. (ET) on NBC
This is the big game of Week 17. Sunday night's NFC East showdown between the Cowboys and Redskins will cap off the 2012-13 season with a bang as the winner will take home the division title and punch their ticket to the postseason.
Washington has won six straight heading into the home stretch of the regular season, including a Week 12 meeting with Dallas in which Robert Griffin III tossed four TD passes en route to a 38-31 win.
For the first time in 10 meetings, Washington is being favored over Dallas despite the Cowboys winning five of their last seven.
The Redskins have lost just once to division opponents this season, and there's nothing telling me they'll drop another in the NFC East. A top-ranked run game and stout run defense will be tough to beat for a Cowboys team that has disappointed all season long.
Even with four TD passes and 416 yards passing, Tony Romo wasn't able to put away the New Orleans Saints last week at home. The Cowboys totaled just 40 yards on the ground proving that an unbalanced attack won't be successful every time.
New York Jets @ Buffalo Bills
Andy Lyons/Getty Images
Spread: -3.5
Favorite: Buffalo
Underdog: New York
TV Info: 1:00 p.m. (ET) on CBS
Mark Sanchez will not be holding a clipboard when New York visits Buffalo. Instead, he'll get his first start since he was benched in a Week 15 loss to the Tennessee Titans.
Both teams come into Sunday's matchup on losing streaks, but Buffalo's problems don't even come close to the chaotic turn of events that New York has endured. The Jets have played musical chairs with their QB position as of late, creating a diminished confidence within their offense and the team as a whole.
Buffalo wins this game because it has a RB in C.J. Spiller who can take a game over with 100-plus yards on the ground on any given day. On top of that, Spiller will be facing the 27th ranked run defense after boasting back-to-back 100-plus yard performances against Seattle and Miami.
Baltimore Ravens @ Cincinnati Bengals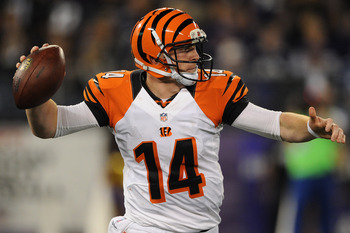 Patrick Smith/Getty Images
Spread: -2.5
Favorite: Cincinnati
Underdog: Baltimore
TV Info: 1:00 p.m. (ET) on CBS
After opening the season with a 44-13 rout of the Bengals on Week 1, the Ravens find themselves in an underdog scenario after dropping three of their last four so late in the season.
Baltimore clinched the AFC North last week with a 33-14 win over the New York Giants, but building momentum with a win against a team they could potentially see in the postseason is a challenge the Ravens should clearly look to take advantage of.
Historically, the Bengals have come out on the losing end in their last four meetings with Baltimore, but Andy Dalton has propelled his team to six wins in their last seven games. Cincinnati has been, without a doubt, one of the hottest teams in the NFL down the stretch.
If Baltimore does decide to rest its starters, which it should, Dalton could very well have a big game and come away with the win.
Chicago Bears @ Detroit Lions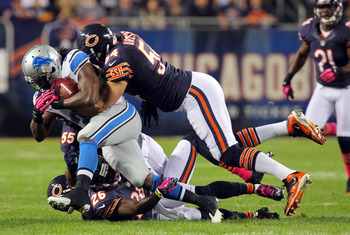 USA TODAY Sports
Spread: -3
Favorite: Chicago
Underdog: Detroit
TV Info: 1:00 p.m. (ET) on FOX
The last time these two NFC North rivals met, Chicago's defense held the Lions to just seven points for the entire game.
Ryan Broyles caught a 12-yard TD pass from Mathew Stafford with 30 seconds left in the ball game to bring the Lions within a touchdown of tying it up, but there was no time left for Stafford to get another crack at the end zone. Chicago went on to win the Week 7 contest 13-7.
Heading into Sunday's meeting, the Bears are fighting for a wild-card berth based on the likelihood of a Minnesota Vikings loss.
The Lions, on the other hand, would love nothing more than to spoil the postseason dreams of their division rivals by defeating Chicago. However, Detroit has been unable to shake off the effects of a seven-game losing streak.
Chicago has dropped three of its last four down the stretch but Detroit's offense has a stiff task ahead against the same top-10 defense that held Calvin Johnson to just three catches for 34 yards.
Jacksonville Jaguars @ Tennessee Titans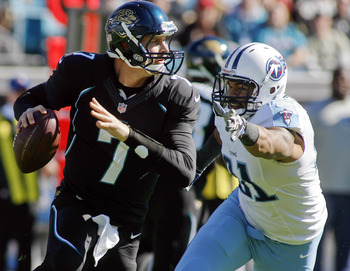 Phil Sears-USA TODAY Sports
Spread: -4
Favorite: Tennessee
Underdog: Jacksonville
TV Info: 1:00 p.m. (ET) on CBS
Sunday's matchup between the Jaguars and Titans features two of the league's worst teams duking it out.
The Jaguars handed Tennessee a 24-19 loss in Week 12 after Chad Henne led the offense to a last-minute win in his first start since replacing injured starter Blaine Gabbert. That being said, Jacksonville has been in a bit of a slump since that win, losing four straight.
The Titans have the opportunity to exact revenge on Jacksonville if they can get Chris Johnson going against a Jags defense that allows a little more than 145 rushing yards a game. At home against the Jaguars, Tennessee has won three of four meetings.
Houston Texans @ Indianapolis Colts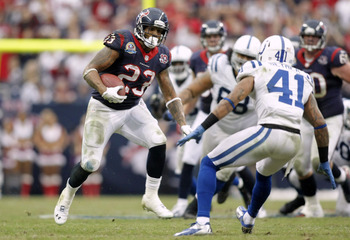 USA TODAY Sports
Spread: -6.5
Favorite: Houston
Underdog: Indianapolis
TV Info: 1:00 p.m. (ET) on CBS
After beating Indianapolis 29-17 just two weeks prior, the Texans will head to Lucas Oil Stadium looking to get the same result and claim home-field advantage throughout the playoffs.
Arian Foster rushed for 165 yards against the Colts in Week 15, his best of the season, and a Houston win will come with a high dosage of the fourth-year running back once again.
Indianapolis is a lock for the fifth seed in the AFC playoff picture, but a win against the rival Texans spells momentum heading into the postseason.
Sunday's game will have an added depth of emotions as Colts head coach Chuck Pagano returns to the sidelines after battling leukemia for three months.
Indianapolis will come out strong, but Houston is 12-3 for a reason. That reason being that the Texans are one of the best teams on the road this season, losing just one game at New England in Week 14.
Carolina Panthers @New Orleans Saints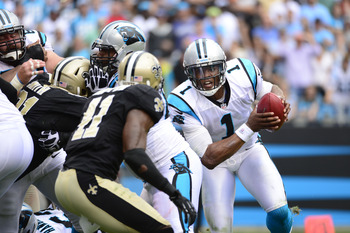 Bob Donnan-USA TODAY Sports
Spread: -5
Favorite: New Orleans
Underdog: Carolina
TV Info: 1:00 p.m. (ET) on FOX
The Panthers and Saints have been the AFC South's biggest disappointments, and a matchup between the two should signify the start of better things to come in 2013 as both franchises will miss out on the playoffs.
New Orleans' passing attack is second-best in the NFL, but it's the main source of offense for a Saints team that scores more than 30 points a game. As for the defense, well, there doesn't seem to be any.
Carolina is the more balanced football team, but it's hard to compete with such a high scoring offense, even for Cam Newton.
The Panthers defeated New Orleans 35-27 in a barn burner in Week 2, but the Saints should come out on top.
Philadelphia Eagles @ New York Giants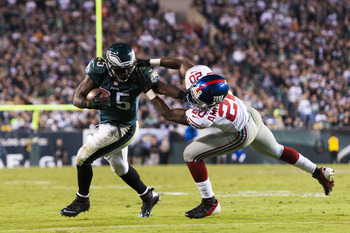 Howard Smith-USA TODAY Sports
Spread: -7.5
Favorite: New York
Underdog: Philadelphia
TV Info: 1:00 p.m. (ET) on FOX
New York won't be headed to the playoffs without a load of help from the NFC. The Giants need to beat Philadelphia on Sunday followed by losses from Minnesota, Dallas and Chicago in order to pick up the No. 6 seed in the NFC playoff picture.
The Giants fell short of a victory in Philadelphia in Week 4 by way of a Lawrence Tynes missed FG in the final 15 seconds of the game. The Eagles won that first matchup 19-17 as LeSean McCoy carried the ball for 123 yards.
Both the Giants and Eagles have dropped two straight, but New York has suffered blowout losses to Atlanta and Baltimore.
Playoff chances may be slim, but I see the Giants finishing 2012 on a positive note with a win over their NFC East rivals.
Cleveland Browns @ Pittsburgh Steelers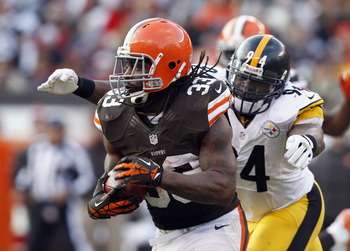 Matt Sullivan/Getty Images
Spread: Off
Favorite: Pittsburgh
Underdog: Cleveland
TV Info: 1:00 p.m. (ET) on CBS
The Steelers will be playing for pride against the Browns as they prepare for an early offseason after being eliminated from playoff contention last week.
The Browns defeated Pittsburgh 20-14 in Week 12, but the Steelers were without their field general as Ben Roethlisberger missed playing time while he recovered from injury.
Even though the Steelers have nothing to play for, that doesn't rule out a Pittsburgh win over a team that ranks near the bottom in nearly every category on offense and defense. Cleveland could possibly be without a starting QB as well with injuries to Brandon Weeden and Colt McCoy.
Oakland Raiders @ San Diego Chargers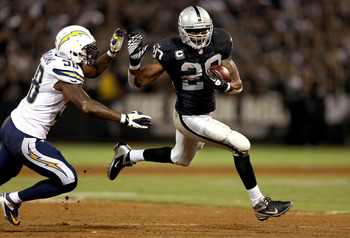 Ezra Shaw/Getty Images
Spread: Off
Favorite: San Diego
Underdog: Oakland
TV Info: 4:25 p.m. (ET) on CBS
This heated AFC West rivalry has always been a treat for fans even though both teams have severely underachieved this season.
The Chargers kicked off their 2012 campaign with 22-14 victory over the Raiders in Week 1, and they could finish the sweep of Oakland given the recent injury to Carson Palmer.
Palmer, who suffered cracked ribs and a bruised lung in last Sunday's loss to Carolina, is expected to be ruled out against San Diego, and Oakland is looking to start either Matt Leinart or Terrelle Pryor under center.
San Diego has struggled all season with turnovers and lackluster offense in the second-half of games, but a much improved defense has been the sugar coating of this San Diego squad.
Oakland's chances of a win will have to go through Darren McFadden, who will be expected to produce against the league's fourth best run defense.
Arizona Cardinals @ San Francisco 49ers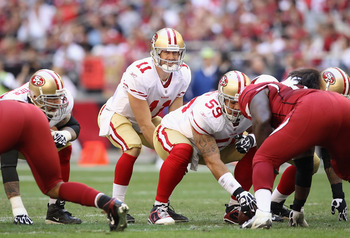 Christian Petersen/Getty Images
Spread: -16.5
Favorite: San Francisco
Underdog: Arizona
TV Info: 4:25 p.m. (ET) on FOX
Believe it or not, the 49ers still haven't clinched the NFC West title. A win against Arizona will officially give them the division crown and possibly a No. 2 seed in the NFC playoff picture depending on how the Green Bay Packers fare against the Minnesota Vikings.
The last time these two division rivals met, the 49ers cruised to an easy 24-3 win with help from Alex Smith and three passing TDs. This time around, Colin Kaepernick will try his luck against a passing defense that ranks third in the NFL.
The Cardinals will be starting their fourth QB on Sunday when Brian Hoyer makes the start against San Francisco. The former New England Patriots backup will make his first NFL start.
Not only does Arizona lack the signal caller to get the job done on Sunday, but he'll face one of the league's best defenses in shutting down the run and the pass. Should be another game the 49ers win on auto-pilot.
St. Louis Rams @Seattle Seahawks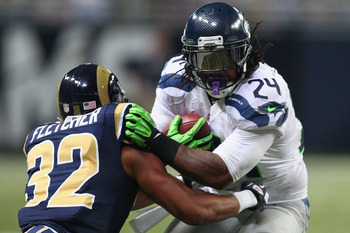 Dilip Vishwanat/Getty Images
Spread: -11
Favorite: Seattle
Underdog: St. Louis
TV Info: 4:25 p.m. (ET) on FOX
The Rams and Seahawks were neck-and-neck in their last meeting, but a stellar performance by Rams kicker Greg Zuerlein helped St. Louis walk away with a 19-13 victory in Week 4.
While the Seahawks already have a wild-card berth in the playoffs, they're still so close to capturing a division title. For that to happen, the Seahawks will need a win against St. Louis and a 49ers loss against the Cardinals.
Russel Wilson has matured into a star for Seattle, and after throwing four TDs in last Sunday's win over San Francisco, he'll look to put an exclamation point on his season with another big performance in his final regular season game of his rookie year.
Seattle has won five straight heading into its NFC West rivalry matchup with the Rams while St. Louis has won four of its last five.
Green Bay Packers @ Minnesota Vikings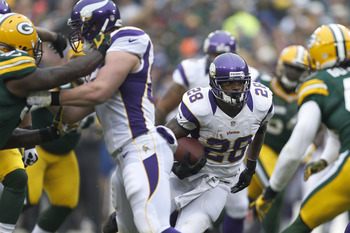 Wesley Hitt/Getty Images
Spread: -3
Favorite: Green Bay
Underdog: Minnesota
TV Info: 4:25 p.m. (ET) on FOX
Despite a 210-yard performance by Adrian Peterson on the ground, the Vikings managed to drop a Week 13 matchup against the Packers 23-14.
Peterson needs just 208 yards to break Eric Dickerson's single-season rushing record, and if Green Bay allows him to match his outing from Week 13, then that should be no problem.
For the Packers, a win against Minnesota will secure a first-round bye in the playoffs.
As for the Vikings, a win will place Minnesota in the postseason for the first time since 2009, and a loss will make things extremely difficult in terms of reaching the playoffs.
Should the Vikings lose, Minnesota will need Chicago, Dallas and New York to lose on Sunday in order to make the playoffs.
Expect to see much of the same formula Green Bay used in the first meeting to get the job done in the season finale.
Miami Dolphins @ New England Patriots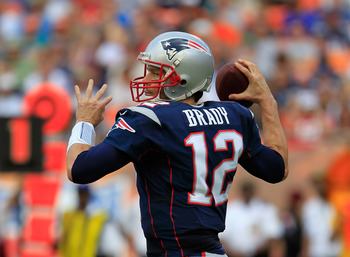 Chris Trotman/Getty Images
Spread: -10
Favorite: New England
Underdog: Miami
TV Info: 4:25 p.m. (ET) on CBS
New England already clinched the AFC East, but the possibility of a first-round bye is still looming provided a few scenarios play out on Sunday.
With a win over Miami, the Patriots will still need both Houston and Denver to lose their respective games in order to claim home-field advantage.
The Patriots defeated Miami 23-16 earlier this month, and another victory seems likely considering what's on the line for New England. The Patriots enter Sunday's contest with the NFL's fourth ranked passing offense and eight ranked rushing offense.
New England is 5-2 at home, making Miami's battle an uphill one as the Dolphins attempt to close out the season on a high note with three straight wins.
Kansas City Chiefs @ Denver Broncos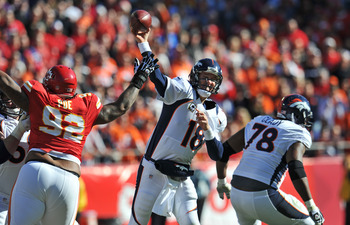 Peter Aiken/Getty Images
Spread: -16
Favorite: Denver
Underdog: Kansas City
TV Info: 4:25 p.m. (ET) on CBS
Riding a 10-game win streak, the Broncos will look to continue rolling with an 11th straight win in the regular season final against a Kansas City Chiefs team with the worst record in football.
Denver actually has something to play for as a victory will ensure home-field advantage in the playoffs. The Patriots, who own the tiebreaker over the Broncos, are nipping at the heels of Denver in a race for a first-round bye.
The Chiefs have won just two games all season, and they'll need a miracle to beat the NFL's second-ranked scoring offense, a highly unlikely feat.
Keep Reading