Miami Football: Projecting the Hurricanes 2013 Offensive Depth Chart
Clive Walford impressed in the final two games of 2012.
Joel Auerbach/Getty Images
The Miami Hurricanes football team is already looking forward to the 2013 season, and the offensive side of the ball has plenty of returning players.
As a matter of fact, the entire starting lineup minus running back Mike James will return to defend the school's first ever Coastal Division title.
Barring injury or unforeseen circumstance, every offensive lineman remains at the school to protect Stephen Morris and Duke Johnson who headline the dangerous Miami backfield.
Here is an early projection for the Hurricanes 2013 offensive depth chart.
Note: The year used for each player is based on his respective 2013 eligibility.
Quarterback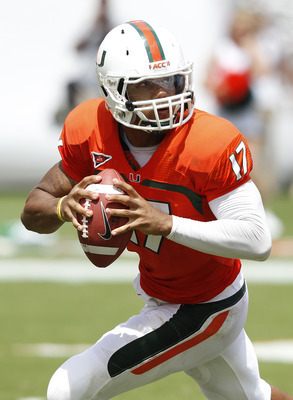 Morris will again lead the Hurricanes offense next year.
Joel Auerbach/Getty Images
This one is a no-brainer. Stephen Morris will be under center for Miami in 2013.
Morris threw for 3,345 yards, which was fifth-best in school history, and also completed the second-most passes (245). He added 21 touchdowns to only seven interceptions.
One area of improvement for Morris is his completion percentage, as he only found his receivers on 58 percent of his passes.
The Hurricanes boast many weapons all over the field, and Morris simply has to find the right target. Then again, his receivers need to catch the ball, too.
Junior transfer Ryan Williams will again serve as the backup for the Hurricanes.
Running Back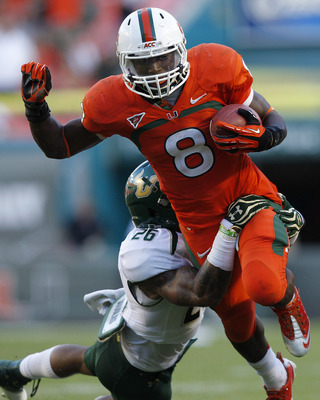 Johnson will carry a heavier load next season.
Joel Auerbach/Getty Images
With Mike James graduating, young sensation Duke Johnson will step a little further into the stoplight.
He burst onto the college football scene in the season opener against Boston College, scoring two 50-plus-yard touchdowns and hardly slowed from there.
Johnson finished with the second-most all-purpose yards (2,060) in Miami history and accounted for 14 touchdowns.
Eduardo Clements may not be ready for the season due to injury, so either Dallas Crawford or a new recruit will step into the backup role.
If any of 5-star Derrick Green, 4-star Alex Collins or 4-star David Williams commit to the Canes, watch for the respective player to serve as the second-stringer.
Fullback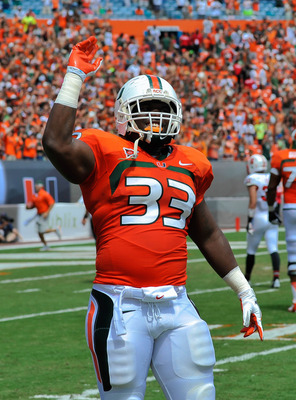 Hagens celebrating against NC State.
Steve Mitchell-USA TODAY Sports
A quiet and unsung, yet invaluable, factor of the Hurricanes' prolific offense was and will be fullback Maurice Hagens.
Though he rarely, if ever, carries the ball, Hagens was the team's bulldozer opening holes for Mike James and Duke Johnson. He helped clear the way for nearly 2,000 rushing yards in 2012.
He will return for his final collegiate season, and the Hurricanes definitely welcome Hagens back.
Wide Receiver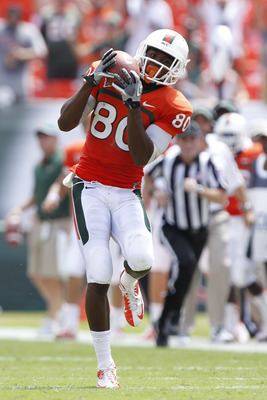 Rashawn Scott caught 35 passes for 512 yards.
Joel Auerbach/Getty Images
In what is possibly the deepest receiving corps in recent school history, the Hurricanes have potential to be special on the outside in 2013.
Senior Allen Hurns and junior Phillip Dorsett will lead the Canes, but there is plenty of young talent fighting for playing time.
Sophomores Rashawn Scott and Herb Waters made huge impacts in the final eight games of the season, while Malcolm Lewis will return from a horrific ankle injury. Also, Lewis should receive a medical hardship waiver and be classified as a freshman.
Robert Lockhart is a name to watch for Miami, but Hurns, Dorsett and Scott will likely be the top three receivers.
Tight End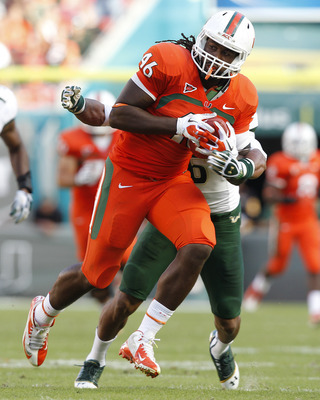 Walford will be fighting for playing time in 2013.
Joel Auerbach/Getty Images
After making very little noise in the early games of 2012, Clive Walford emerged as a viable starter in the final two games of the season.
But as Murphy's Law would have it, he may be relegated to the second-string role. Hurricanes coaches snagged an elite-level JUCO prospect in 6'6" Beau Sandland.
Sandland will immediately provide Miami with an impact target in the middle of the field, which is exactly what Morris was missing last year.
Offensive Line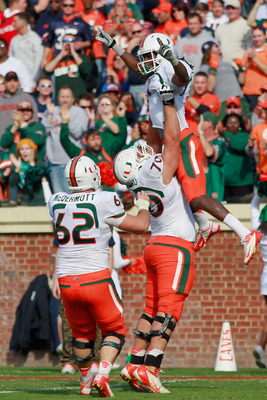 The Hurricanes are looking to rise to relevance once again.
Geoff Burke/Getty Images
As previously mentioned, the entire offensive line returns next season.
Stephen Morris should be very well-protected in the pocket in 2013, and Duke Johnson should be able to find a few more holes to run through.
From left tackle to right tackle, the starters will again be Malcolm Bunche, Jon Feliciano, Shane McDermott, Brandon Linder and Seantrel Henderson.
Not only will all those players return, class of 2012 members Ereck Flowers and Danny Isidora will have a year in the system under their belts.
Keep Reading

Miami Hurricanes Football: Like this team?