Philadelphia Eagles' 6 Biggest Offseason Decisions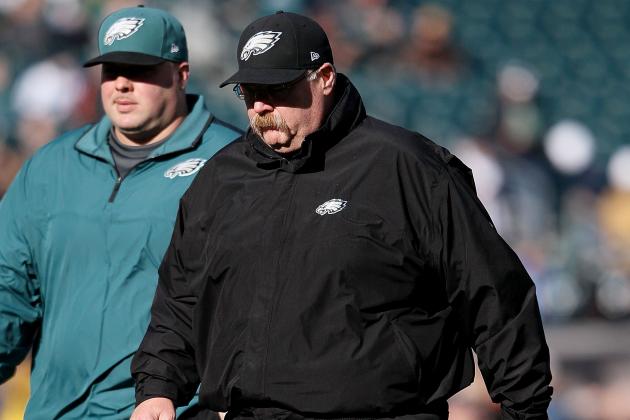 Alex Trautwig/Getty Images

In just a few days, the 2012 Philadelphia Eagles will have concluded their nightmare of a season.
That means the overhaul of the team can begin. Owner Jeffrey Lurie has already on record as saying anything less than an 8-8 season is unacceptable. That should signal the end of Andy Reid's era as head coach. A complete change from the coordinator spots is to be expected as well.
Finally, the Eagles will need to decide which players from the 53-man roster to bring back for 2013. Some of the decisions will be obvious, but Lurie and the incoming head coach will have a slew of difficult choices to make to right this ship for 2013.
Begin Slideshow

»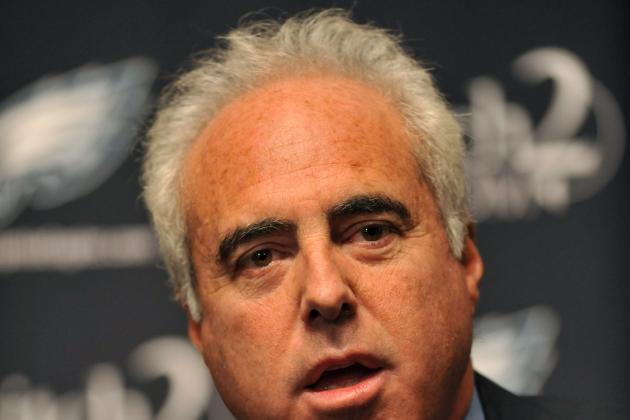 Larry French/Getty Images

The Philadelphia Eagles have been linked to a slew of head coaching candidates for 2013, whether it is Oregon's Chip Kelly, ESPN's Jon Gruden, or a coordinator like Dirk Koetter.
There's almost no way the team brings back Andy Reid for 2013. GM Howie Roseman will likely want to go with the next intriguing new coach, so Kelly could very well be his guy. Then again, if Roseman can lure an experienced Super Bowl winner such as Gruden or Bill Cowher out of retirement, that could give Roseman job security.
The new coach will have to be sold on Nick Foles as a quarterback, or he will have to go with a backup plan like trading for Alex Smith or Matt Flynn. But there's a lot of talent to be found on the Eagles, and a good coach could be winning from year one.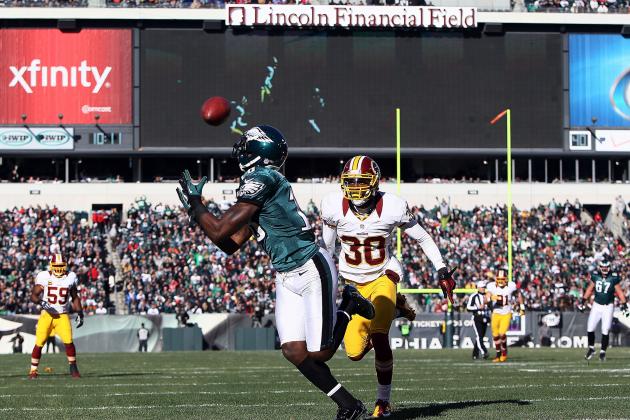 Alex Trautwig/Getty Images

Jeremy Maclin's five-year deal that he signed as a rookie expires after the 2013 campaign. The Philadelphia Eagles may entertain offers trade offers this off-season for their former first-round pick.
Maclin's numbers stack up favorably to other young receivers, but he still hasn't reached the potential the Eagles thought he had. Despite playing in a pass-happy offense, Maclin has never topped 1,000 receiving yards.
He's just 6'0" and 198 pounds, which doesn't make him significantly bigger than DeSean Jackson. The Eagles may be better off with a taller, more physical receiver. If the Eagles could get a high draft pick for Maclin, they may jump at it and draft his replacement in the upcoming April draft.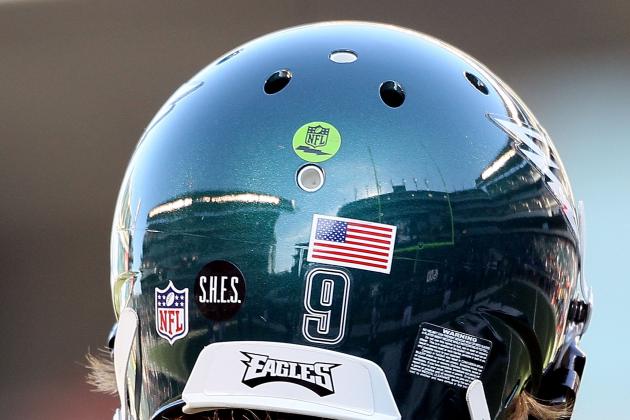 Alex Trautwig/Getty Images

In all likelihood, it's too early to answer this question. The Philadelphia Eagles will almost assuredly go with Nick Foles as their clear-cut starter for 2013 because of the great strides he showed as a rookie.
CSN Philly's Reuben Frank highlights the accomplishments of Foles this past year. Among those are a 60.8 completion percentage that ranks fifth-best in NFL history for a rookie QB and an interception percentage that ranks second-best ever among rookies.
That's promising for Eagles fans, especially considering Foles was playing without DeSean Jackson and LeSean McCoy for much of his six starts. It should be enough to give Foles 16 starts next year.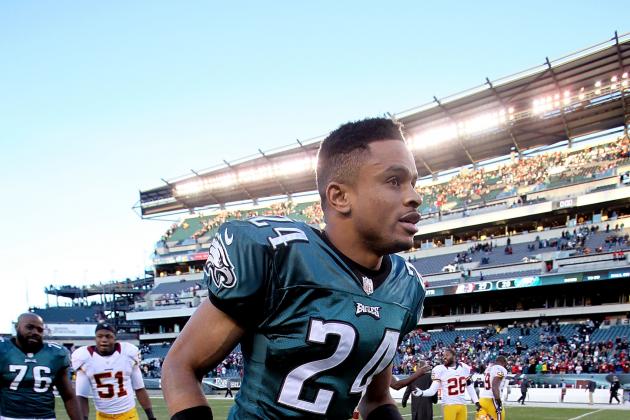 Alex Trautwig/Getty Images

For the bulk of Andy Reid's tenure, cornerbacks have been a strong suit of the team. The Philadelphia Eagles had Troy Vincent and Bobby Taylor for many years before the pair gave way to Lito Sheppard and Sheldon Brown.
Asante Samuel was a ballhawk for the four years he spent with the team, and Dominique Rodgers-Cromartie and Nnamdi Asomugha were supposed to be the best corner tandem in the NFL. Instead, the pair has really struggled.
Asomugha is due $15 million in 2013 with a $4 million cap penalty if he is released this offseason. DRC is a free agent but he is still just 26 years old. As a former Pro Bowler, the Eagles may want to lock up Rodgers-Cromartie for the future. That could lead them to pay DRC a figure around $10 million per season for five years though.
The Eagles could always try to go the free agency route, draft a corner, or even go with unproven players Brandon Boykin and Curtis Marsh. Regardless, the cornerback situation is one of the more prevalent ones heading into 2013.
Rob Carr/Getty Images

Andy Reid was foolish to think he could compete with Nate Allen and Kurt Coleman in 2012. He did make a half-hearted attempt at a veteran when he signed O.J. Atogwe. But Reid's refusal to acknowledge the safety position since letting Brian Dawkins (and Quintin Mikell) go continues to haunt the Philadelphia Eagles.
The Eagles will assuredly need to draft a safety in April. Allen isn't the answer and Coleman had no business ever starting. But the Eagles will likely also have to sign a player in free agency.
Buffalo's Jairus Byrd is the number one safety hitting the market, although he may be too valuable for the Bills to let him walk. LaRon Landry would be a fine acquisition if he doesn't re-sign with the New York Jets. And Donte Whitner would solidify the position as well.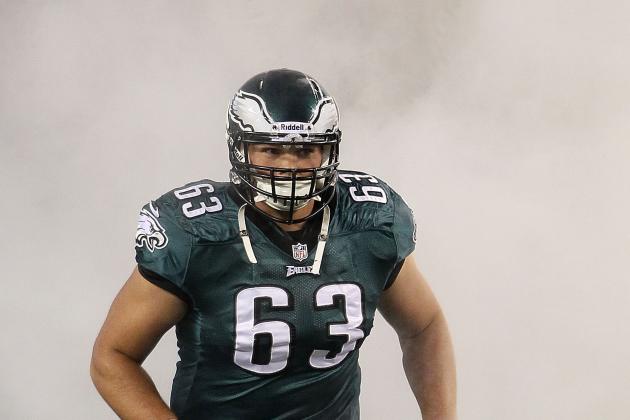 Alex Trautwig/Getty Images

The future isn't looking too good for 2011 first-round pick Danny Watkins. Many people questioned Andy Reid's decision to draft a 26-year old former firefighter and those people are looking correct through two seasons.
Watkins was benched for Jake Scott midway through this year, and he was a healthy scratch against the Washington Redskins. Watkins may benefit from a different offensive line coach, and Howard Mudd won't be coming back in 2013.
But it's risky for the Eagles to assume Watkins can suddenly hit his potential, a la Brandon Graham (who was widely regarded as a disappointment for two seasons). That might force the Eagles to sign a free agent guard like Buffalo's Andy Levitre or the New York Jets' Brandon Moore.