10 Bold NBA Predictions for 2013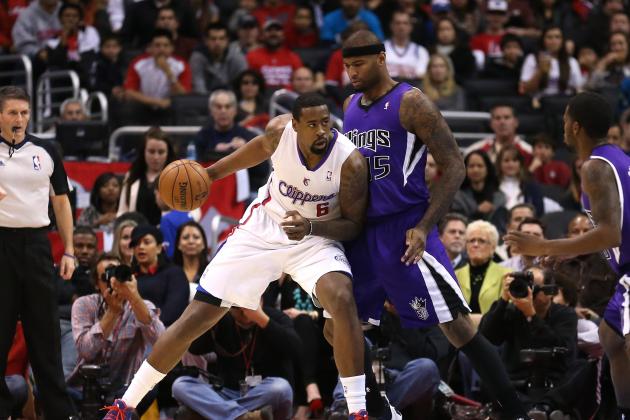 Stephen Dunn/Getty Images

With an All-Star game, playoffs and the crowning of a new NBA champion on the NBA horizon for 2013, there are plenty of bold predictions that can be made for the new year.
Despite the fact that the 2012-13 NBA season hasn't even reached the month of January yet, plenty of bold predictions from experts have failed to come to fruition.
The Los Angeles Lakers are fighting to earn a playoff seed (let alone compete for a championship) despite lofty expectations, while the Golden State Warriors and New York Knicks have outplayed expectations in the early going.
There are sure to be plenty of head-turning storylines as the NBA season moves forward toward 2013, which means there's ample opportunity to make some bold predictions for the remainder of the NBA season.
Begin Slideshow

»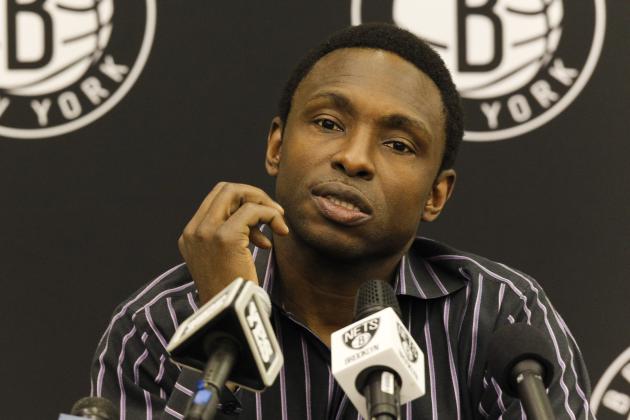 Jeff Zelevansky/Getty Images

As you no doubt have heard, the new-look Brooklyn Nets have fired head coach Avery Johnson after a 14-14 record to open the season (h/t Mike Mazzeo of ESPN).
The Nets jumped out to a hot 11-4 record to start the season but struggled to maintain their winning ways due to a mix of injuries and poor play.
Center and leading scorer Brook Lopez missed seven games from Nov. 30 to Dec. 12. Understandably, Brooklyn stumbled during that stretch, going 2-5 without its big man (who is averaging 17.5 points per game).
Truthfully, the Nets should feel lucky to be standing at .500 given the play from their backcourt tandem.
Deron Williams is shooting 39.8 percent from the field and 29.5 percent from beyond the arc. Both of those numbers are career lows for D-Will.
Joe Johnson is shooting 42.1 percent from the field, which is his lowest percentage since 2003 when he played for the Phoenix Suns.
Both Williams and Johnson, two of the major cogs to this Nets team, have been ice cold shooting the basketball. How this is any fault of Coach Johnson is a mystery to me, but regardless of that fact, he's currently out of a job.
Unless the Nets find a magician to take over as the next head coach, it's hard to envision this team being much better.
Free-agent coaches, so to speak, include Phil Jackson, Stan Van Gundy and Jerry Sloan. They're arguably the top three coaching candidates available, but Nets fans shouldn't hold their breath.
According to NBA.com's David Aldridge, Jackson's agent, Todd Musburger, has said that Jackson has no interest in coaching the Nets.
Additionally, Van Gundy has no interest in taking over in Brooklyn, according to Brian K. Schmitz of the Orlando Sentinel via Twitter:
Stan Van Gundy has no interest in Brooklyn job

— Brian K. Schmitz (@MagicInsider) December 27, 2012
Sloan obviously isn't a viable hire due to his strained relationship with Williams (h/t Yahoo! Sports).
Where the Nets go from here is a toss-up, but firing Johnson gives the Nets no more excuses.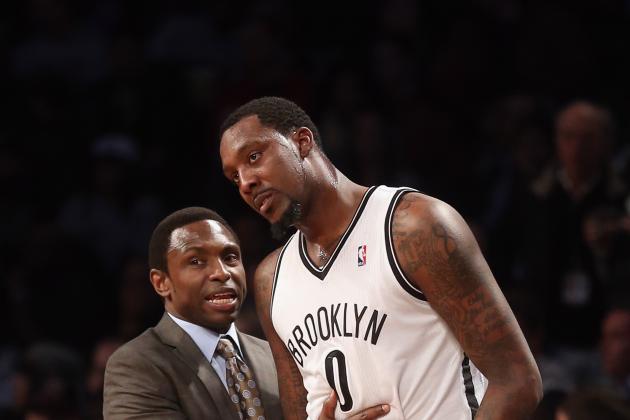 Bruce Bennett/Getty Images

After a 1-4 start for the Los Angeles Lakers, Mike Brown became the first NBA coach to lose his job in 2012-13. Following a 14-14 start for the revamped Brooklyn Nets, Avery Johnson suffered the same fate.
Two coaches have already been relieved of their duties, and we're not even in the month of January.
My bold prediction is that three more NBA coaches will experience the same fate as Brown and Johnson.
The Phoenix Suns have struggled mightily this season with an 11-18 overall record, but don't expect a coaching change in the Valley of the Sun. The Suns have had their fair share of issues, but Alvin Gentry's job appears safe.
According to ESPN's Chris Broussard, Suns' owner Robert Sarver gave Gentry and the coaching staff a vote of confidence. Unless his stance has changed since Dec. 10 (doubtful), it doesn't seem as though the Suns will need to find a new coach.
Although Gentry's job seems safe (for now), there are a number of NBA teams performing below expectations.
I'd wager that Charlotte Bobcats head coach Mike Dunlap won't have a short leash even with the recent 16-game losing streak, but coaches always seem to be on the hot seat.
Dwane Casey (Toronto Raptors), Keith Smart (Sacramento Kings), Randy Wittman (Washington Wizards) and Terry Stotts (Portland Trail Blazers) are all names to look out for.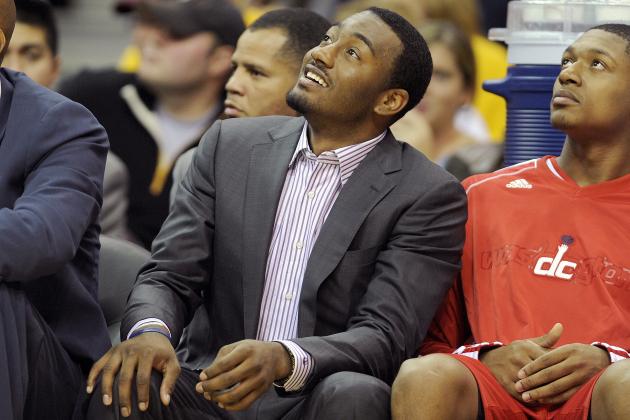 Jason Miller/Getty Images

The Washington Wizards' 2012-13 season has been a massive disappointment thus far.
As of Dec. 27, the Wizards have just three wins and rank dead last in the NBA in points per game. In addition, the Wizards rank 25th in the NBA in assists per game.
The offseason move to acquire Emeka Okafor and Trevor Ariza from the New Orleans Hornets seemed like a great way to improve the team's defense and overall play, but neither of those two guys has played up to par.
Bradley Beal, Washington's first-round draft pick in 2012, has certainly not lived up to expectations either. So far Beal is averaging 12.1 points per game while shooting an abysmal 35.5 percent from the field and 28.4 percent from the three-point line.
Those shooting percentages make early comparisons to NBA sharpshooter Ray Allen laughable (h/t Chad Ford of ESPN).
The Wizards are in desperate need of a spark from anywhere on the roster, and they should get that spark from John Wall when he finally returns from injury.
Wall needs to come back with a chip on his shoulder now that other young point guards (Jrue Holiday, Kyrie Irving and Damian Lillard) have burst onto the scene.
The former No. 1 overall pick out of Kentucky has never truly lived up to the hype of being taken first overall. He's had solid numbers, but so much more was expected from the Kentucky product when the Wizards drafted him.
Last season, Wall averaged 16.3 points, eight assists and 4.5 rebounds per game. Those numbers were all down compared to his rookie year.
Wall didn't come up with any statistical leaps during his sophomore year. Maybe now that he can play with nothing to lose on a bad Wizards squad, he can embrace his potential without heaps of pressure mounted on his shoulders.
If nothing else, Wall can build some momentum in Washington for next season.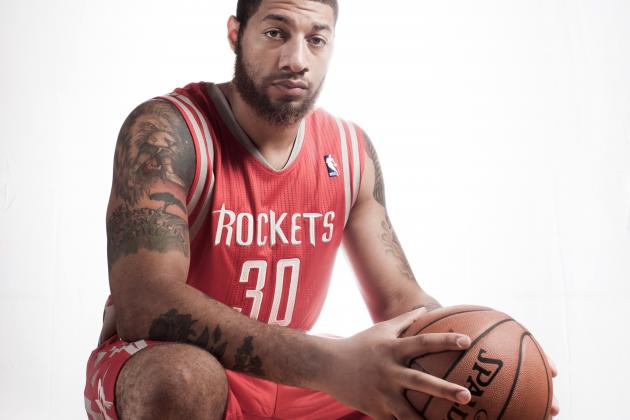 Nick Laham/Getty Images

Royce White is a guy you just can't help but feel bad for.
Unfortunately, a severe anxiety disorder has prevented White from playing a regular-season game this season. His mental health issues were a big concern leading up to the 2012 NBA Draft, but for the most part his talent outweighed the risk.
If you told me after the draft that White wouldn't play a single NBA minute through the month of December, I would have had a hard time believing you.
White's frustrations with the Houston Rockets have been evident all year. He's often used Twitter to advocate for mental health and anxiety issues, but his Twitter time line is a disturbing hotbed for hatred. White makes a point to respond to angry fans with the hashtag "#BeWell."
The young forward out of Iowa State is enduring some truly tough times, but his connection to the NBA is distant at best. According to ESPN, when Rockets head coach Kevin McHale was recently asked about White he said, "He hasn't been around."
White is battling a lot of personal demons. If he doesn't come to some sort of understanding with the Rockets before the end of the season, it's hard to imagine him getting worked into what has been a successful Rockets rotation.
I hope I'm wrong about this bold prediction because it would be a great story to see White return to the basketball court.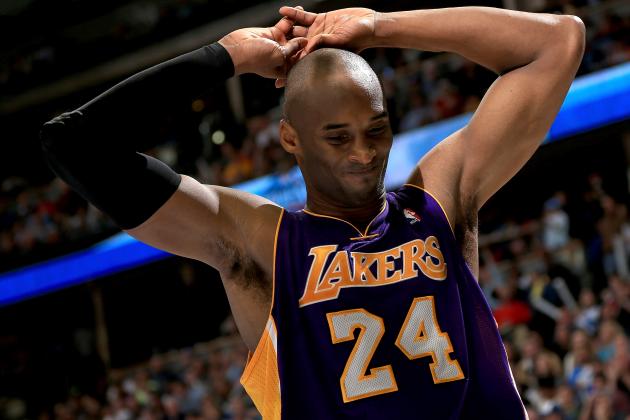 Doug Pensinger/Getty Images

Way back in September, I predicted that the Los Angeles Lakers would finish with a 59-23 record. This drew a lot of ire from Lakers fans pining for a 73-9 overall season, but as of Dec. 27, the Lakers are on pace to win approximately half of their games.
So although my prediction upset Lakers fans, even my view has proved to be generous given the Lakers' struggles.
The Lakers currently rank 11th in the Western Conference with a 14-15 record, three spots out of postseason position. As a result, the Lakers will really have to fight in 2013 not only to make the postseason but to have a respectable seed.
Unless the Lakers truly catch fire, the chances they end up higher than a No. 5 seed in the West after 82 games seems like a pipe dream. Barring injury, the Oklahoma City Thunder, Los Angeles Clippers, San Antonio Spurs and Memphis Grizzlies appear poised to lock up the top four seeds.
If that proves to be the case, the Lakers would have to play one of those four teams in the first round of the playoffs. To this point in the season, the Lakers are 0-4 against those four teams (losing once to each).
Throw in the fact that the Lakers wouldn't have home-court advantage if they finished lower than a fourth seed, and their outlook seems very murky.
Expect the Lakers to turn their poor fortunes around, but if they face one of the four juggernauts in the first round of the playoffs, I don't like their chances.
Doug Pensinger/Getty Images

Despite the fact that Kobe Bryant is 34 years old, he's having arguably his best overall season since he entered the NBA.
Bryant is averaging 30.2 points per game, shooting a career high 47.8 percent from the field and 37.9 percent from beyond the arc (his highest mark since 2003).
While his ridiculous numbers haven't translated to a winning record, he's scoring at a more efficient clip than he ever has before in his entire career.
It may not be deemed "bold" to pick Bryant to win the scoring title when you consider that he currently leads all scorers (Carmelo Anthony is second, averaging 28.5 points per game).
However, Bryant's current hot streak at 34 years of age may be too good to be true. In his last 10 games under head coach Mike D'Antoni, Bryant has logged 43.1 minutes per game.
Can Bryant's body hold up while playing that many minutes, or will D'Antoni run Bryant into the ground? I think Bryant will be able to sustain his current pace (at least to some degree) and take the scoring title away from the three-time champ, Kevin Durant.
At least we know for sure that Bryant is going to keep shooting.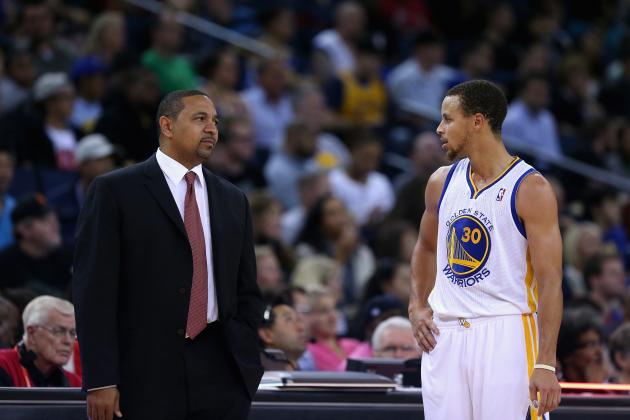 Ezra Shaw/Getty Images

Stephen Curry is healthy and playing at an All-Star level.
Mark Jackson has rallied the Golden State Warriors in his second year as coach and is making a strong case to win Coach of the Year honors.
David Lee is a walking double-double, and the Warriors are still waiting on the health of Andrew Bogut (don't hold your breath Dubs fans) and the shooting slump of Klay Thompson to subside (shooting just 40 percent this year).
Carl Landry and Jarrett Jack have solidified the Warriors' second unit with their tremendous play off the bench, and the Warriors rank seventh in the league in assists per game. They're playing great team basketball, scoring at will and have been improved defensively compared to last season even without Bogut.
Ideally the Warriors would like to get more out of rookie forward Harrison Barnes (8.7 points per game in 29 starts). Even so, Golden State has a 19-10 record despite injuries and some players under-performing.
The Warriors may very well return to the playoffs in 2013. I'm willing to bet we haven't seen the Warriors' best basketball yet.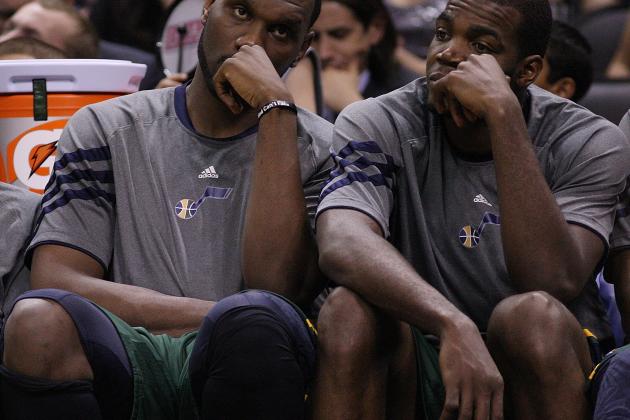 Ronald Martinez/Getty Images

The Utah Jazz have a 15-15 record, are currently on the outside looking in at a playoff spot and have two veteran frontcourt players in the final year of their contracts.
Although the Jazz made the postseason last year as an eighth seed, getting swept at the hands of the San Antonio Spurs couldn't have hinted at much of a future without some changes.
Both Al Jefferson and Paul Millsap are set to become free agents at season's end, and the chances the Jazz are able to retain both players simply aren't financially feasible.
The good news for the Jazz is that they have plenty of frontcourt depth by way of Derrick Favors and Enes Kanter if or when they choose to trade one of their frontcourt starters.
If the Jazz continue to be a borderline playoff team, expect the front office to make some much-needed decisions regarding the future of the franchise. If the Jazz can get solid assets in return for either Jefferson or Millsap, they have to pull the trigger.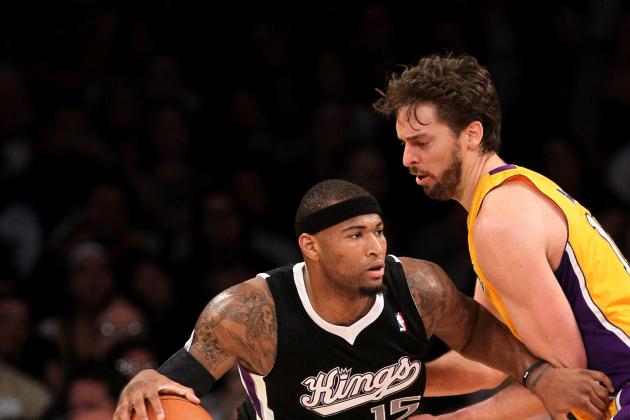 Stephen Dunn/Getty Images

It was announced on Dec. 22 that Sacramento Kings power forward/center DeMarcus Cousins had been suspended indefinitely by the team, according to the Huffington Post.
The suspension followed a verbal altercation Cousins had with head coach Keith Smart during halftime of a loss to the Los Angeles Clippers, according to Marc J. Spears of Yahoo! Sports via Twitter.
This isn't the first time that Cousins has had a run in with a coach. His feud with former coach Paul Westphal helped lead to Westphal's firing (h/t Fox Sports).
Trade speculation ran rampant after Cousins' suspension and the reported run in with yet another coach. Grantland.com's Bill Simmons tweeted a fake trade that would net the Boston Celtics Cousins, followed by this:
PS: that's the best fake Boogie/Boston trade I can come up with. We need to send Boogie to KG Camp. He can be saved!!! I believe in Boogie!

— Bill Simmons (@BillSimmons) December 22, 2012
As it turned out, being suspended "indefinitely" ended up meaning one game, as Cousins was reinstated soon after (h/t ESPN).
Although trading Cousins seems like a logical decision given all of the headaches he's caused, I simply can't see the Kings making that choice.
Yes, Cousins is a total headcase with close to zero respect for the game of basketball. He's getting paid millions of dollars to play a sport, yet his antics continually get him into trouble.
He acts like a five-year-old who had his toys taken away.
Even so, Cousins is set to make just over $3.8 million this season and just over $4.9 million next season before he becomes a restricted free agent in 2014. No matter how you slice it, that's a bargain price for a guy as talented as Cousins.
He averaged 18.1 points and 11 rebounds last season, so the Kings know what he's capable of doing from a statistical standpoint. I simply can't envision the Kings trading Cousins and his untapped potential to create even bigger holes in their shoddy frontcourt.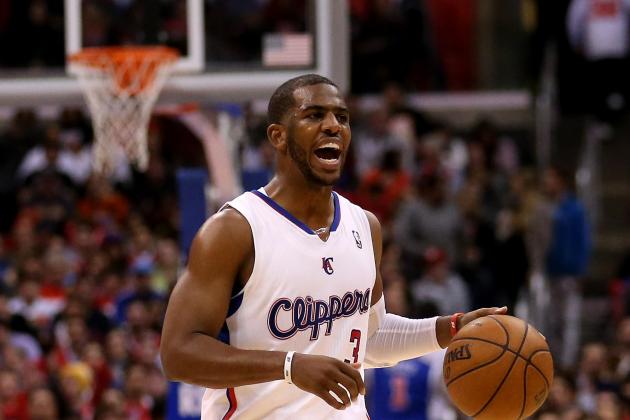 Stephen Dunn/Getty Images

The Los Angeles Clippers have been clicking on all cylinders, winning a franchise-record 15 games in a row.
The second unit, led by Jamal Crawford and Matt Barnes, has earned the nickname "A Tribe Called Bench" for their stellar play (h/t Arash Markazi of ESPN). As deep as the Clippers are, they're still waiting for Grant Hill and Chauncey Billups to get healthy.
At 23-6, the Clippers have the best record in the NBA as December comes to a close. With 2013 on the horizon, I predict that the Clips will have the best mark in the league when 82 games have been completed. They've been great on the road (9-3) and at home (14-3), which shows a major strength.
Lob City has been solid offensively, but they may be the league's most underrated team on the defensive end of the floor. The Clippers rank third in the NBA in opponent points allowed (91.4 per game). Only the Memphis Grizzlies and Indiana Pacers have been better in that category.
With Chris Paul, the league's best point guard (without question) leading the show, the sky is the limit for the Los Angeles Clippers.
I never thought I'd say that about a team that is arguably the NBA's most cursed franchise.