Florida Football: 5 Departing Gators Who Will Be Toughest to Replace in 2013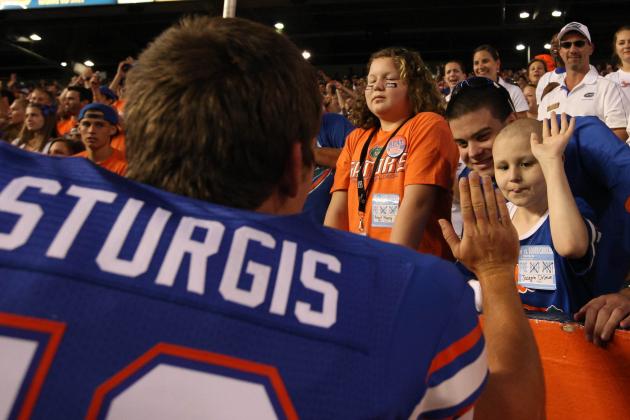 Rob Foldy-USA TODAY Sports
Caleb Sturgis is one of Florida's most dangerous weapons.
In less than a week, the Florida Gators' senior stars will be playing in their last collegiate game and the search for their replacements will begin.
Will Muschamp has gotten great play from the class of 2013—a group that includes stalwarts like Mike Gillislee and Jon Bostic.
Florida will attempt to replace Gillislee—the team's leading rusher and best offensive playmaker—with some combination of Matt Jones, Mack Brown and current commit Kelvin Taylor, but will it be enough?
Bostic has been a mainstay on the Gators' defense for years, but Dan Quinn will have to find a new middle linebacker in 2013. Can Michael Taylor fill the void?
All these questions and more will have to be answered in the offseason, so let's take a look at the five departing Gators who will be toughest to replace next season.
Note: This list only included seniors and did not take into account possible NFL-bound juniors Sharrif Floyd, Matt Elam, Dominique Easley or Jelani Jenkins.
Begin Slideshow

»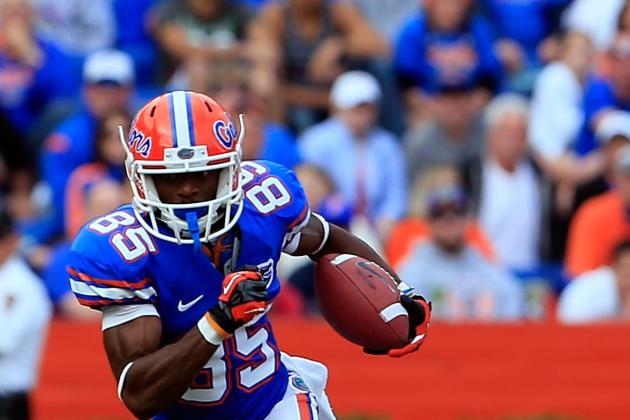 Sam Greenwood/Getty Images
Frankie Hammond Jr. was the Gators' most experienced wideout.
No one will confuse Frankie Hammond Jr. as a No. 1 wideout, but the fifth-year senior was easily the most experienced receiver on Florida's roster, and his departure leaves a big hole at one of the team's weakest positions.
Hammond's career marks of 61 catches for 787 yards and six touchdowns would be satisfactory for a team's top wideout. Unfortunately that's the best UF had to offer in 2012.
Of course it's not totally Hammond's fault.
The 6'0", 187-pound wideout endured the John Brantley era and went through the growing pains of Jeff Driskel's first season as a starter.
Florida won't lose as much from a talent perspective with Hammond departing as much as it'll lose experience.
The only other true wideout on the roster with double-digit catches is Quinton Dunbar, but he's only a redshirt sophomore, so the drop-off from Hammond to his replacement will be steep.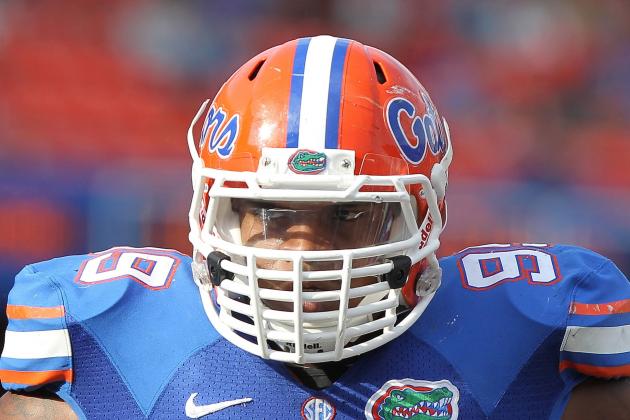 Kim Klement-USA TODAY Sports
Omar Hunter leaves a big hole behind in the middle of Florida's defense.
While Omar Hunter never lived up to his 5-star billing, his departure will leave a sizable hole in the middle of the Gators' third-ranked scoring defense.
The 6'0", 313-pound nose tackle stepped up his play as a senior, recording career-highs in tackles (39), tackles for loss (four) and pass breakups (four). His improved technique, strength and conditioning helped the Gators limit opponents to a paltry 97 rushing yards and 12.9 points per game.
Backup Leon Orr made just 13 tackles in eight games and hasn't mastered the nuances of the position to this point in his career.
Although Orr does bring tremendous size (6'5", 305 pounds), the former 4-star prospect doesn't have the experience or technique that Hunter brought to the table. He'll have a lot to prove in 2013, but could face competition from current commits Caleb Brantley and Darious Cummings.
Whoever emerges as the starter at nose tackle will have huge shoes to fill with Hunter moving on to the NFL.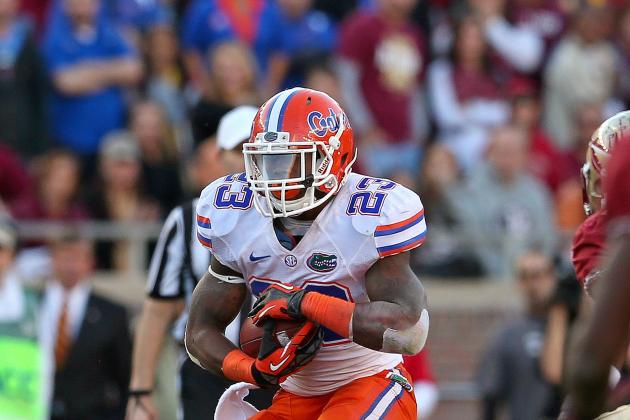 Mike Ehrmann/Getty Images
Mike Gillislee was a work horse in 2012.
For most of 2012, Mike Gillislee was the Florida offense.
In his only season as a starter, Gillislee proved he was more than capable of being the guy, often shouldering the load to make up for an inconsistent passing game.
After waiting in the wings behind Chris Rainey and Jeff Demps, the senior exploded for 1,104 rushing yards and 10 touchdowns while contributing as a pass blocker and occasional receiving threat out of the backfield. His versatility and unselfishness were invaluable for Florida's underwhelming offense.
Now that Gillislee will be playing on Sundays next season, Will Muschamp must attempt to replace his production with a multitude of players.
Luckily the Gators already have some talented pieces in place in Matt Jones and Mack Brown and mega-recruit Kelvin Taylor heading to Gainesville in 2013.
No one is sure who will emerge as the No. 1 back next season, but there should be plenty of carries to go around for the three-headed committee.
Let's just hope they manage to duplicate Gillislee's senior season success.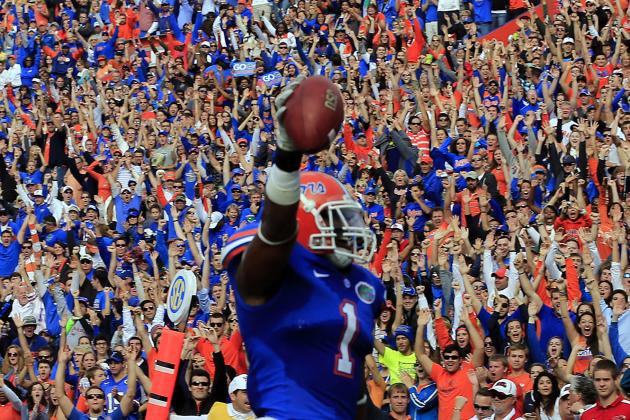 Sam Greenwood/Getty Images
Jon Bostic undertook a lot of responsibility as the leader of the Gators' front seven.
Jon Bostic may be regarded as a quiet guy, but his coaches never have enough good things to say about him.
Florida's current career leader in tackles (224) has been a steady presence at middle linebacker ever since he took over the position for former All-American and current New England Patriot Brandon Spikes.
After a solid first year as a starter in 2010, his play has only improved over the last two seasons. Bostic paced the Gators with 94 total tackles (10 for loss) as a junior before racking up 62 (6.5 for loss) as a senior.
Despite the drop-off, his play has actually soared to new heights in 2012.
In an October piece by Kevin Brockway of GatorSports.com, defensive coordinator Dan Quinn spoke highly of his middle linebacker's senior season:
"He's always had very good football smarts and real command of the defense," Quinn said. "I think his leadership skills are improving as he's moving forward and that's just a natural progression as a senior and you have been playing and have the experience."
While the Gators have a capable replacement in sophomore Michael Taylor, the drop-off in size and experience will be a noticeable one in 2013 as Bostic takes his tackling talent to the NFL.
John Sommers II/Getty Images
Caleb Sturgis might just be the best kicker in the country.
Grab your tissues, Gators fans.
The Caleb Sturgis era is coming to a close.
Florida's trusty kicker has been money throughout his career, but he turned out to be a legitimate team MVP candidate in 2012. With Florida's offense struggling to finish drives, Sturgis turned out to be Will Muschamp's ultimate weapon. The fifth-year senior converted 23-of-27 field-goal attempts, including a perfect 3-of-3 from beyond 50 yards.
After converting 85 percent of his field goals the past two seasons, life without Sturgis will feel much less safe in 2013.
Freshman Austin Hardin was ESPN's No. 1 kicker of his recruiting class, but he'll have to prove it in 2013 as he attempts to replace arguably the best kicker in college football.