The Top 10 NFL Catches of 2012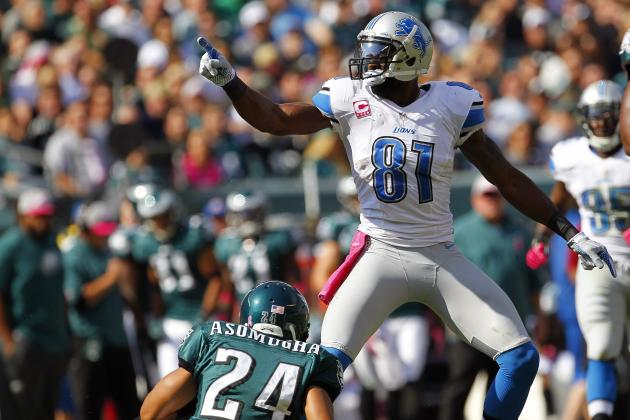 Rich Schultz/Getty Images

This is the definitive list for the top-10 catches of the 2012 NFL season.
I hear there are others out there. That's cute.
But this one was created using science, algebra and some other school subject that you no longer remember.
Or I watched a bunch of highlight videos and picked my favorites.
Special points were awarded to one-handed catches, as they raise the degree of difficulty. Cradling a ball to your chest or having a referee award you a touchdown does not get you on this list.
Click through for this year's top catches.
Begin Slideshow

»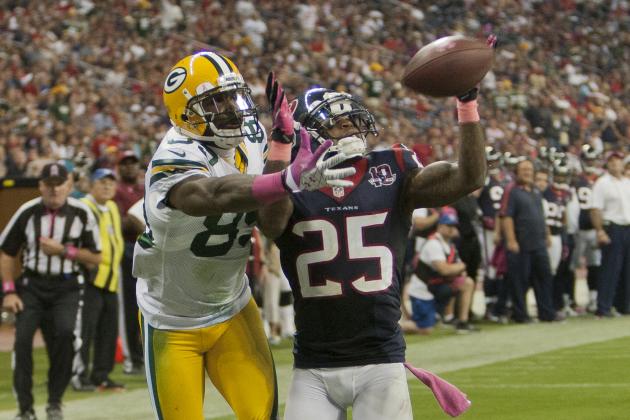 Bob Levey/Getty Images

The Houston Texans didn't realize what James Jones was going to do to them. They let him hang around on the outside, figuring he couldn't do much damage.
Were they ever wrong.
Aaron Rodgers tossed the rock his way anyways. Jones reached behind the defensive back with one hand and hauled in the touchdown pass.
Check it out here.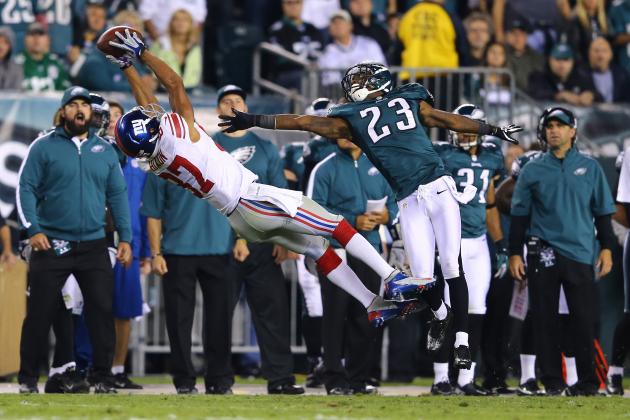 Al Bello/Getty Images

Since the Philadelphia Eagles refused to cover anyone all season, Domenik Hixon had to find a way to elevate the challenge.
Consider that goal achieved (catch three).
Hixon beats the Eagles deep, turns over in the air to do a backstroke and then snatches the ball while landing on his backside.
Nicely done.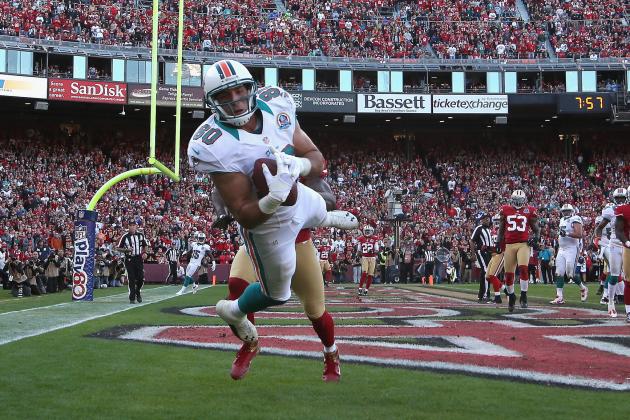 Ezra Shaw/Getty Images

It might only go down as a four-yard touchdown catch, but it was much more than that.
Ryan Tannehill led Anthony Fasano as he ran an out a few yards short of the end line. However, the floater seemed destined to land out of bounds.
Well, until Fasano got one of his big mitts on the rock and smoothly grabbed it.
Well done, Mr. Fasano.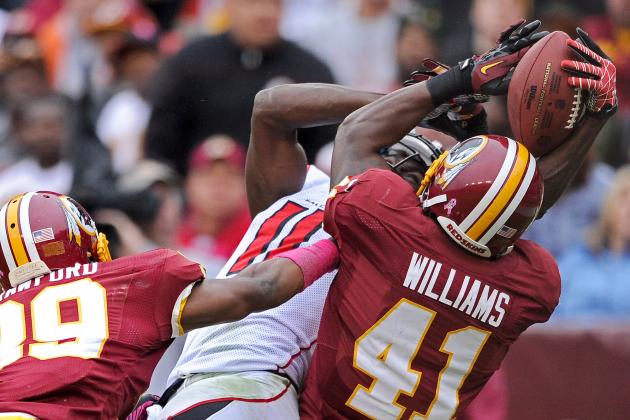 Patrick Smith/Getty Images

Julio Jones really doesn't care.
You want to cover him decently? Go for it.
Want to place him right next to the sideline? Sure thing.
He's still going to grab the rock and tip toe along along the line.
And he's just getting started. Scary.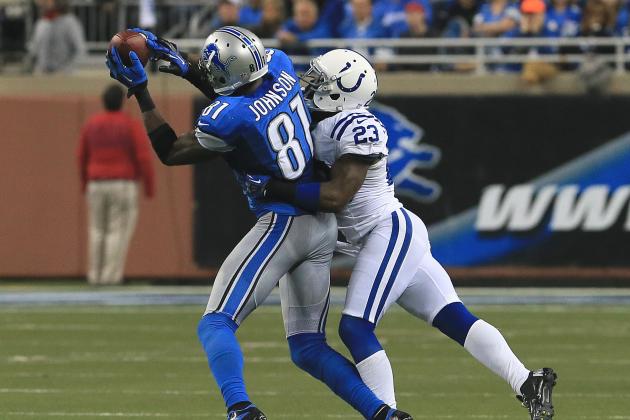 Dave Reginek/Getty Images

The Detroit Lions didn't have a good season, but don't lump Calvin Johnson in with that statement.
With an Indianapolis Colts defensive back draped all over one of his arms, Johnson goes up and hauls the ball in with his elbow.
The dude isn't even using his hands anymore. At least not completely.
We all assumed that Reggie Wayne would move on from the Indianapolis Colts like his former quarterback.
Instead, he found the fountain of youth in Andrew Luck.
Wayne killed it all season, but none more so than against the Green Bay Packers in Week 5.
That's Charles Woodson covering him. Doesn't matter. Wayne pulled down the ridiculous catch and then tried to get in the end zone while Woodson wondered what year it was.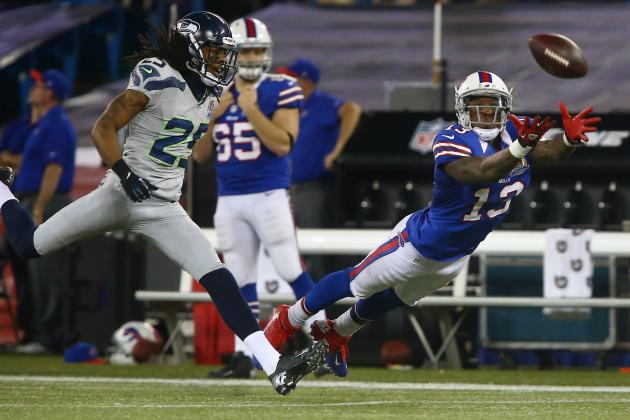 Tom Szczerbowski/Getty Images

He's so close to cracking the top three with this catch (No. 1 of the week).
On 3rd-and-20, Stevie Johnson somehow finds a huge hole in the Seattle Seahawks defense. Yet, Ryan Fitzpatrick dangerously overthrows him.
No worries. Johnson rises up and snatches it with one hand.
Did I mention he stopped on a dime to do it? Incredible.
This is just straight dirty.
The degree of difficulty is beyond comprehension. Somehow, Jason Avant of the Philadelphia Eagles reaches up with one outstretched hand and pulls down a sloppy pass.
To up the ante a touch, he rotates inwards while bringing it in.
Amazing.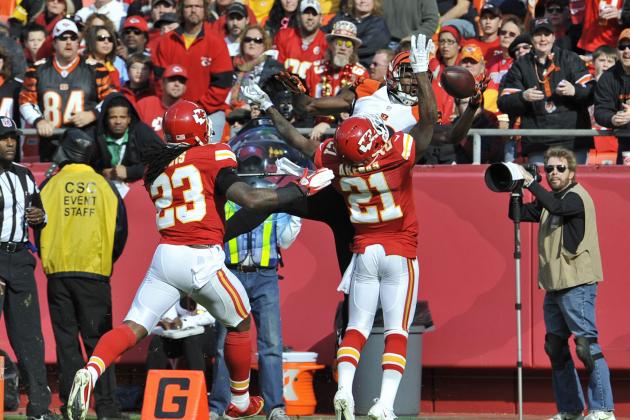 Peter Aiken/Getty Images

I've compared A.J. Green to a younger Calvin Johnson before, and he doesn't let me down with this one.
Green is obviously being marked by the Kansas City Chiefs. They're aware of his prowess in the end zone.
Doesn't matter.
Green gets just enough separation to grab the rock with one hand just behind the defensive back's shoulder.
They don't get much better than this. However, there was one that bested it.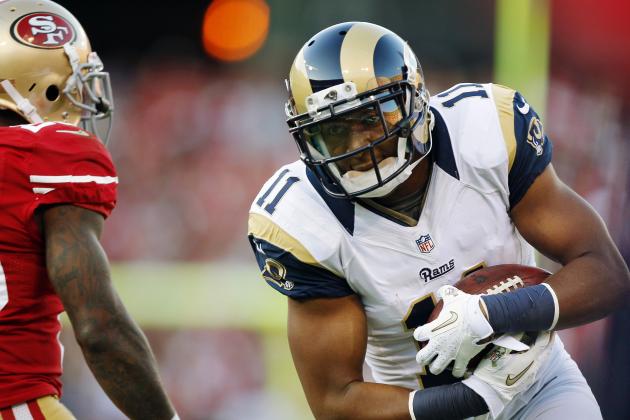 Brian Bahr/Getty Images

Don't tell Brandon Gibson that. Or, at least don't insinuate that no one on his team can make a play.
Gibson pulled down the best catch of the year.
He combined the one-handed grab of Jason Avant and added the the A.J. Green component of a defender draped all over him.
At his highest point, you can see him snatch it out of the air with one hand that looks as if it's cocked beside his head. For the purists, the grab was made in crunch time (although his team didn't go on to win).
Basically, this catch had it all.