Predicting NBA's Brightest Star at Each Position in 2015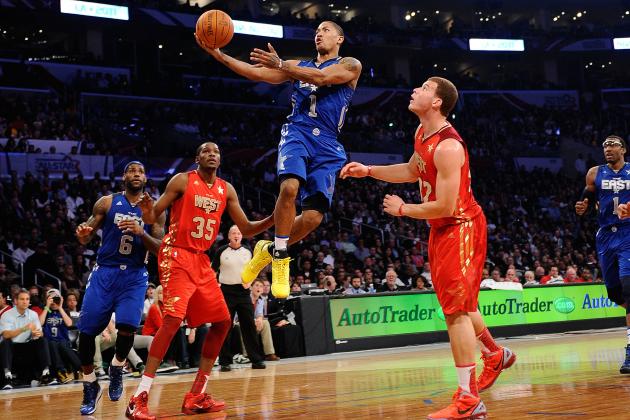 Kevork Djansezian/Getty Images

The NBA is a league which thrives on a never-ending infusion of great young talent. The issue, however, is deciphering which players are promising and who actually has the potential for pure greatness.
Which brings us to the following question: Who will be the NBA's brightest stars in 2015?
To answer that question, it is imperative that we do a position-by-position breakdown. Whether we're acknowledging the brightest stars of tomorrow or the players on the brink of stardom, 2015 will be a turning point for the NBA.
Active will enter retirement, All-Stars will lose their athleticism, and young players will reach their primes.
So who will be where come 2015?
Begin Slideshow

»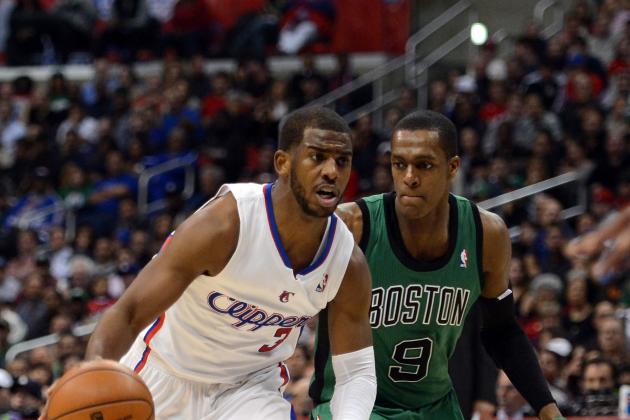 Harry How/Getty Images

Kyrie Irving, Cleveland Cavaliers
There is a strong chance that Kyrie Irving takes the top spot come 2015. After all, he's become one of the most dynamic scorers in the NBA in less than two seasons.
He's also posting a slash line of .462/.398/.798.
Although Irving has yet to develop as a facilitator, he has the ability. In fact, Irving is the best candidate to provide the all-around basketball genius of a Chris Paul.
Who will still be in competition.
Chris Paul, Los Angeles Clippers
Chris Paul is one of the NBA's greatest all-time point guards in terms of pure ability. From 2015 onwards, however, we will see a change in CP3's game.
It will be all about the ring. Even more so than today.
Paul will continue to be an elite ball hawk and facilitator, posting roughly 15.0 points per game in the process. This will garner him All-Star nods and even a few All-NBA appearances in 2015 and beyond.
As a result, his loyal fans will stand by him as the best active point guard. Until the day he retires.
Rajon Rondo, Boston Celtics
Rajon Rondo is rapidly improving with his jump shot. He's posting career-bests of 50.0 percent shooting from mid range and 32.4 percent from beyond the arc.
Should he keep this up, how could anyone debate that he will be the best? Especially when there isn't another facilitator in his assist-per-game range.
Throw in Rondo's defensive brilliance, and you have one of the most dominant forces in basketball. A finesse force with an uncanny ability to alter the outcome of a game.
John Wall, Washington Wizards
Anyone who tells you that John Wall is overrated must not know how to let go of biases over his rise to fame while at Kentucky.
Wall is a two-way force who can score and facilitate at an All-Star-caliber level. He's also a dominant perimeter defender with powerful athleticism and explosive leaping ability.
Such has led to his dominant play in the passing lanes and on shot attempts.
That is only going to improve.
Russell Westbrook, Oklahoma City Thunder
If Russell Westbrook were to take a slightly more conservative approach with his shot selection, he'd be the No. 1 player on this list. He's as potent a scorer and facilitator as, virtually, any player on this list.
The question is, what will it take for Westbrook to calm it all down?
Westbrook is an explosive athlete with beautiful form on his jump shot. Unfortunately, his release must be timed better, and his balance more consistent.
Should his fundamentals continue to catch his athleticism, there won't be a conversation. He will be the best.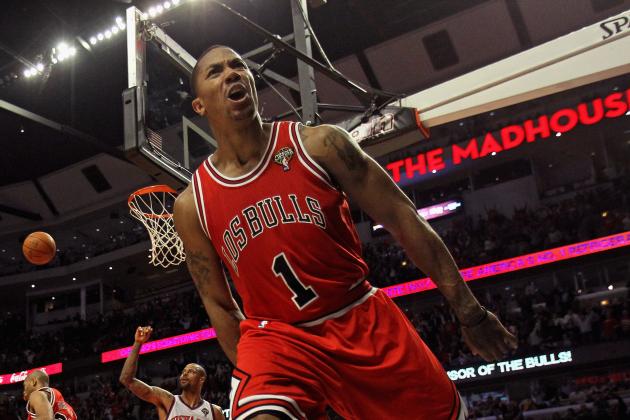 Jonathan Daniel/Getty Images

Current Age: 24
Age in 2015: 27
2011-12 Season Averages
23.10 PER, 21.8 PPG, 7.9 APG, 3.4 RPG, 0.9 SPG
With all of the hype surrounding Kyrie Irving, it appears as if we forgot about another star of the next generation.
2011 NBA MVP Derrick Rose. You know, the guy who is reading up on Adrian Peterson's dominant return and finding new motivation.
The truth of the matter is, Rose will not be the most skilled point guard.
Rajon Rondo and Chris Paul each have the pure ability to rank higher. Even in 2015, that is likely to be true.
What separates Rose, however, is not just his explosive athleticism. It is his killer instinct and indescribable aura.
When D-Rose plays, you know something special is going to happen. For that reason, the league-wide perception will be that Rose is the top point guard.
With his game-changing ability and highlight-reel finishes, who is going to argue?
Bruce Bennett/Getty Images

Honorable Mention: Kobe Bryant, Los Angeles Lakers
Due to reports that Kobe Bryant will retire by 2015, the legendary Laker is nothing more than an honorable mention (via Yahoo! Sports).
Paul George, Indiana Pacers
In his third year in the league, the 6'10" Paul George is averaging 16.3 points, 7.1 rebounds, 3.6 assists and 1.5 steals per game. By 2015, he may just become the first guard since Oscar Robertson in 1963 to average at least 10.0 rebounds.
Quick praise to the 6'3" Fat Lever for averaging 19.8 points, 9.3 rebounds and 7.9 assists in 1988-89.
With his balance of size, athleticism, defensive prowess and sharpshooting, George could be the top shooting guard in the league.
Although Harden will beat him out in 2015, the battle between the two dynamic players will last for the next decade, or so.
O.J. Mayo, Dallas Mavericks
O.J. Mayo may have cooled down from his hot start in 2012-13, but this young man is for real.
Mayo is one of the elite pure shooters in the NBA. With a smooth stroke, beautiful form and excellent handles, Mayo is poised to be a scoring machine for years to come.
Should he improve his defensive footwork and penetration skills, he could move up this list. Expect him to do just that.
Terrence Ross, Toronto Raptors
Terrence Ross is a 6'7" shooting guard with an excellent defensive base, explosive athleticism and deep three-point range. If that's not the making for a future star, what exactly are you looking for?
Ross has the upside to become a top-15 three-point shooter, top-five steal artist and top-10 scorer. In Toronto, where points are at a shortage, he'll receive the opportunity to shine.
Ross has a bright future in the NBA.
Dwyane Wade, Miami Heat
Rumors of Dwyane Wade's decline are outrageous. The fact of the matter is, D-Wade remains a dynamic playmaker and clutch defender.
When your game does not rely on your athleticism, that's something sustainable.
The concern for Wade has to be injuries, as he always appears to be battling ailments. Even still, it is fair to assume Wade will be one of the top five shooting guards in the league in 2015.
Even at the age of 33.
Dion Waiters, Cleveland Cavaliers
Many fans are convinced that Dion Waiters is the second coming of Dwyane Wade. Those fans are dead-on with their evaluation, even if the clever ones want to use the usual response.
"No, he's the first Dion Waiters!"
Waiters is a phenomenal ball-handler, clever facilitator and crafty finisher. As soon as his mid-range game improves, Waiters will be a perennial All-Star in an unstoppable backcourt with Kyrie Irving.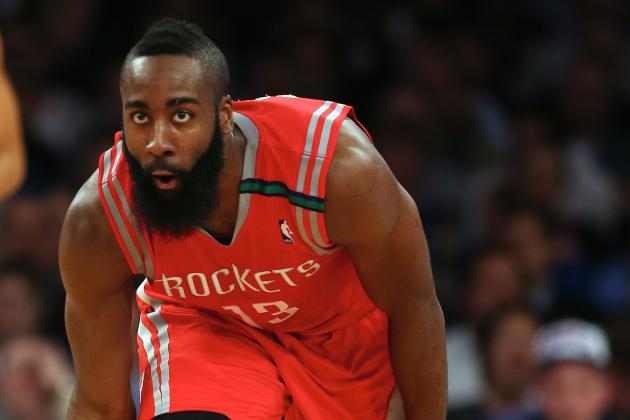 Elsa/Getty Images

Current Age: 23
Age in 2015: 26
2012-13 Season Averages
23.53 PER, 25.8 PPG, 5.3 APG, 4.5 RPG, 1.8 SPG
If 2012-13 is any sign of the future, James Harden is poised to become one of the most powerful forces in the NBA.
Come 2015, Harden will be 26 years old and entering his prime. Considering that his pre-prime numbers include 25.8 points, 5.3 assists, 4.5 rebounds and 1.8 steals per game, that is a terrifying thought.
It is also a piece of proof that Harden is already one of the top shooting guards in the league.
Two-and-a-half more seasons of taxing work on Kobe Bryant and Dwyane Wade could eliminate the competition.
Harden will be the top dog.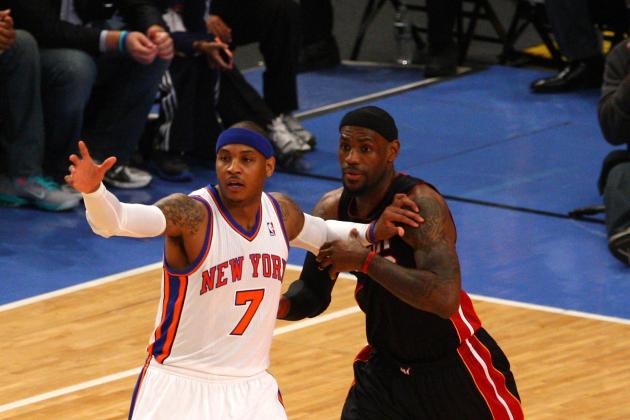 Chris Chambers/Getty Images

Honorable Mention: Andrew Wiggins, N/A and Jabari Parker, Duke Blue Devils
Due to the fact that Andrew Wiggins and Jabari Parker have yet to step foot on an NBA floor, they go no higher than an honorable mention.
The truth of the matter is that they're on par to become the top players in the game. It's just a matter of proving themselves outside of high school before jumping the gun.
Carmelo Anthony, New York Knicks
When you're a physical powerhouse that gets by on your elite-level jump shooting, you're going to be around for a while.
That's the story of Carmelo Anthony, who has proven capable of dominating at both forward positions. This versatility will keep Anthony around, even as he hits 31 in 2015.
Look for 'Melo to continue contending for the scoring title and awing fans with his late-game heroics.
Nicolas Batum, Portland Trail Blazers
Entering the 2012-13 NBA regular season, I was ready to give up on Nicolas Batum. He'd been the poster child for "upside," but had rarely displayed anything more than elite athleticism.
Thus far in 2012-13, Batum has altered those perceptions by producing in a well-rounded manner. Should he ever reach his defensive potential, Batum may just give Kevin Durant a run for his money.
Long, lanky, athletic and smooth shooting. Could the Frenchman reach his upside?
LeBron James, Miami Heat
Every reign of terror must come to an end.
The truth that we cannot forget here is that, even as LeBron James is overtaken, he'll remain the second-best player in the world. The only difference is that we will actually have a legitimate argument going against him.
LeBron will compete for MVP awards, lead his team to NBA Finals appearances and pave his way to the Hall of Fame during the 2015 season and beyond.
Chances are, he'll also have his nightly flirt with a triple-double to prove this selection wrong.
Who's against some friendly competition, though?
Michael Kidd-Gilchrist, Charlotte Bobcats
Michael Kidd-Gilchrist may be lost in the obscurity of the Charlotte Bobcats, but he's quietly having one of the best rookie seasons in the NBA.
MKG is presently averaging 10.8 points, 6.3 rebounds, 1.9 assists, 1.4 blocks and 0.9 steals. He's also shooting 49.8 percent from the floor.
Kidd-Gilchrist will be a top-five defender by 2015. If he adds a jump shot, he'll also be a top-five small forward.
Evan Turner, Philadelphia 76ers
If you're looking for a well-rounded player, you wont' find very many better than Evan Turner.
In 2012-13, Turner is playing as he did while attending Ohio State. By the numbers, he's averaging 14.8 points, 6.8 rebounds and 4.3 assists per game.
He's also shooting a career-best 45.3 percent from beyond the arc and displaying his undying will to improve. Turner may be a relatively unknown player, but he'll hit his prime in 2015.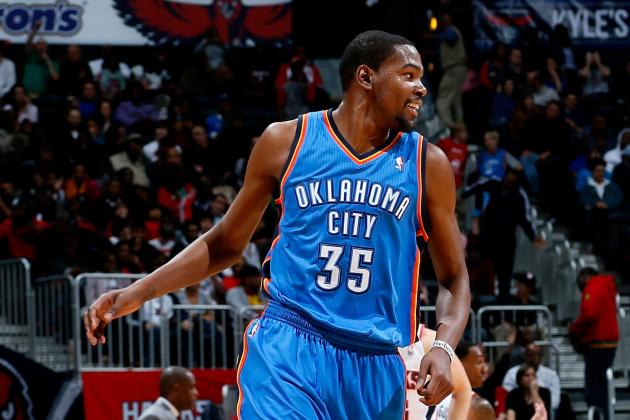 Kevin C. Cox/Getty Images

Current Age: 24
Age in 2015: 27
2012-13 Season Averages
28.37 PER, 28.5 PPG, 8.4 RPG, 4.2 APG, 1.5 SPG, 1.4 BPG
For the first time in their potentially illustrious rivalry, Kevin Durant will take this top spot from LeBron James.
Durant, a three-time scoring champion at 24, has begun to develop a much more well-rounded game. In 2012-13, he's averaging 28.5 points, 8.4 rebounds, 4.2 assists, 1.5 steals and 1.4 blocks.
In other words, Durant has become a dominant two-way force. In fact, Durant is the only player in the NBA to average at least 20.0 points, 8.0 rebounds, 4.0 assists, 1.0 steals and 1.0 blocks.
Including LeBron James.
LeBron holds the advantage at this moment. With that being said, Durant has all the tools necessary to take the reins as the top player in the NBA come 2015.
Expect him to do so.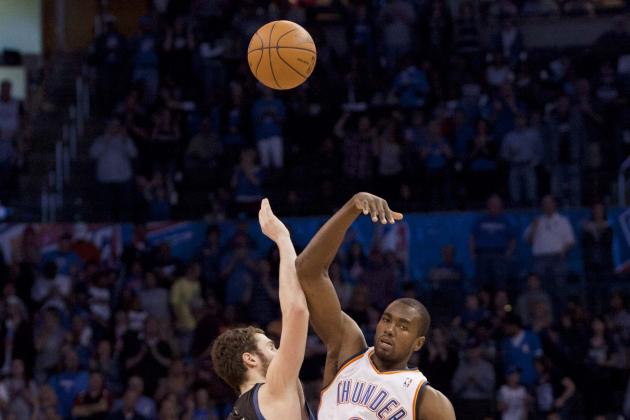 Richard Rowe-USA TODAY Sports

Honorable Mention: Andrew Nicholson, Orlando Magic
This may not be the name you expect to see, but Andrew Nicholson is going to be a star.
Nicholson has a smooth mid-range game, polished low-post attack and underrated under-the-rim athleticism. He's also a tenacious player on both ends who is not afraid to do the dirty work.
His work ethic will make him a fan favorite. Nicholson's offensive versatility will make him a star.
The only question will be whether or not he can match that production defensively.
LaMarcus Aldridge, Portland Trail Blazers
Many scouts will refer to LaMarcus Aldridge as a player who has an "old man's game."
Although it prevents Aldridge from receiving the recognition he deserves, it breeds the opportunity for longevity. Aldridge's mid-range brilliance and low-post dominant will assure him of that.
His improved shot blocking and defensive base will lead to his being on this list for years to come. Even if Damian Lillard steals headlines, L.A. will be a star for quite some time.
Anthony Davis, New Orleans Hornets
There is no way around how dominant a defensive player Anthony Davis could become. In fact, he's already making his presence felt as a rookie.
Davis is presently averaging 1.8 blocks and 1.2 steals per game.
What will, one day, separate Davis from the rest is his skill with the ball in his hands. From his underrated jump shot to his guard-like handles, Davis is a much more dangerous offensive threat than given credit for.
Derrick Favors, Utah Jazz
Derrick Favors is going to be the best power forward in the NBA. One day.
It is simply a matter of when he reaches that potential.
Favors has supreme athleticism and overpowering strength at 6'10" and 248 pounds. He's also patient in the paint and already one of the top interior defenders in the league.
At just 21 years of age, the next two-to-three years will provide the opportunity to develop his offensive attack. Expect something special from the former Georgia Tech standout.
Serge Ibaka, Oklahoma City Thunder
Serge Ibaka is the league's leading shot-blocker for the second consecutive season. He's also becoming a lethal shooter and more consistent rebounder.
Whether or not Ibaka makes the leap to the top will be based on his progression in the post.
With the Thunder serving as a jump-shooting team, Ibaka must develop a back-to-the-basket attack. If he can, his balance of offensive reliability and defensive dominance could take him to All-NBA levels.
Kevin Love, Minnesota Timberwolves
Kevin Love may have been expected to reach the No. 1 spot on this list due to his unparalleled offensive efficiency.
Love is as dominant a scorer as we have in the NBA. He's lethal from beyond the arc, consistent from mid range and equally as dominant in the post.
Tack on his status as one of the NBA's top rebounders, and you have yourself a strong case to make.
The fact of the matter is, Love has yet to prove capable of contributing on the defensive end of the floor. Although he works his tail off, Love remains a poor shot-alterer.
Should that change, he'll reach the top, as many expect him to.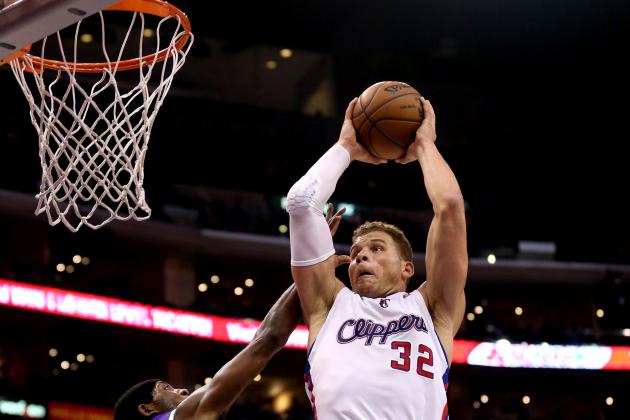 Stephen Dunn/Getty Images

Current Age: 23
Age in 2015: 26
2012-13 Season Averages
23.39 PER, 18.0 PPG, 8.7 RPG, 3.1 APG, 1.5 SPG, 0.7 BPG
With Blake Griffin's size at 6'10" and 251 pounds, the room for greatness is already there.
With his top-tier athletic ability, however, Griffin is physically capable of achieving more in his prime than any other power forward. Whether or not he will reach that level is constantly debated.
Allow the following bit of information to speak volumes to his work ethic.
Entering the 2012-13 NBA regular season, the most overwhelming concern about Griffin was his jump shooting. Thus far, Griffin is converting 40.5 percent from mid range.
If this work ethic remains, he'll step out a few feet and add a three-point shot. Griffin will also become a more consistent shot-blocker, which he has shown signs of in 2012-13.
Let the Griffin-versus-Love debate begin and never end until the day they retire.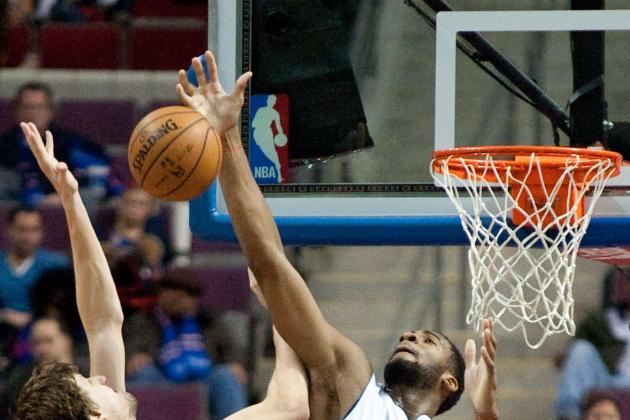 Tim Fuller-USA TODAY Sports

Andrew Bynum, Philadelphia 76ers
Should Andrew Bynum ever reach 100-percent health, he could be the top center in the NBA.
Bynum is a bruising big at 7'0" and 285 pounds. He can finish with both hands on offense, is developing a mid-range jumper and is dominant on the defensive end of the floor.
When he applies himself.
The key for Bynum will be to develop a better motor and remain consistently healthy. If he can achieve those two feats, he'll give our top selection a run for his money.
Andre Drummond, Detroit Pistons
As a rookie, Andre Drummond is averaging 19.4 minutes per game. In that time, he has posted team-high averages of 7.1 rebounds and 1.5 blocks.
He's also tallied five double-doubles and nine games with at least 10 rebounds.
Drummond has work to do offensively, but he will be in competition for defensive-player-of-the-year awards throughout the duration of his career. He has Dwight Howard explosiveness and Marcus Camby patience.
A long, decorated career is on the horizon for Drummond.
Dwight Howard, Los Angeles Lakers
Really? Both Dwight Howard and Andrew Bynum will fall out of first place?
Believe it or not, yes they will.
D-12 could be the star of the Los Angeles Lakers. If he opts to be, he will be competing for titles year in and year out.
This will lead to the popular belief that he's the top center in the league.
Although he'll remain the top defensive force, Howard's progression as an offensive player is where the focus lies. The selection for best center in 2015 is one of the top offensive forces in the game.
Can Howard match his versatility? If so, there won't be a comparison.
Joakim Noah, Chicago Bulls
You'd be hard pressed to find a player with a more powerful motor and work ethic than Joakim Noah.
Noah has developed a reputation not only as one of the hardest-working players in the game, but as one of the most skilled centers. Even with his unorthodox ways, Noah leads all big men in assists at 4.4 per game.
He's a nightly threat for a double-double. He'll dish out more assists than any other big. He'll also play hard-nosed defense.
A few years won't change that.
Larry Sanders, Milwaukee Bucks
Larry Sanders is presently averaging 24.6 minutes, 7.9 points, 8.5 rebounds and 3.0 blocks per game. He has seven double-doubles and one triple-double.
Sanders is already a leading defensive-player-of-the-year candidate. Whether or not he wins just depends on when his minutes improve.
He's second in the league at 5.85 blocks per 48 minutes.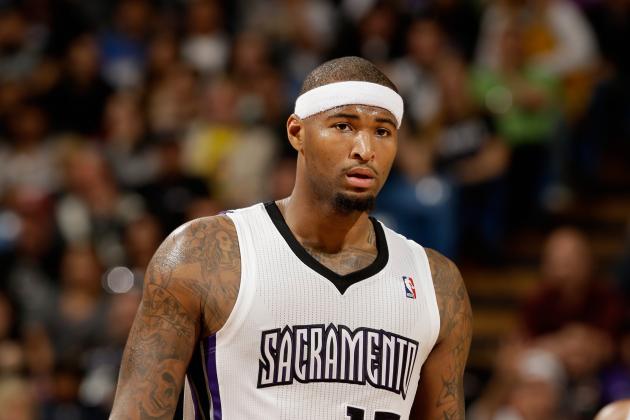 Ezra Shaw/Getty Images

Current Age: 22
Age in 2015: 25
2012-13 Season Averages
18.91 PER, 16.6 PPG, 9.5 RPG, 2.1 APG, 1.3 SPG
This is a major wild card due to DeMarcus Cousins' attitude and coaching-staff-related issues (via USA Today).
Should Cousins turn things around in that sense, however, one thing is perfectly clear. In fact, one thing is approaching certainty.
There will be no big man in basketball quite as talented as DMC come 2015. And he won't have even reached his prime.
At 6'11" and 270 pounds, Cousins is a monster in the post. He's as good as any at using his body as a driving force, thus putting his shoulder down as he works his way into the paint for two.
From there, Cousins will rise up for a ferocious slam, utilize an improving turnaround jumper or finish with both hands on a hook shot.
Cousins is also a lethal mid-range shooter with the athleticism and skill to take an opponent off of the dribble.
On defense, Cousins is a dominant shot-blocker and is savvy at playing the passing lanes. Although his blocks-per-game average is down in 2012-13, he's much better than the numbers show.
Cousins could be the most dominant player in the NBA if he gets his head right. Allow this piece to serve as motivation.