Pac-12 Projections 2013: Way Too Early Predictions for Every Team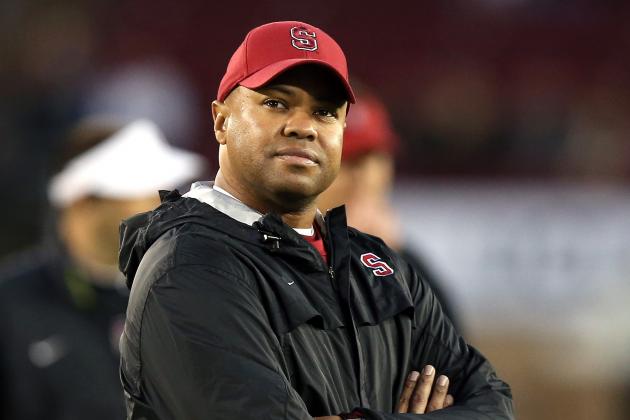 Ezra Shaw/Getty Images
Stanford Coach David Shaw
It is nearly January, which means the time is ripe for looking toward the 2013 college football season to see what the Pac-12 might have in store.
This past season was an exciting one, with Stanford taking over the top spot by defeating Oregon and ending the Ducks' title hopes.
The conference put two teams in BCS games for the third straight season, and many teams saw major improvement from 2011.
Start with Oregon State, who reversed its 3-9 record from 2011 to go 9-3. Or take Arizona, which saw an improved offense under first year head coach Rich Rodriguez. Do not forget UCLA, either, as the Bruins reached their second straight Pac-12 title game.
As is often the case, there are several questions looming large over the offseason. Will Chip Kelly bolt for the NFL? Will Washington ever make the step forward and become a serious contender in the north? How will Arizona replace Matt Scott?
Without further ado, here is a list of way too early predictions for every Pac-12 team.
Begin Slideshow

»
Christian Petersen/Getty Images
Arizona RB Ka'Deem Carey
Arizona running back Ka'Deem Carey is perhaps the most talented back in the Pac-12, and he has a bright NFL future ahead of him.
But I am having trouble seeing how Carey gets to 1,929 yards rushing like he did this past season.
The biggest issue is the loss of Matt Scott, who took pressure off Carey with his ability to make plays on the run and toss the rock downfield.
The Wildcats will undoubtedly start a talented QB, whether that's USC transfer Jesse Scroggins or B.J. Denker, but it is unlikely they will match Scott's production right away.
Next season, opposing defenses' main focus will be on stopping the Wildcats' rushing attack. If Carey improves, it means he will have put up one of the all-time seasons despite having the attention of every defense he faces.
Arizona may have an effective offense in 2013, but do not expect to see Carey running as wild as he did this season.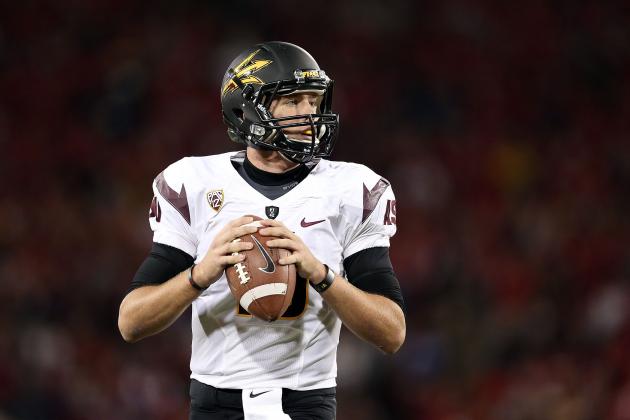 Christian Petersen/Getty Images
Arizona State QB Taylor Kelly
The Sun Devils saw major improvement in every area this past season, most notably in the penalty department after the departure of guys like Vontaze Burfict.
Credit head coach Todd Graham, who had his team playing harder and smarter than it has in years. But give equal if not more credit to sophomore QB Taylor Kelly, who had an outstanding season despite being overshadowed by other first-year starters like Brett Hundley and Marcus Mariota.
I expect Arizona State to show improvement next season in the win column, mostly because their schedule sets up well. They miss Oregon, and they get Oregon State, Arizona and USC at home. Road contests at Stanford and UCLA will be difficult, but it's not hard to see 8 wins on the schedule.
Look for Kelly to continue being efficient and for the running game to become even more explosive behind D.J. Foster.
With the South Division up for grabs, the Sun Devils should set their sights on the Pac-12 title game next year.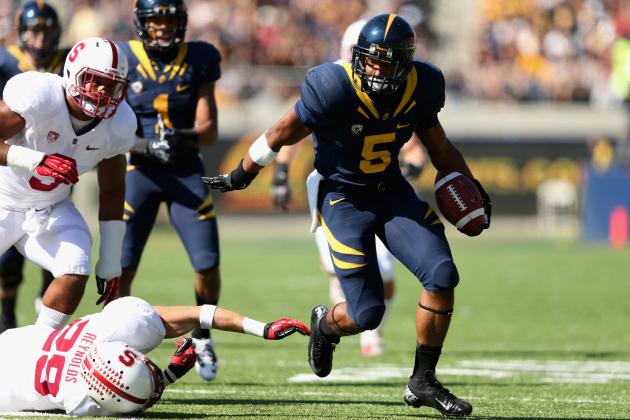 Ezra Shaw/Getty Images
Cal RB Brendan Bigelow Should Lead an Explosive Rushing Attack
Cal has already made a splash this offseason with the hiring of Sonny Dykes, known offensive guru and the perfect man to liven up what's become a dull offense.
The Bears averaged just 23 points-per-game this season, good for 94th in the FBS.
I expect that number to improve dramatically with the unleashing of running back Brendan Bigelow. The sophomore from Fresno averaged nearly 10 yards per rush despite getting just 44 carries all season. But both C.J. Anderson and Isi Sofele will be gone, giving Bigelow a chance to shine.
The other major issue with the offense was the quarterback play of Zach Maynard, and I doubt many Cal fans will be upset to see him leave. Stepping in at signal-caller could be freshman Zach Kline, a highly touted, athletic QB.
It would be a surprise if this Cal team challenges for the division, but an improved offense should help them be competitive in the majority of their games.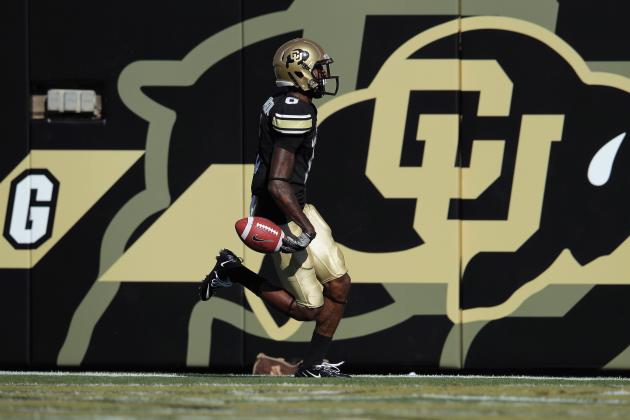 Doug Pensinger/Getty Images
WR Paul Richardson
I will not be so bold as to predict a two or three win increase from this past season, but the return of Paul Richardson will make a huge difference for the Buffs' offense.
After tearing his ACL last spring, the junior decided to redshirt the 2012 season rather than rush back and risk further injury.
Richardson is a crazy-talented receiver who posted an 11-catch, 284-yard performance against Cal in 2011. He has speed to burn and the ability to hurt defenses in a variety of ways.
Colorado will not become a bowl team overnight, but Richardson will turn heads and become a bright spot for the Buffaloes by earning postseason honors.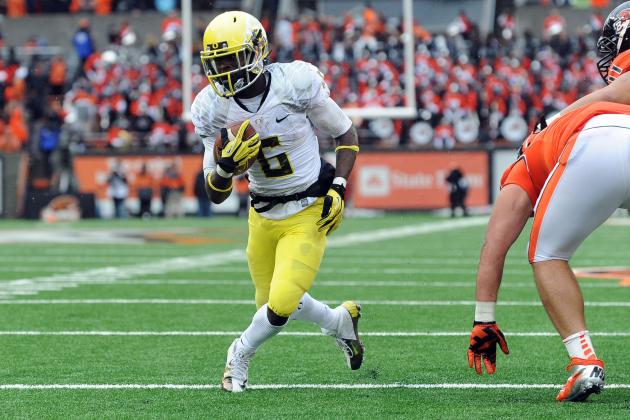 Steve Dykes/Getty Images
The explosive De'Anthony Thomas
The headline is a little misleading, because I do not expect Oregon's offense to see any kind of drop in production. But I would be surprised to see anybody rush for more than 1,200 yards, for several reasons.
First, Duck fans have become spoiled with running backs like LaMichael James and Kenjon Barner. Byron Marshall may turn out to be just as good, but it's asking a lot the sophomore to put up another 1,200- plus yard season.
Second, the Ducks have a variety of weapons that will split carries. Between Thomas, Marshall, Mariota, and incoming freshmen Thomas Tyner and Dontre Wilson, it is unlikely anybody will get enough carries to break the 1,200-yard mark.
The Ducks could conceivably have four or five guys rush for more than 600 yards, but I also think they will pass more with every contributing receiver returning and Kenjon Barner departing.
The offense should be more explosive than ever, but do not expect any single running back to separate himself from the pack.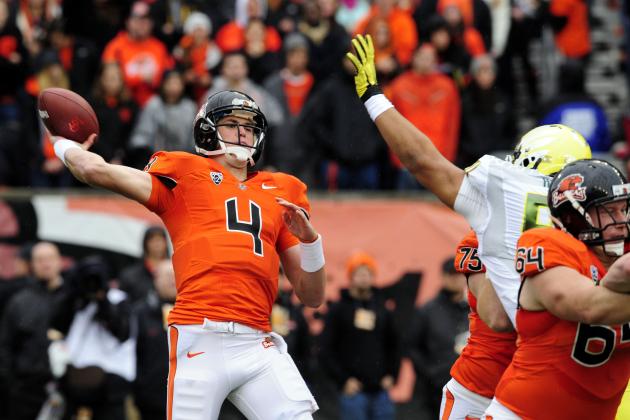 Steve Dykes/Getty Images
QB Sean Mannion, Who Could be Backup to Cody Vaz Next Season
The Oregon State Beavers were one of college football's most-improved teams in 2012.
The offense, behind sophomore quarterback Sean Mannion, blossomed into a force that few teams could handle. The unit averaged 33 points-per-game.
I think the Beavers will be a dangerous team next season, but a couple reasons prevent me from seeing how they'll improve on offense.
The first is the loss of Markus Wheaton, a speedy wideout with dependable hands who could also take the top off defenses. Brandin Cooks is as talented as anybody on the league, but he'll soon see more double-teams than ever.
The second reason is the ongoing battle at QB between Sean Mannion and Cody Vaz. If Vaz plays well in the Alamo bowl the chatter will settle down for awhile. But should he struggle, the controversy will become magnified and every decision Riley makes heading into 2013 will be second-guessed.
Storm Woods should continue to improve, but the defense will likely headline the 2013 Beavers.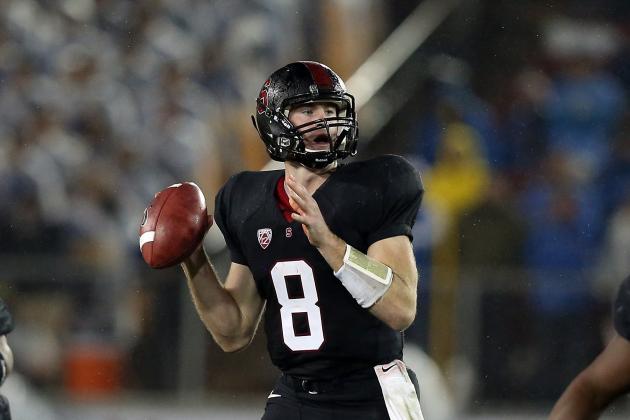 Ezra Shaw/Getty Images
Stanford QB Kevin Hogan
The Stanford Cardinal have quickly become one of the premier programs in college football.
For Kevin Hogan's encore, he will lead his team to an 11-win regular season.
The defense has talent to spare and will be fine even if Shayne Skov opts for the NFL draft. The offense loses Stepfan Taylor, but they have a host of talented backs including redshirt freshman Barry Sanders Jr.
The schedule also sets up David Shaw's team for success. They face Oregon, Arizona State and UCLA at home, and their only tough road game comes against USC.
I could see Stanford losing to the Trojans or the Ducks, but I would be surprised if they drop both, or any other game for that matter.
Look for Stanford to continue to follow Oregon's lead and reach their fourth straight BCS game next season.
Ezra Shaw/Getty Images
QB Brett Hundley
The UCLA Bruins are coming off the second straight season in which they took the South Division title, but don't expect that number to reach three.
It is not that UCLA is going to regress, in fact, I think they will be even better. But their schedule is terribly difficult in 2013.
In addition to a road date at Nebraska, they will travel to Oregon, Stanford, Arizona and USC. Winning three out of those five would have to be considered a success, but that could set them back in the division race.
Hundley is a spectacular talent who, along with Mariota and Hogan, will headline the stable of great quarterbacks in the Pac-12. But with a number of difficult road games, the Bruins will have a tough time reaching their third straight conference title game.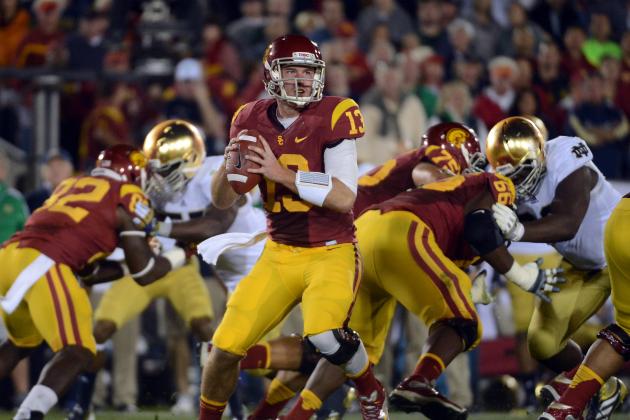 Harry How/Getty Images
USC QB Max Wittek
Max Wittek will likely take over the reigns at starting quarterback for USC next season, and the redshirt freshman has a bright future ahead of him.
But he is going to take his lumps, and there will be a number of throws next season that leave Lane Kiffin shaking his head.
Consider the situation at running back, where Curtis McNeal is set to graduate and Silas Redd could opt for the NFL draft. It wouldn't surprise anyone if star receiver Robert Woods decides to turn pro, either.
All of this could leave the young quarterback in a situation where he's throwing the ball 40 times a game behind a shaky offensive line. He'll have the luxury of passing to Marqise Lee and Nelson Agholor, but that could also lead him to make throws that just aren't there.
Of course, there's also the chance that incoming freshman Max Browne surprises everyone and wins the starting gig. But if Wittek is the guy, he will mix in plenty of interceptions with his otherwise incredible throws.
Steve Dykes/Getty Images
QB Travis Wilson
This was supposed to be the year that Utah took another step forward after nearly reaching the conference title game in 2011.
That did not happen, and the prospects for 2013 aren't very bright. The running game loses John White, and the defense loses Star Lotulelei.
Freshman quarterback Travis Wilson showed promise, but he does not appear ready to carry the entire offense on his shoulders.
Utah struggled late in the season, losing badly to Washington and nearly dropping a road contest at Colorado.
Fans are probably hopeful that Kyle Whittingham will get things turned around quickly, but I think this team is at least a couple years away from being a major threat again.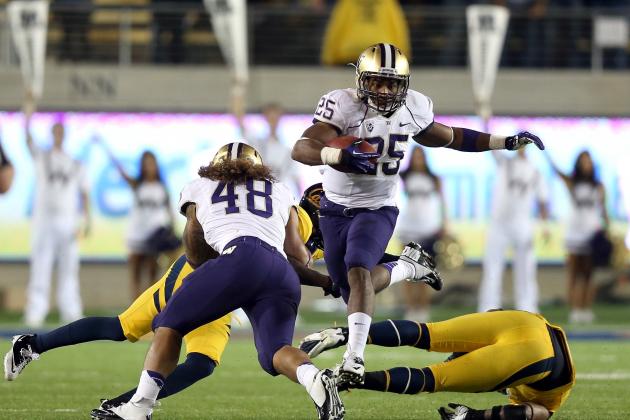 Ezra Shaw/Getty Images
RB Bishop Sankey
For several years now the Washington Huskies have been the team that always points to "next year".
It's unknown whether this team will finally make the jump to conference contender, as a lot of that rides on whether or not Keith Price can regain his sophomore mojo.
But one thing is certain: they have an absolute stud in the backfield.
Sankey reminds me a little bit of Doug Martin, in that he's smaller but seems to break three or four tackles on every play. He does not have elite speed, but in the open field he certainly has the ability to take it to the house.
If this sounds reactionary because of the Las Vegas bowl, consider this: Sankey averaged just over 83 yards a game during the first eight games, but averaged over 150 yards in the last five games. Yes, that includes his 200-yard performance against Boise State.
The reason he will lead the Pac-12 in rushing is because I expect Ka'Deem to have a tough time with defenses keying on him each game, and I think the Ducks will attack on the ground by committee.
Sankey may not help the Huskies contend for a conference title, but look for him to pile up more yards than anyone else in the Pac-12 next season.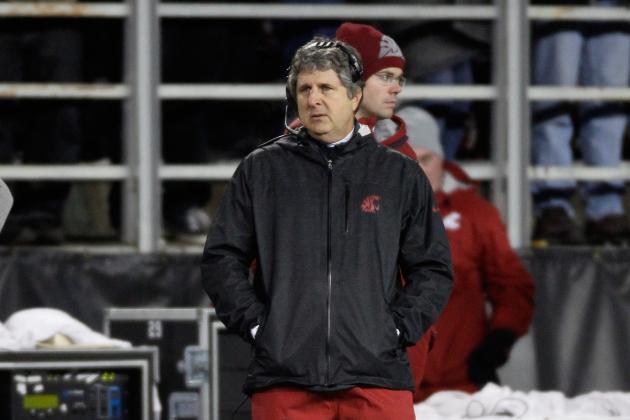 William Mancebo/Getty Images
WSU coach Mike Leach
The Washington State Cougars closed out the 2012 season by defeating their rivals, the Washington Huskies.
That momentum should carry them into the offseason, and they will be a team that nobody should take lightly in 2013. But naturally, somebody will and thus the prediction that they'll upset at least one ranked team.
They have the perfect formula to do so with an aggressive passing attack and opportunistic defense. They hung with Oregon for a half, and they nearly took Stanford to overtime late in the season.
Of course, they also lost to Colorado.
But they should be improved next season and when they're inevitably overlooked by a conference power, they'll jump up and make a statement.