UFC 155 Preview: Joe Lauzon and 11 Fighters with the Most Fight Night Bonuses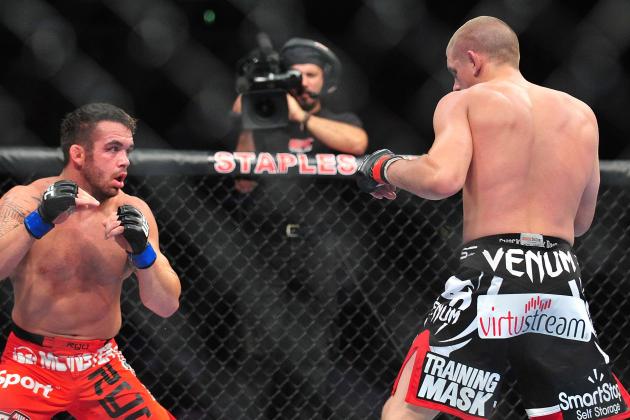 Gary A. Vasquez-USA TODAY Sports
Joe Lauzon (right) faces off against Jamie Varner (left) at UFC on FOX: Shogun vs. Vera
Something almost every fighter will tell you is that they fight in the UFC to entertain the fans. Joe Lauzon knows all about it.
Although he hasn't climbed to within title conversations as of yet, Lauzon puts on a show whenever he enters the Octagon.
The UFC rewards efforts such as this with their "Fight Night" bonuses. Lauzon is only second for number of bonuses received, that have been given out since UFC Ultimate Fight Night 3 in January 2006. That night, Melvin Guillard and Josh Neer received $20,000 for "Fight of the Night."
Lauzon is set to face Jim Miller at UFC 155, where he will look to move into a tie (or break) the UFC record for most fight night bonuses.
For now, here are some guys that, like Lauzon, have won over fans, media and colleagues alike with excellent performances and amazing finishes.
Begin Slideshow

»
"Fight of the Night" (FotN) - 2
"Knockout of the Night" (KotN) - 4
"Submission of the Night" (SotN) - 0
Chris Leben is another man looking to add to his "bonus" total at UFC 155, when he takes on Derek Brunson.
Leben's first taste of the bonus cash came at the expense of Jorge Santiago, when Leben connected with a counter-punch and pounced on his wounded opponent in August 2006.
Leben has won four of his last six bouts, but for bonuses, he picked up KotN when he knocked out Aaron Simpson and followed up with FotN honours for his fight with Yoshihiro Akiyama at UFC 116. His last three fights, he hasn't gotten any and collected two losses to boot.
Leben will be looking to make a statement on Saturday night, and bringing himself up this list would be that much sweeter for the "Crippler."
FotN - 3
KotN - 2
SotN - 1
If we were counting his fight night bonuses in WEC, Donald Cerrone's FotN total would be at eight, but this is about his time in the UFC, and he isn't doing too badly.
Six fight night bonuses in seven UFC fights makes for a great resume for the "Cowboy," who is coming off of a double-bonus victory over Melvin Guillard at UFC 150.
FotN - 4
KotN - 1
SotN - 1
With 27 UFC bouts under his belt and a nice legacy to look back on, no wonder Tito Ortiz would be on a list like this.
Shocking he isn't higher up the list, but it's a given that his prime was before they started giving out the bonuses. I'm not saying he wasn't in great shape for fights later on, but by the time the bonuses started coming out, he went on a losing streak that ended in him winning one fight in nine.
Ortiz did a great job entertaining the fans in his fights, as he did win four bonuses in his last four bouts, including FotN with Forrest Griffin to end his career at UFC 148.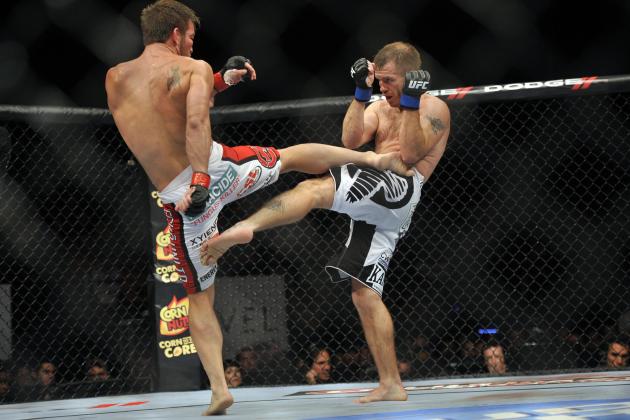 Joe Camporeale-USA TODAY Sports

FotN - 5
KotN - 1
SotN - 0
The only Canadian on the list, Stout has a knack for staying in the UFC for great nights like his trilogy with Spencer Fisher, which earned each of them two FotN awards.
Stout lost to John Makdessi last month and will look to get back to his winning ways in February against Caros Fodor at UFC 157, but he deserves some acknowledgement on this list.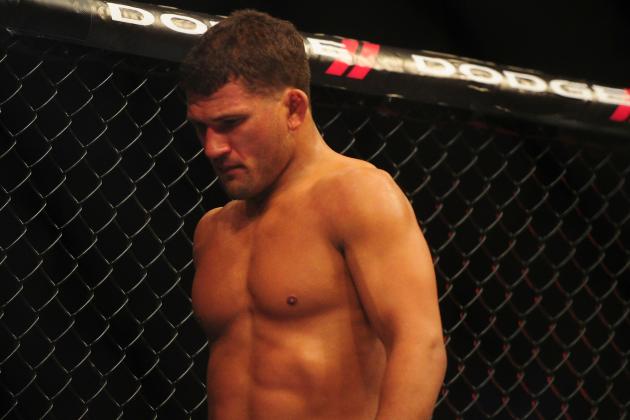 Mark J. Rebilas-USA TODAY Sports

FotN - 5
KotN - 0
SotN - 1
Between September 2006 and September 2007, Griffin fought four times and earned bonuses in each of them.
Exciting bouts with Frankie Edgar, Clay Guida and Thiago Tavares and choking out David Lee put Griffin on the map in the lightweight division.
Since that string of fights, Griffin won a couple fights over Gleison Tibau and Marcus Aurelio before losing five of his next eight and getting cut from the UFC.
FotN - 5
KotN - 1
SotN - 0
The former UFC lightweight champion has been putting on amazing title fights as of late, with back-to-back title fights with BJ Penn, Gray Maynard and Benson Henderson.
Edgar has won three fight night bonuses in his last six fights, but he earned his stripes, winning two FotN awards on a three-fight winning streak that gave him his shot at Penn.
Edgar could climb to the top of this list, but with a large amount of lightweights on this list to boot, and a February date with Jose Aldo at featherweight, he might have a better shot.
FotN - 4 (+1)
KotN - 0
SotN - 1
Another former champion on the list, Forrest just seems to be having a good time every time he steps foot in the Octagon. The man loves his job, you can give him that.
Griffin is on the list that I cut off at six because the sixth one not on the list was his UFC-saving fight with Stephan Bonnar.
Then, Griffin went on a blistering streak that saw him choke out Mauricio "Shogun" Rua (SotN at UFC 76), and then three straight FotN-winning bouts, including his title win over Quinton "Rampage" Jackson, losing to Rashad Evans at UFC 92 and...ahem...his loss to Anderson Silva.
That didn't phase Griffin, though, as he's won three of his last four since but will have some catching up to do after tearing his MCL.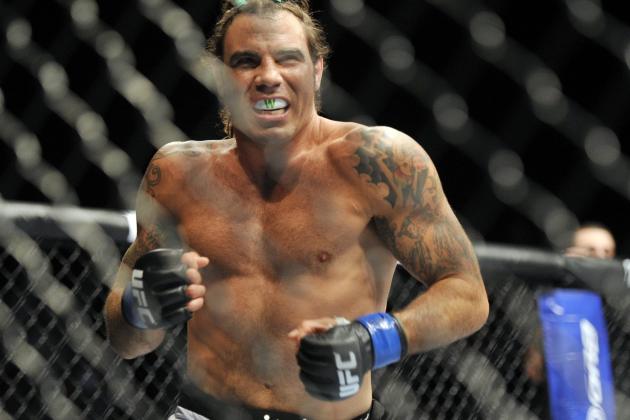 Joe Camporeale-USA TODAY Sports

FotN - 5
KotN - 0
SotN - 2
Starting out the top 5 is a man who just storms out of the gate and goes to war.
Clay Guida has had a ton of memorable bouts but some not as memorable as his bouts with Diego Sanchez or Roger Huerta.
He earned two SotN honours in March 2010 (Shannon Gugerty) and then New Year's Day 2011 (Takanori Gomi).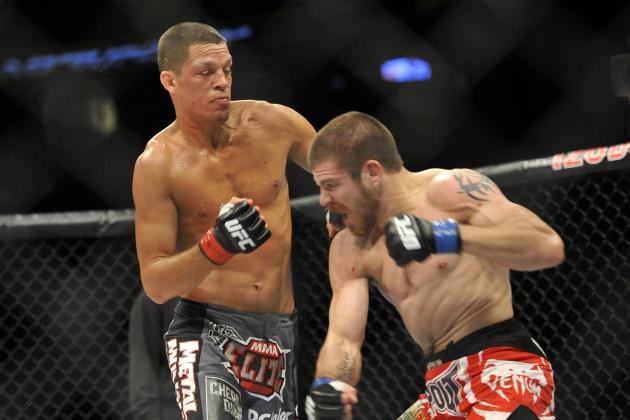 Joe Camporeale-USA TODAY Sports

FotN- 5
KotN - 0
SotN - 5
Nate Diaz has been impressive since coming over from the WEC in the fifth season of The Ultimate Fighter.
Diaz earned six fight bonuses in his first eight UFC bouts, including the flying triangle choke on Kurt Pellegrino, as well as fights with Josh Neer and Joe Stevenson.
He later won three straight fights between September 2011 and this past May, earning two SotN and one FotN bonuses in the process and got a title shot against Benson Henderson.
Although unsuccessful in that title fight, Diaz is sure to come back for more.
FotN - 6 (UFC Record)
KotN - 1
SotN - 3
He retired with three fight night bonuses in his last two bouts. Such a shame for an exciting fighter to never get a title opportunity.
Lytle holds the distinction for having the most "Fight of the Night" bonuses awarded to him, and let us not forget that his UFC days date back to UFC 28 in November 2000.
He got the bulk of his bonus money between 2007 and 2009 with FotN performances with Thiago Alves, Paul Taylor, Marcus Davis and Kevin Burns.
Submitting Dan Hardy, Brian Foster and also his crafty ground work to submit Jason Gilliam were also highlights of Lytle's 54-fight MMA career.
Gary A. Vasquez-USA TODAY Sports

FotN - 4
KotN - 1
SotN - 6 (UFC Record)
When I first met Joe Lauzon in Barrie, Ontario, during a guest training session (another story for another day) at one of their local gyms, you can tell the work ethic from this guy is a thing to watch, and it translates in the Octagon as well.
He has taken home fight bonuses in seven of his last eight fights, dating back to February 2009.
Lauzon makes quick work of his opponents when he is in control and he isn't afraid to go to war, taking a respectable amount of bonus cash in the process.
He will look to add to his 11 bonuses against Miller, and he doesn't have many more stairs to climb, as first place is only one bonus ahead.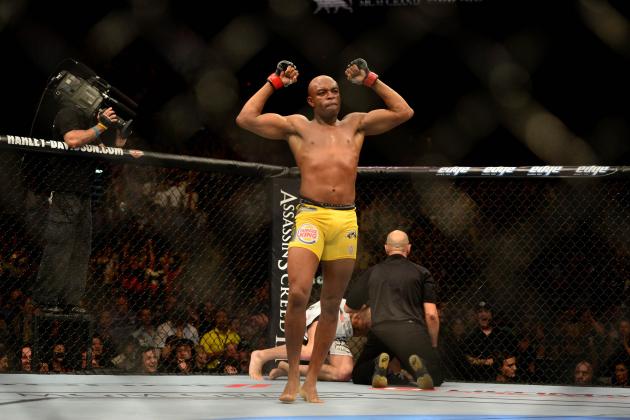 Mark J. Rebilas-USA TODAY Sports

FotN- 3
KotN - 7 (UFC Record)

SotN - 2
The knockout artist himself tops the list, including a record seven "Knockout of the Night" bonuses. Anderson Silva has been UFC middleweight champion since Oct. 14, 2006, when he knocked out Rich Franklin, earning one of his "Fight of the Night" awards.
When you think of Silva, you think of the dominance as a younger champion, facing guys like Nate Marquardt, Rich Franklin (again), and Travis Lutter.
There are also the classic bouts against Dan Henderson, the domination of Forrest Griffin, the phase he went through with bouts against Patrick Cote, Thales Leites and Demian Maia, the upkick on Vitor Belfort and who can ever forget the two wars with Chael Sonnen?
The top of the pound-for-pound list and at 12, the top of this list as well.
How fitting.
Mark Pare is a Featured Columnist. You can follow him on Twitter, and don't forget to check out his sportswriter page.