2013 NFL Draft: Power Ranking the Top 10 Players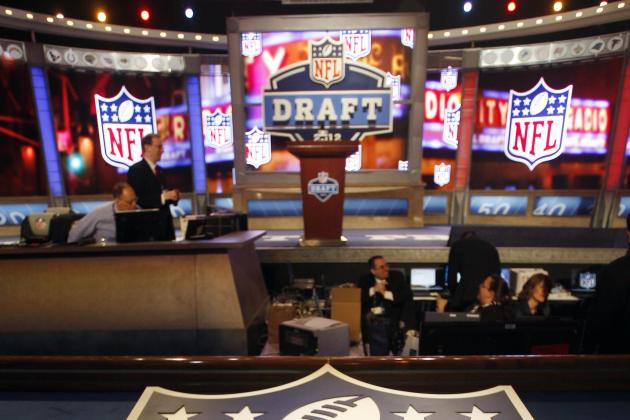 Jerry Lai-USA TODAY Sports

With college football season wrapping up and NFL teams finishing the regular season, it's time to get our first look at the 2013 NFL draft big board, a ranking of the top players entering the draft. This list is based on film evaluation and won't take any media hype into account.
While there is a lot of talent in this year's draft, there is not a large group of elite players. There may be 10 players with high first-round grades, and 50 or more carrying second-round grades. As is always the case, some teams may load up on as many picks in the second-round range as possible.
This list pays disregards draft order and is not intended to be a mock draft. It is purely a list of the most talented players that teams can choose from in April 2013. The following are the 10 best players coming into the 2013 NFL draft.
Begin Slideshow

»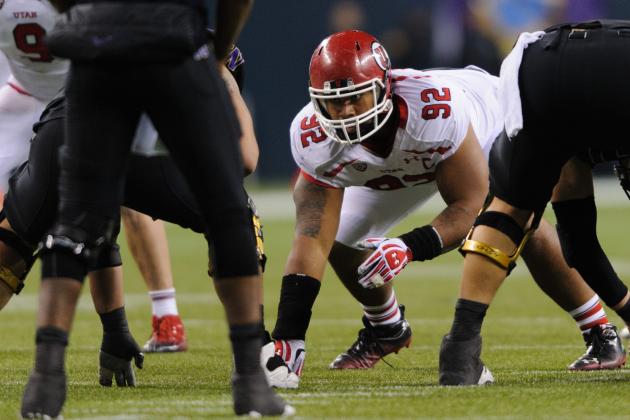 Steven Bisig-USA TODAY Sports

Star Lotulelei, DT, Utah, 6'3", 320 pounds
Lotulelei is a physical force on the interior of the defense and he is still improving as a player. His get-off and burst allows him to quickly penetrate gaps in the offensive line. His strength and power along with his excellent burst allows him to constantly make plays in the opposing backfield.
As far as scheme goes, he has the ability to play nose tackle or defensive end in a 3-4 defense or as a conventional defensive tackle in a 4-3 defense. Lotulelei is the player with the highest ceiling in the entire draft.
Strength:
Get-off
Weakness:
Pass rush moves
NFL Comparison:
Ndamukong Suh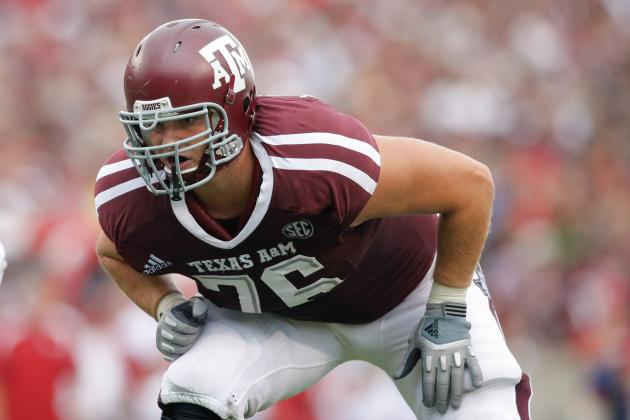 Brett Davis-USA TODAY Sports

Luke Joeckel, OT, Texas A&M, 6'6", 310 pounds
Joeckel is a very technically sound offensive tackle. He is a refined talent and not a player that will need a lot of coaching to make an instant impact in the NFL. Joeckel is a very polished pass protector, the strength of his game. He takes great angles, has long arms and dominated the SEC in 2012. He has very quick feet and can quickly get deep enough to stop defensive ends from turning the corner.
He is not a great run blocker, as his is more a finesse player than a mauler. He needs to improve in this area and NFL coaching will certainly help him. He is a willing blocker, just not an overly physical player who teams can run behind.
Joeckel is the best left tackle to enter the draft since Michigan's Jake Long was drafted by the Miami Dolphins with the first overall pick in 2008. He is a franchise tackle and a special talent who will man the left side of the line for 10-plus years.
Strength:
Pass protection
Weakness:
Run blocking and physicality
NFL Comparison:
Matt Kalil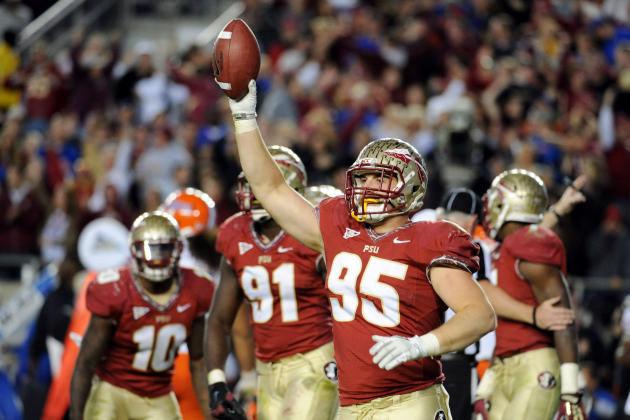 Melina Vastola-USA TODAY Sports

3) Bjoern Werner, DE, Florida State, 6'5", 255 pounds
Werner is an outstanding all-around draft prospect. He does everything well, from bending around the edge of the offensive line to reach the quarterback to playing strong in run defense. He has a great blend of power, leverage, speed and athleticism and is going to be an impact player at the defensive end position in the NFL.
Werner might need to add a little bulk, as he is listed at 255 pounds, considered small for certain schemes. Werner should really be able to get to the quarterback without being a liability against the run, making him an extremely valuable prospect coming out of school as a junior.
Strength:
Versatility
Weakness:
Size
NFL Comparison:
Chris Long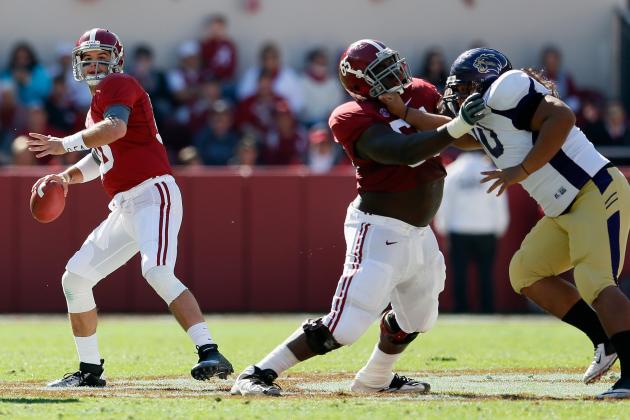 Kevin C. Cox/Getty Images

4) Chance Warmack, G, Alabama, 6'2", 325 pounds
Warmack is the best guard to enter the draft in many years. Generally, guards don't get drafted in the top of the first round, but Warmack is the type of guard that can break that pattern. He is a plug-and-play guard, and a player that will have a very positive impact on any NFL offense as a rookie.
Warmack is a road-grater and a very nasty run blocker. He needs a little polish in pass protection as he comes from a run-first offense at Alabama, but he is a very high-quality athlete who will excel in the NFL for many years.
Warmack is the kind of player that could make offensive line coaches drool and any team looking to upgrade their offensive line must take a hard look at him.
Strength:
Size/Strength, Nastiness
Weakness:
Speed
NFL Comparison:
Jahri Evans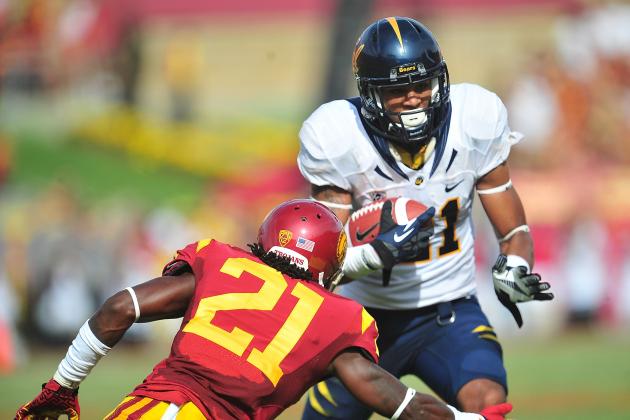 Gary A. Vasquez-USA TODAY Sports

Keenan Allen, WR, California, 6'3", 210 pounds
Allen is a very sudden athlete and his size/speed combination along with his toughness will make him the first wide receiver drafted in 2013. Allen is explosive enough to beat single coverage in the NFL. He has very polished route-running ability and will gain a lot of yards after the catch in the NFL.
He is not the fastest player and won't post a lightning fast 40-yard dash time, but his ability to separate from defenders is a critical skill in the NFL. Allen has the ability to play the "X" or the "Y" receiver running routes in every area of the field.
Strength:
Route-running ability
Weakness:
Elite speed
NFL Comparison:
A.J. Green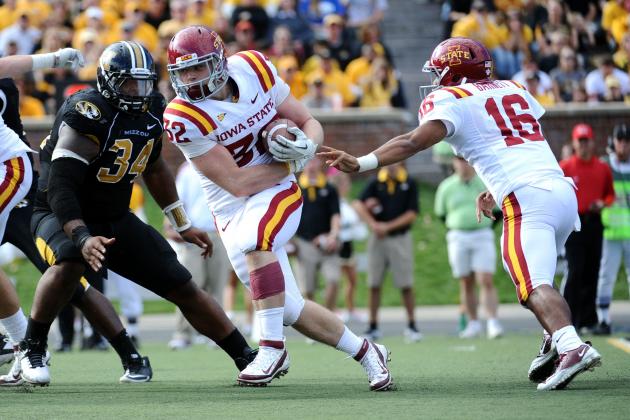 Dak Dillon-USA TODAY Sports

Sheldon Richardson, DT, Missouri, 6'3", 290 pounds
Richardson is a violent, physical football player with a non-stop motor. He attacks the offensive line with aggression and stands out against SEC offensive lines. He is a ferocious athlete with a great get-off and great closing speed. Richardson can do damage from sideline to sideline and attacks with ferocity.
He is a fantastic athlete and he can play in any NFL scheme. Ha can play defensive end in a 3-4 because of his arm length, burst and desire to make plays. He can also play defensive tackle in a 4-3 with the strength to win against the run and the pass.
Richardson might need to add some bulk for the NFL, but he is a standout defensive tackle prospect.
Strength:
Athleticism
Weakness:
Size
NFL Comparison:
J.J.Watt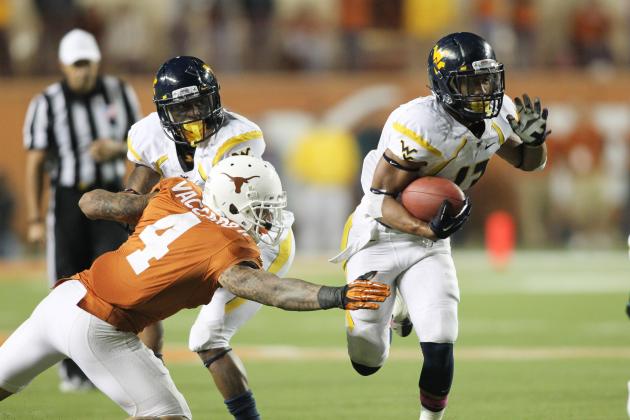 Tim Heitman-USA TODAY Sports

Kenny Vaccaro, FS, Texas, 6'0", 210 pounds
Vaccaro is a very sudden athlete, capable of changing direction easily. This allows him to stay in coverage against the smaller slot types, an incredibly important skill in the pass-happy NFL. He also has enough size and athleticism to stay with tight ends running the seam. Vaccaro covers a lot of ground and is a plus athlete in coverage.
He is a very versatile player who can play either safety position and on special teams. Vaccaro has great instincts and is always around the ball. He can get out of a break and close on the ball well and his abilities in coverage will get him drafted early.
Strength:
Coverage
Weakness:
Run defense
NFL Comparison:
Earl Thomas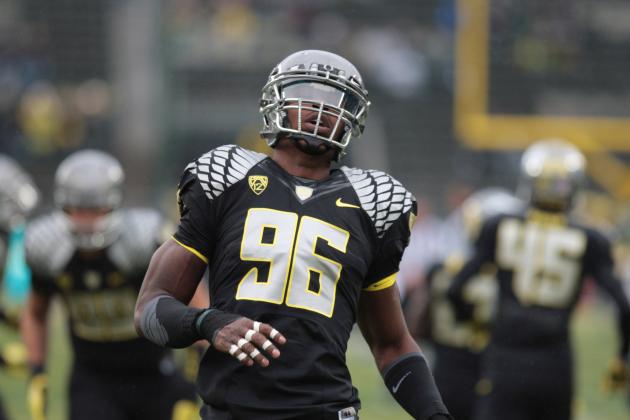 Scott Olmos-USA TODAY Sports

Dion Jordan, DE, Oregon, 6'6", 239 pounds
Jordan is an incredibly athletic football player who projects to playing in a 3-4 defense as an outside linebacker with a lot of versatility. He is athletic enough to cover backs and tight ends, and he can be a monster rushing the passer because of his short area quickness. He has an amazing blend of size/speed/quickness and he will be a player that will excel at the combine.
Jordan has one of the quickest first steps that I have seen, and it will take offensive linemen by surprise. He can bend around the edge without slowing down, and he is going to get home because of his arm length and surprising quickness. Jordan should be considered a plus pass rush specialist with the ability to hold his own in other areas of the game.
Jordan is slight at 239 pounds and needs to add some bulk to his frame, but he is an elite prospect.
Strength:
First step
Weakness:
Bulk
NFL Comparison:
Aldon Smith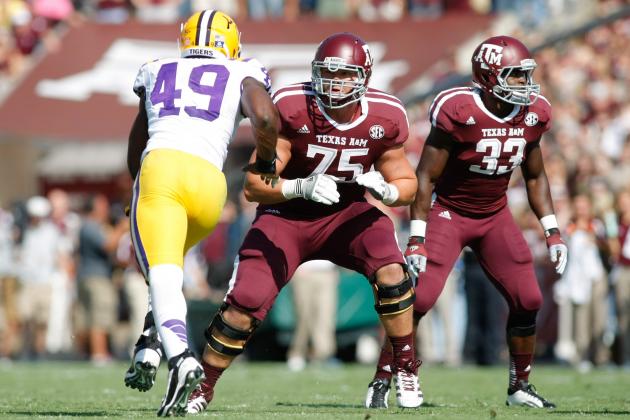 Brett Davis-USA TODAY Sports

Jake Matthews, OT, Texas A&M, 6'5", 305 pounds
Matthews has played at right tackle for Texas A&M in 2012, but his future in the NFL is on the left side of the ball. He has great bloodlines as the son of Hall-of-Famer Bruce Matthews and there is a lot to like in his game. He is not heavy in his feet and shows great burst to get into a defensive lineman before the defender has really started.
Matthews has great ability to mirror in pass protection and this is where he will make his name in the NFL. Matthews is more aggressive than teammate Luke Joeckel and a more balanced tackle. He demonstrates the ability to play well in run blocking, and in pass protection. Matthews is a player that will play on the left side of the line and be a franchise left tackle for many years.
Strength:
Versatility
Weakness:
Functional strength
NFL Comparison:
Joe Thomas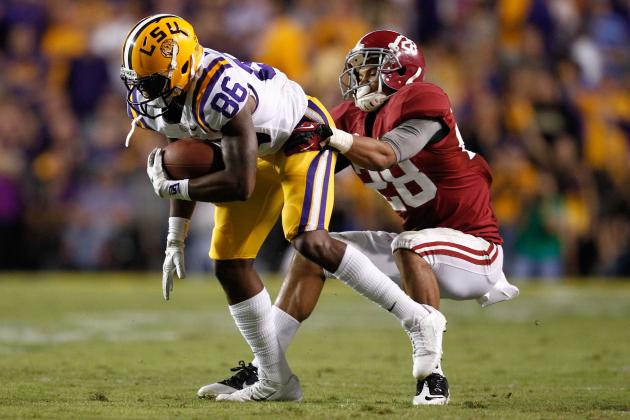 Derick E. Hingle-USA TODAY Sports

Dee Milliner, CB, Alabama, 6'1", 199 pounds
Milliner is a very physical cornerback who consistently wins at the line of scrimmage because of his size. He is a very instinctual player with great ability to defend with his long arms and size. He can deliver the big hit and is a striker who likes to separate the ball carrier form the ball. Milliner has great size at 6'1" and 199 pounds as he is bigger than most cornerbacks coming out of college.
Milliner likes to press his man, and he does a great job of locating the ball while it is in the air. He leads the nation with 18 pass break ups and looks very natural running with receivers. Milliner is the best cornerback in the 2013 draft and should come off the board very early in the 2013 NFL draft.
Strength:
Size/playmaking ability
Weakness:
Elite speed
NFL Comparison:
Charles Tillman