2013 NBA Mock Draft: Projections for the Entire First Round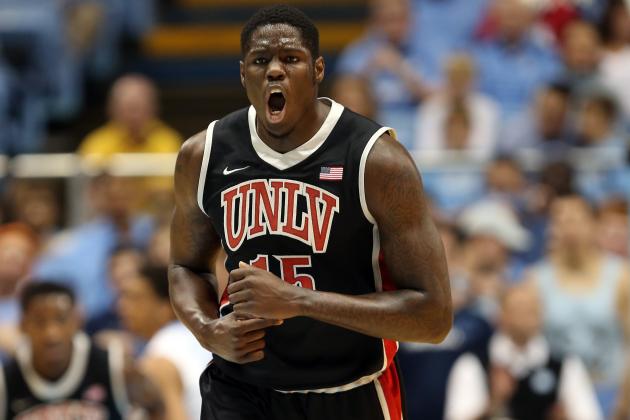 Streeter Lecka/Getty Images

The 2012-13 college basketball season is starting to reveal who the ideal choices are for the 2013 NBA draft.
Simultaneously, the NBA season is uncovering most teams' weaknesses and needs.
Due to prior trades, the Phoenix Suns will have three first-round picks. Who will they choose to rebuild their club?
Who will the top pick be, Shabazz Muhammad or Cody Zeller? What about the backcourt: Who will be the first guard chosen?
Find out as we provide complete projections of the 2013 NBA draft first round.
*Draft order is a projected order, including a mixed order for the No. 1 through No. 14 (lottery) picks.
**Statistics gathered from College Basketball Reference and ESPN, accurate as of 12/30/12.
Begin Slideshow

»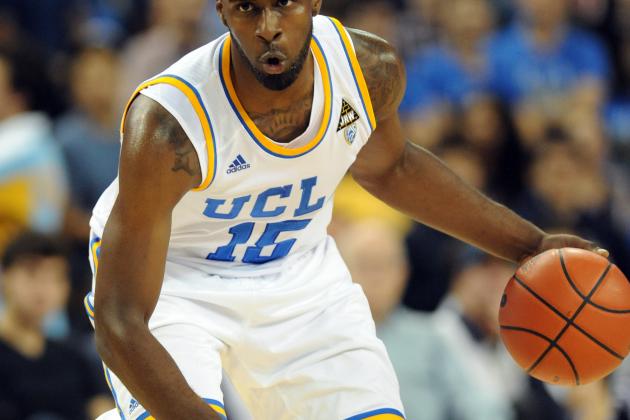 USA TODAY Sports

UCLA's mega-prospect Shabazz Muhammad has delighted Bruins fans early in the 2012-13 season, as he's showcasing his inside-outside game.
He has the shooting capability to be a threat from NBA three-point range, but Muhammad's biggest asset right now is his knack for getting to the cup. He's as dangerous as they come when he slashes to the rim, and he's even more lethal on the fast break.
Muhammad has room for improvement as a ball-handler and passer, so he probably won't be much of a facilitator when he enters the association.
There are a lot of swingmen and combo forwards in the NBA, but only a few of them are the real deal. That's why Washington will grab him if they win the lottery.
Joe Robbins/Getty Images

The Charlotte Bobcats have a slew of issues that must be addressed, and whoever they draft isn't going to solve everything.
But Cody Zeller is a good start.
The 7'0" Indiana Hoosier will be an efficient, productive forward who can also operate away from the hoop a little. He'll help Charlotte's offense as a rebounder, shooter and passer.
We've already seen most of Zeller's upside, and Hoosier fans are enjoying his 33.4 PER and 63 percent shooting. However, he may still develop in several areas, including in physique.
The Bobcats will select him with the hope that he'll be a double-double type player for the next decade.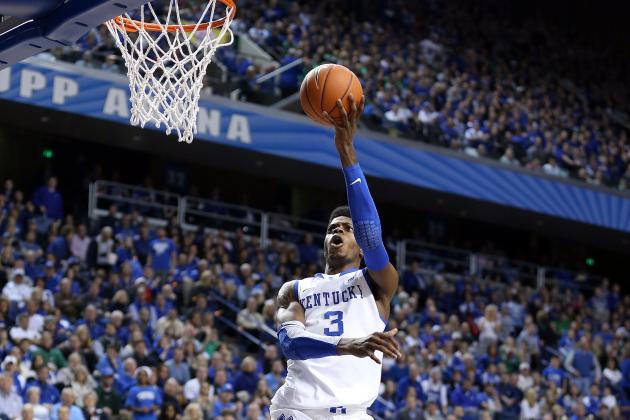 Andy Lyons/Getty Images

Nerlens Noel has garnered a lot of top-pick hoopla over the past few months, and he's worth the attention.
Unless he woefully underachieves during the Kentucky Wildcats' SEC schedule, he'll be a top-five pick. Noel is mobile, athletic and ready to defend NBA-caliber forwards.
The larger NBA centers (Dwight Howard, Brook Lopez, etc) will give him trouble until he bulks up, but for the most part, he'll hold his own.
Offensively, he's far from ready to produce at a high level. Cleveland won't mind, and they'll gladly welcome his upside. With the future of their frontcourt uncertain, Noel will supply an anchor moving forward.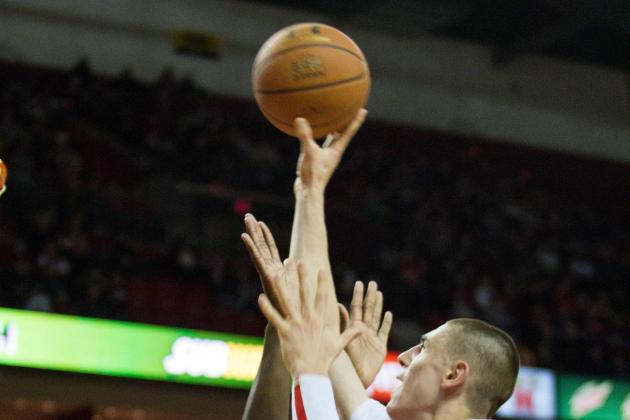 Paul Frederiksen-USA TODAY Sports

If you've watched the Dallas Mavericks play at all this season, you've seen how small their lineup is. Rick Carlisle's bunch desperately needs to add length in the post.
Enter Alex Len, the Maryland Terrapins sophomore center who has climbed the draft charts since autumn.
He has the kind of wingspan that can alter anyone's shot, and he'll also be an important role player on the other end. His substantial uptick in offensive production in 2012-13 makes him a much more attractive prospect.
Len doesn't have superstardom in his destiny, but he'll be worth the top-10 selection. If Dallas gets a favorable bounce in the lottery, they'll gladly pick him.
Who doesn't want a 7'9" wingspan on their club?
French tower Rudy Gobert will bring his length to the hardwood and depth to an NBA roster.
He does almost all of his work around the basket, especially offensively, but he presents his teams with a terrific shot-altering weapon. Gobert can cover a lot of ground with his above-average foot speed, and he covers a lot of space with his reach.
While the Detroit Pistons have a couple of great young post players, they boast little depth on the block and not enough length. Gobert solves both those problems.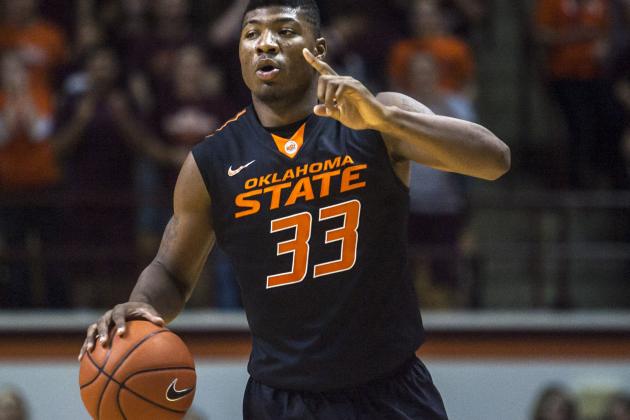 USA TODAY Sports

If the Sacramento Kings don't improve their backcourt on the market, they will take a guard high in the lottery in June.
Marcus Smart will provide scoring and facilitating skills right away, and he also has a decent chunk of untapped potential.
The Oklahoma State Cowboys run most of their offense through him, and 5.1 assists per game is impressive for a freshman guard. The Cowboys additionally benefit from Smart's defense, as he leads the Big 12 in steals per game with 2.7 and a defensive rating of 75.7.
Keep an eye on his progress as Oklahoma City hits the big-league section of their schedule, starting with a tilt with No. 13 Gonzaga.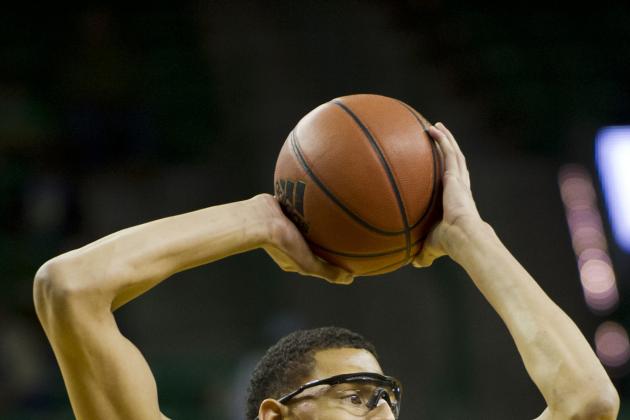 Cooper Neill/Getty Images

Baylor Bears freshman Isaiah Austin doesn't possess the advanced ball-handling, footwork or touch necessary to be a dynamic forward/center in the NBA.
What he does have going for him is his length and jump-shooting abilities. Joshua Motenko of NBADraft.net notes Austin's limited repertoire:
Besides long jumpers and shots out of pick and pop situations, Isaiah doesn't have much of an offensive game. His back-to-the-basket moves are extremely simple, and a little bit uncoordinated, and he gets pushed around down low due to his long thin frame.
That might sound like bad news, but Austin shouldn't be discouraged. He's shooting 52 percent from the field, 33 percent from distance and is coming off a 20-point game against Gonzaga.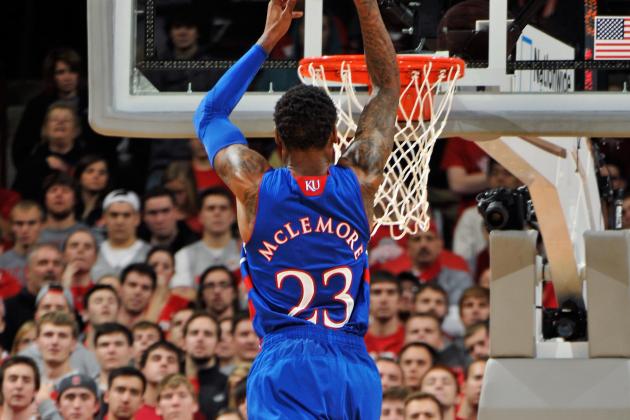 Jamie Sabau/Getty Images

With sensational athleticism and an NBA-ready outside shot, Ben McLemore is making a case to be the best guard prospect in this draft.
After his 22-point effort in Kansas' win over No. 7 Ohio State, it's difficult to argue otherwise.
Despite the strong start to his Jayhawks career, McLemore isn't without flaws from an NBA perspective. He's not a great ball-handler, which will limit his ability to create off the bounce against top pro defenders.
If Doc Rivers and the Boston Celtics happen to finish the season in the bottom 14, they will target McLemore's shooting skills as a crucial step to getting the franchise back on track.
Josh Holmberg-USA TODAY Sports

Aside from Shabazz Muhammad, there's no West Coast prospect more attractive than UNLV forward Anthony Bennett. Dave Rice and the Runnin' Rebels are loving the dynamic work of this 6'8" prodigy.
Bennett is in the top five in the Mountain West Conference in scoring, rebounding and shot-blocking, and he also owns an astounding 33.1 PER.
He doesn't have great height to be a combo forward, but he makes up for it with a 7'1" wingspan and a sturdy frame. At the same time, he's light on his feet and ultra-athletic.
Mix in his jump-shooting skills, and he's a no-brainer for the Phoenix Suns as they try to rebuild their weak forward corps.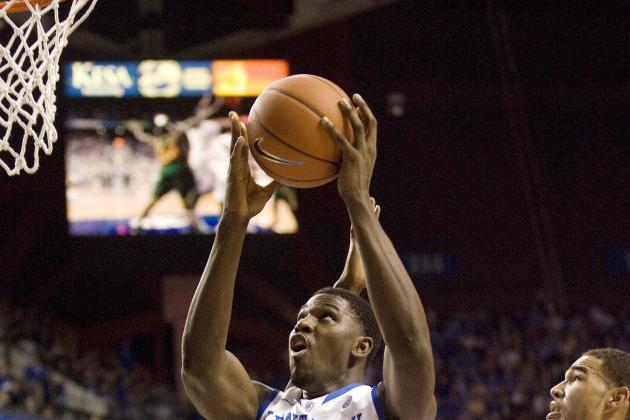 Mark Zerof-USA TODAY Sports

Kentucky Wildcats freshman Alex Poythress leads the SEC in field-goal percentage (64 percent) and has been fairly productive thus far, but his draft stock is based on his upside.
He has the size and agility to be effective anywhere on an NBA court. The limiting factor is his offensive skill set, which isn't pro-ready at this point.
Defense could be his wild card as he breaks into the league, notes Jonathan Givony of Draft Express:
Defensively is where Poythress might be most intriguing right now. He has the size, length and mobility to guard either forward position effectively, as he's able to stay in front of smaller players on the perimeter and is competitive enough to handle himself on the block as well.
Oklahoma City would love to use Toronto's slot to grab a versatile forward to support Kevin Durant and Nick Collison.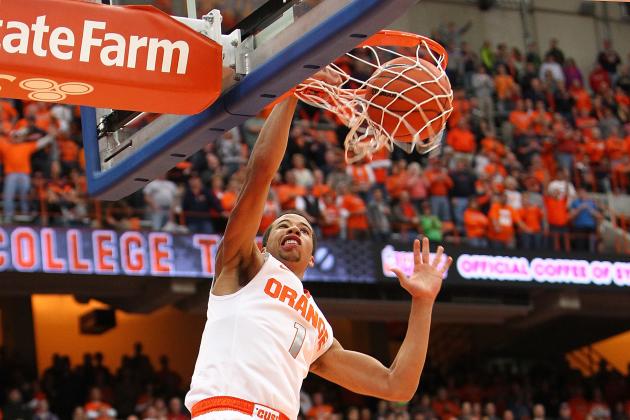 Nate Shron/Getty Images

Syracuse Orange guard Michael Carter-Williams has come back down to earth after his statistically-incredible first 10 games.
His underwhelming pair of recent games doesn't hurt his draft stock at all, because he remains one of the most intriguing playmakers in college hoops. Carter Williams' strong court sense, creativity and passing ambidexterity allow him to make plays that only elite dime-droppers can make.
At the same time, his decision-making needs some refining, and his jump-shot needs considerable improvement.
Orlando will gamble on his uncommon talent as they look to gradually phase out of the Jameer Nelson era.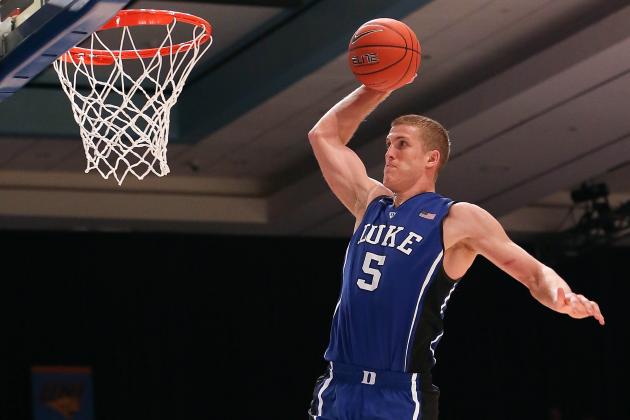 Kevin Jairaj-USA TODAY Sports

Oftentimes, there's a low-record team that loses in the lottery and ends up with a mid-round selection. A post-starved team that gets this fate will still have the chance to get Duke Blue Devils senior Mason Plumlee.
Cameron Indoor's favorite rim-rocker will be a handful on the glass for any NBA opponent, and his ball skills are only getting better. He leads the ACC in rebounding, which alone makes him a desirable role-player prospect.
He'll be big enough and mobile enough to battle most frontcourts he faces, but he doesn't have the finesse to be an offensive threat yet.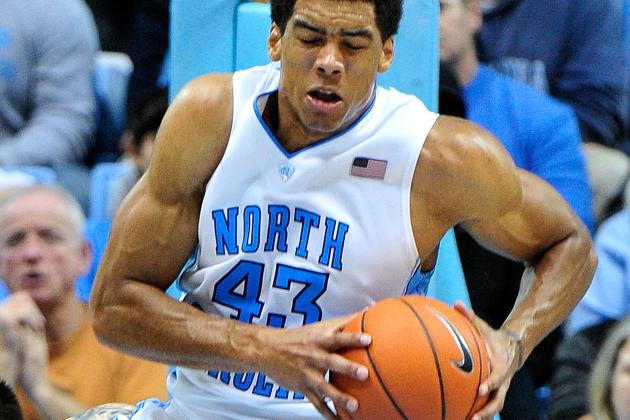 Grant Halverson/Getty Images

Basketball fanatics on Tobacco Road were highly anticipating James McAdoo's sophomore season, and he's been quite productive thus far.
Unfortunately, he's not as efficient as NBA scouts would like him to be.
McAdoo's 46 percent shooting isn't great for a power forward, and neither is 62 percent from the free-throw line. Throw in three turnovers per game and his uncertain pro position, and you can see why his stock fell over the past few weeks.
There's no need to majorly overreact, however. McAdoo is still a superb athlete who's active on the glass and in transition. Also, his jump shot isn't anything to worry about, as it's improved noticeably since the 2011-12 campaign.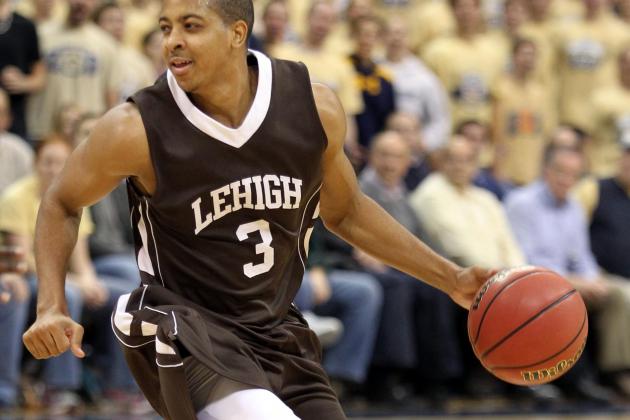 Charles LeClaire-USA TODAY Sports

Lehigh Mountain Hawks senior C.J. McCollum has never had a PER lower than 25 in college, and he's currently at 33.9.
Why? Extremely efficient shooting, including loads of successful trips to the free-throw line. McCollum also gets involved on the boards and frequently forces turnovers.
In 2012-13, he's hitting an astounding 53 percent (33-of-62) of his triples. That's impressive considering he's the primary target of every single defense he faces.
It gives NBA scouts and executives confidence that McCollum is even more NBA-ready than he already was.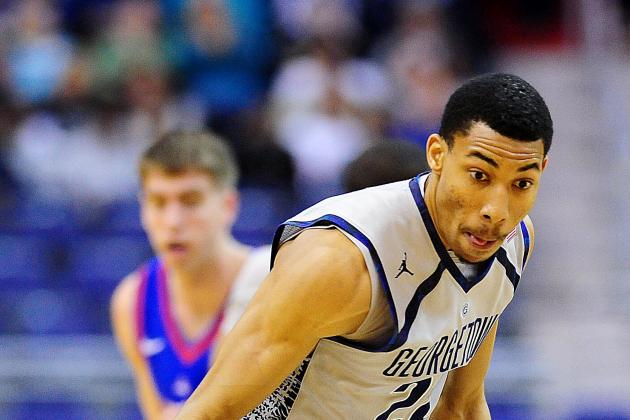 Evan Habeeb-USA TODAY Sports

After snagging its power forward/center in the lottery, Cleveland will use the Lakers' slot to get an all-purpose small forward.
Georgetown Hoyas sophomore Otto Porter gets involved in every aspect of the game, especially defense and rebounding. Opponents can't contain his hustle and knack for beating them to the spot.
The thing that makes him a true first-round prospect this year is his upgraded offense, including a more efficient outside shot.
In addition to the rebounding, defense and improved shooting, Porter is a capable passer and shot-blocker.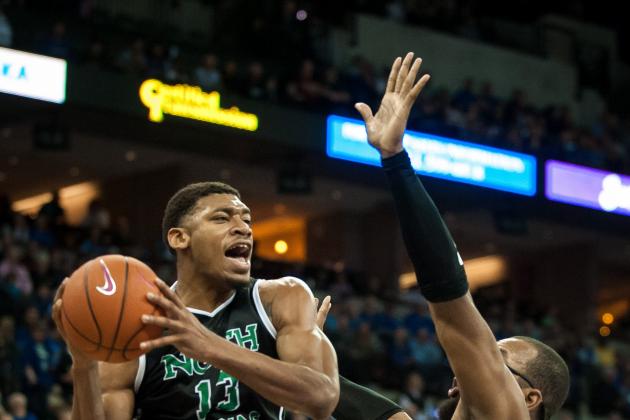 Eric Francis/Getty Images

When it comes to explosive leaping ability, body control and hand-eye coordination, Tony Mitchell is as elite as it gets.
Elsewhere, he hasn't shown the progress necessary to warrant a lottery-lock label.
The North Texas Mean Green forward worked on his jumper over the past few months. While the shots aren't always going in, it's a small step and a good sign that he's confident shooting from outside more often.
If he can continue to iron out his shot and prove that he can hit from 15-22 feet, NBA executives will take him seriously as a small forward prospect.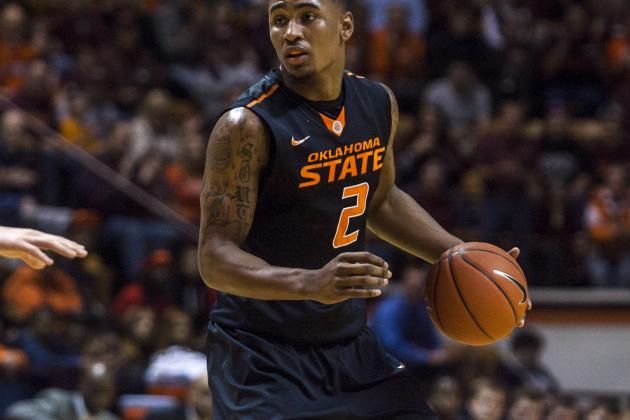 USA TODAY Sports

One of the most interesting prospects in the Big 12, Oklahoma State's athlete Le'Bryan Nash is showing gradual improvement in Stillwater.
The Cowboys forward has been more economical with his shots this season, but he still struggles to be consistent.
If it makes any sense, Nash has the potential to be a strong small forward in the NBA. He doesn't have the height to be a power forward, but he has the power and toughness to get buckets as a 3.
The Milwaukee Bucks need such a forward, and Nash will likely still be on the board for them in the middle of the first round.
Croatian forward Dario Saric is a budding shooter who can move the ball and thrive in half-court or uptempo scenarios.
The Brooklyn Nets could use his combination of size, ball movement and shooting skills. So far in 2012-13, the new-look franchise has had trouble effectively sharing the ball. Just as painful is the reality that there's almost no outside shooting from the forwards.
At 6'10", Saric has the height to get things done inside the arc while also being able to stretch defenses with his shooting.
His ability to operate with or without the ball could help Brooklyn avoid its frequent logjams.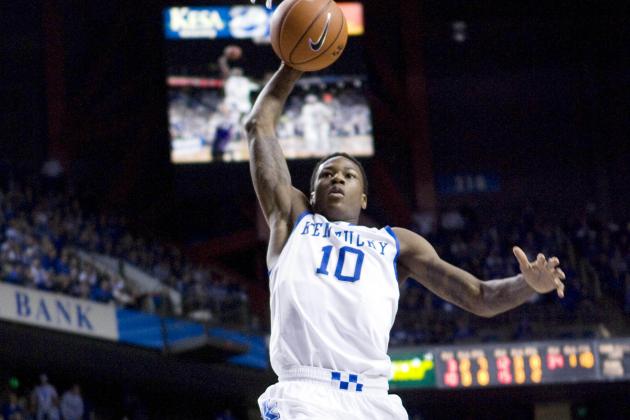 USA TODAY Sports

Kentucky guard Archie Goodwin is a first-round prospect because he's going to be a tough player for NBA defenses to contain.
He can change pace, drive to either side and use his athleticism to finish strong. He hasn't been the most consistent outside shooter during his time in Big Blue Nation, but his stroke still deserves lottery consideration.
As a combo guard, Goodwin must cut down on the turnovers (3.4 per game) and hit more free throws (69 percent).
With their late first-round pick, Minnesota will aim to bolster its unathletic backcourt by taking the 6'5" Wildcat.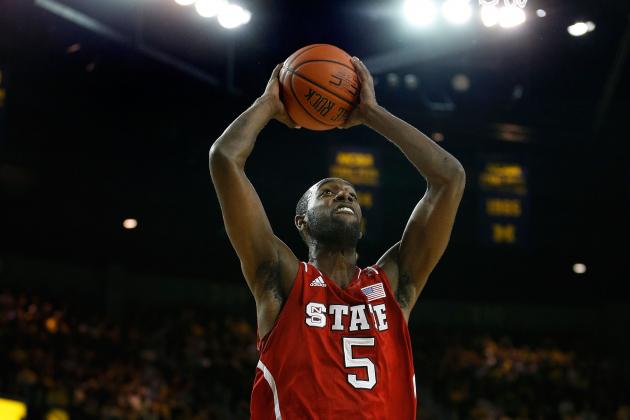 Gregory Shamus/Getty Images

Although there a couple of good athletes on the Indiana Pacers, the frontcourt still needs more pop and versatility.
That's where C.J. Leslie could turn into a critical role player, even in his rookie season.
Leslie is a combo forward who has the length and bounce to thrive in open space. He's not coordinated enough to play predominantly on the wing, but he's too thin to be a true 4.
With the impending departure of David West, it's important for Indiana to shore up its forward depth, especially with an athletic prospect.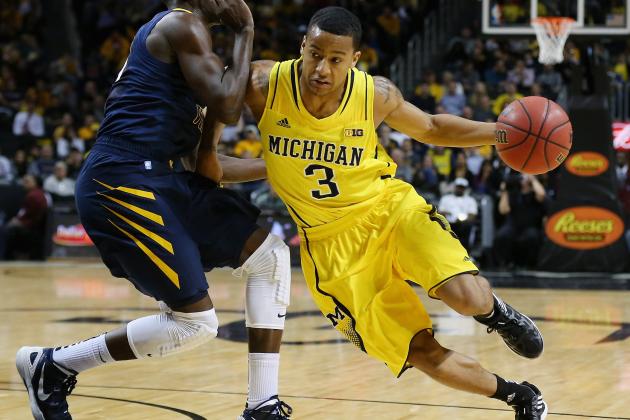 Mike Stobe/Getty Images

Ideally, the Denver Nuggets would like to have more size at the point guard position, but if Trey Burke is still available this late, they can't pass him up.
Currently, the 6'0" floor general is notching 17.8 points and 7.4 assists for the Michigan Wolverines while shooting 54 percent.
Late December featured a pair of banner games for the Blue and Maize playmaker. He dropped 27 points and eight assists on West Virginia, and he put on a clinic against Central Michigan by scoring 22 and dishing 11 assists.
Burke isn't the preferred size for a professional point guard, but he makes up for it with a bushel of moves and a penchant for fighting through traffic.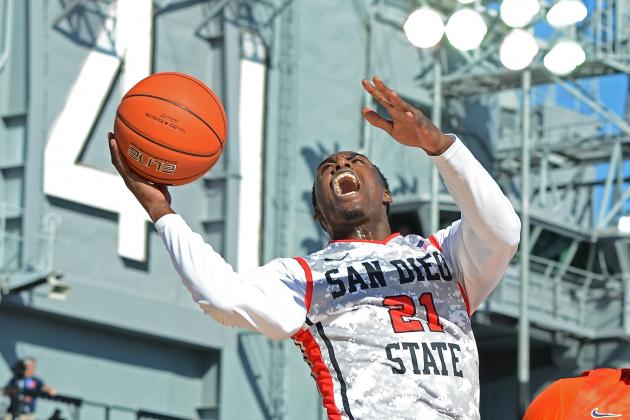 Harry How/Getty Images

San Diego State Aztecs shooting guard Jamaal Franklin will be on the Chicago Bulls' radar late in the first round. He could help alleviate their struggle to score on the wing.
The 2011-12 Mountain West Conference Player of the Year can play above the rim as well as shoot from the perimeter. Through the first month and a half of the season, he's hauling in a ridiculous 9.8 rebounds per game as a 6'5" guard. That rebounding production helps him score 17-plus per night.
Tom Thibodeau would definitely appreciate the scoring boost, and he'd welcome the challenge of harnessing Franklin's energy toward the collective effort.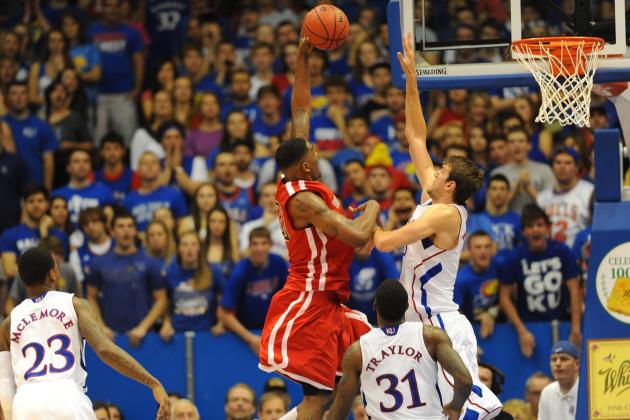 Denny Medley-USA TODAY Sports

He won't garner pre-draft attention like Cody Zeller and Nerlens Noel, but Jeff Withey has the defensive prowess and the offensive wherewithal to be a success in the league.
Withey swats 4.9 shots per night, and he probably alters twice as many. On offense, he's shouldering more of the load than ever before but staying at a modest nine shot attempts per game.
The Utah Jazz will be looking for a big man to replace the inevitable departure of Al Jefferson or Paul Millsap (or both). Withey makes sense for several reasons, most notably as an immediate-impact rim protector. His defense will earn him minutes as a rookie.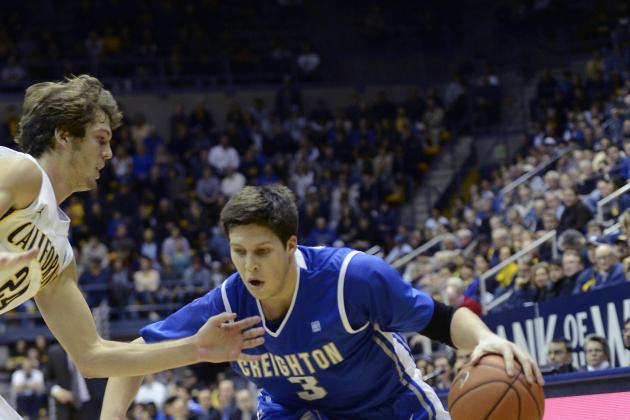 USA TODAY Sports

As the Atlanta Hawks head into a busy 2013 free agency offseason, they'll want to make the most out of their late first-round pick.
Selecting Creighton Bluejays forward Doug McDermott is a safe and rewarding pick, because he's almost certain to be a productive role player off the bench.
McDermott is shooting 50 percent from beyond the arc in 2012-13, and he also converts 88 percent of his 6.9 free-throw attempts per game. His outside shooting aptitude and knack for maneuvering in the post make him a handy reserve to have.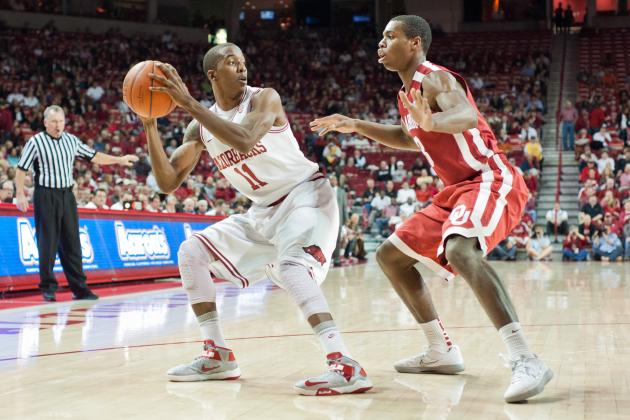 Beth Hall-USA TODAY Sports

In 2011-12, Arkansas Razorbacks guard B.J. Young was almost exclusively a scorer, and he had an assist-to-turnover ratio of 1.0.
His 2012-13 shooting numbers are down, but on the bright side, his assist-to-turnover ratio is back at a healthy 2.3. If Young displayed any kind of mid-to-outside range shooting consistency, he'd be a potential lottery selection.
As it is, he's an exciting playmaker who can use hesitation and choppy dribbles to get to the rim. Once he gets into the heart of the defense, good things usually happen for him and his Arkansas teammates.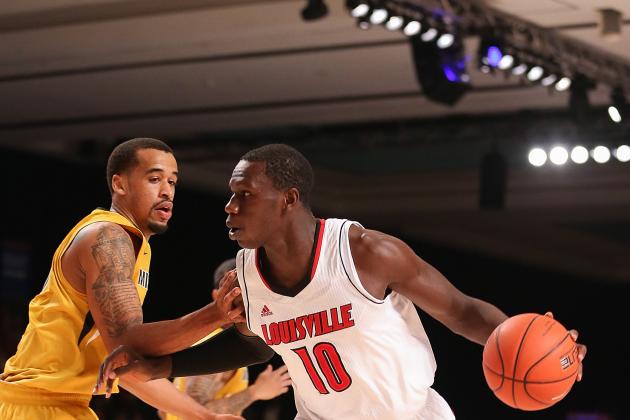 Kevin Jairaj-USA TODAY Sports

The New York Knicks are playing top-notch hoops so far this season. But the long-term makeup of the franchise is extremely uncertain.
Adding depth in the paint should be a priority, but their projected 2013-14 roster affects who they'll want to draft.
Assuming they can't get rid of Amar'e Stoudemire, they should go after Louisville project Gorgui Dieng. New York won't need him to score much at all, but Tyson Chandler can groom him as a defensive contributor and a pick-and-roll weapon.
Dieng puts up underwhelming offensive numbers, but he plays as mistake-free as possible, The result is a 27.2 PER.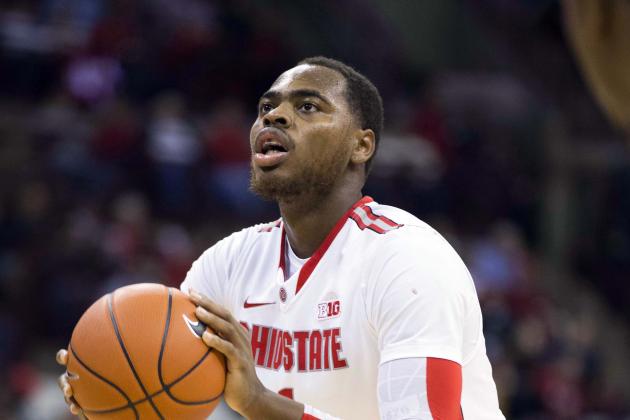 USA TODAY Sports

His stock isn't too high because he's a forward without a pro position, but Deshaun Thomas could excel in the increasingly-positionless NBA.
Thomas uses his strength and touch to score in the paint, but he also does a lot of damage from deep, where he's shooting 40 percent. In 2012-13, Thomas is rebounding and passing better than the past couple seasons.
Without advanced ball-handling skills, Thomas' potential first-round destinations are indeed limited, but he could fit right into the San Antonio Spurs machine. With DeJuan Blair and Stephen Jackson potentially out, Thomas could help fill the void at forward.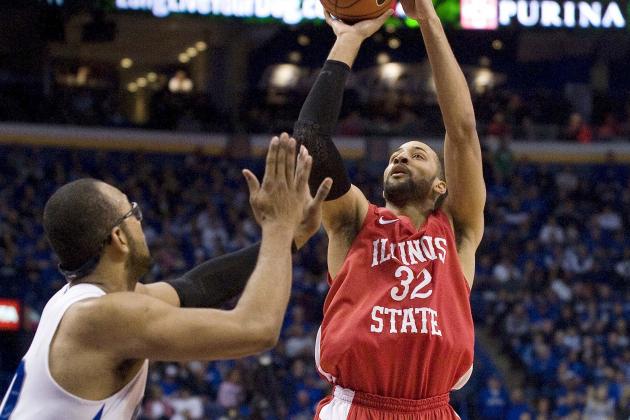 Jeff Curry-USA TODAY Sports

He's not a household name from a major conference, but don't sleep on Jackie Carmichael of Illinois State. The professional stage won't be too much for him to handle in 2013-14.
The Missouri Valley Conference's all-time leading offensive rebounder has turned into a prolific scorer during his four years with the Redbirds.
His strength and athleticism is way above par for a mid-major forward, and he's developed an outside jumper that he utilizes to keep defenses honest.
Miami is still looking for depth at the 4 and 5 spots, so I expect them to target him in June if his stock is still high.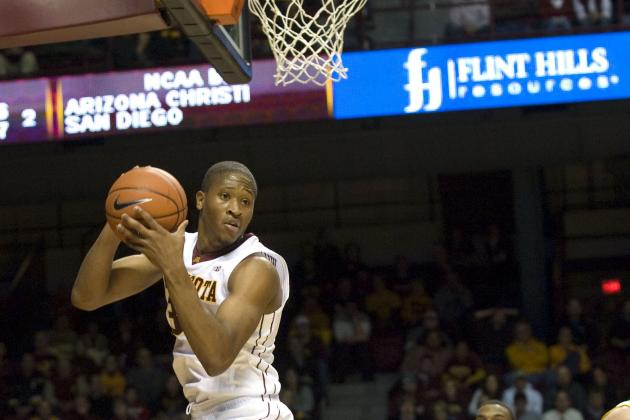 USA TODAY Sports

From a "needs" and "fit" perspective, Rodney Williams and the Los Angeles Clippers make a lot of sense at this juncture in the draft.
L.A. will likely be losing forwards Lamar Odom and Matt Barnes, along with guard Chauncey Billups. It would be smart for them to add someone who's a wing, yet predominantly a forward.
Williams will thrive in the Clippers' fast-paced style, as he'll be used mainly as an energy player and slasher.
Williams might not be one of the top 30 players in this draft, but he'll sneak into the top 30 due to his leaping ability.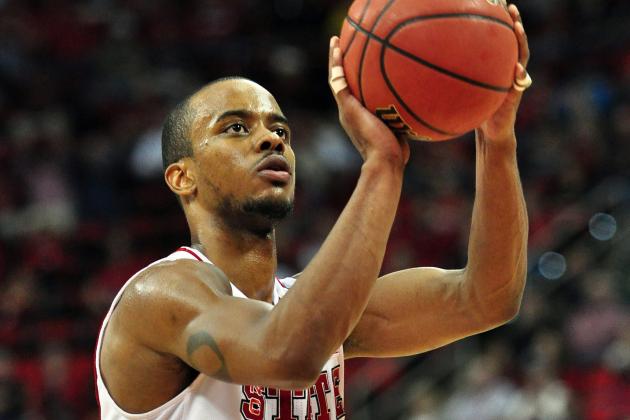 Rob Kinnan-USA TODAY Sports

We round out our updated 2013 mock with an assessment of Lorenzo Brown and the Oklahoma City Thunder.
With apologies to Eric Maynor and Reggie Jackson, the backup point guard situation in OKC isn't as good as it could be.
Lorenzo Brown would be an upgrade from both of them, as he combines the distribution skills of Maynor with the athleticism and slashing of Jackson.
Brown has extensive experience running N.C. State's attack, and he'll be well-prepared to back up Russell Westbrook.
For more NCAA and NBA hoops coverage, follow me on Twitter: