Updated NBA Power Rankings, Post-Avery Johnson Firing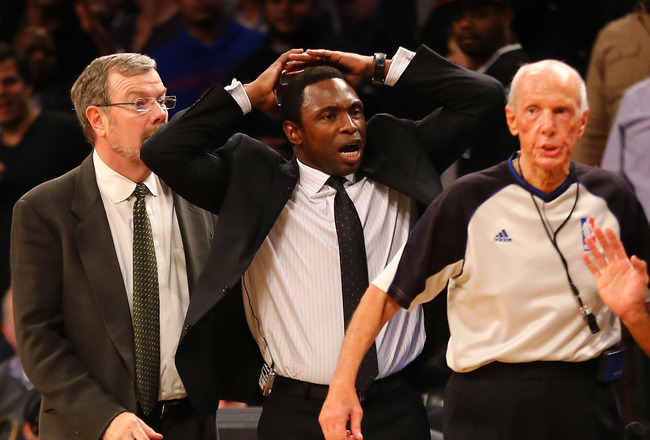 Al Bello/Getty Images
Coach firings have been the talk of the NBA this season, and the Brooklyn Nets' decision to can Avery Johnson will likely reverberate throughout the Eastern Conference as much as the Mike D'Antoni hiring in Los Angeles has out West.
After the Miami Heat and the New York Knicks, the East lacks a third dominant team. If the Nets play their cards right—and put the right guy in charge—they may be able to leapfrog the Atlanta Hawks, who seem to be holding down that spot by default.
Given how poorly the Nets have played so far this season, it would likely take a Phil Jackson hiring to actually shift the power balance of the league. But at the very worst, we should soon have at least one more team worth taking seriously. No matter who Brooklyn hires once P.J. Carlesimo gets the team through a transition period, expect a short-term surge in the new year.
Stats and records current through games on Dec. 27.
30. Washington Wizards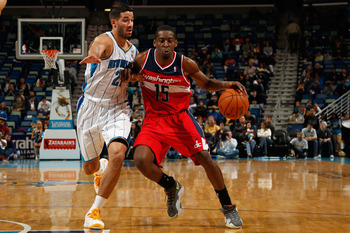 Chris Graythen/Getty Images
Somehow, the Washington Wizards have managed to seem more hopeless than a Charlotte Bobcats team that has lost 16 straight games. That's just what happens, I guess, when your best scorer, Jordan Crawford, is shooting 39.9 percent from the field.
29. Charlotte Bobcats
Jeff Gross/Getty Images
The Charlotte Bobcats lost a franchise-high 23 straight games at one point last season. In a historically bad season, however, the 'Cats couldn't even manage to eclipse the NBA-record 26 straight lost by the Cleveland Cavaliers the year before.
Now, they have their chance. But since they play the New Orleans Hornets, Cleveland Cavaliers, Detroit Pistons and Toronto Raptors during the next two weeks, it seems inevitable that they will find a way to get a win at some point.
28. New Orleans Hornets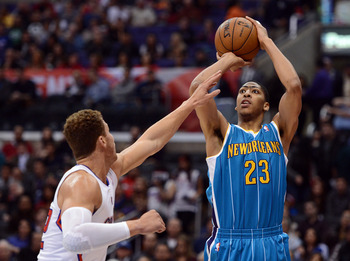 Harry How/Getty Images
The New Orleans Hornets are the league's second-worst offensive team and have won just one of their past 12 games. In three of those games, they failed to score as many as 80 points.
But don't look now, the Hornets are on a one-game winning streak. They beat the Orlando Magic on Wednesday and may be able to turn things around (sort of) this weekend with games against the Toronto Raptors and Charlotte Bobcats. If they lose both of those...
27. Sacramento Kings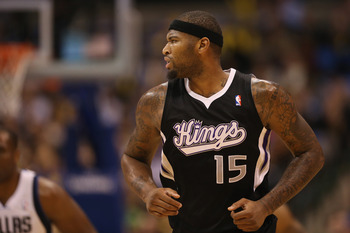 Ronald Martinez/Getty Images
Oh, DeMarcus Cousins. Before the season, some said he would be an All-Star. Instead, he has been a sideshow, getting suspended three times already this season.
While this has been a distraction, it in some ways has been a good distraction—in the sense that it is keeping people from looking at the Sacramento Kings' record.
Regardless, the turmoil makes it seem that Keith Smart could soon join Mike Brown and Avery Johnson on the golf course.
26. Cleveland Cavaliers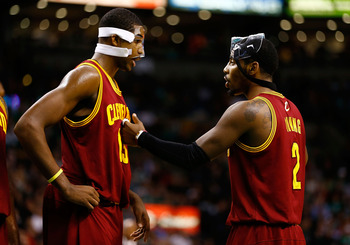 Jared Wickerham/Getty Images
With Kyrie Irving missing so much time this season, it's hard to envision the Cleveland Cavaliers having a much better record. And they have gone just 3-6 since his return.
The way they are losing has not been encouraging. They have lost by 10 or more points in four of those games.
25. Toronto Raptors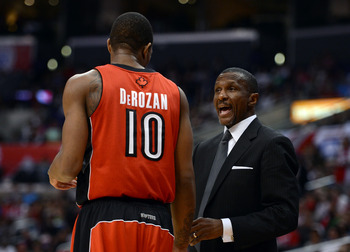 Harry How/Getty Images
The Toronto Raptors may be the least watchable team in the NBA (other than the Washington Wizards, naturally). They simply lack the compelling story lines of some of the league's other bad teams.
It is one thing to try to watch a franchise build something around Anthony Davis or Kyrie Irving. It's another thing altogether to watch these Raptors.
24. Detroit Pistons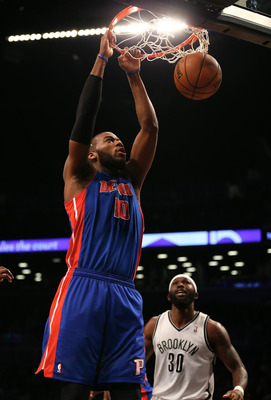 Elsa/Getty Images
The Detroit Pistons were doing so well for a while. Then they lost six straight and all of their momentum was lost.
The young big men are coming into their own, but there isn't much else for this team to be proud of.
With the rest of the Central Division playing relatively good basketball of late, it could be a long season for the boys in Motown.
23. Phoenix Suns
Christian Petersen/Getty Images
Nobody on the Phoenix Suns averages as many as 15 points per game. That doesn't happen often. And after a heartbreaking loss to the New York Knicks this week—not to mention two other losses—Phoenix's outlook is no longer on an upswing.
Instead, the Suns again look like the team we expected to lose six or seven games for every 10 they play.
22. Orlando Magic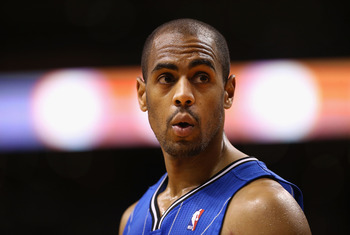 Christian Petersen/Getty Images
The Orlando Magic could be the best bad team in the NBA. So there's that. When you spend the week losing to the Toronto Raptors, Utah Jazz and New Orleans Hornets, there isn't much to get excited about.
21. Dallas Mavericks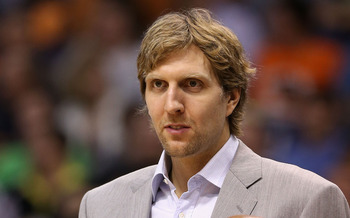 Christian Petersen/Getty Images
The return of Dirk Nowitzki is a welcome sign for the Dallas Mavericks. The team has had its ups and downs all season, and Nowitzki certainly doesn't look like a player who will put them on his back immediately.
But despite the four straight losses and the miserable road record, the Mavericks will be a better team going forward.
20. Utah Jazz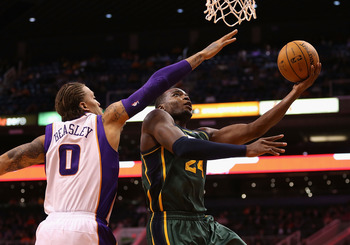 Christian Petersen/Getty Images
It's not that the Utah Jazz are that bad; it's just that they seem to lack a plan. Compounding their problems is a recent lack of scoring, as they have lost three of their past four while shooting 38.6 percent, 41.1 percent and 37.2 percent in those defeats.
With two straight games against the scorching Los Angeles Clippers this weekend, things might not be improving any time soon.
19. Philadelphia 76ers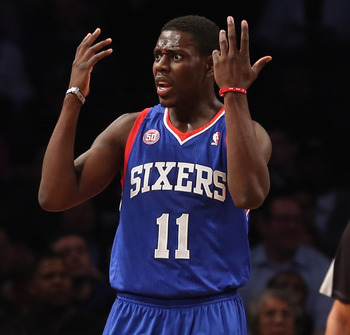 Bruce Bennett/Getty Images
Down went Jrue Holiday, and along with him went the Philadelphia 76ers, who lost all four games he missed with a sprained foot. While he still hasn't looked right since his return, the 76ers have won two of three with him back in the lineup.
It is discouraging to see a team fall so far into the tank when just one player goes down, but Holiday has been the heart and soul of a team that was 12-10 before he was hurt.
18. Brooklyn Nets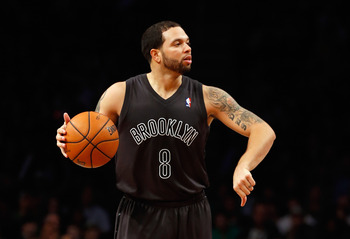 Mike Stobe/Getty Images
With Avery Johnson getting the axe, the Brooklyn Nets season is poised for a rebound. This certainly improves their short-term outlook, as injecting a new message—any new message—will likely have some positive effect.
This can't excuse a 3-10 December record, however, and while Brook Lopez did miss six of those games, they are just 2-5 since his return from injury. That's simply unacceptable for a team with such high expectations.
But without better play from the backcourt—or perhaps the hiring of Phil Jackson—there is no reason to think the team will do a complete 180 just because there is a different person holding the clipboard.
17. Portland Trail Blazers
Streeter Lecka/Getty Images
Just when you think the Portland Trail Blazers are in store for a pointless season, they win eight of 11 games in December. Most encouraging of all has been the resurgent play of LaMarcus Aldridge, who has lately returned to being the potent, efficient scorer that we had come to expect.
He spent the early part of the season settling for—and missing—long jump shots, but has found his touch of late.
16. Minnesota Timberwolves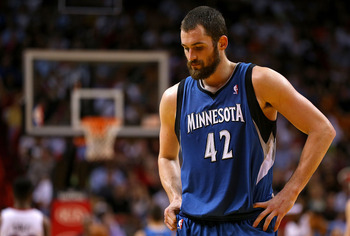 Mike Ehrmann/Getty Images
The Minnesota Timberwolves are scuffling. Their recent play isn't as bad as the 1-4 record might seem, however. Lots of teams lose to the Miami Heat, New York Knicks and Houston Rockets, and the Wolves had a chance to win each game.
Throw in an impressive win over the Oklahoma City Thunder, and a team that is—finally—healthy should make a run early in the new year.
15. Boston Celtics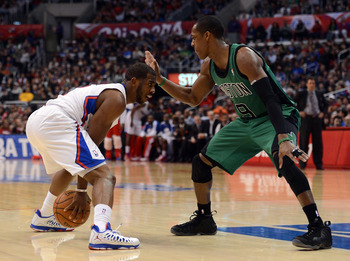 Harry How/Getty Images
It's fitting that the Boston Celtics are in the exact middle of this list. They sit precisely at .500 (14-14) and have spent the past two games blowing out the Brooklyn Nets and getting blown out by the Los Angeles Clippers.
The Celtics do nothing particularly well, but they have the names and faces to make us believe they must be taken seriously. They are the definition of "Who Knows?"
14. Denver Nuggets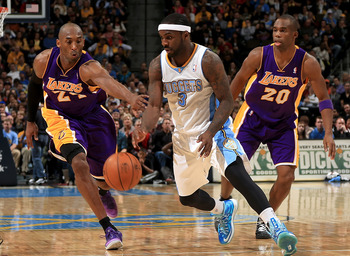 Doug Pensinger/Getty Images
The Denver Nuggets looked like world-beaters while pouring in a 69-point second half against the Los Angeles Lakers on Wednesday night.
That six players scored in double figures during the win shows how their biggest weakness (lacking a superstar) can become their biggest strength (that anyone can beat you) when they play at their best.
13. Chicago Bulls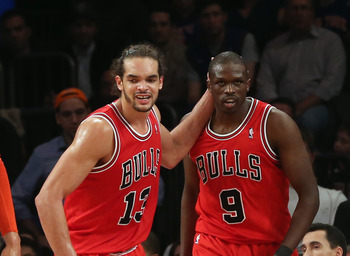 Bruce Bennett/Getty Images
The Chicago Bulls have shown their resolve recently during a rough stretch of games. The Philadelphia 76ers are the only sub-.500 team they have played since December 7, but they have still managed to go 5-4 while beating the New York Knicks (twice), Boston Celtics, Brooklyn Nets and 76ers.
Even without Derrick Rose, the Bulls can make an argument that they are the fourth-best team in the East.
12. Milwaukee Bucks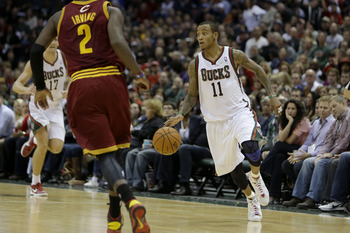 Mike McGinnis/Getty Images
Monta Ellis and Brandon Jennings have been scoring easily, and the Milwaukee Bucks have won seven of their last 10, including victories over the Brooklyn Nets, Boston Celtics and Indiana Pacers.
Still, they remain the only team above .500 with a negative point differential (an average of -0.9 per game).
11. Los Angeles Lakers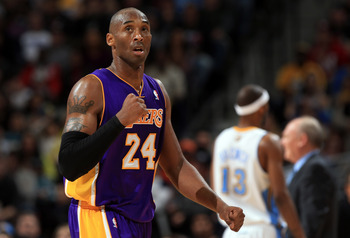 Doug Pensinger/Getty Images
The Los Angeles Lakers are rolling. The early-season drama seems to be in the rearview mirror, and five straight wins (before Wednesday's stumble against the Denver Nuggets) show that this team may be back on track.
Steve Nash and Pau Gasol are playing, and Kobe Bryant has scored 29 or more points in 13 straight games. It will take a few more wins before the Lakers stop being a media punchline, but few now doubt they will be a contender come May if they stay healthy.
10. Indiana Pacers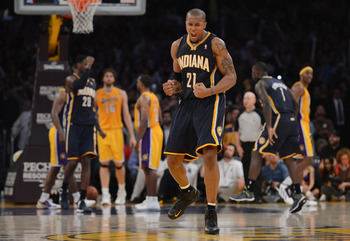 Harry How/Getty Images
Among the many NBA teams hovering just above .500, the Indiana Pacers play the best defense. Pundits say it wins championships, and while that is a pipe dream for Indy, the Pacers are the hardest team in the league to score on.
Then again, the Pacers still haven't had a single victory against any of the teams ahead of them on this list.
9. Houston Rockets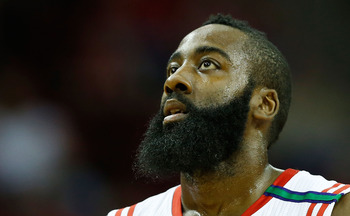 Scott Halleran/Getty Images
How about them Houston Rockets? Winners of their last five—and seven of eight—the highest-scoring team in the league is starting to make good on the early-season promise instilled by James Harden.
It is probably no surprise that Jeremy Lin, who has shot just 42.7 percent from the field this season, has shot 33-for-60 (55.0 percent) during this winning streak.
8. Memphis Grizzlies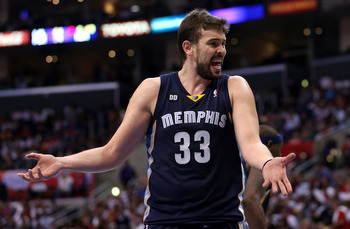 Stephen Dunn/Getty Images
No team has fallen from grace faster than the Memphis Grizzlies. They were atop the power rankings for weeks on end to start the year before loafing to a 6-6 record in December.
Their last high-profile win came against the 14-15 Los Angeles Lakers on the day after Thanksgiving.
7. Atlanta Hawks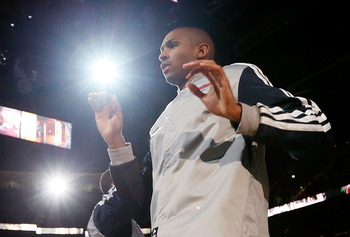 Kevin C. Cox/Getty Images
The Atlanta Hawks have lost just three home games since November 14, but a few recent losses have taken some shine off the team that sits in third place in the East.
Al Horford and Lou Williams have been dominant in the team's last two games, however, and all signs point to the Hawks continuing their winning ways in the new year.
6. Golden State Warriors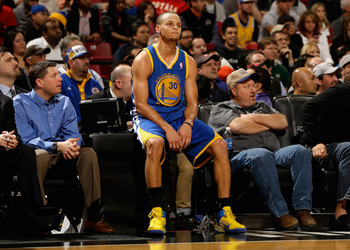 Ezra Shaw/Getty Images
In losing to the Los Angeles Lakers, the Golden State Warriors may have convinced the world that they are for real. How ironic. But their overtime defeat last Friday came in the NBA's game of the year so far and showed that this team is full of weapons.
This was the marquee moment during a wonderful 10-4 December for the feisty Dubs, but we will learn a lot more about this team as it embarks on a brutal stretch of games over the next three weeks.
5. New York Knicks
Victor Decolongon/Getty Images
The New York Knicks remain the best story of the season. But a few recent losses—and a broken finger suffered by Raymond Felton—have added some adversity to what has otherwise been an idyllic season.
The looming return of Amar'e Stoudemire adds another wrinkle. With its world-class scoring ability and Tyson Chandler manning the middle, New York won't tumble in the standings, but it now has some hurdles to overcome.
4. San Antonio Spurs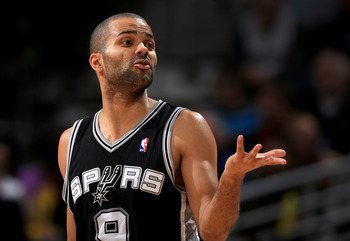 Doug Pensinger/Getty Images
As the NBA's fourth-best offensive team and fifth-best defensive team (in terms of points scored and allowed per possession), the San Antonio Spurs are the only team in the league, other than the Los Angeles Clippers, that has been elite on both ends of the court.
Even more impressive is that they have gotten to this point despite Kawhi Leonard and Stephen Jackson missing a combined 32 games.
3. Oklahoma City Thunder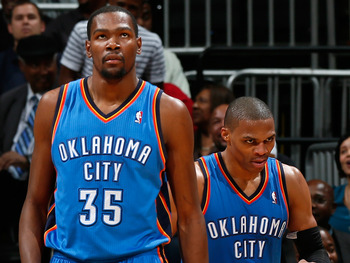 Kevin C. Cox/Getty Images
After winning 12 straight games by an average of nearly 14 points per night, the Oklahoma City Thunder stumbled, coughing up two in a row to the Minnesota Timberwolves and, on Christmas, the Miami Heat.
They needed overtime to right the ship against the Dallas Mavericks on Thursday night. But the extra period, during which Russell Westbrook outscored the Mavericks by himself, showed that there are few better when it comes time to close out an opponent.
2. Miami Heat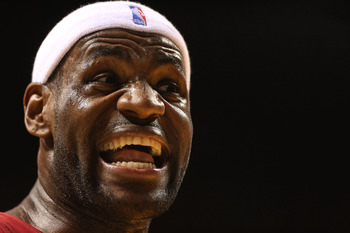 Marc Serota/Getty Images
The Miami Heat don't lose to bad teams. Here is the full list of teams that have beaten them this season: the Los Angeles Clippers, New York Knicks, Memphis Grizzlies, Golden State Warriors and Washington Wizards. Other than the one hilariously terrible team at the end, those are the NBA's elite.
1. Los Angeles Clippers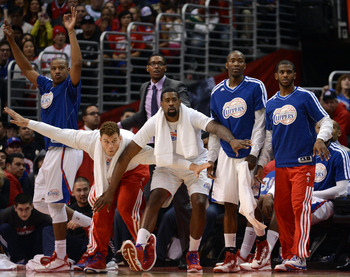 Harry How/Getty Images
The Los Angeles team that was supposed to be an afterthought—second-round playoff fodder for one of the Western Conference elite—has now won 15 straight games. The 106-77 beat down the Los Angeles Clippers gave the Boston Celtics on Thursday night put an exclamation point on the best run any team has had this season.
That the blowout was predicated on defense and role-player production shows just how real this team is. If that isn't enough, the Clippers are the NBA's best road team (9-3) and have the league's best point differential (+10.3 per game).
Keep Reading