UFC 155: Bleacher Report Staff Predictions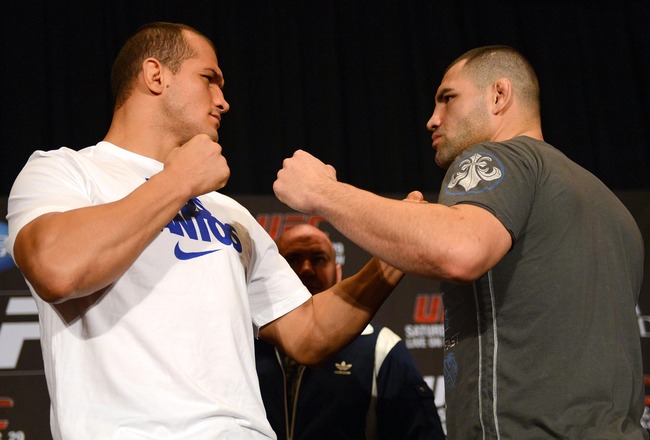 Jake Roth-USA TODAY Sports
UFC 155 looks to send 2012 off in explosive fashion. The event will go down at the MGM Grand Garden Arena on Dec. 29 and decide the UFC heavyweight champion in the main event.
The rematch between Junior dos Santos and Cain Velasquez has a number of questions surrounding it. Hopefully we'll have our answers after this one.
In the evening's co-main event, the scrappy Joe Lauzon will face the equally tough Jim Miller. Lauzon has a number of Submission of the Night awards to his credit, but Miller is a Brazilian jiu-jitsu black belt and will certainly be up for the challenge on the ground or on the feet.
Two of the middleweight division's toughest guys will face off when Tim Boetsch meets Costa Philippou. Boetsch is coming off the biggest win of his career against Hector Lombard, while Philippou is on a four-fight winning streak.
Also on the card is another rematch between Yushin Okami and Alan Belcher. Okami is still regarded as one of the top guys in the division, and Belcher will look to place himself among the middleweight elite.
Chris Leben returns after a suspension and will welcome Derek Brunson to the UFC. Brunson is stepping in on short notice, but Leben hasn't competed since UFC 138 due to a one-year suspension.
Read on to see our predictions for UFC 155.
Chris Leben vs. Derek Brunson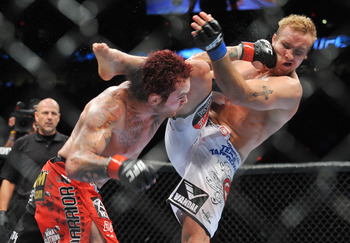 Jon Kopaloff/Getty Images
Matthew Roth: If Chris Leben didn't have a ton of baggage, I'd say this is one of those obvious picks. He has dynamite in his hands and the ability to put anyone to sleep. But with questions regarding his mindset and overall mental health, this isn't a guaranteed win. I still believe he puts Derek Brunson away; it just won't come easily.
Leben, TKO, Round 3
Scott Harris: Derek Brunson is a charismatic dude and a UFC-caliber fighter. Leben is a known quantity, though, and he's not going to let Brunson through that gate. Especially since Ronaldo "Jacare" Souza just knocked him out.
Leben, KO, Round 1
John Heinis: After getting screwed out of a spot on Season 17 of The Ultimate Fighter due to a technicality in his contract with Strikeforce, Derek Brunson has a tough test ahead of him in former WEC champ Chris Leben. Leben hasn't fought in 13 months due to yet another drug-related suspension. But given how easily he was knocked out by Ronaldo "Jacare" Souza, I can't see his chin lasting very long against a motivated and heavy-handed "Crippler."
Leben, KO, Round 1
McKinley Noble: It's time to admit that Chris Leben's legendary chin finally started to fail him last year (although drugs and alcohol abuse sure didn't help). Thankfully for him, Derek Brunson's finishing rate took a big dive since moving up into Strikeforce territory. Leben is shot, but he'll probably manage to stave off a wrestling blitz from Brunson to win a bit early here.
Leben, TKO, Round 2
Sean Smith: Against most UFC middleweights, Chris Leben's long absence due to suspension would be a major concern. However, the effects of Derek Brunson's nerves for his UFC debut could outweigh the effects of Leben's rust. More importantly, Leben has already proven himself against elite competition.
Leben, TKO, Round 1
Kyle Symes: Derek Brunson is stepping in on incredibly short notice, which is reason enough for me to doubt him in his fight with Chris Leben. But then you have to remember that Leben hasn't competed since UFC 138. Still, I don't believe Brunson is good enough to defeat Leben. I'll take "The Crippler" in what could be a fun scrap to begin the main card.
Leben, KO, Round 1
Yushin Okami vs. Alan Belcher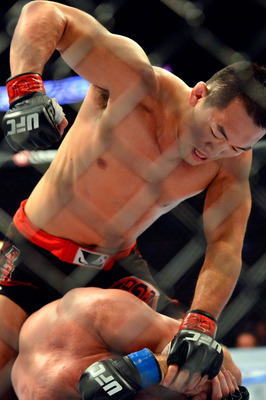 Ron Chenoy-USA TODAY Sports
Matthew Roth: This is one of those fights that could go either way. Yushin Okami is incredibly strong in the clinch but tends to make mistakes on the feet. Alan Belcher is the more well-rounded fighter, but I'm not sure he has the ability to get Okami to the mat. I think this is Belcher's fight to lose.
Belcher, TKO, Round 2
Scott Harris: This should be a good fight. But there is no chance I'm picking against Alan Belcher again after his five-tool display against Rousimar Palhares.
Belcher, TKO, Round 2
John Heinis: A rematch of August 2006 (when Yushin Okami won). Alan Belcher's grappling has improved by leaps and bounds since then, and even back then he seemed to be the superior striker. Okami hasn't looked like a perennial middleweight contender ever since getting knocked out by Anderson Silva last summer, and Belcher is on a nice four-fight win streak. This is Belcher's fight to lose, in my opinion.
Belcher, unanimous decision
McKinley Noble: If there's any justice in the world, Yushin Okami will rip that ridiculous tattoo off Alan Belcher's skin in a freak grappling accident. True, the vastly underrated Belcher has looked better than ever despite long layoffs between fights, but I'm not quite ready to throw the equally underrated Okami in the doghouse just yet.
Okami, split decision
Sean Smith: It's been quite some time since Yushin Okami and Alan Belcher first fought in August 2006, but things really haven't changed all that much. Okami is still an elite middleweight despite getting caught against Tim Boetsch, and Belcher is still in search of his first win over a top-10 185-pound fighter. It might be closer this time, but the result should be the same.
Okami, unanimous decision
Kyle Symes: Alan Belcher may be the most underrated middleweight contender. Although known for his striking game, Belcher is a well-rounded fighter who is dangerous wherever the fight goes. He'll need that grappling skill as Yushin Okami will look to use his top-heavy wrestling game to grind his way to a decision victory. I know Belcher has already lost to Okami once, but I believe he's a much better fighter and will exact some revenge.
Belcher, TKO, Round 2
Tim Boetsch vs. Costa Philippou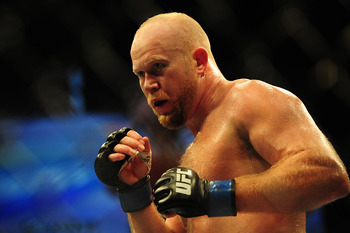 Anne-Marie Sorvin-USA TODAY Sports
Matthew Roth: You know what's crazy? At the time of this pick, Costa Philippou is the favorite in this fight. He definitely has the striking advantage and has demonstrated an ability to stay on his feet. I think this is a bad matchup for Tim Boetsch, who will be outstruck from range by the better boxer.
Philippou, unanimous decision
Scott Harris: I'm a fan of both these guys, but I've beaten the Costa Philippou drum for some time now. I think he deserves this opportunity because he can capitalize on it. I think he keeps it standing for a large enough portion of the fight to outland and outscore the bruising Tim Boetsch.
Philippou, unanimous decision
John Heinis: Costa Philippou is more of a live dog here than most will give him credit for, given his precise boxing and stellar takedown defense. However, Tim Boetsch's rock-solid jaw and unorthodox striking allows him to constantly push the pace regardless of what his opponent throws at him. Boetsch does just enough to win.
Boetsch, split decision
McKinley Noble: People want to call Tim Boetsch's win over Hector Lombard a fluke, but I believe it was a combination of sheer size and tight defensive technique. I'm expecting that to be the difference-maker here. Both Boetsch and Costa Philippou are ridiculously tough guys carefully inching toward title contention, so don't anticipate a stoppage from either man.
Boetsch, unanimous decision
Sean Smith: As a former boxer, Costa Philippou has some really good hands. However, Hector Lombard also carried knockout power into a fight with Tim Boetsch and wasn't able to make use of it. Boetsch will utilize kicks to keep Philippou on the outside and should also be able to mix in a few takedowns against the striker.
Boetsch, unanimous decision
Kyle Symes: Tim Boetsch and Costa Philippou may be the two toughest guys in the middleweight division. Both are also on some impressive rolls, especially Boetsch, who is coming off a win over Hector Lombard. I think this turns into a war of attrition with neither man giving in, but I'm going with Boetsch based on the fact that he's faced tougher competition and will know what to do to win.
Boetsch, unanimous decision
Jim Miller vs. Joe Lauzon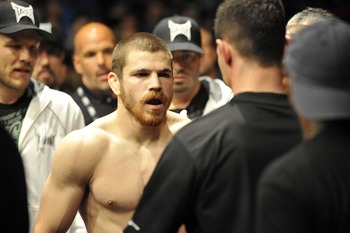 Joe Camporeale-USA TODAY Sports
Matthew Roth: This is a great matchup that will put the winner back in the title picture. Jim Miller is the better fighter on paper and has faced stiffer competition in his career. Joe Lauzon is scrappy, but I don't think he presents any issues for Miller.
Miller, unanimous decision
Scott Harris: Joe Lauzon is a fun and sexy pick here, especially after Jim Miller's loss to Nate Diaz. But the rock-solid Miller should weather Lauzon's early storm and overpower J-Lau over three rounds.
Miller, unanimous decision
John Heinis: Both these fighters are highly entertaining grapplers who don't mind throwing some leather, which is why this bout is a favorite for Fight of the Night. Jim Miller has an iron chin and probably better striking, while Joe Lauzon has the crafty jiu-jitsu to submit just about any lightweight if the fight hits the ground. Miller's wrestling and submission defense will be too much, though.
Miller, unanimous decision
McKinley Noble: Although I've taken some heat for this before, I think that Joe Lauzon is legitimately a better grappler than Nate Diaz. He's faster and more creative and fights incredibly well off his back. If he can avoid getting tagged early in the fight, that adds up to a close but exciting victory over the stronger but slower blue-chip veteran Jim Miller.
Lauzon, submission, Round 3
Sean Smith: Joe Lauzon is the jiu-jitsu equivalent of a home run hitter. He won't wow anyone with his speed and athleticism throughout a fight, but he has the ability to make any opponent pay for the slightest mistake. That said, Jim Miller won't be forced into a desperation takedown attempt like he was against the slick boxing of Nate Diaz, and he won't fade like Jamie Varner did against Lauzon.
Miller, unanimous decision
Kyle Symes: It's a battle between two perennial gatekeepers when Joe Lauzon meets Jim Miller. Lauzon is coming off a huge victory over Jamie Varner, while Miller is coming off a loss to Nate Diaz. Miller is a tough dude and will likely look to mix his striking and wrestling, but it won't be enough against J-Lau.
Lauzon, split decision
Junior dos Santos vs. Cain Velasquez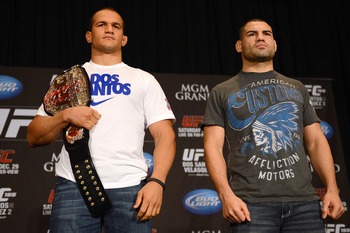 Jake Roth-USA TODAY Sports
Matthew Roth: This is another matchup that could go either way. I think people are underestimating Cain Velasquez's boxing after that first matchup, but at the same time, they are writing off Junior dos Santos' takedown defense. I don't think Velasquez has the ability to keep JDS on his back for 25 minutes, but he has the boxing to make it an ugly fight on the feet. That said, I'm riding with the champ.
Dos Santos, TKO, Round 2
Scott Harris: The X's and O's of this matchup are not mysterious. It's tempting to go with Junior dos Santos because of what he's previously done to Cain Velasquez and all his other UFC opponents. But Velasquez seems too skilled, too strong, too smart, too proud and too willful to let the rematch unfold like the original.
Velasquez, unanimous decision
John Heinis: Although he has only successfully defended his title once, it looks like JDS is going to reign supreme over the UFC's heavyweight division for a long time. The Brazilian hits hard and fast, so no matter how many takedowns Velsquez can get, I don't see it being enough to win the fight.
Dos Santos, TKO, Round 2
McKinley Noble: Man, I really hope this lasts more than one minute. Both Junior dos Santos and Cain Velasquez are two of the absolute best strikers in the heavyweight division, and it would be a shame to see another early, sudden knockout. Also, I'm going to flip-flop. Originally, I picked Velasquez, but JDS has better wins against stronger-looking competition.
Dos Santos, TKO, Round 3
Sean Smith: We may not have learned everything we need to know in the first meeting between these heavyweights, but we learned enough. It will only take one punch for Junior dos Santos to remain champion, and he has the takedown defense to remain standing long enough to land that punch.
Dos Santos, TKO, Round 1
Kyle Symes: This could be one of the most dissected rematches in UFC history as fans have lobbied for both sides in the weeks leading up to this. I love Cain Velasquez's skill set and believe he will be a handful this time around if he's healthy, but I still believe Junior dos Santos gets the win. Velasquez was rocked in his bout with Cheick Kongo before getting the takedowns, and I believe Dos Santos will land his soul-stealing power punch before Velasquez turns it into a wrestling match.
Dos Santos, KO, Round 2
Keep Reading