One Commitment 15 Programs Would Love to Have from Their Rival's Class
Tom Pennington/Getty Images
Rivalries are apart of what makes college football so great, and they do stretch into the recruiting side of things off the field too. Each year, every coach steps up to the podium on National Signing Day and says "we love this class and the players we got this year."
However, every coach, deep down inside, has a few players that his rival school signed that he would have loved to have sign with him. This read will take a look at one rival's commitment of 15 programs that their rival school would love to have join them.
So, as a coach and program, while you may dislike a school with fierce passion, there's still at least one recruit they have committed that you would be thrilled to have!
UCLA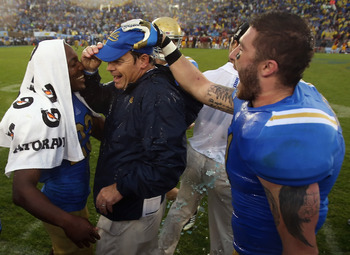 Jeff Gross/Getty Images
Rival: USC
Commitment: Su'a Cravens, S
Jim Mora is a DB coach at heart, and not only is Cravens the best DB in the state, he's probably the best all-around player. At 6'1", 205 pounds, Cravens would likely come in and start for UCLA, and Mora would be enamored with him.
The Bruins, like many other schools, went after Cravens, but he opted to commit to his childhood favorite in USC.
USC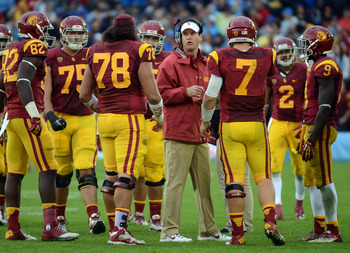 Harry How/Getty Images
Rival: UCLA
Commitment: Scott Quessenberry, OC
Quessenberry is a 6'3", 275-pound pivot prospect that I think USC would try to flip from UCLA if it could. Continuing to add depth to your OL unit always is crucial for a program, and anytime you can find a good center, you can't pass him up.
Georgia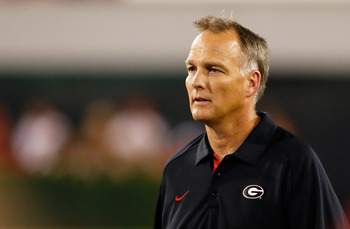 Kevin C. Cox/Getty Images
Rival: Florida
Commitment: Caleb Brantley, DT
Florida has many talented players in its class, yet I think Brantley is the guy here. UGA runs a 3-4 based defensive scheme under Todd Grantham, and the 6'3", 304-pound DT fits the Bulldogs scheme perfectly.
Brantley can 2-gap due to great strength while also working as a 1-gap shooter with solid quickness. Grantham would dig Brantley if he were coming to Athens.
Clemson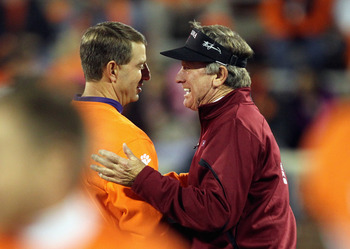 Streeter Lecka/Getty Images
Rival: South Carolina
Commitment: D.J. Park, OT
Park is a 6'4", 313-pound OL prospect from the Palmetto State that was a wanted man by many schools. Clemson was one of them, as Dabo Swinney and Chad Morris understands they have to continue to get good offensive linemen to help their offensive scheme prosper.
Bitter rivals with the Gamecocks, while Clemson is good with the players it has, I'm sure it'd make room for Park.
South Carolina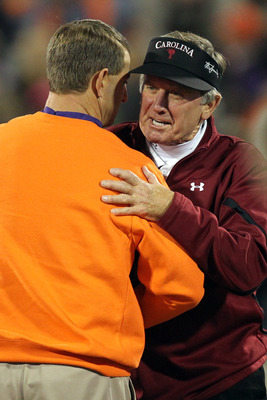 Streeter Lecka/Getty Images
Rival: Clemson
Commitment: Tyshon Dye, RB
South Carolina is the school most affected by Greg Bryant's commitment to Notre Dame. The Gamecocks need a back to help replace Marcus Lattimore, and Dye would be a good fit.
At 6'0" and over 200 pounds, he has good size, runs hard and can slash through seams while flashing some some run strength. Steve Spurrier would be happy with a back like Dye.
Texas A&M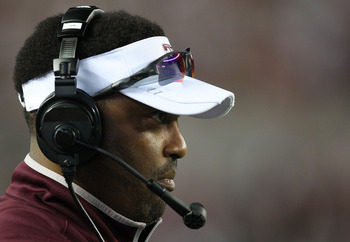 Mike Zarrilli/Getty Images
Rival: Texas
Commitment: Deoundrei Davis, LB
While they may not play one another anymore, Texas and Texas A&M are still rivals. They'll continue to go head-to-head for prospects on the recruiting trail, and it'll keep the contentious relationship going.
Kevin Sumlin leads the Aggies, and he would do well by landing Davis, the 6'2", 215-pound heat seeking missile of a player. Davis lays the wood on ball-carriers and has speed, which would help Sumlin's defense immensely.
Oklahoma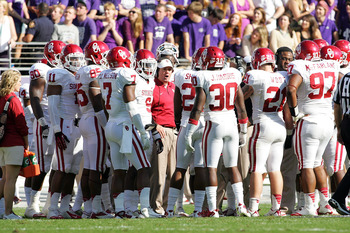 R. Yeatts/Getty Images
Rival: Texas
Commitment: Darius James, OL
The Red River Rivalry is one of the top rivalries in the game today. Oklahoma and Texas are two of the top-notch programs in the country, and their rivalry is epic.
The Sooners raid Texas' fertile grounds for prospects every year, but this year, they couldn't land Darius James. Even though he's set to be a Longhorn, I'm sure Bob Stoops would be stoked if he were coming to Norman.
Texas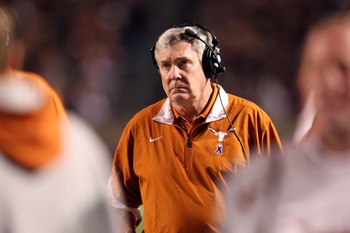 Thomas Campbell-USA TODAY Sports
Rival: Oklahoma and Texas A&M
Commitment: Ricky Seals-Jones, WR/TE
While Oklahoma is Texas' main rival, for this read, the rival that Texas would pluck a commitment from is Texas A&M. Even though it dropped Seals-Jones off its board in the fall, it had nothing to do with the thinking he wasn't good enough.
If the Longhorns could get Seals-Jones again, they would.
Ohio State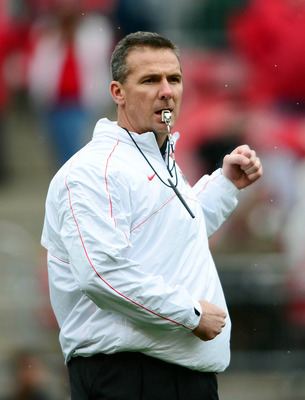 Andrew Weber-USA TODAY Sports
Rival: Michigan
Commitment: David Dawson, OG
When Dawson de-committed from Michigan a few months ago, the Buckeyes were salivating over landing him. It would have been a double recruiting whammy, as they would have landed a great prospect while hurting their rival.
Urban Meyer can only dream now, as Dawson is back in good with Big Blue. Can Meyer convince Dawson to still take his January visit to Columbus?
Michigan
Andrew Weber-USA TODAY Sports
Rival: Ohio State
Commitment: Gareon Conley, CB
Michigan had Conley committed up until this fall when he flipped to rival Ohio State.The 6'1", 170-pound cover an has excellent positional size and athleticism. Michigan would undoubtedly love to have him flip back and come play for it in Ann Arbor.
Florida State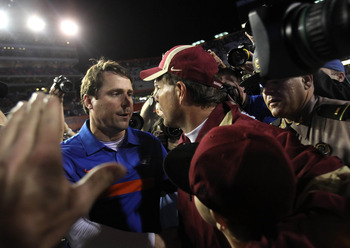 Kim Klement-USA TODAY Sports
Rival: Florida
Commitment: Vernon Hargreaves III, CB
The 'Noles were a team that wanted Hargreaves, and seeing him commit to Florida stung a bit. Known for having a great secondary, Hargreaves would be a great fit in Tallahassee.
Jimbo Fisher digs his class, no doubt, but if there was one player he could take from Florida's class, it would be the nation's best CB prospect.
Florida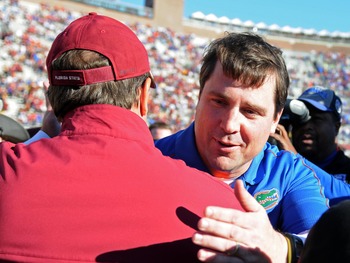 Melina Vastola-USA TODAY Sports
Rival: Florida State
Commitment: Ryan Green, RB
Florida liked Green a lot, and the speedster monitored the Gators, but in the end, he went with Florida State. Adding a speedy, change-of-pace back to Matt Jones and Kelvin Taylor would give the Gators a three-headed RB monster for the future.
Auburn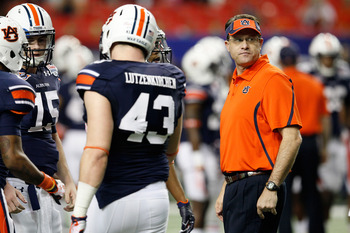 Kevin C. Cox/Getty Images
Rival: Alabama
Commitment: Robert Foster, WR
Gus Malzahn likes to toss the rock around, and having someone to catch the ball is, well, pretty important. Foster's 6'2", 190-pound frame and electric speed would get him on the field on The Plains from the start.
Auburn also wanted TE O.J. Howard, but that was under Gene Chizik. My thinking leads me to believe that Foster is the guy that 'Bama has who Malzahn would take.
Alabama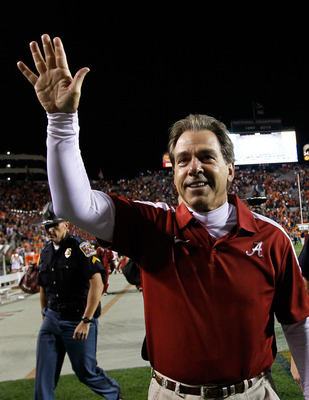 Kevin C. Cox/Getty Images
Rival: Auburn
Commitment: Carl Lawson, DE
Alabama has Jonathan Allen committed, and he could be the next great pass-rusher in Tuscaloosa. Yet Allen isn't Carl Lawson, and if Nick Saban had a chance to take one Auburn pledge, it's a slam dunk that his pick would be Lawson.
With his explosiveness at 6'2" and 252 pounds, Saban and Kirby Smart would have Lawson play rush OLB and DE for them in Tuscaloosa.
Notre Dame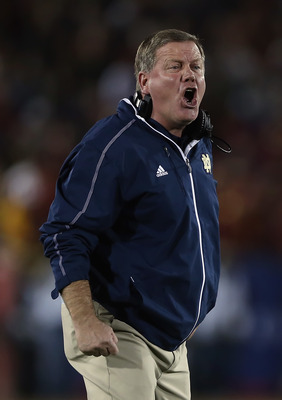 Jeff Gross/Getty Images
Rival: Michigan and USC
Commitment: Dymonte Thomas, ATH/DB and Ty Isaac, RB
Notre Dame would love to have Thomas from Michigan's class because the 6'0", 185-pounder can ball from the safety position or Brian Kelly can make him into a Theo Riddick-type of offensive threat.
The Irish really liked Isaac before he chose USC over them and Michigan in the spring. With his 6'3" 220-pound frame, speed and receiving ability, the offensive-minded Brian Kelly would love to have a toy like Isaac to use for lighting up defenses.
Edwin Weathersby is the College Football Recruiting Analyst for Bleacher Report. He has worked in scouting/player personnel departments for three professional football teams, including the New York Giants, Cleveland Browns and the Las Vegas Gladiators of the Arena League. He spent a year evaluating prep prospects and writing specific recruiting and scouting content articles for Student Sports Football (formerly ESPN Rise-HS). A syndicated scout and writer, he's also contributed to WeAreSC.com, GatorBait.net and Diamonds in the Rough Inc., a College Football and NFL Draft magazine.
Keep Reading