NFL Playoff Picture: Projecting the Matchups for Wild Card Weekend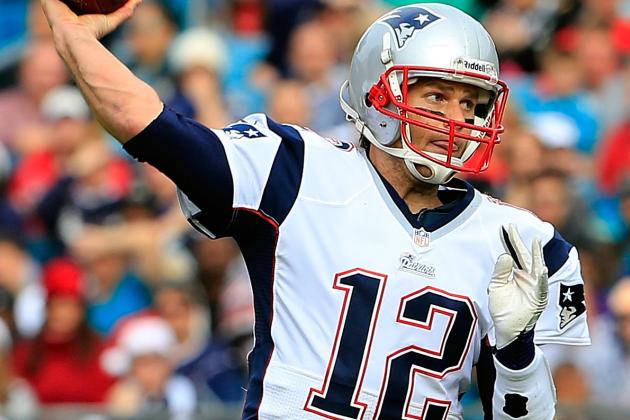 Sam Greenwood/Getty Images
Will Tom Brady and the Pats repeat as AFC champs?
The NFL playoff picture is nearly completed and Wild Card Weekend is always one memorable slate of games.
Not to mention just qualifying for the postseason is all any team can ask for.
Take Tom Brady and the New England Patriots this season. Entering Week 17, the Pats are still alive for a postseason bye, but they need help.
Having already clinched the AFC East, New England suiting up in January is all that matters: Because Brady and Bill Belichick have been to five Super Bowls this century.
There are, however, some new faces to 2012-13's postseason as well. And since it all begins with the crazy wild cards, let's see what the beginning of January offers up.
Begin Slideshow

»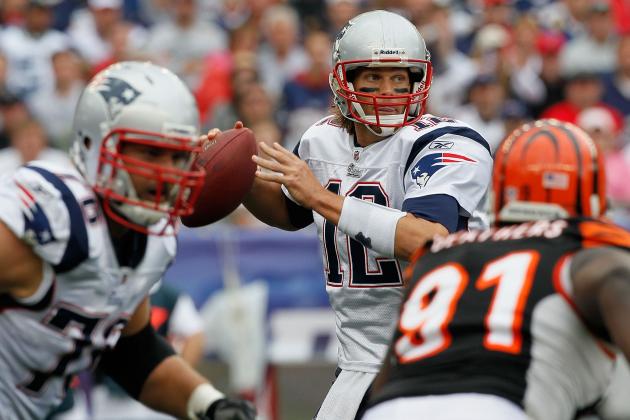 Jim Rogash/Getty Images

For the New England Patriots to earn a bye week, the Denver Broncos and Houston Texans must fall in Week 17.
In short, don't count on it.
Instead, expect Tom Brady and Co. to host the Cincinnati Bengals. Cincy, for a second straight year, enters as the No. 6 seed and looking to get Marvin Lewis a postseason victory (0-3).
This is quite an intriguing matchup, because the Bengals present an impressive pass rush and run defense to New England. The downside, however, is Cincy's suspect pass defense that has allowed a 62.0 completion percentage thus far.
So we can rightfully anticipate Brady to capitalize.
As for the Bengals offense, Andy Dalton must thwart downfield. The Pats defense is vulnerable against the pass, but Bill Belichick will isolate A.J. Green. Unless the Bengals slam on the ground for balance, yards and ball control will be held to a minimum.
Not to mention the Pats are more opportunistic defensively.
New England 28, Cincinnati 17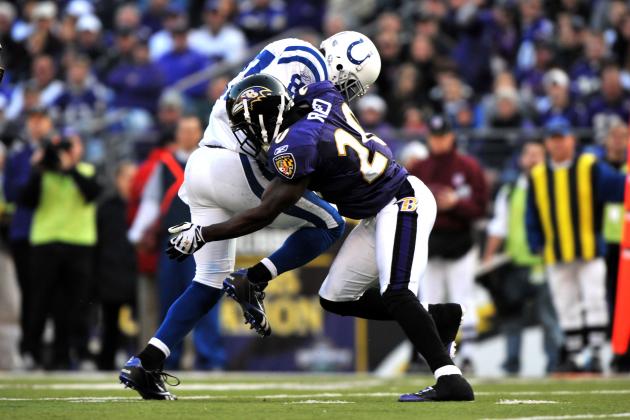 Larry French/Getty Images

For those that love NFL history the Indianapolis Colts and Baltimore Ravens squaring off is a fun contest.
After all, the Colts originated in Baltimore and both of Indy's AFC titles this century required postseason wins over the Ravens.
Even when healthy this season, though, the Ravens have struggled defensively. Therefore, anticipate Andrew Luck challenging Baltimore downfield to Reggie Wayne and Co. Indy's rushing offense has also improved, so maintaining balance will result in impressive yards vs. the Ravens.
The Colts aren't impressive on defense, though.
Allowing an average of 5.1 yards per rush to this point in 2012, that vulnerability will be exposed by Ray Rice. In turn, Joe Flacco sets up the play-action and keeps Baltimore balanced throughout.
This game will be a test of whether Luck can match the efficiency of Flacco. But because the Ravens are capable of generating more turnovers, Baltimore survives a scare from Indy's rookie signal-caller.
Baltimore 27, Indianapolis 23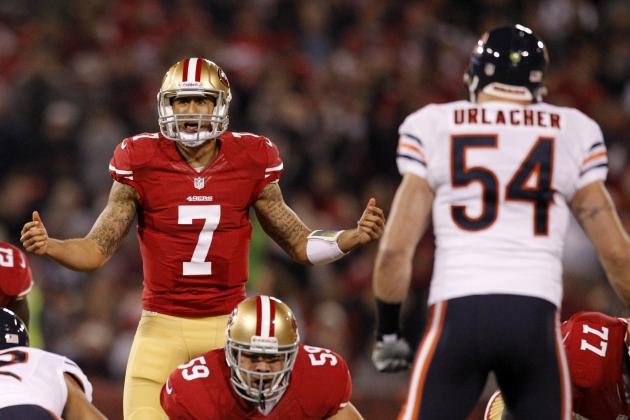 Cary Edmondson-USA TODAY Sports

A rematch of Colin Kaepernick's NFL starting debut, the Chicago Bears return to Candlestick Park.
From the San Francisco 49ers' perspective; however, not much has changed.
The 'Niners still field a balanced offense with explosive potential and a stellar defense. Chicago on the other hand, hasn't been as fortunate.
Simply in terms of overall production the Bears have lacked during the season's second half. Chicago began 7-1, but hit a slump and ultimately lost the division title. Against San Francsico, the Bears' best odds at winning are by forcing turnovers.
Jay Cutler and the offense will be shut down by the 49ers front seven, so flustering Kaepernick is needed to win the field position battle. Chicago's defense still is susceptible to the run game, though, which will take pressure off the passing game.
Given that the Bears allow an average of 4.2 yards per rushing attempt, a shortened game is to San Francisco's advantage. For as little as Cutler will move the rock on the 'Niners defense, that impact significantly lessens with fewer possessions.
San Francisco 24, Chicago 10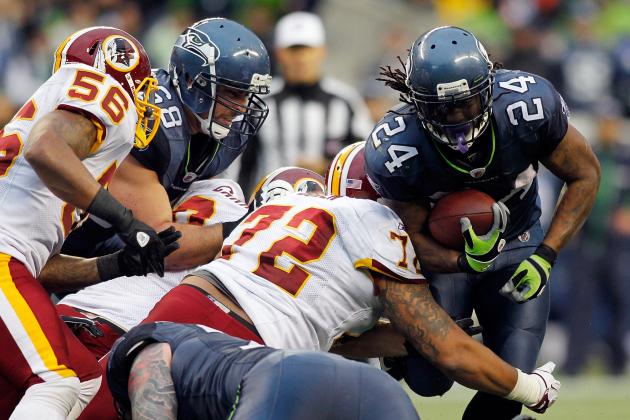 Jonathan Ferrey/Getty Images

The Seattle Seahawks and Washington Redskins is the most fascinating matchup of Wild Card Weekend.
We have a stout defense in Seattle that is capable of suffocating in coverage, getting quarterback pressure and stuffing the run.
Then there's rookie quarterback Robert Griffin III who is arguably the most electric player in pro football. Will Seattle be able to contain the dual-threat quarterback?
Yes, because the Seahawks play with an extreme amount of assignment discipline up front. Include lockdown cover players and RG3 won't find many open targets.
Switch to Seattle's offense and the Redskins face an impressive balance of Marshawn Lynch and Russell Wilson. Lynch has proven to take over any game in the trenches, which always allows Wilson to work in some play-action and read-option.
Washington's defense also still gives up a 62.3 completion percentage and is nowhere near the level of Seattle's defense. As a result, the Seahawks consistently move the chains against Washington and Pete Carroll's defense keeps RG3 in check.
Seattle 31, Washington 20
Follow John Rozum on Twitter.