The 10 Best Pac-12 Football Games of 2012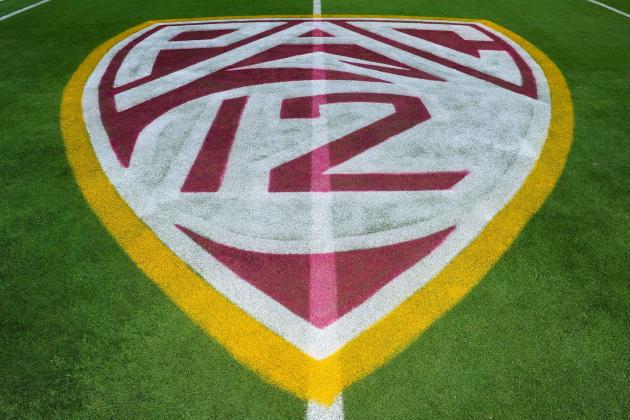 Matt Kartozian-USA TODAY Sports

Another year of football is in the books and it's time...to start looking forward to baseball.
While you mull over that prospect, it's also time to review the games that kept you riveted, titillated and wanting more. Those games that made you, the football fan, say, "Now that's Pac-12 football."
We've made our list (in no particular order) of the games that were the most entertaining, most exciting and the most noteworthy of this season.
The best games of 2012, Pac-12 style.
Begin Slideshow

»
Robert Laberge/Getty Images

USC hosted undefeated Oregon with two losses under its belt—but both of those Trojan losses were close ones. Could USC upset Oregon just as it had done the previous year in Eugene?
Despite the Duck offense running all over the Trojan defense, the game was up for grabs late in the third quarter with Oregon leading USC 41-38.
The fourth quarter proved fatal for the overpowered Trojan defense as Oregon won 62-51—Oregon rushed for 461 yards and USC was dealt its third conference loss.
It appeared as though the Ducks were headed toward its second BCS Championship game in three years.
Stephen Dunn/Getty Images

After beating Rice on the road 49-24, UCLA—under first-year head coach Jim Mora—returned home to host No.16 Nebraska.
UCLA shocked the Cornhuskers with its passing and rushing attack. Quarterback Brett Hundley went 21-of-33 for 305 yards and four touchdowns while Johnathan Franklin rushed for 217 yards on 26 carries.
Were the Bruins really back? Or was this another fluke of a game? In only the second week of college football, nobody really knew what to make of UCLA except that it had just beaten Nebraska 36-30.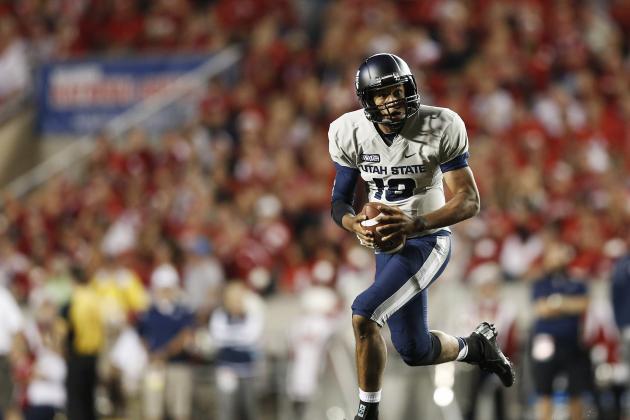 Tom Lynn/Getty Images

The Utah Utes had won 12 straight games in this series but the Utes hadn't played Utah State in the past two years—the Aggies had decidedly improved since these two teams last played.
Football fans were used to Utah State imploding in the waning seconds of their football games so when the Aggies tied up the game 20-20 late in the fourth quarter—sending the game into overtime—Pac-12 fans still assumed Utah would survive.
Utah State quarterback Chuckie Keeton passed for 216 yards and two touchdowns to lift his team past Utah and finally get that monkey off his back, winning 27-20.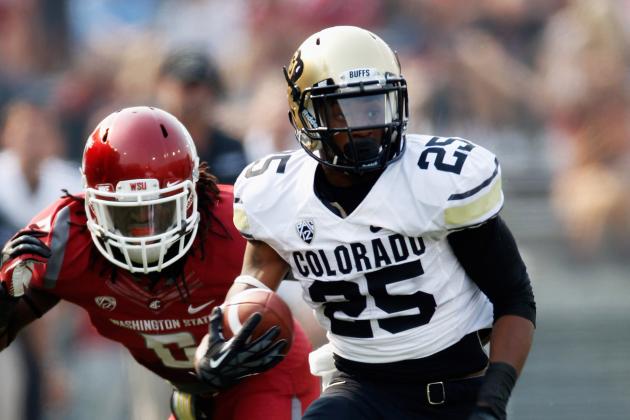 William Mancebo/Getty Images

This game featured six turnovers—three from each team—and smoke in the stadium due to wildfires nearby. But more than anything else, this game featured two teams trying to turn around their football programs and unfortunately, somebody had to lose.
Colorado scored three touchdowns in the fourth quarter—taking its first lead of the game with nine seconds left in the game—and beat Washington State 35-34.
The Buffaloes' victory over the Cougars would be their only one in 2012—they finished 1-11 and head coach Jon Embree was dismissed.
What made this game so compelling was the comeback mounted by Colorado—despite its eventual gloomy season outcome, it fought hard.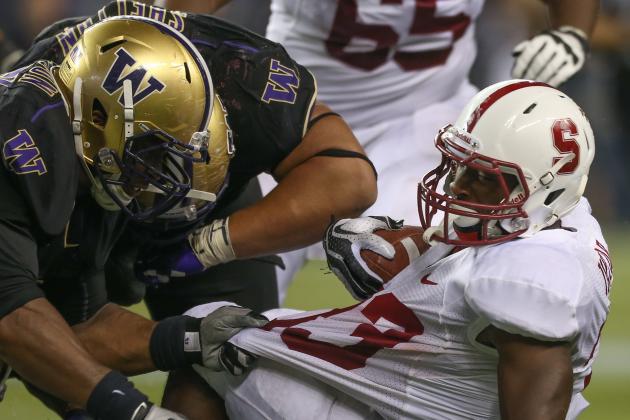 Otto Greule Jr/Getty Images

The No. 8 Stanford Cardinal traveled to Seattle to take on the Washington Huskies, a team that struggled to beat San Diego State and was beaten badly by LSU. Surely Stanford would have no problems dispensing with the Huskies.
Washington's defense rose to the occasion and limited the Cardinal to just 13 points, but its shining moment came when Stanford quarterback Josh Nunes threw a pass that was intercepted in the red zone with under two minutes left in the game, ending the Cardinal's game-winning touchdown bid.
Washington's come-from-behind win threw the Pac-12 into a bit of chaos and all of a sudden, a lot of teams looked like a potential conference crown winner.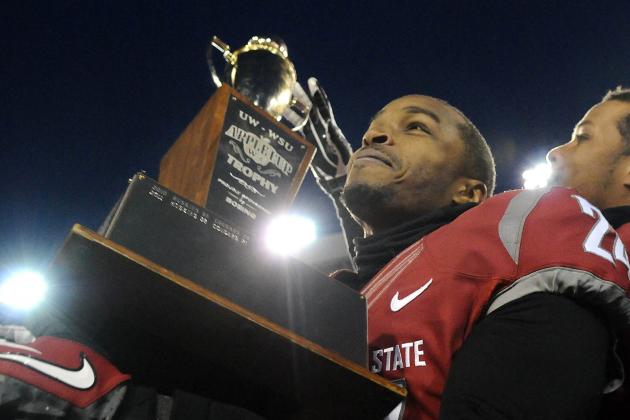 James Snook-USA TODAY Sports

How does Washington State erase the bad taste of 2-9 season? Beat your rival in the Apple Cup and finish 3-9.
Washington looked like an easy pick to win this rivalry game but Washington State head coach Mike Leach threw a wrench into the Huskies' planned victory celebration.
Down 18 points in the fourth quarter, the Cougars came storming back, sent the game into overtime and won 31-28, completely stunning the Huskies.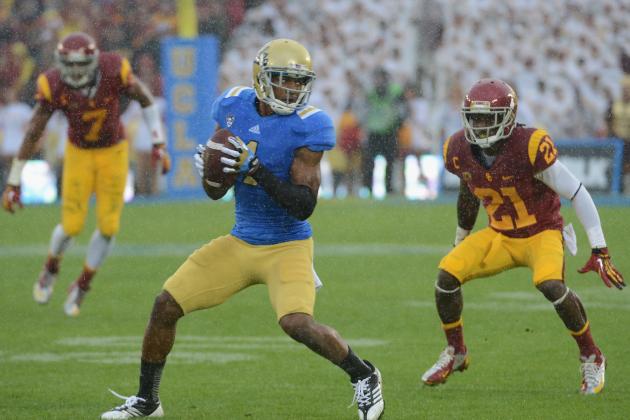 Harry How/Getty Images

The battle for the right to represent the South in the Pac-12 Championship was on the line for both USC and UCLA. USC (7-3) and UCLA (8-2) finally had a game that held more meaning than just a typical cross-town rivalry.
UCLA scored 14 points off of two turnovers and USC quarterback Matt Barkley was injured late in the fourth quarter after linebacker Anthony Barr sacked him. UCLA, at one point in the second quarter, led 24-0 before USC answered with two touchdowns—the Bruins went into half time with a 24-14 lead. USC cut the Bruins' lead to 31-28 in the fourth quarter but that was as close as the Trojans got and they eventually lost 38-28.
The game itself was entertaining and an exclamation mark on a Bruin season that seems to be pointing upward in the near future.
Is the monopoly in Los Angeles over? So far, it appears so.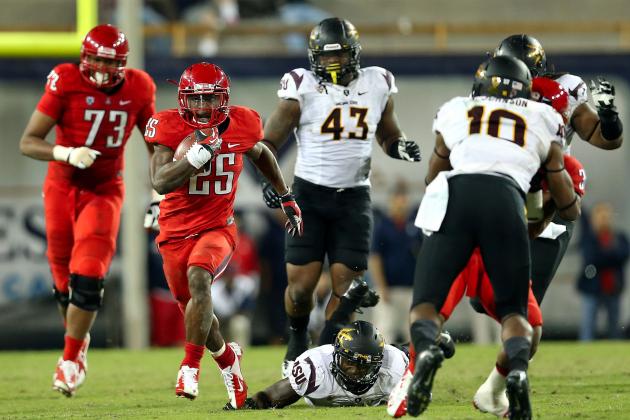 Christian Petersen/Getty Images

The rivalry game between Arizona and Arizona State featured two first-year head coaches at their respective programs—Rich Rodriguez and Todd Graham.
Arizona State had a 6-5 record but a 7-5 record would guarantee the Wildcats a bowl berth—only Arizona stood in Arizona State's way.
The Sun Devils were down 27-17 entering the fourth quarter but scored 24 unanswered points and beat the Wildcats 41-34 after an onside kick attempt by Arizona went out of bounds with under two minutes left in the game.
For the past three years, this rivalry game hadn't been decided until the final play of the game so football fans in-the-know knew this game would be another great one.
They weren't disappointed.
Christian Petersen/Getty Images

If stingy defense floats your boat then this game won't thrill you but for sheer entertainment purposes, this game had it all.
Oklahoma State and Arizona combined for over 1,100 total yards in an offensive free-for-all in Tucson.
The Cowboys were only down 37-31 going into the fourth quarter after allowing the Wildcats six unanswered scores (three touchdowns and three field goals). The outcome of this game was completely up in the air.
Only one quarter saw less than four scoring drives (the second) and quarterbacks Matt Scott and Wes Lunt each had at least 40 passing attempts.
Late in the third quarter, Oklahoma State was down 30-28 before finally falling apart and losing 59-38.
Kirby Lee-USA TODAY Sports

Only one thing stood in the way of Notre Dame's march toward a BCS Championship game berth: the USC Trojans.
This storied rivalry game has seen many games determine an eventual national champion and all eyes were on this game in late November. All eyes were on the Irish's vaunted defense which performed absolutely brilliantly, stopping USC's offense over and over again in the red zone.
USC was only down by six points midway through the fourth quarter so this game's outcome was a giant question mark—would the Irish defense hold or would USC dash Notre Dame's hopes to play Alabama in January?
Kyle Brindza's field goal late in the fourth quarter to give Notre Dame a 22-13 lead sealed USC's fate and punched Notre Dame's ticket to Miami.
It was one for the ages.