5 New Year's Resolutions for the Houston Rockets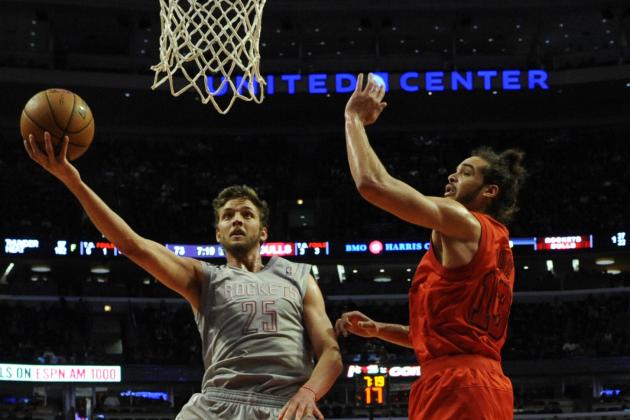 David Banks/Getty Images

Scoring 120 points in three straight games won't be a New Year's resolution for the Houston Rockets.
Been there, done that. Once every 25 years is plenty.
What we're looking for are realistic resolutions that will benefit Houston in 2013 and beyond.
The Rockets winning an NBA title this season is not a resolution you will see here. We're all more likely to lose about 30 pounds apiece in 2013.
Forget about it.
However, there are at least five resolutions that Houston should keep to ensure a prosperous New Year. Let's stop procrastinating and get on that Rockets treadmill!
*statistics updated through games of Wednesday, December 26
Begin Slideshow

»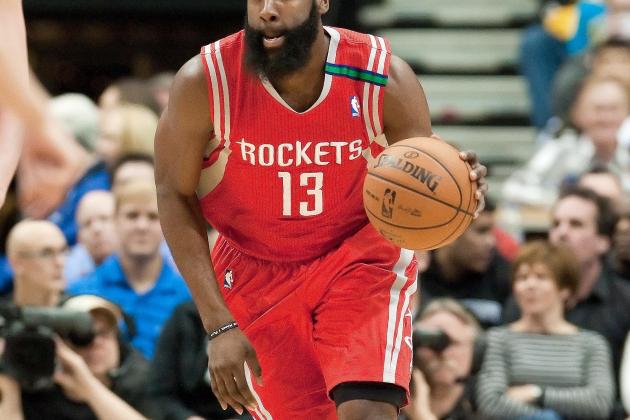 Greg Smith-USA TODAY Sports

The Rockets have been running up the score lately like the Seattle Seahawks on the gridiron.
H-Town already has an excellent football team in the Houston Texans, but the Rockets/Seahawks analogy is more relevant.
Houston used the NBA's youngest team to score 120 plus points in three-straight games, while Seattle used a rookie quarterback to outscore their foes by 120 points over a three-game stretch.
However, the Rockets' 87-84 win against the Minnesota Timberwolves December 26 was the biggest of their current win streak. It was the first time Houston had won on the road against a Western Conference opponent all season.
Most importantly, the Rockets defeated a team they will be battling for playoff positioning, much like the Seahawks did against the San Francisco 49ers last weekend.
James Harden's 17-point fourth quarter was critical to the win at Minnesota, but we've almost come to expect MVP-caliber play from him.
The key word with the football analogy is "defense." The Rockets win over the Wolves was called ugly because it was a regular-season game. Any 87-84 victory in the 2013 playoffs will be worthy of a champagne shower in Houston's locker-room, assuming they are all old enough to drink.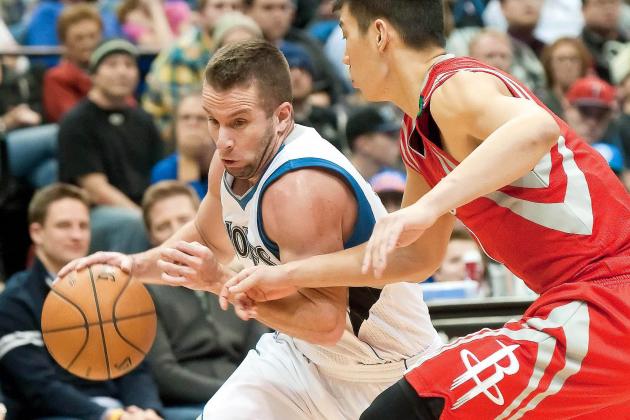 Greg Smith-USA TODAY Sports

Too many times this season we have seen Jeremy Lin riding the pine with the game on the line.
Admittedly, Toney Douglas has played better than I thought he would the past few weeks. However, he is nowhere near the caliber of player Lin is.
Even on an off night, Lin cranked up the defense pressure on J.J. Barea down the stretch at Minnesota. This was instrumental in the Rockets extending their season-best win streak to five games.
Offensively, Lin is proving that he can complement Harden at all junctures of a given game. Houston's dynamic duo has become the highest-scoring backcourt in the NBA at 37.7 PPG (Harden at 25.8; Lin at11.9).
Lin has assisted on more Harden hoops than any other Rocket and vice-versa. That trend will only be enhanced when they close out more tight games together.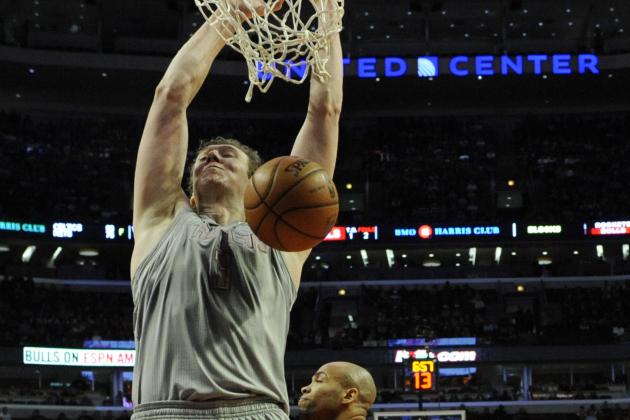 David Banks/Getty Images

Omer Asik has thoroughly outplayed several elite big men over the last four games. It's as if he made his New Year's resolution a couple of weeks early.
The Rockets would be thrilled if Asik could just approach his numbers over that span: 15 PPG on 66 percent shooting with 15.5 rebounds per contest.
Defensively, the Turkish seven-footer has been even better.
On Christmas night against the Chicago Bulls, Asik limited budding All-Star Joakim Noah to eight points and nine rebounds. Asik's performance in the Windy City had to be very gratifying, since he backed up Noah there for two seasons.
Additionally, Asik has stifled some of the West's premier bigs over the last week. Marc Gasol managed only 11 points and five rebounds for the Memphis Grizzlies. Nikola Pekovic and Kevin Love scored just nine combined points for Minnesota, thanks in large part to Asik's defensive presence.
There is now plenty of evidence that the emergence of Greg Smith is pushing Asik to new heights. Consequently, the Rockets center situation looks very promising for 2013 and beyond.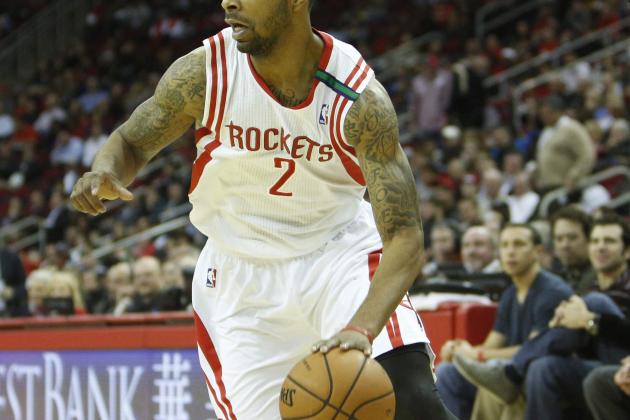 Thomas Campbell-USA TODAY Sports

"Greed is good."
Houston's run-and-gun philosophy may look greedy when they are up 35 points like they were at Chicago. However, as presently construed, this Rockets team must keep the pedal to the medal.
In fact, they should pick it up yet another notch.
This New Year's resolution won't be easy to keep. According to ESPN's Hollinger Stats, the Rockets already lead the NBA with a 98.7 pace (number of possessions per game).
Both Chicago and Memphis are known as great defensive teams. But one of the main reasons they don't allow many points is because they usually play at a snail's pace. Of course, the Rockets ran them both silly, and the scoreboard became laughable.
With that in mind, let's keep up the yucks in 2013. Better yet, let's bust a gut. Houston has the weapons to blow the doors off of many teams on a given night, and they must utilize them to the fullest extent possible.
The resolution is to continually upgrade the run-and-gun blueprint.
But what happens when Plans 1A and 1B don't work? Will another strategy be devised by Kevin McHale for April?
We're not talking about April 1. It's no laughing matter. Read on.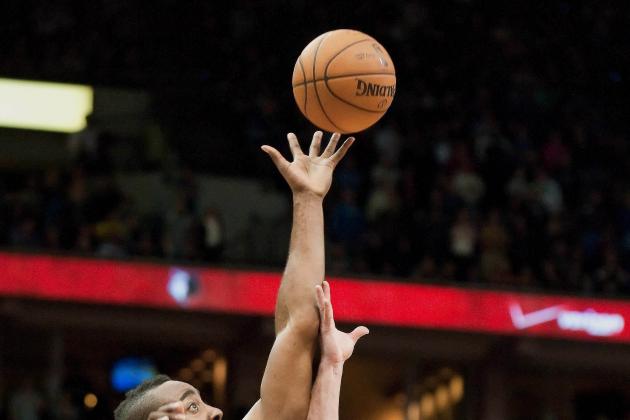 Greg Smith-USA TODAY Sports

I know that the Miami Heat would laugh at the title of this slide. They stopped Harden cold when they beat the Oklahoma City Thunder in the 2012 NBA Finals.
Hmmm.....what happened to LeBron James in the 2011 Finals against the Dallas Mavericks?
I'm not saying James Harden is as good as LeBron James. He isn't, and he never will be.
What I'm saying is that you should throw the 2012 Finals out the window, as far as Harden is concerned.
Still only 23-years-old, Harden has already made Daryl Morey look like a genius. The Rockets general manager envisioned Harden as a franchise player.
Forget the words "franchise player." Morey has brought a flat-out superstar to H-Town.
This superstar can get it done with whatever plan Kevin McHale draws up. Or he can improvise the whole show.
Harden proved at Minnesota that he can beat you on an off night. The Timberwolves were fearing no beard after three quarters of non-action. Harden had scored only 13 points, and the Rockets had no juice.
Plans 1A and 1B were already in the garbage can. The Rockets run-and-gun style was nowhere to be found.
So, Harden started going hard to the hoop. Call the moves slithery or call them strong. Just be sure to chalk him up for 17 points in the fourth quarter. That was a sudden 30 for the game in a huge 87-84 win.
Several messages were made clear. The Rockets have positioned themselves for a playoff run in 2013. They will go full tilt whether it's regular season or post-season.
James Harden will probably continue to lead the league in fast-break points and free throws made. He will likely remain second to LeBron in assists for NBA players that don't play point guard.
Harden might even challenge Kobe Bryant for First Team All-NBA at shooting guard. He's already neck-and-neck with Dwyane Wade for Second Team.
But the primary resolution for James Harden doesn't need to be said. It is completely understood by his teammates and coaches.
James Harden has been entrusted to take over the Houston Rockets whenever he deems it necessary. That resolution won't change for at least five more years.