The 10 Worst NFL Touchdown Celebrations of 2012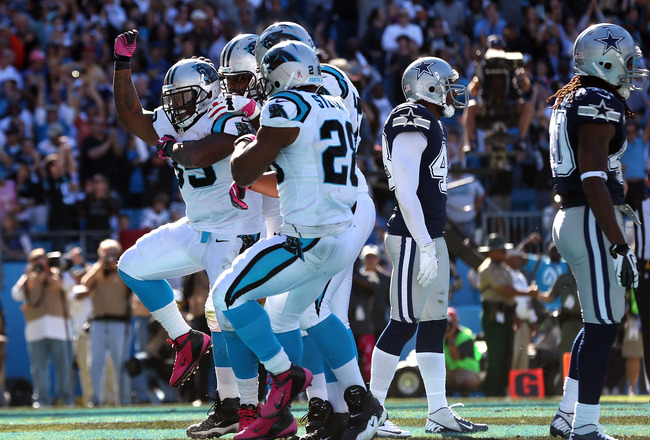 Mike Tolbert- Gangnam Style
Streeter Lecka/Getty Images
The NFL and touchdown celebrations belong together. Like peanut butter and jelly, or ice-cold lemonade and summertime. The art of celebrating when you break past the pylon and plow into the end zone has become an important part of our beloved game.
With each passing NFL season, our eyes get littered with some unbelievable celebrations. From vicious goal post slam dunks to the LaDanian Tomlinson ball flick, nothing sticks in fans minds like a good celebration.
But like anything in life, the good comes with a generous helping of the bad. And when bad touchdown celebrations occur, we can't help it—we have to watch!
So without further delay, I invite all of you come join me on a journey. A journey back in time to experience the 10 Worst Touchdown Celebrations of 2012.
NFL Players Doing Gangam Style

NFL Players do Gangnam Style

Forget the presidential election, all of the various championship teams and those important human contributions that took place this past year. Why? Because 2012 can be summed up using two wonderful words.
The craze that swept the nation reared its ugly head in our beloved NFL earlier this year. Thanks to guys like Jason Pierre-Paul, Donald Jones and Mike Tolbert, Gangnam Style became a staple of the Sunday celebration.
Look, I'm all for athletes having a little fun to get a rise out of people, but come on, have a little creativity, guys! Please, no more Gangnam Style!
Let's go back to the original touchdown dances, and leave the Gangnam Style moves to experts.
Jacoby Jones Does What?: Week 11 vs. Pittsburgh Steelers

Jacoby Jones- Ravens

Can you describe what you just saw? Because I can't.
After scoring during a Week 11 trip to Pittsburgh, Ravens wideout Jacoby Jones attempted to do a little Chris Johnson, interpretive dance routine in the corner of the end zone.
Jones, mostly known for his special teams skills has embraced a new role with the Ravens in 2012. The role of "River Dancer." A fleet-footed wide receiver sent here to show people the meaning of true expression through dance.
Though we may never understand the inspiration behind the moves of Jacoby Jones, we can take comfort in knowing one thing. Jacoby Jones' touchdown celebrations will always leave us asking ourselves, "What the...just happened?"
Kyle Rudolph Does the Lawn Mower: Week 16 vs. Houston Texans

Kyle Rudolph- Vikings

Thanks to Minnesota Vikings tight end Kyle Rudolph, we were all reminded about a harsh reality. Some people just can't dance.
After scoring against the Houston Texans last Sunday, the goofy, 6'6" Rudolph forced us all to watch him do some sort of lawn mower, LeBron James powder toss celebration on national television.
Seeing Rudolph's end-zone celebration brought back terrifying memories of friends and family members awkwardly dancing at weddings. Yes, on Sunday, Kyle Rudolph became the weird uncle or friend who shows up at the wedding and tells everyone he's going to "cut some rug."
So on behalf of all of us, I just want to say thanks Kyle. Thanks for giving sports fans the chance to yell at weddings across the nation, "Oh man, that guy's doing the Kyle Rudolph!"
Justin Houston's Group Celebration: Week 10 vs. Pittsburgh Steelers

Justin Houston- Chiefs

My friends, this is what you call a classic Kansas City Chiefs moment.
Remember back in Week 10 when Chiefs linebacker Justin Houston scooped up what we all thought was a Byron Leftwich fumble and took it 21 yards for the go-ahead score?
Then, without hesitation, he and some of his fellow stable mates performed one of the worst group touchdown celebrations in recent memory?
Well some things are simply just to good to be true. Not only did the Chiefs get penalized 15 yards for their special group dance, but the refs ended up going under the hood and realized that Leftwich actually didn't fumble the football, negating the touchdown altogether.
So in classic Chiefs fashion, they not only lost a touchdown, but they gave the Steelers a free 15 yards to enjoy on their drive.
Pittsburgh would end up winning the game 13-10 in overtime.
Ugh. Chiefs.
Vernon Davis Dunk Fail: Week 1 vs. Green Bay Packers

Vernon Davis- 49ers- Dunk Fail

NFL players have been scoring touchdowns and dunking the pigskin over the crossbar for years.
Whenever I think slam dunks and football, I think Tony Gonzalez.
So when fellow tight end Vernon Davis scored against the Packers earlier this year, and slowly made his way over to the uprights, you had to figure he was going to stuff home a monster jam.
Instead, Vernon Davis barely got up off the ground and was subject to the most brutal rejection seen since my high school prom.
The only thing that could have made this even better was if the Lambeau PA system stared blaring Dikembe Mutombo grunts, and showed pictures of his "finger wag" on the big screen.
To add insult to injury, Davis' failed dunk wasn't just seen by millions of fans. No, he also got a sweet epic fail breakdown courtesy of commentator Joe Buck.
Next time Vernon, spike the football or just do a little dance. Leave the slam dunking to the fellas in the NBA.
Nate Burleson Goes Eagle Hunting: Week 6 vs. Philadelphia Eagles

Nate Burleson Goes Eagle Hunting

Detroit Lions wideout Nate Burleson wants to embrace his inner bad boy. Burleson told the media that the NFL's fines and sanctions would not stop him from doing what he does best, celebrating touchdowns.
The highlight of The Nate Burleson 2012 Touchdown Celebration Show (like the title?) had to be his tribute to the Nintendo classic, Duck Hunt.
After being on the receiving end of a gorgeous 17-yard touchdown throw from Matthew Stafford, Nate Burleson took center stage and gave us all one of the worst celebrations in recent memory.
Unleashing a fictitious eagle into the sky, Nate backed up, and then motioned a fake firearm into the air.
We all know what happened next...
Burleson used his make-believe gun to shoot down the eagle in front of all the Philadelphia faithful.
Clearly annoyed by the $10,000 fine he received courtesy of the NFL, Burleson told reporters that the fake weapon could have been a "Super Soaker" for all they know.
One thing remains clear: Nate Burleson loves his touchdown celebrations. Even if they are absolutely terrible.
Stevan Ridley Kicks in the Door vs. New York Jets: Week 12

Stevan Ridley Kicks in the Door

For the record I actually don't mind Stevan Ridley's pantomimist touchdown celebrations.
Ridley, a prominent rusher out of the New England backfield has really come on this year as one of the more creative touchdown celebrators in the NFL.
But when the former LSU product slipped into the end zone untouched during the ridiculous Thanksgiving blowout that took place in MetLife stadium, I think we were all hoping for a little class to prevail.
Instead, we got to witness Ridley draw a fictitious door, and rudely decide instead of knocking, that he would just kick it in.
First off: come on Stevan, do you know how expensive front doors are? You didn't even knock man. You just figured no one was home, and blasted through that thing without regret.
Secondly, have a little class. I know you probably despise the Jets and everything that stand for, but way to beat a man when he's down.
And lastly, it was a holiday! Thanksgiving!
Oh well, I tried. Next.
Jacoby Jones "Doesn't Count Dance": Week 16 vs. New York Giants

Jacoby Jones vs Giants

Jacoby "River Dancer" Jones is back!
The man who showed us how to dance a few weeks earlier in Pittsburgh returned to give the world an encore Week 16 vs. the New York Giants.
After catching a crisp back shoulder toss from Joe Flacco, Jacoby Jones assumed he got in for the score.
Ignoring the ref's decision to take a second look at the "touchdown," Jones stood up without hesitation and proceeded to break down another unbelievable dance routine.
I was actually sitting with friends watching this game, and as I glanced around the room all I saw were blank stares and people mouthing obscenities (Giants fans).
Oh Jacoby, you are a treasure. Never give up dancing. No matter how weird it gets.
Danny Amendola Spikes the Pigskin into a Man's Face: Week 15 vs. Vikings

Danny Amendola Spikes Football

Like most NFL players, Danny Amendola loves the taste of pay dirt. After making his way into end zone during an attempted comeback against the Minnesota Vikings in Week 15, Amendola was all set to deliver a quick, non-flashy touchdown celebration and hurry back to the sidelines.
Sadly, that just wasn't meant to be.
Danny Boy spiked the pigskin, and thanks to the rock-hard St. Louis astro turf, the ball bounced off the ground and ended up crashing into the face of a poor usher standing near by.
Ouch! That's got to hurt.
Amendola celebrated with his teammates, and ran off the field, while the injured usher checked his face for any structural damage.
Lesson learned. Kids, do not spike the football on turf around innocent bystanders. You don't want to be labeled a "Danny Amendola" by opposing teams. Or, maybe you do.
The Entire Seattle Seahawks Team: Week 3 vs. Green Bay Packers

Seahawks vs Packers

I'm sorry, I had to.
Do I even have to explain why this made the list? No? Okay, good.
Keep Reading