UFC 155: Junior Dos Santos vs Cain Velasquez Main Card Primer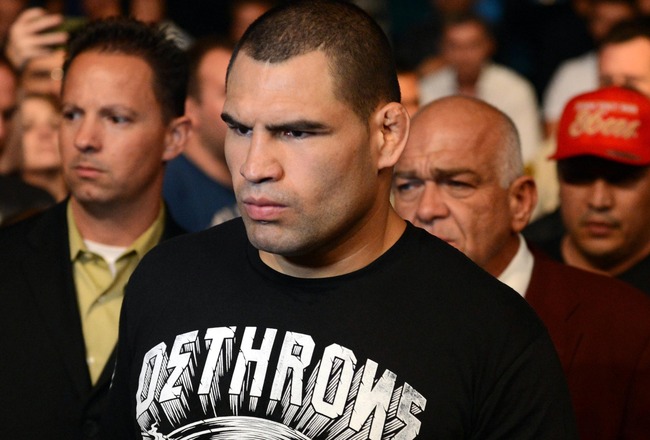 Ron Chenoy-USA TODAY Sports
The final card of the year is stacked from top to bottom, highlighted by arguably the most important title in combat sports: the UFC heavyweight strap.
Cain Velasquez is looking to avenge the first loss of his career against Junior dos Santos to become champion once again, while the rest of the main card features key middleweight and lightweight battles.
Leading off is knockout artiest Chris Leben, who returns from a year-long drug suspension to face Strikeforce newcomer Derek Brunson.
Alan Belcher is up next, looking to seal his credentials as a middleweight title contender in a rematch against Yushin Okami. The Japanese warrior beat Belcher more than six years ago, but will be facing a significantly improved fighter this time round.
In the final middleweight contest of the night, two men riding four-fight winning streaks are set to collide, as Tim Boetsch looks to solidify a spot among the division's elite by dispatching Costa Philippou.
Just before the main event, all eyes will turn on two lightweights as Jim Miller looks to rectify his loss against Nate Diaz with a win against submission specialist Joe Lauzon.
How will the UFC's final event of 2012 go down? Read on to find out.
Expect an Emotional Chris Leben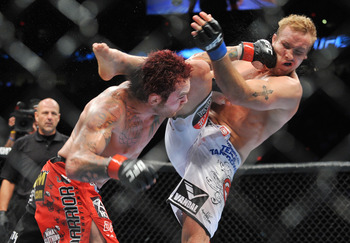 Jon Kopaloff/Getty Images
We haven't seen UFC middleweight Chris Leben in the cage since he was beaten up over two rounds by Mark Munoz at UFC 138 over a year ago.
To make matters worse, Leben tested positive for prescription painkillers, which marked the second time the fighter failed a drug test in three years. This time, however, he had to serve a one-year ban, which will come to an end this Saturday.
This is likely to be an emotional moment for Leben, much like his March confession on Ariel Helwani's MMA Hour of his ongoing battle with drug addiction.
If he wins, we'll probably see tears.
Alan Belcher Making His Case for a Shot at Anderson Silva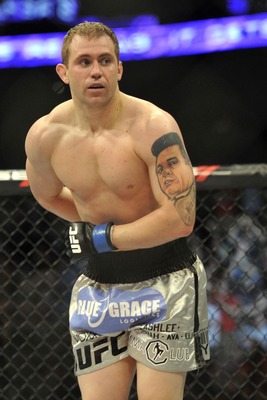 Joe Camporeale-USA TODAY Sports
Alan Belcher is riding an impressive four-fight winning streak, including a TKO victory against Brazilian jiu-jitsu expert Rousimar Palhares in his most recent bout back in May.
The win had him talked of as a potential middleweight title contender, but that puts him in crowded company at 185 pounds. Men like Chris Weidman, Michael Bisping, Hector Lombard and Tim Boetch are also itching for their chance, and Belcher has admitted that he has a lot of work to do before he gets the nod.
The UFC is currently promising Michael Bisping a shot at middleweight champion Anderson Silva should he get past Vitor Belfort in January. However, Belcher is in great standing in the division, and he knows that his campaign for a title fight with Anderson Silva starts with a win over Yushin Okami.
Costa Philippou Filling Chris Weidman's Shoes in More Ways Than One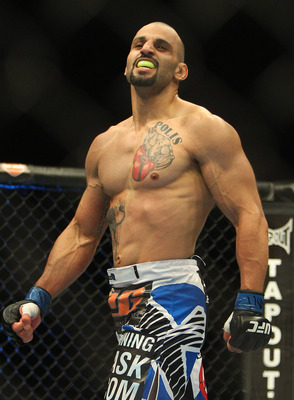 Tom Szczerbowski-USA TODAY Sports
Costa Philippou had a long career as a boxer before he made his MMA debut only four years ago. Since suffering a loss in his UFC debut, the Greek Cypriot has racked up four straight wins.
Philippou is trained at Serra-Longo Fight Team in Long Island, where he serves as the training partner to middleweight title hopeful Chris Weidman.
At UFC 155, he's stepping into Weidman's shoes in more ways than one. His teammate was expected to take on Tim Boetsch on Saturday, but was sidelined due to an injury.
Now, Philippou is nowhere near to being considered a title hopeful like Weidman should he win. But he could steal Weidman's thunder if he wins convincingly.
Tim Boetsch Needs to Take a Stand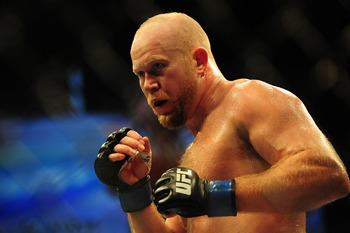 Anne-Marie Sorvin-USA TODAY Sports
Tim Boetsch has a solid record as a middleweight and is among the men coming into UFC 155 on a four-fight winning streak. However, he still has work to do if he wants to be taken seriously at this weight class.
Boetsch dropped down to 185 pounds after losing to Phil Davis in 2010, and some of his recent victories have been less than convincing.
He was getting soundly beaten by Yushin Okami in February before he staged a dramatic comeback in the final round against an opponent who uncharacteristically gave him an opening.
In his last match against Hector Lombard in July, he scored a narrow split division victory in a fight many scored for Lombard, who later admitted to being hurt during the bout.
A win over Costa Philippou may not give him No. 1 contender status—as a win against Chris Weidman would have—but a dominant performance will go a long way to put the doubters to rest.
Jim Miller and Joe Lauzon Fighting to Stay Relevant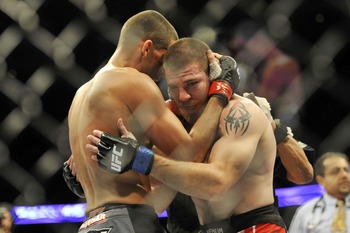 Joe Camporeale-USA TODAY Sports
There is wide consensus that the lightweight division is the most stacked of any weight class in the UFC. In such a competitive field, one slip-up can cost a fighter dearly in terms of title aspirations.
That was the fate that befell Jim Miller in May after he was dominated and submitted by Nate Diaz in the second round of their fight, leapfrogging the younger Diaz into a championship bout with Benson Henderson.
Miller, whose only other career losses are to elite fighters in Henderson, Frankie Edgar and Gray Maynard, is now in a must-win situation if he wants to re-establish himself as a top-10 lightweight.
Joe Lauzon, despite coming off a nice win over Jamie Varner in his last match, suffered a huge setback at the hands of Anthony Pettis at the beginning of the year.
Miller is a significant step up in competition for the 28-year-old Lauzon, and will be a good test as to whether he's ready for the big time.
Junior dos Santos Could Break Out His Jiu-Jitsu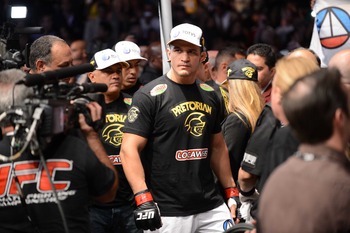 Ron Chenoy-USA TODAY Sports
Junior dos Santos shocked the MMA world when he knocked out undefeated heavyweight champion Cain Velasquez to take the title in November last year.
Most commentators expected a protracted war, especially considering Velasquez's incredible wrestling ability and unmatched endurance. However, the fighter didn't attempt a single takedown against a man who probably has the best takedown defense in the whole of MMA.
The big question is, will things be different this time with a healthy Velasquez ready to go?
Although Velasquez has great standup and powerful hands, he's unlikely to want to exchange blows with dos Santos, who is considered one of the best boxers in the whole of MMA.
If he does manage to take dos Santos to the mat and hold him there, the Brazilian says he is ready to submit his opponent off his back.
With a BJJ black belt now in hand, will dos Santos make good on his proclamation?
Keep Reading