2013 NFL Mock Draft: Projecting Next Year's First Round for All 32 Teams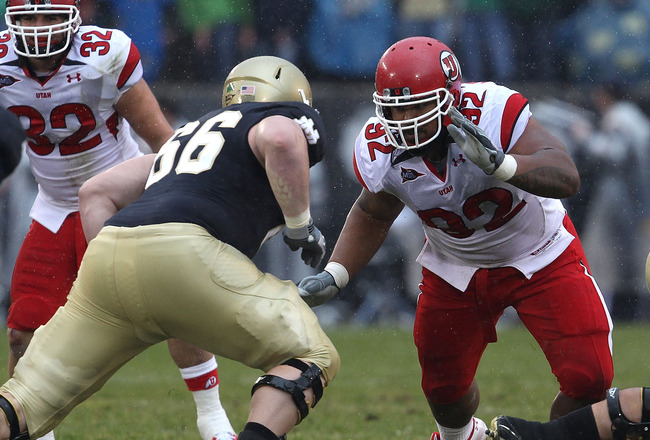 Jonathan Daniel/Getty Images
The 2013 NFL Draft doesn't feature the same type of top-end talent we're use to seeing. This group has plenty of intriguing prospects, but lacks that sure-fire No. 1 player, and there's even a ton of debate surrounding what players deserve a spot in the top-10.
A good example of the varying opinions is that ESPN's Todd McShay has Florida State's Bjoern Werner as a top-three pick. In my mock draft, Werner drops out of the top-10.
Check out the rest of the article to see where each top prospect lands as well as how I expect the first round to play out for all 32 teams.
No. 1: Kansas City Chiefs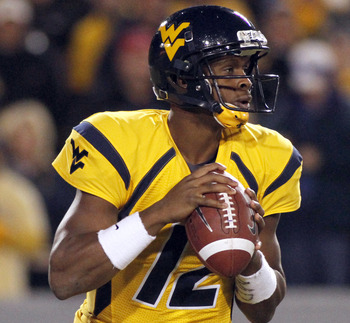 Justin K. Aller/Getty Images
Pick: Geno Smith, Quarterback, West Virginia
The Kansas City Chiefs are in a tough situation, as their top need is at the quarterback position and this draft class lacks a clear-cut No. 1 quarterback prospect. West Virginia's Geno Smith comes closest to fitting that description. However, he's nowhere near as ready as last year's top quarterbacks, Andrew Luck and Robert Griffin III.
Smith's issues revolve around his struggles making quick decisions in the pocket. Too often, he'll hold the ball and deliver it late to his target. Smith also has a tendency to lock on to his primary target. Both are things that will be exploited in the NFL.
Despite the above concerns, Smith possesses the talent needed to succeed at the next level. He boasts a powerful arm, good accuracy and the willingness to attack the deep part of the field. It's also important to mention that Smith is a hard worker and exhibits great leadership ability.
Smith might be a slight reach here, but the fact that Luck and Griffin have had a ton of success this season clouds that opinion. Luck and Griffin were more NFL ready, but Smith has some tools that can equal both of those players.
This is an upside pick that the Chiefs can feel good about because of Smith's high character.
No. 2: Jacksonville Jaguars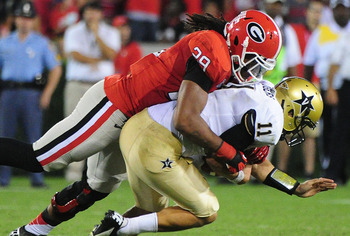 Scott Cunningham/Getty Images
Pick: Jarvis Jones, Linebacker/Defensive End, Georgia
The Jacksonville Jaguars desperately need to upgrade their pass rush, as they currently rank dead last in the NFL with only 18 total sacks. Their production is so slow that both J.J. Watt and Aldon Smith have more sacks individually this season than the entire Jaguars' defense has combined.
This is why Jacksonville would be lucky to add someone like Georgia's Jarvis Jones. His wide-range of pass-rush moves allow Jones to generate a ton of pressure. He's capable of attacking the edge with his speed and he can also employ a powerful bull rush.
Georgia lines Jones up at the outside linebacker position, and that makes him a ideal fit for a 3-4 system. However, as the Denver Broncos showed with Von Miller, it's possible to design a gameplan to utilize a pass-rushing linebacker in a 4-3 system.
Making the switch to a 4-3 linebacker wouldn't be that difficult for Jones, as he possesses the experience and athleticism to hold up in coverage.
No. 3: Oakland Raiders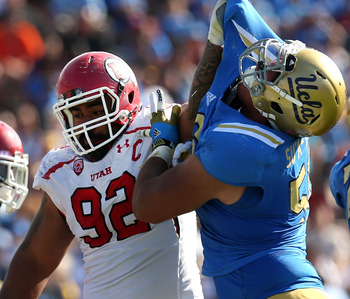 Stephen Dunn/Getty Images
Pick: Star Lotulelei, Defensive Tackle, Utah
The interior of the Oakland Raiders' defensive line is rapidly aging. Both Tommie Kelly and Richard Seymour are 32 years old or older and have inflated contracts. Don't be surprised if the Raiders decide to move on from both veteran players.
Still, even letting one of these two players go would leave a major hole along the defensive line. Utah's Star Lotulelei would be the ideal candidate to step in and make an immediate impact. Lotulelei possesses a rare combination of explosiveness and strength.
He's also a versatile player, as he can either use his quickness to penetrate the pocket or his strength to stuff the run. Adding Lotulelei would give the Raiders a young center-piece to build around.
It would make sense for Oakland to select Lotulelei and consider switching to a 3-4 attack. They could plug Lotulelei in at nose tackle, while using the bigger bodied Lamarr Houston and Matt Shaughnessy at the five technique.
Miles Burris and Philip Wheeler would fit as inside linebackers, and Oakland could target a pass-rushing outside linebacker in the third round. Someone like BYU's Kyle Van Noy or UCLA's Anthony Barr would be a good fit.
No. 4: Philadelphia Eagles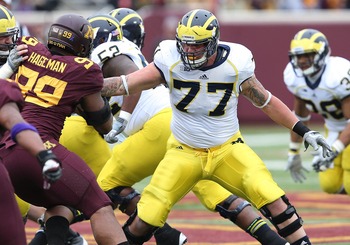 Jesse Johnson-USA TODAY Sports
Pick: Taylor Lewan, Offensive Tackle, Michigan
The right to be the first offensive tackle off the board is between Michigan's Taylor Lewan and Texas A&M's Luke Joeckel. Lewan gets the advantage on my board because he is a better run blocker and has a nasty streak that's important for offensive linemen. However, these two players are rated very closely and it's basically like splitting hairs.
Lewan makes sense for the Philadelphia Eagles because it's possible that the pending coaching change could bring a change in philosophy. Philadelphia's top offensive player is LeSean McCoy, and the new head coach needs to find a way to feed him the football.
Adding Lewan would immediately improve the Eagles' run blocking ability. It would also allow the coaching staff to ease whoever is at quarterback into the new system.
But again, both Lewan and Joeckel are highly-talented prospects, and it's possible that Joeckel could be the pick, as he possesses more upside as a pass protector.
No. 5: Detroit Lions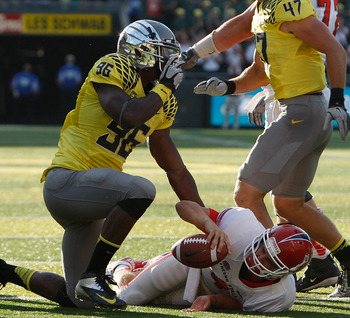 Kevin Casey/Getty Images
Pick: Dion Jordan, Defensive end/Linebacker, Oregon
Because of the uncertain future of defensive ends like Cliff Avril, Kyle Vanden Bosch and Willie Young, the Detroit Lions must consider using their first-round pick to add a pass-rusher. Avril's contract situation is still an issue, Vanden Bosch will be 35 years old next season and Young has yet to record a sack this season.
Oregon's Dion Jordan is the type of player capable of quickly making an impact as a pass rusher. His length, quick burst and high motor is what makes him such a dangerous player. Jordan needs to add some bulk, but the way he uses his long arms helps him keep clean as he rushes the passer.
The Lions could target a cornerback like Alabama's Dee Milliner, but the truth is, pass-rushers hold more value. Plus, this draft features some nice second-round corner prospects like Florida State's Xavier Rhodes, Ohio State's Bradley Roby and Rutgers Logan Ryan.
No. 6: Buffalo Bills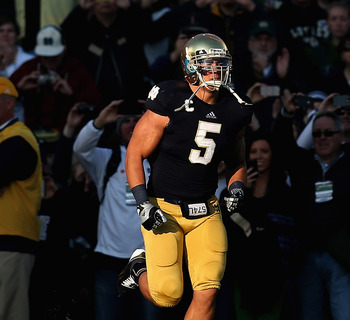 Jonathan Daniel/Getty Images
Pick: Manti Te'o, Linebacker, Notre Dame
There's a lot of talk surrounding the possibility of the Buffalo Bills selecting a quarterback in the upcoming draft. However, Geno Smith is the only quarterback in my rankings with a solid first-round grade. This means the Bills need to go in a different direction.
Notre Dame's Manti Te'o is an extremely talented player and a strong leader. Adding him to the middle of an already talented defense could have a major impact.
Buffalo's defense really disappointed this season, especially a run defense that allowed a league-worst 146 yards per game. There's talent along the defensive line, but the linebackers were unable to hold up their side of the bargain.
The Bills would be best served to upgrade the quarterback position in the second round. Prospects like Syracuse's Ryan Nassib, N.C. State's Mike Glennon and Arkansas' Tyler Wilson would all be a good fit.
No. 7: Cleveland Browns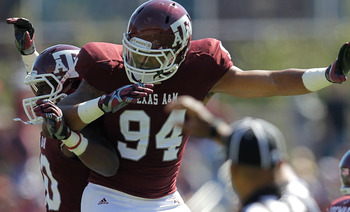 Sarah Glenn/Getty Images
Pick: Damontre Moore, Defensive End, Texas A&M
The Cleveland Browns focused a lot of their 2012 draft on adding talent to the offensive side of the ball. It would be wise for them to commit some resources to the defense this time around, and Texas A&M's Damontre Moore would provide an instant upgrade at the defensive end position.
Jabaal Sheard continues to show a lot of promise, but he's forced to deal with a lot of double teams. This is because there isn't a real pass-rushing threat on the other side of the line. Moore possesses the pass-rushing skills to command attention.
The combination of Moore and Sheard would give the Browns an excellent young defensive end duo.
Someone like Alabama's Dee Milliner is also a possibility at this spot because Cleveland really needs to find someone to help Joe Haden in the secondary.
No. 8: Arizona Cardinals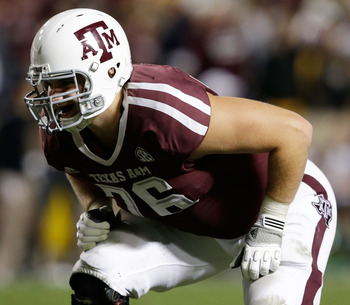 Scott Halleran/Getty Images
Pick: Luke Joeckel, Offensive Tackle, Texas A&M
The Arizona Cardinals' have a ton of holes to fill on their roster, with the quarterback and offensive tackle positions being the biggest. Most of the attention is on the horrific play of the quarterbacks, but the offensive line contributes to their poor play. Texas A&M's Luke Joeckel would provide Arizona's quarterbacks with more time to locate open targets.
This pick is also influenced by the limited crop of quarterback prospects in this draft. It would be a reach to pull the trigger on someone like USC's Matt Barkley, Arkansas' Tyler Wilson or N.C. State's Mike Glennon with this pick.
Arizona's quarterback situation is so bad that they can wait until the second round and still upgrade the position. Shooting for a quick fix at quarterback would be the wrong course of action.
The Cardinals need to wait and find a solid solution, and adding an elite left tackle would be a great start to the plan.
No. 9: Tennessee Titans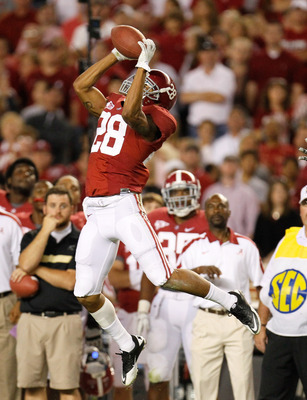 Kevin C. Cox/Getty Images
Pick: Dee Milliner, Cornerback, Alabama
The Tennessee Titans' roster is filled with young talent, which makes it difficult to pin-point what direction they'll go in the draft. This is the type of situation where a team should go in the direction of adding the best player available. In this case, Alabama's Dee Milliner fits that bill.
Milliner is a solid athlete who possesses excellent size and ball skills. He's a physical defender who loves to support the run and jam the receiver at the line of scrimmage. Milliner boasts the skill set needed to excel in either man or zone coverage.
Tennessee would be getting a versatile defender with the potential to develop into a shut-down corner if they selected Milliner.
The Titans could use an upgrade at the defensive end position, so a top-notch pass-rusher like Florida State's Bjoern Werner and LSU's Barkevious Mingo could also be in play at this spot.
No. 10: San Diego Chargers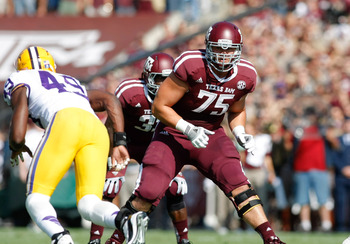 Brett Davis-USA TODAY Sports
Pick: Jake Matthews, Offensive Tackle, Texas A&M
Philip Rivers has struggled the past two seasons, in large part because of issues along the offensive line. Because of an injury to Jared Gaither, the San Diego Chargers spent much of this season with undrafted rookie Michael Harris starting at left tackle.
San Diego must address the offensive line if they want Rivers to get back on track. Texas A&M's Jake Matthews would be an instant upgrade at either the left or right tackle spot. At Texas A&M he lined up at right tackle, but he boasts the athleticism to make the switch to the left side.
Adding Matthews would give Rivers more time to locate open targets and take shots down the field. He would also help open running lanes for Ryan Mathews.
Matthews isn't far behind Taylor Lewan and Luke Joeckel in the prospect rankings. All three players have the potential to develop into elite offensive linemen.
No. 11: Tampa Bay Buccaneers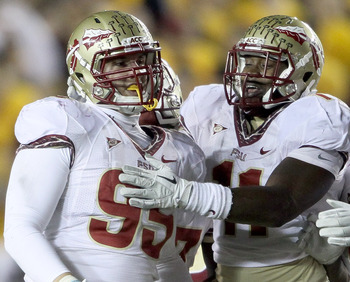 Elsa/Getty Images
Pick: Bjoern Werner, Defensive End, Florida State
The Tampa Bay Buccaneers' pass-rush is ranked as the third-worst in the NFL this season, with a team total of 25 sacks. Michael Bennett, and his nine sacks, were the lone bright spot for the Buccaneers' pass-rush.
Florida State's Bjoern Werner boasts the potential to top the double-digit sack mark as a rookie.
Werner uses an excellent first step, low pad level and high motor to generate pressure on the quarterback. His ability to dip his shoulder and gain the edge is what makes him such a dangerous player. Adding a pass-rusher like Werner could help take this Buccaneers' defense to the next level.
The only issue facing Werner is his lack of size and bulk. He needs to make sure that he gets good inside hand placement and keeps his pads low in order to stop the run. This is something he'll need to work on, as he's not always consistent with his technique.
No. 12: New York Jets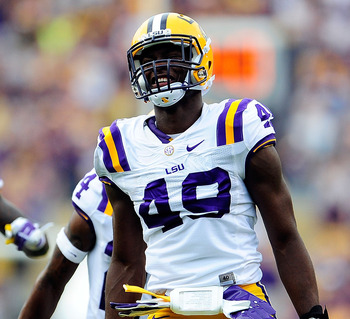 Stacy Revere/Getty Images
Pick: Barkevious Mingo, Defensive End/Outside Linebacker, LSU
The New York Jets have only managed to get 10 sacks from the outside linebacker position this season. This is an issue because Rex Ryan's system is built to generate pressure off the edge with blitzes. New York can't afford to head into next season with only Calvin Pace, Bryan Thomas and Garrett McIntyre as the top options at the outside linebacker spot.
LSU's Barkevious Mingo possesses the athleticism, quickness and tenacity needed to create pressure on the quarterback. His change of direction ability and fluid movements mean that he is more than capable of making the transition to linebacker.
New York isn't going to solve its problem at quarterback in the first round of this draft. They'd be wise to work on improving defense and rolling with Mark Sanchez (and his guaranteed salary) next season.
No. 13: Carolina Panthers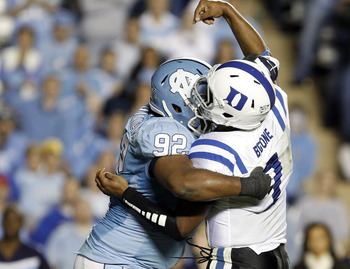 USA TODAY Sports
Pick: Sylvester Williams, Defensive Tackle, North Carolina
North Carolina's Sylvester Williams has quickly moved up by draft board into the No. 2 defensive tackle prospect spot. He's an explosive athlete with the quickness to penetrate the pocket and the size to hold up against the run. His addition to the interior of the Carolina Panthers defense would make a significant impact.
Williams' disruptive play is what makes him such an intriguing prospect. He's capable of using his quick first step to shoot the gap, and his strength to collapse the pocket. His good short-area burst allows him to make plays away from his frame.
This means that he not only works his way into the backfield, but he also is capable of making the tackle.
A young core of Williams and Luke Kuechly would give the Panthers a solid base on the defensive side of the ball.
No. 14: Pittsburgh Steelers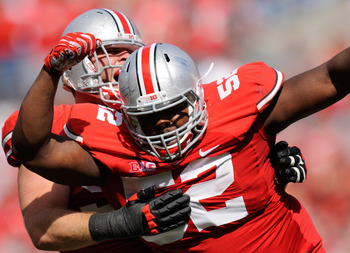 Jamie Sabau/Getty Images
Pick: Johnathan Hankins, Defensive Tackle, Ohio State
Ohio State's Johnathan Hankins is a big and powerful defender. His strong anchor makes it tough for blockers to move him off the line of scrimmage. Hankins also possesses the athleticism to disengage and make plays away from his frame.
He'd be a great fit as the long-term replacement for the Steelers' incumbent nose tackle Casey Hampton.
Hankins has dropped on my board in recent weeks because of issues with his stamina and motor. At times, he gives less than 100 percent effort. This inconsistency and effort makes Hankins a candidate to bust.
However, if he lands on a team with good leadership, he could develop into a real force. There's no doubting his raw talent, which is why he possesses so much upside.
No. 15: Miami Dolphins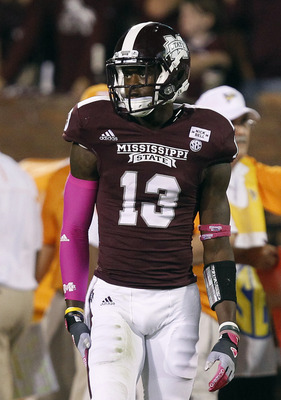 Butch Dill/Getty Images
Pick: Johnthan Banks, Cornerback, Mississippi State
The Miami Dolphins made the right decision when they decided to trade Vontae Davis to the Indianapolis Colts for a second-round pick before the 2012 season. However, it left a big hole at one of the cornerback spots. Miami needs someone like Mississippi State's Johnthan Banks to help Sean Smith in the secondary.
Banks is almost the exact opposite of Davis in that he doesn't have elite physical skills but possesses a great feel for the game. By adding Banks, Miami would be getting a NFL-ready prospect who's just an excellent football player.
This is a player who likes to play a physical brand of football. He loves coming up to support the run, blitzing off the edge and bumping the wide receiver at the line.
Miami's secondary would receive a major boost from adding this talented and hard-working prospect.
The Dolphins do need to focus on upgrading the weapons on the offensive side of the ball. However, this draft features several strong second-round prospects. The last slide of this article features a second round mock where Miami lands Vanderbilt's Jordan Matthews and Arkansas' Cobi Hamilton.
No. 16: New Orleans Saints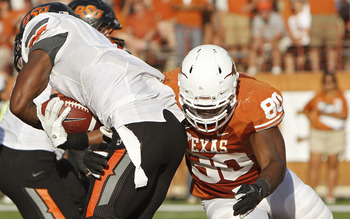 Erich Schlegel/Getty Images
Pick: Alex Okafor, Defensive End, Texas
The New Orleans Saints' offense is still one of the more explosive units in the NFL. However, the defense continues to struggle holding up its end of the bargain. The biggest issue is that they struggle generating pressure on the quarterback. They are currently tied for the 25th spot in the league with a total of 29 sacks.
New Orleans got a nice season from Cameron Jordan, but he's more of a balanced defensive end who can also stuff the run. Texas' Alex Okafor possesses the quick first step needed to complement Jordan as the edge rusher.
It's time for the Saints to cut ties with Will Smith, as he just isn't producing at a high level. The combination of Okafor and Jordan would give the Saints the opportunity move on from Smith.
Okafor isn't receiving as much hype as other pass-rushers in this draft class. However, he boasts the technique and athleticism to generate consistent pressure. His numbers are a little down this season because Texas has used him out of both a two-point and three-point stance.
He just doesn't get the same read on the ball or leverage out of the two-point stance. Okafor is much more explosive and effective when he puts his hand in the dirt.
No. 17: St. Louis Rams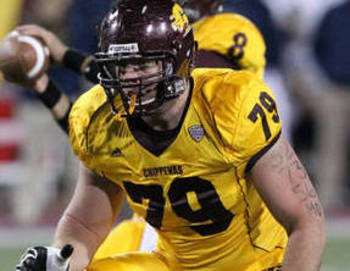 mlive.com
Pick: Eric Fisher, Offensive Tackle, Central Michigan
A few seasons ago, the St. Louis Rams felt like they had the offensive tackle position settled. However, Jason Smith turned out to be a bust and Rodger Saffold hasn't been able to repeat his success from his rookie season. That is why adding someone like Central Michigan's Eric Fisher would be a smart move.
This year's offensive tackle group is pretty thin after Fisher, Taylor Lewan, Luke Joeckel and Jake Matthews. If the Rams want to add a top-notch prospect at this position, they'll need to do so with their first pick.
Fisher is a bit of an unknown prospect because Central Michigan doesn't get a lot of national attention. However, he possesses the size and athleticism to develop into a long-term starter. It might be a good idea for the Rams to start Fisher at right tackle until he gets used to the change in the level of competition.
No. 18: Dallas Cowboys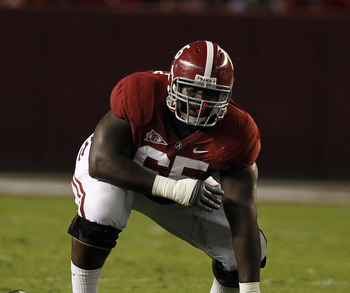 Butch Dill/Getty Images
Pick: Chance Warmack, Guard, Alabama
The Dallas Cowboys must make upgrading the talent along the offensive line an offseason priority. I'm sure they'd love to add Central Michigan's Eric Fisher, but he's already off the board in this mock draft. Instead, they get a chance to add a better prospect in Alabama's Chance Warmack.
Warmack is one of the top-10 players in this draft class, but falls a little because the guard position isn't as valued as others. However, this is a powerful and explosive player immediately capable of playing at an All-Pro level.
Adding Warmack would help the Cowboys avoid pressure up the middle in Tony Romo's face. Romo really struggles dealing with pressure up the middle, as it has played a role in a lot of his mistakes over the past few seasons.
This move won't only help in pass protection, but Warmack is also an elite run blocker. His explosiveness off the line will open running lanes for DeMarco Murray.
No. 19: New York Giants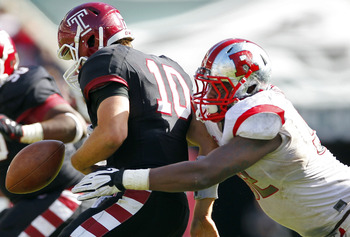 Rich Schultz/Getty Images
Pick: Khaseem Greene, Linebacker, Rutgers
Don't be surprised if Rutgers' Khaseem Greene makes major jump up the draft board as the draft process kicks into full gear. Greene is an explosive athlete who plays with a high motor and the desire to deliver big hits. His aggressiveness makes him a great fit for a New York Giants' team that needs an upgrade at the linebacker position.
Greene is a versatile player capable of playing either inside or outside linebacker. Adding him to the mix will immediately increase the athleticism and big-play potential of the Giants' linebacking corps. This is a player that not only wants to register tackles, but he also looks to create a turnover.
Because he's a little raw, Greene's rookie year might feature some mistakes. However, those mistakes will be overshadowed by his hustle and tenacity.
This is one of my favorite players in the entire draft. Greene absolutely possesses top-10 talent.
No. 20: Chicago Bears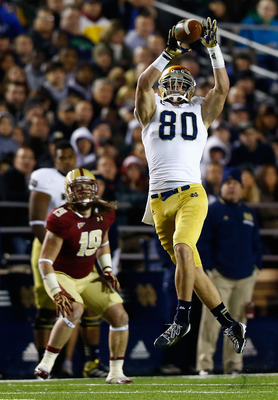 Jared Wickerham/Getty Images
Pick: Tyler Eifert, Tight End, Notre Dame
The Chicago Bears desperately need help along the offensive line, but there really isn't a prospect available that would represent an immediate upgrade. However, Chicago also must find a way to give Jay Cutler more weapons.
Kellen Davis has really struggled this season at the tight end position. Notre Dame's Tyler Eifert would offer a major upgrade. Eifert's size and quickness make him a dangerous playmaker in the passing game. He's able to out-run linebackers and use his size to gain position against defensive backs.
Chicago could use this pick to add North Carolina's Jonathan Cooper to upgrade the guard position. However, the Bears could survive with the current guards on the roster. It's also important to note that Gabe Carimi, a former first-round pick, has been used at guard this season.
If the Bears go in this direction, they can target the offensive line in the second round. Players like Alabama's D.J. Fluker, North Carolina's Brennan Williams and Alabama's Barrett Jones could be available when the Bears are on the clock.
No. 21: Cincinnati Bengals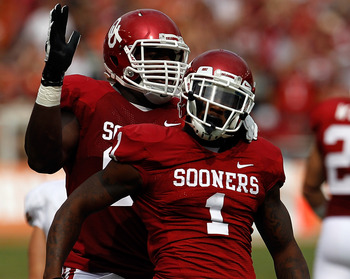 Tom Pennington/Getty Images
Pick: Tony Jefferson, Safety, Oklahoma
The Cincinnati Bengals secondary has been forced to roll with Chris Crocker at one of the safety spots. They've even used Nate Clements in that role from time to time. Both players have held their own, but neither possess a lot of upside.
Oklahoma's Tony Jefferson is a versatile defender capable of supporting the run and holding up in coverage. His quickness gives him the range to make plays from sideline to sideline. He even boasts the fluidity to drop down and play some man coverage in the slot.
Cincinnati really needs to upgrade the running back position. However, there isn't a running back prospect worthy of a first-round selection. They could target someone like Alabama's Eddie Lacy in the second round.
No. 22: Minnesota Vikings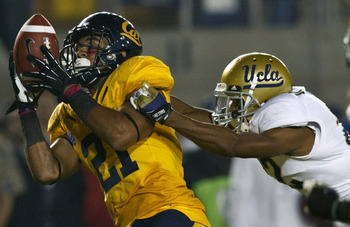 Jason O. Watson/Getty Images
Pick: Keenan Allen, Wide Receiver, California
The Minnesota Vikings have made a surprising playoff push this season. That push is thanks to solid play on the defensive side of the ball and the unbelievable season by Adrian Peterson. However, the upside for this current roster is limited.
Minnesota must use some resources this offseason to upgrade the talent at wide receiver. California's Keenan Allen would be a great complement to Minnesota's other playmakers like Percy Harvin and Jarius Wright.
Allen is a big-bodied wide receiver who makes plays over the middle and down the field. He does a good job of attacking the ball at its highest point. His large frame allows him to box out defenders and gain position.
The questions surrounding Allen focus on his top-end speed and his tendency to let the ball into his body. His performance at the Combine and other workouts will determine how high he comes off the board.
No. 23: Indianapolis Colts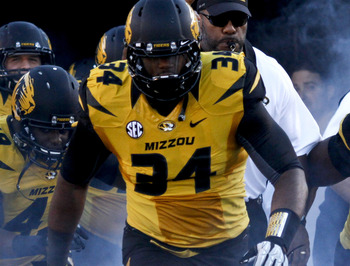 Ed Zurga/Getty Images
Pick: Sheldon Richardson, Defensive Line, Missouri
The Indianapolis Colts need to get stronger and more physical along the defensive front. Missouri's Sheldon Richardson is a perfect fit as a five-technique in the Colts' 3-4 alignment. He'd be a nice complement to Cory Redding.
Richardson boasts a combination of a thick lower half and an explosive first step. He's capable of both anchoring against the run and generating pressure on the quarterback. The emergence of J.J. Watt means that 3-4 teams are looking for a greater impact from the five-technique position.
Adding Richardson would provide the Colts with someone capable of making those type of game-changing plays.
No. 24: Seattle Seahawks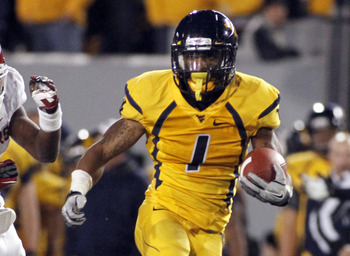 Justin K. Aller/Getty Images
Pick: Tavon Austin, Wide Receiver, West Virginia
Russell Wilson's development has been one of the biggest surprises this season. His play has helped make the Seattle Seahawks one of the hottest teams in the NFL, and they now have a legitimate shot at making a strong playoff run.
Moving forward, Seattle must focus on adding talent around Wilson. West Virginia's Tavon Austin would give the Seahawks a highly-explosive weapon on the offensive side of the ball. Because of his quickness and ability to create in space, Austin would help the offense pick up some easy yards.
He's the type of playmaker capable of turning a wide-receiver screen into a long touchdown. This is something that makes life easier for a quarterback.
No. 25: St. Louis Rams (via Washington)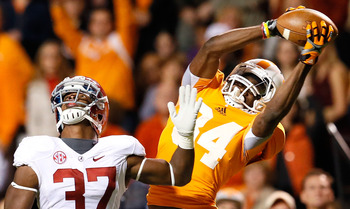 Kevin C. Cox/Getty Images
Pick: Cordarrelle Patterson, Wide Receiver, Tennessee
Tennessee's Cordarrelle Patterson might not have a lot of experience against top-level competition, but his production this past year shows the type of potential that he possesses. Patterson is an explosive athlete with the straight-line speed to outpace most defenders.
He also boasts the ability to make quick and seamless cuts with the football. This makes him dangerous in space. Patterson might need a little time to reach his full potential, but a team like the St. Louis Rams could find a way to get him involved right away.
The Rams need to take a risk on a big-time talent like Patterson. They can't keep getting by with lack-luster talent at the wide receiver position.
No. 26: Baltimore Ravens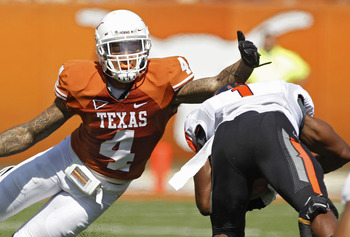 Erich Schlegel/Getty Images
Pick: Kenny Vaccaro, Safety, Texas
Ed Reed is 34 years old and has talked about retirement in each of the past two seasons. He'll go down as one of the better safeties in NFL history, and losing him would leave a major hole in the Baltimore Ravens' defense. It's important that they add someone like Texas' Kenny Vaccaro as a long-term replacement.
Vaccaro is a versatile defender who does a good job of supporting the run and holding up in coverage. He's the type of athlete who's capable of covering a ton of ground in the back end of the defense, as well as playing some man coverage in the slot.
The ideal situation would be that the Ravens bring Vaccaro in to learn behind Reed for at least a season. Vaccaro could also be a younger and cheaper replacement for Bernard Pollard.
No. 27: San Francisco 49ers
Kevin C. Cox/Getty Images
Pick: John Jenkins, Defensive Tackle, Georgia
Georgia's John Jenkins hasn't exactly helped himself in the past few weeks. He struggled in the SEC Championship game, and is now ineligible for the Capital One Bowl for academic reasons. However, his stock won't fall too far because there just aren't many players with his size and athleticism.
Jenkins is the perfect build to play the nose tackle position in a 3-4 alignment. His 6'3" and 358-pound frame makes it tough for blockers to move him off the line of scrimmage. He complements his size with a solid short-area burst.
This means that he is capable of holding at the point of attack, and also making some plays away from his frame.
The biggest issue facing Jenkins is consistency. At times, he'll raise his pad level and allow the blocker to gain leverage. This helps the offensive lineman get some push off the line or seal Jenkins from the play. He also suffers from a hot-and-cold motor.
Jenkins needs to do a good job during the interview process in order to keep his stock from falling further.
No. 28: Green Bay Packers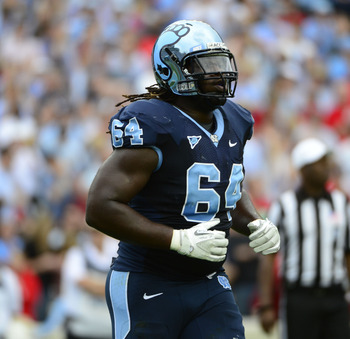 USA TODAY Sports
Pick: Jonathan Cooper, Guard, North Carolina
The Green Bay Packers' offensive line is a mess, but their struggles have been masked by the athleticism of Aaron Rodgers. Still, Green Bay must use this offseason to improve the talent up front. North Carolina's Jonathan Cooper would be an immediate upgrade at the guard position.
Cooper is a good athlete who does a good job using leverage and inside hand placement. His explosive first step allows him to generate a good push in the running game. He also possesses the quickness to reach the second level and out in front on the edge.
His balance and quick feet also makes Cooper an excellent pass blocker. He's capable of anchoring after contact and mirroring top-notch pass-rushers.
No. 29: New England Patriots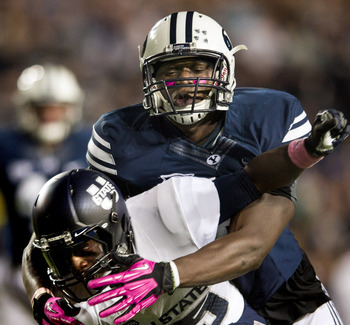 Douglas C. Pizac-USA TODAY Sports
Pick: Ezekiel Ansah, Defensive End, BYU
Ezekiel Ansah has quickly become a favorite among those in the draft community. His performance in the Poinsetta Bowl created a major stir on Twitter. However, the fact is that Ansah has been quietly having a very productive season.
He's a multi-talented defensive end prospect who does a good job supporting the run and generating pressure on the quarterback. His use of leverage and inside hand placement makes him more NFL-ready than most realize.
The New England Patriots have made major improvements on the defensive side of the ball. However, they can never have enough versatile pass-rushers like Ansah. Combining Ansah and Chandler Jones would give the Patriots an excellent young defensive end duo.
No. 30: Denver Broncos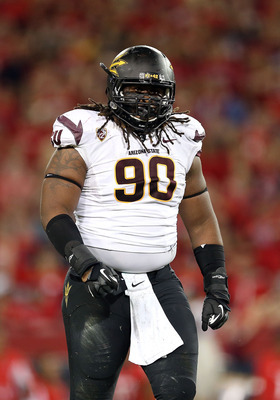 Christian Petersen/Getty Images
Pick: Will Sutton, Defensive Tackle, Arizona State
The Denver Broncos must use this offseason to add a playmaker to the interior of the defensive line. Arizona State's Will Sutton is the disruptive difference maker that this team needs to take the defense to the next level.
Sutton's combination of power and quickness makes it tough to keep him out of the backfield. His ability to get a good read on the snap also increases his productivity. This is the type of player capable of shooting the gap and collapsing the pocket.
Adding Sutton would provide the Broncos with an inside presence to complement edge-rushers like Von Miller and Elvis Dumervil.
No. 31: Houston Texans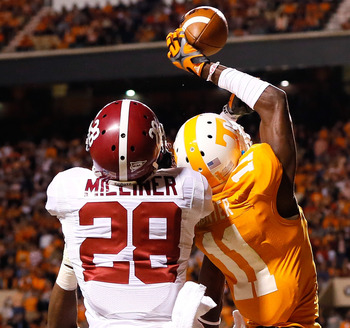 Kevin C. Cox/Getty Images
Pick: Justin Hunter, Wide Receiver, Tennessee
Tennessee's Justin Hunter will be one of the more interesting storylines in this April's draft. He boasts the type of talent needed to be a No. 1 receiver in the NFL, and his combination of size and quickness gives him an advantage against most opponents.
However, Hunter is a very inconsistent performer. The concerns surrounding his hands and willingness to take hits makes him a risky first-round pick. Too often, Hunter will allow the ball to get into his chest. He also doesn't always attack the ball at its highest point.
This all but eliminates the advantage his size provides. He's just too willing to allow the defender to make a play on the ball. Hunter must show that he loves the game of football and wants to make the most of his natural talent.
Landing with the Houston Texans would be a great situation for Hunter. He'll have the leadership and guidance of Andre Johnson, and having him on the roster will also give Hunter plenty of one-on-one opportunities.
Selecting Hunter in the first round is a risk, but for the Texans, it makes a ton of sense.
No. 32: Atlanta Falcons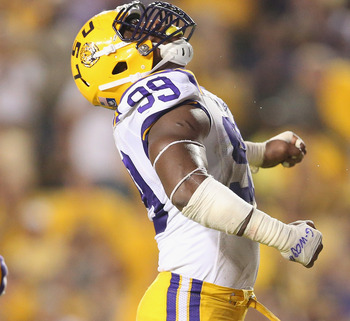 Ronald Martinez/Getty Images
Pick: Sam Montgomery, Defensive End, LSU
John Abraham has recorded 10 sacks so far this season, but the Atlanta Falcons still have issues getting after the quarterback. Kroy Biermann is the only other defensive end on the roster to record a sack. The fact that Abraham is 34 years old also makes this a major need for the Falcons.
LSU's Sam Montgomery might not be an elite pass-rusher, but he possesses enough talent to generate some pressure. However, his value comes from his balanced play. Montgomery does a good job of both playing the run and creating pressure.
Adding Montgomery doesn't mean that the Falcons can completely ignore this position moving forward. However, it gives them another year or two to find a long-term replacement for Abraham.
Second Round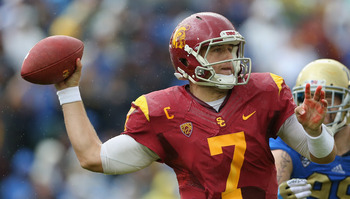 Jeff Gross/Getty Images
33. Jacksonville Jaguars - Matt Barkley, Quarterback, USC
34. Kansas City Chiefs - Sharrif Floyd, Defensive Line, Florida
35. Philadelphia Eagles - DeAndre Hopkins, Wide Receiver, Clemson
36. Detroit Lions - Xavier Rhoades, Cornerback, Florida State
37. Cincinnati Bengals - Eddie Lacy, Running Back, Alabama
38. Tennessee Titans - Corey Lemonier, Defensive End, Auburn
39. Arizona Cardinals - Tyler Wilson, Quarterback, Arkansas
40. Buffalo Bills - Mike Glennon, Quarterback, NC State
41. New York Jets - Giovanni Bernard, Running Back, North Carolina
42. Tampa Bay Buccaneers - Robert Woods, Wide Receiver, USC
43. Carolina Panthers - Stedman Bailey, Wide Receiver, West Virginia
44. San Diego Chargers - Da'Rick Rodgers, Wide Receiver, Tennessee Tech
45. Miami Dolphins - Jordan Matthews, Wide Receiver, Vanderbilt
46. Pittsburgh Steelers - Alec Ogletree, Linebacker, Georgia
47. St. Louis Rams - Dallas Thomas, Offensive Line, Tennessee
48. New York Giants - Kawann Short, Defensive Tackle, Purdue
49. Dallas Cowboys - Jesse Williams, Defensive Line, Arkansas
50. Chicago Bears - Brennan Williams, Offensive Tackle, North Carolina
51. Washington Redskins - Matt Elam, Safety, Florida
52. Minnesota Vikings - James Gayle, Defensive End, Virginia Tech
53. Cincinnati Bengals - Sean Porter, Linebacker, Texas A&M
54. Miami Dolphins - Cobi Hamilton, Wide Receiver, Arkansas
55. Seattle Seahawks - D.J. Fluker, Offensive Tackle, Alabama
56. Baltimore Ravens - Arthur Brown, Linebacker, Kansas State
57. San Francisco 49ers - Baccari Rambo, Safety, Georgia
58. New England Patriots - Barrett Jones, Guard/Center, Alabama
59. Green Bay Packers - Jordan Reed, Tight End, Florida
60. Denver Broncos - Bradley Roby, Cornerback, Ohio State
61. Houston Texans - Kevin Minter, Linebacker, LSU
62. Atlanta Falcons - Larry Warford, Guard, Kentucky
Keep Reading