WWE SmackDown: 5 Things to Watch for During This Week's Show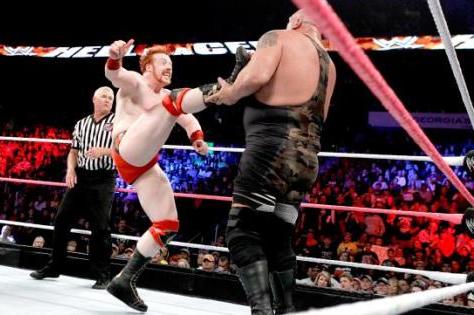 Photo courtesy of WWE.com
Due to the fact that Christmas was on Tuesday, this week's edition of SmackDown was taped last week in Rochester, N.Y., so there has been plenty of time to check out the spoilers. For those fans who prefer to watch without knowing what happened ahead of time, though, there is plenty to look out for.
The big feud on the blue brand remains Big Show vs. Sheamus for the World Heavyweight Championship. Big Show captured the world title at Hell in a Cell and Sheamus has been unable to win it back at the past couple pay-per-views, but it appears as though their rivalry is a long way from being over.
Aside from that, one of the more intriguing angles in the WWE currently is the relationship between Dolph Ziggler and A.J. Also, A.J. has brought in Big E Langston from NXT Wrestling for his muscle, so there is certainly an interesting dynamic between the three of them that promises to play out over the coming weeks.
Here are the top five things that you should keep an eye on while watching this week's episode of SmackDown.
Begin Slideshow

»
World Heavyweight Champion Big Show and Sheamus have already been going at it for several months, but it seems like their feud is still very much alive. After Big Show beat Sheamus decisively in a chairs match at TLC, it looked like their rivalry may be coming to an end; however, they brawled the next night and have continued to get involved in each other's affairs.
Sheamus defeated Big Show in a Lumberjack Frost match on the Christmas Eve edition of Raw, and that would seem to indicate that another title match is forthcoming and it will most likely happen at the Royal Rumble. While Big Show and Sheamus definitely have some good in-ring chemistry, I'm not sure I can handle another month of their feud.
I don't consider either man to be particularly good on the mic, so most of their segments fall flat. Despite that, the WWE continues to feature them prominently. It almost seems like the writers didn't learn from their previous mistakes on SmackDown as the Sheamus vs. Alberto Del Rio feud dragged on entirely too long and ultimately halted The Great White's momentum in the process.
From a storyline perspective, it makes little sense for Sheamus to get yet another title shot as he has already lost cleanly twice. Apparently the WWE feels as though it doesn't have any better options than Sheamus, so the next few weeks will likely be chock full of Big Show vs. Sheamus interaction until their match at the Royal Rumble.
When John Cena first became involved with A.J. Lee, there was little doubt that it would come back to haunt him in some way. That was certainly the case as she turned on him at TLC, which allowed Dolph Ziggler to ascend the ladder and retain his Money in the Bank briefcase. Ziggler and A.J. have since become an item, and they're packing heat as well in the form of bodyguard Big E Langston.
During a mixed tag match that pitted Ziggler and A.J. against Cena and Vickie Guerrero, both A.J. and Vickie left the ring at one point. A.J. eventually returned, but she didn't show up alone. A.J. had NXT Wrestling Champion Big E Langston in tow and he interfered in the match by attacking Cena. He did the same to Cena on SmackDown and he took out The Miz on that same show as well.
Although I was initially happy when Ziggler went off on his own, I'm interested to see what the WWE does with this trio. Ziggler is still doing the heavy lifting in terms of the in-ring and promo work, so I'm not worried about him being overshadowed. I've enjoyed A.J. as a heel thus far and I'm hoping for a dynamic similar to what Edge and Lita had between her and Dolph.
The obvious wild card is Langston as there is no telling how long he'll be willing to remain a bodyguard. As long as he is with Ziggler and A.J., though, he should play a big part in their success. Also, Ziggler is now an even bigger threat to cash in at any time, so that is something that bears watching.
Brad Maddox isn't technically a part of the WWE roster, but over the past few weeks he has received a number of tryout matches and has come up short each and every time. He has now lost to Ryback, Randy Orton and Brodus Clay, and he was defeated once again on Monday as he took on The Great Khali. Maddox continues to show up and beg for matches, so it wouldn't be surprising to see him compete again on SmackDown.
On last week's show, Teddy Long went to bat for Maddox even though SmackDown general manager Booker T was against giving him another match. Long reminded Booker about second chances, which infuriated the GM, but he gave Maddox a match anyway. Even though Maddox lost, there are obviously some big plans for him.
I'm most interested in Long's support of Maddox. It could be nothing other than the WWE trying to explain Maddox's involvement, but it was odd to see Long supporting a heel, since that pretty much never happens. Also, Long's battle with Booker T was strange and it wasn't the first time that they have been at odds. Perhaps Long is somehow trying to usurp Booker T's power as general manager.
As for Maddox, he figures to win one of these matches eventually, and it may be with help from The Shield. The Shield has attacked after a couple of Maddox's matches already, so there is likely some connection between them that will become more evident moving forward.
While most of the focus is currently on the world titles, The Shield, Dolph Ziggler and the forthcoming Royal Rumble match, the midcard titles seem to have gotten lost in the shuffle. Kofi Kingston and Antonio Cesaro retained their Intercontinental and United States Championships respectively at TLC, but now it remains to be seen where either of them will go from here.
For Kofi, it seems as though his feud with Wade Barrett will continue. Barrett attacked Kingston the night after he lost at TLC, and they have had several encounters since. The main issue is that Barrett as lost all of his momentum, though. He is constantly losing tag team matches and simply hasn't been built to look like a legitimate threat to Kofi and the IC title.
Cesaro's future is even murkier as he defeated R-Truth at consecutive pay-per-views and now has no true challenger. The Great Khali won a No. 1 contender's battle royal on Main Event and will get a shot at the Swiss superstar's belt next week, but it would appear as though their match is nothing more than a way to make Cesaro look impressive, which is something I have no issue with.
Cesaro does need a long-term rival, but there aren't many options on the roster currently due to a lack of good midcard faces. Hopefully something happens this week on SmackDown because Cesaro is an incredible talent, but he needs to have a meaningful feud in order to take the next step.
The Royal Rumble pay-per-view is still a month away, so this may be a bit premature, but I would love to see some Rumble qualifying matches. It used to be commonplace for two superstars to have a match in order to qualify for the Rumble, but it has been quite a while since the WWE has tried something like that. It may not seem like a big deal, but the Royal Rumble seems more important and prestigious when guys are fighting to be a part of it.
If Rumble qualifying matches do take place, then it may not be until a week or two before the pay-per-view, but I'd like to see the WWE spread them out over the course of the month. In fact, Main Event would be a great show to stage them on, although SmackDown would be good as well since it's generally more about wrestling than hardcore storyline development.
While the upper-tier guys and surprise entrants wouldn't necessarily be addressed in these qualifying matches, it would be nice to see some of the borderline superstars wrestle for a chance to compete in the match. Not only would it give them a chance to get some television time, but winning a qualifying match gives them momentum heading into the Rumble match itself.
I wouldn't necessarily count on there being any such matches on SmackDown this week, but you never know. SmackDown did bring back an old-school concept in the form of a tag team tournament a few months back, and it would be great if the same thing happened with Royal Rumble qualifying matches.
Follow @MikeChiari on Twitter and listen to him on Ring Rust Radio.