UFC 155: Yushin Okami vs. Alan Belcher Head-to-Toe Breakdown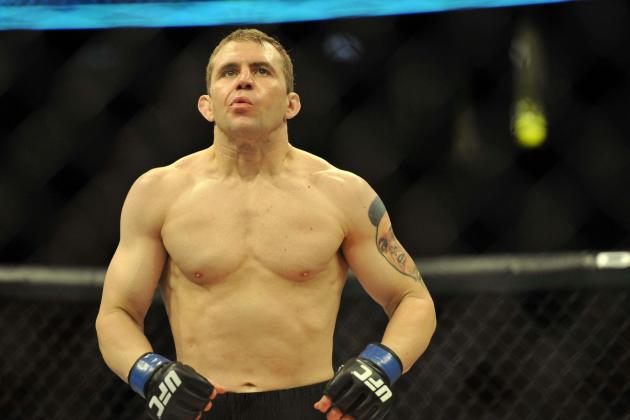 Joe Camporeale-USA TODAY Sports

UFC 155 will feature an important clash in the middleweight division. Alan "The Talent" Belcher meets Yushin "Thunder" Okami on the PPV portion of the card.
Belcher will be going for his fifth consecutive victory in the division. His last outing was an impressive TKO victory over Rousimar Palhares on UFC on FOX in May.
Okami rebounded from back-to-back losses at UFC 150 with a win over Buddy Roberts. A win over Belcher will put him back in the mix at middleweight.
As the middleweight division continues to get deeper, this is a must-win for both fighters if they hope to challenge for the championship in the near future. Belcher sits on the precipice of earning that shot right now.
This is how the fighters stack up to one another.
Begin Slideshow

»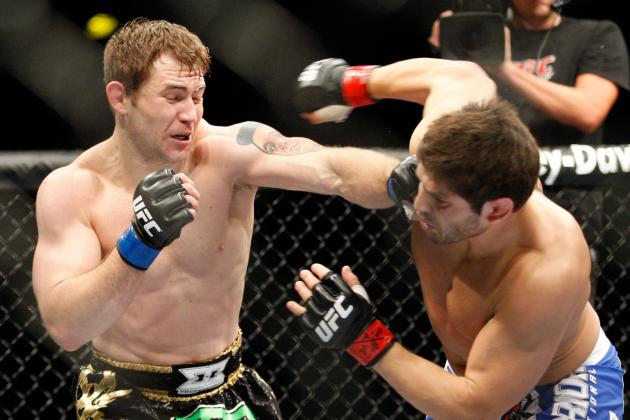 Richard Wolowicz/Getty Images

Both fighters have shown skilled striking in the Octagon.
Okami has a great straight left hand that can create problems for most not named Anderson Silva. He has power to finish with it, and it is great at keeping the opposing fighter at distance. It is Okami's best strike.
The difference between the two fighters is that Belcher is much more well-rounded and athletic in his striking. Belcher will throw punches, knees and kicks from a variety of angles. If he connects, it could be lights-out.
Belcher is simply the better all-around striker. He will be mindful of Okami's left, but if this fight is primarily fought at distance, then Belcher should be a solid favorite.
Edge: Belcher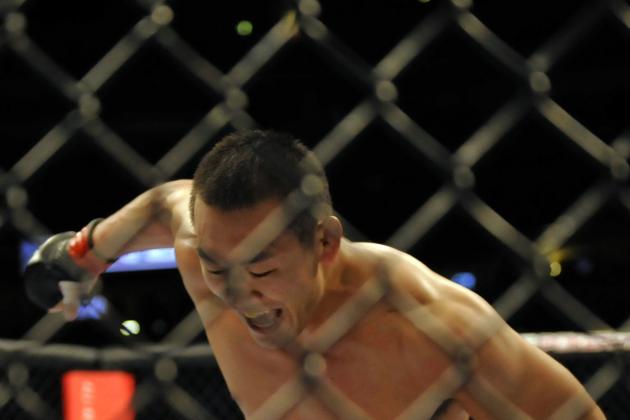 Ron Chenoy-USA TODAY Sports

Okami is one of the biggest and strongest middleweights in the division. He is someone you do not want to get a hold of you, and he will try to clinch and put you on your back.
Belcher has shown very good defensive grappling in recent fights. None more impressive than when he was on the canvas with Palhares this year.
However, Okami is the better grappler overall. If he is on top of you, then you are in trouble. Want to take him down? Good luck with that as well. Okami stuffed Mark Munoz over and over when they fought in 2010.
With his strength and technique, it will be hard for Belcher to escape Okami's grasp.
Edge: Okami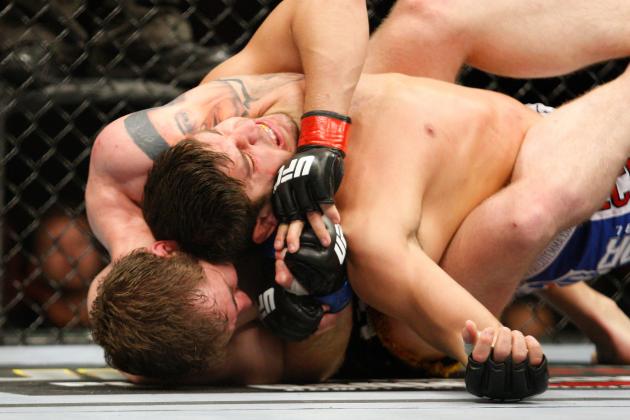 Richard Wolowicz/Getty Images

While Okami has the grappling edge, it is Belcher who is a runaway in the submission category, both offensively and defensively.
For proof of his defensive skills, just go watch his bout against Palhares. The video does not lie.
Offensively, he is very active with his attempts. Belcher can nab his third submission of the night if things go just right.
If Okami puts him down, he will be attacking from bottom, and as Okami is busy defending, it could also give Belcher time to spring back to his feet. It could play a vital role in their matchup.
Okami's last true submission, not via strikes or injury, came in 2005. He prefers to strike and ground and pound. If the opportunity arises for a submission attempt, then he will go for it. He nearly submitted Rich Franklin at UFC 72.
Edge: Belcher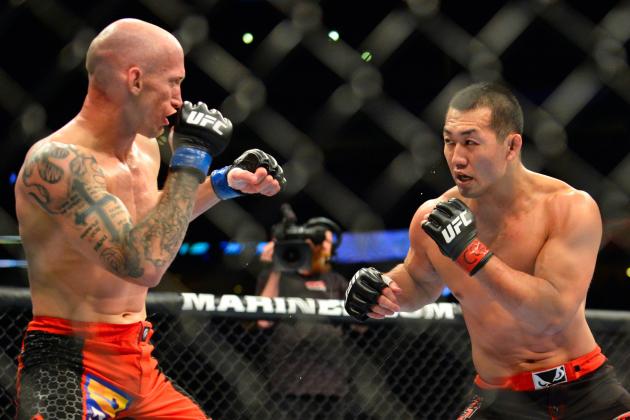 Ron Chenoy-USA TODAY Sports

Belcher's X-Factor: Use Athletic Advantage
To put it simply, Belcher has to out-athlete Okami. He needs to utilize this athletic advantage to thwart Okami's offense.
Belcher is typically light on his feet and able to move effectively. That will be very important as Okami tries to stifle the quicker opponent. As Belcher moves in and out, he needs to pepper Okami with strikes and explode with power shots. Okami has shown he is susceptible to the big strike.
Okami's X-Factor: Grind on Belcher
As expected, Okami's X-Factor is the opposite of Belcher's. He needs to negate Belcher's movement early and wear him down. If Okami implements his normal gameplan, his style is perfect for this task.
Okami can clinch with Belcher against the fence and make him carry his large frame. Okami will make Belcher expend energy trying to move his mass and separate from Okami. As long as Okami stays glued to Belcher, it will pay off in the long run.
Tiring Belcher will make it easier to get him to the mat and start doing damage.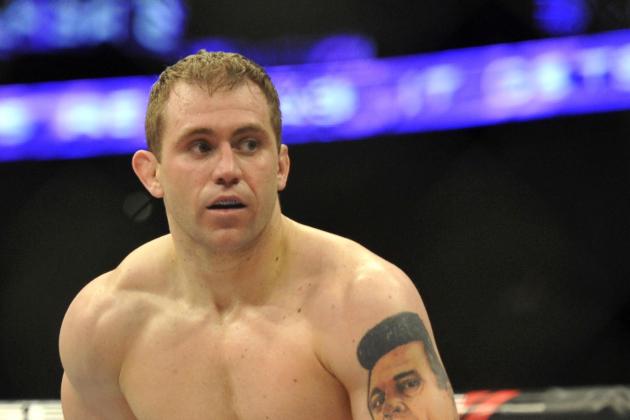 Joe Camporeale-USA TODAY Sports

Okami is no longer one of the top middleweights in the division, and Belcher will send him out of the top 10 once and for all at UFC 155.
Okami is a fighter who is just past his prime, and he will be meeting a fighter just entering his.
Belcher's speed advantage will be a huge advantage over Okami, and it will allow him to execute his striking to much greater effect. Okami has been dropped numerous times over the past few years by big punchers. Belcher has the power to drop Okami and will.
Belcher will find his range at the end of the first round and sense he can finish Okami in the second. That is where the fight will end. Belcher will connect and rock Okami. From there, it will be academic as Belcher follows up and puts Okami away.
"The Talent" will make a strong case that it is he who should be next in line for a shot at the middleweight championship.
Prediction: Belcher defeats Okami by second-round TKO