Real Madrid: Was Jose Mourinho Right in Dropping Iker Casillas for Poor Form?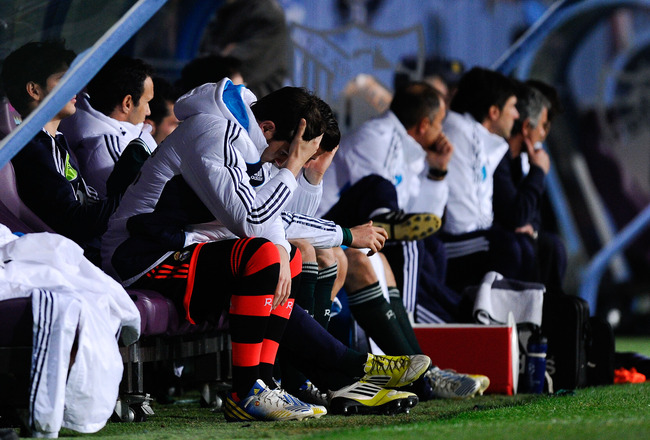 David Ramos/Getty Images
Real Madrid manager José Mourinho was the Only One with enough cojones to drop FIFA World Cup, two-time Euro and UEFA Champions League winning goalkeeper Iker Casillas.
This article will show you how poor Casillas' club form has been this season, but it will also argue that it wasn't the primary reason for his benching during the 3-2 loss to former Los Blancos manager Manuel Pellegrini's financially embattled Málaga side.
Iker Casillas' Form Dip for Real Madrid
Laurence Griffiths/Getty Images
UEFA's technical team lauded Spanish captain Iker Casillas' displays during Euro 2012, when he made vital saves like denying João Moutinho from 12 yards out in the semifinal penalty shoot-out win against Portugal:
Spain's goalkeeper and captain Iker Casillas commanded his area during this onslaught, displaying the confidence of someone who had only conceded one goal in the final tournament up to that point.

Unassuming in the way he goes about the job, but a dominant personality with all-round talent and a great aptitude for distributing the ball. One of the world's best.
According to the Castrol Performance Index, Casillas stopped a mind-boggling 94 percent of shots aimed at him during the tournament.
Though Casillas' form for Real Madrid this season has been below-par, it was foreshadowed in the first La Liga game against Valencia.
He didn't communicate with any of his defenders, went gung-ho at the ball, collided with Pepe (Javi Casquero rejoiced), which allowed Los Che's Jonas to score an easy goal. It wouldn't have happened if Cassillas stayed on his line.
You would have noticed it was from a set-piece, a problem that has plagued Casillas, not just during José Mourinho's tenure, but throughout the keeper's career.
It's just that this season, the issue has been exacerbated to the nth degree since Casillas has conceded 11 times (via Marca) from those situations.
However, the Spanish press, who are anti-Mourinho (and understandably so) have reported it as if it's only just happened under Mourinho's watch.
Statistically Analysing Iker Casillas' Real Madrid Form This Season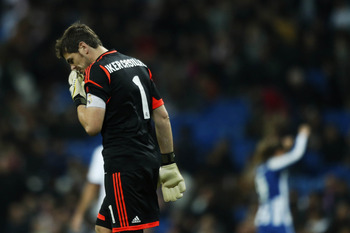 Gonzalo Arroyo Moreno/Getty Images
Let's statistically analyze Iker Casillas' league-form this season.
Total aggregate saves is not a true indicator of how good a goalie is because if he plays for a defensively weak team, he should make plenty of saves.
It gives you a vague idea of his activity per game, and since Iker has only made an anemic 26 saves, that stat will be shelved for this article.
On the flip side, a low goals conceded to games played coefficient is also a misleading number, because more than likely the keeper is playing on a very strong team.
He could be a social loafer like Victor Valdés, who will always be the favourite to win the Zamora Trophy season in, season out. Yet, is he world-class?
This article will use saves per goal conceded (SPGC) and save percentage (SP) to breakdown Casillas' league form this season.
| | | |
| --- | --- | --- |
| League Only | SPGC | SP |
| Asmir Begović | 3.9 | 79.7% |
| Iker Casillas | 1.9 | 65% |
| Jussi Jääskeläinen | 3.8 | 80% |
| René Adler | 3.3 | 76.7% |
| Willy Caballero | 4.1 | 81.7% |
Begović (Stoke City), Jääskeläinen (West Ham United), Adler (Hamburg) and Caballero (Málaga) have made 29, 58, 43 and 23 more saves, respectively, than Casillas—which inflates their SPGC when compared to Casillas.
In fairness to him, the next table will only use keepers playing for a No. 1-, 2- or 3-ranked domestic sides, who have made 25-40 saves [1].
| | | |
| --- | --- | --- |
| League Only | SPGC | SP |
| Bernd Leno | 2.2 | 68.5% |
| Emiliano Viviano | 1.8 | 67.3% |
| Federico Marchetti | 4.5 | 81.8% |
| Gianluigi Buffon | 2.8 | 73.8% |
| Iker Casillas | 1.9 | 65% |
| Joe Hart | 2.3 | 69.2% |
| Manuel Neuer | 5.4 | 84.4% |
| Roman Weidenfeller | 1.8 | 63.6% |
| Thibaut Courtois | 2.3 | 69.4% |
| Víctor Valdés | 1.8 | 66% |
[1] David de Gea (Manchester United; 52 saves) and Petr Čech (Chelsea; 57 saves) don't qualify under this requirement.
Unsurprisingly, the keepers with a SPGC of 2.0 or lower: Viviano (Fiorentina), Weidenfeller (Borussia Dortmund) and Valdés (Barcelona) are limited goalies.
The fact that Casillas can be put in the same sentence as these players gives you an idea of how poor his form has been for Real Madrid this season.
The staggering stat is Cassilas' SP crashing down by 29 percent from Euro 2012.
José Mourinho's Uneasy Relationship with Iker Casillas
This version of Iker Casillas is still better than Antonio Adán, who José Mourinho believes is in "better form."
Right, the same Adán who was caught in no-man's land when he gifted Ajax a goal. Where was this "form" in the 3-2 loss to Málaga?
In case you don't follow football soap operas, Mourinho's relationship with Casillas is like the one Arsène Wenger had with Jens Lehmann.
The only difference is that Casillas toes the line, whereas Lehmann spoke on the record.
Sid Lowe at The Guardian provided this intriguing anecdote in January:
The conversation started with Mourinho turning towards Ramos and saying: 'You [plural] killed me in the mixed zone.' To which Ramos replied: 'No, mister, you only read what it says in the papers, not everything we said.'

Mourinho replied: 'Sure, because you Spaniards have been world champions and your friends in the media protect you…and because the goalkeeper'…At that point there is a shout from Casillas, training 30 metres away: 'Eh, mister, round here you say things to our faces, eh!'
Marca offered another factor in Casillas' benching:
There is no communication between goalkeeping coach Silvino Louro and Casillas, and the upshot is that Mourinho has begun to lose faith in the first team's regular keeper in favour of Antonio Adán. The crux of the matter is that Louro is not on speaking terms with Casillas.

Louro is very close to Mourinho. There is a level of trust between them which extends beyond professional matters. In addition to working together, they are good friends.
If Marca are right, then when forced to choose between Louro or Casillas, Mourinho went with his friend.
When Casillas was asked to choose between Mourinho or Xavi, the keeper chose Xavi, who he has been friends with since they were aspiring professional footballers.
Here's Joaquin Hernandez, Xavi's dad, speaking about the matter (from COM Radio via ESPN FC):
Iker had many problems with Mourinho because Xavi and Iker didn't want to end their friendship. The problems came to light and everyone knows about it. Had it not been for Iker Casillas, Xavi and Del Bosque, the national team would never have achieved what they have.

It has been very complicated at times because of the Clásicos. Friendships between players were about to end. There were rows. There were issues with Arbeloa, Xabi Alonso and Sergio Ramos and how they behaved towards their teammates. The behaviour of some players was inappropriate. Luckily, Iker and Xavi intervened.
Back on Louro, he was recently involved in a scandal, when it was leaked to the media that he was Mourinho's spy.
Silvino would lurk around and jot down the people that weren't complimentary of Mourinho. This was Mourinho's way of finding out who was leaking information to the press.
Ironically, someone within Real Madrid sussed out the elephant in the room and leaked to the media that Louro was trying to find the leaker.
Marca's Antón Meana broke the story of Silvino's extracurricular duties and Mourinho went ballistic. Meana narrated the confrontation for his readers:
I held out my hand but Mou refused to shake it. Nervously, he started shouting at me in thick Portuguese.

I asked him to speak more slowly and he blurted that I was nobody to question his honour. He detailed his curriculum. I defended my facts, sticking to my sources. Despite the insistence of those present, I didn't give up their names.

My information isn't an irrefutable fact. It's the personal opinion of some people inside the dressing room and it was corroborated the moment I was told it.

Mourinho advised me to be more careful with regards to my sources' credibility: What do you get out of telling this? Even if it were true, which it isn't, do you consider it newsworthy?

There are 21 players that get along great with Silvino and, like anywhere, there are three black sheep that harm the group.

Using the doorframe, he placed his hand above his head to measure his professional ability, measuring mine below his knee.

In the footballing world, me and my people are at the top and in the world of journalism you are a piece of crap.
This latest drama or comedy (if you're a Culé) proves beyond doubt that there is a dressing room split at Real Madrid.
It's safe to say Casillas and Sergio Ramos are two of three black sheep in Mourinho's eyes.
Like Ramos' benching against Manchester City, the primary reason for dropping Casillas against Málaga was that he dared to challenge Mourinho's authority.
At the pace Mourinho is going, he's not going to last the season with Real.
Comment below with your opinion of this saga.
Why The Gunner's Sagna and Barça's Alves Are at Career Crossroads
3 Rumoured Barça January Targets
Connect with +allanjiang
Statistics courtesy of WhoScored.com and Fox Soccer
Keep Reading

Real Madrid: Like this team?