Stock Watch for Top 12 Mid-Major NBA Prospects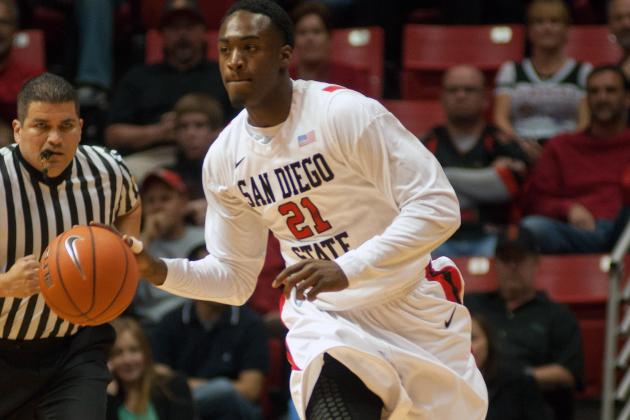 Kent Horner/Getty Images

There's an abundance of intriguing mid-major prospects preparing for the 2013 NBA draft, some of whom are capable of drawing serious lottery attention.
Last year it was Damian Lillard who shook off the skeptics that were hesitant to give a high prospect grade for a player from the Big Sky.
Sometimes, it's necessary to overlook the minor details and trust what you see. And guys like Lillard and Stephen Cury, along with C.J. McCollum this year, can flat-out play, whether it's against Fordham, Duke or the L.A. Lakers.
The following rankings are for NBA prospects who aren't in the Big East, ACC, Big Ten, Big 12, SEC or Pac-12.
Begin Slideshow

»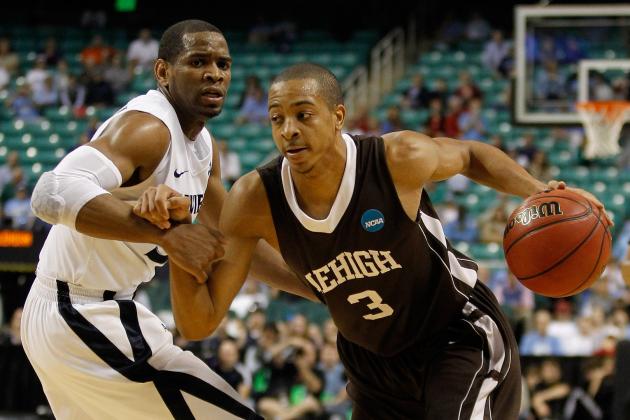 Streeter Lecka/Getty Images

C.J. McCollum hasn't played since December 8, missing his showdown with North Texas' Tony Mitchell because of an ankle injury he suffered in practice earlier in the week.
He has the ability to take over a game while maintaining proficiency as a game manager, and he has a similar maturity level to the successful mid-major guards who've come before him.
McCollum is currently second in the country in scoring at 24.9 points per game and remains the top mid-major prospect in America.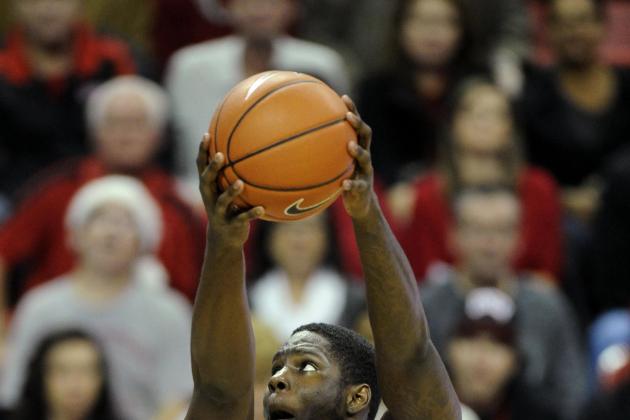 Josh Holmberg-USA TODAY Sports

Anthony Bennett just scored at least 20 points back to back for the third time this year, and it's becoming evident that he's really as good as his numbers suggest.
He's scoring both inside and from the wing, showing off attributes used at both the 3 and 4 positions.
Bennett has hit five threes over the past two games, and he will be offering a multidimensional offensive package to whichever NBA team selects him.
If this type of production remains constant, we could be talking about Bennett as a potential top-seven pick.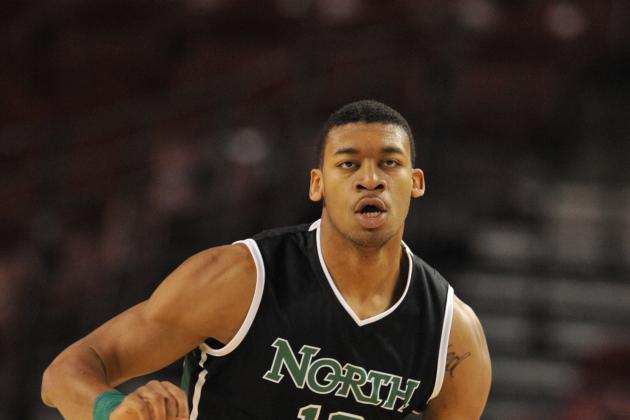 Andrew Fielding-USA TODAY Sports

While C.J. McCollum was unavailable when North Texas faced off with Lehigh, Tony Mitchell was.
He finished with 22 points, nine rebounds and three blocks, his most inflated stat line of the season. There were over 50 scouts to watch him live, and from an individual standpoint, he didn't disappoint.
But Mitchell's team lost by 15 points, and despite all his talent and physical advantages, it made no impact on the result of the game.
Not having takeover capabilities could put a cap on his draft ceiling, but at least he showed scouts some of what he can do.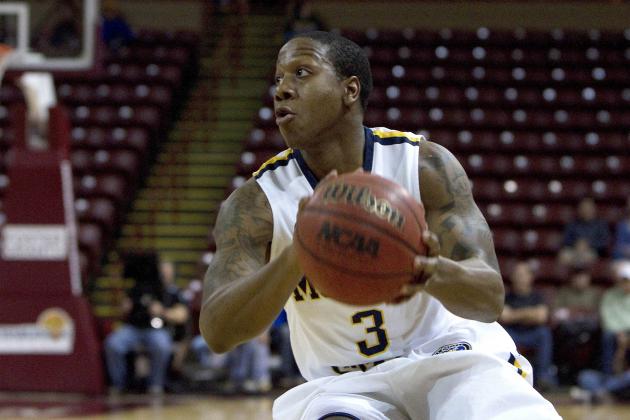 Joshua S. Kelly-USA TODAY Sports

Isaiah Canaan's production never seems fluctuate. If he's off from the floor, he's getting to the line. And if he's not getting to the line, he's probably lighting it up from 25 feet from the rim.
Murray State lost to Dayton this past week, and it wasn't Canaan's best game, but he still finished with 20 points, five assists and one steal, playing his typical fearless style of basketball.
Canaan's best shot at really making a statement would be to do what C.J. McCollum did last year—take over a game in the NCAA tournament and knock out a power conference program.
Right now we have him pegged as a late first-rounder.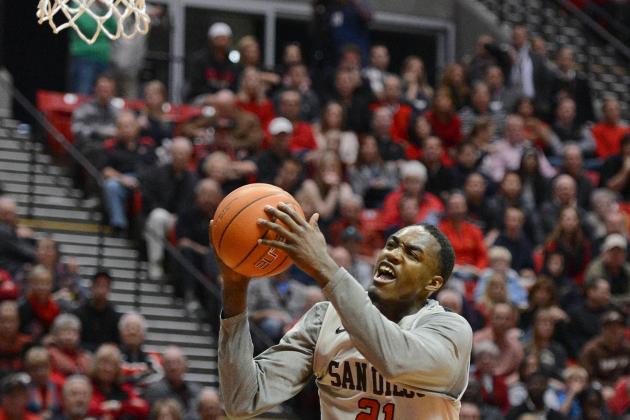 Jake Roth-USA TODAY Sports

Jamaal Franklin has been displaying his versatility as a wing, contributing as a scorer, rebounder and playmaker.
He led his team to the finals of the Hawaiian Airlines Diamond Head Classic, losing to Arizona by one in a game that went right down to the wire.
Franklin's presence was ubiquitous against Indiana State, when he finished with 19 points and 15 rebounds while making plays from baseline to baseline.
He's actually been much more successful playing the 4, where his athleticism and quickness becomes too much for his defender's lack of foot speed.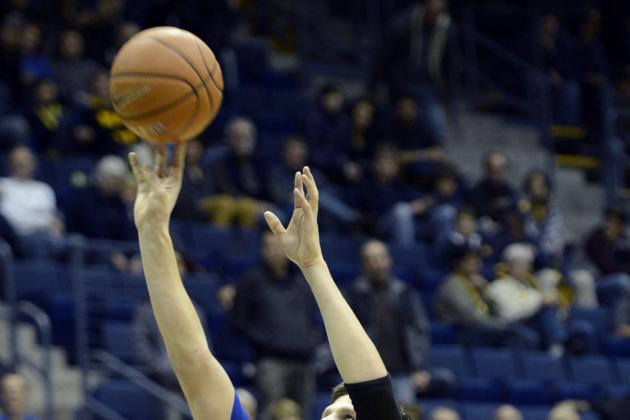 USA TODAY Sports

Creighton hasn't played since December 19, but Doug McDermott had already been on the rise.
Forget the fact that he's averaging 23.1 points per game. That's not going to be his role at the next level. What's important is that he's making 2.3 three-pointers a night shooting at a remarkable 50 percent clip.
This is most likely where he'll live when he puts on a pro uniform, and if he can master it, he'll have a regular role somewhere as a specialist.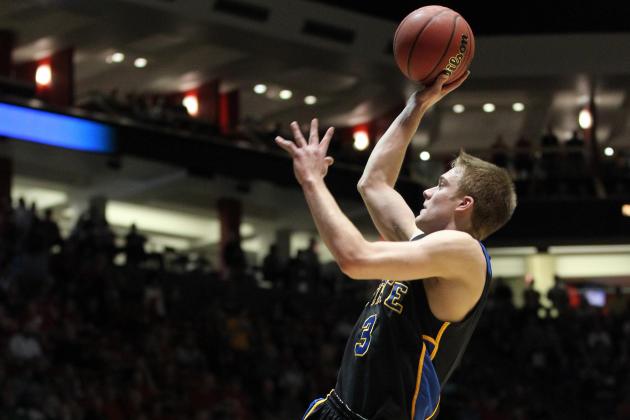 Nelson Chenault-USA TODAY Sports

Nate Wolters is one of the most exciting guards to watch because of the magic he creates off the dribble.
South Dakota State just knocked off No. 16 New Mexico on the heels of Wolters' 28 points and seven assists.
After a shaky year from the behind the arc as a junior, Wolters has raised his three-point percentage from 24 percent to a respectable 36 percent as a senior.
With excellent instincts, creativity and size for a point guard, Wolters will be a trendy name to watch for as the NBA draft approaches. Think Luke Ridnour if you're looking for a comparison.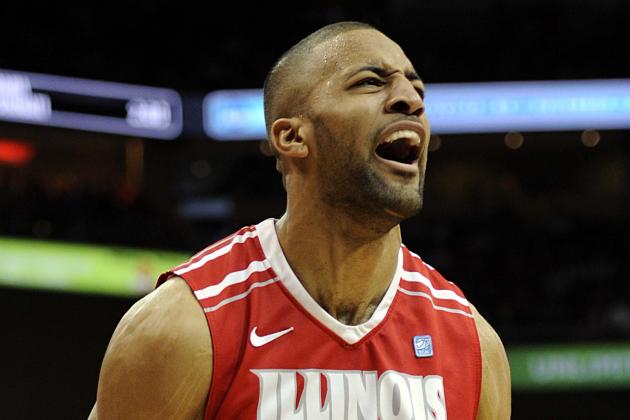 Jamie Rhodes-USA TODAY Sports

Jackie Carmichael is feelin' it, averaging 24.25 points and 9.75 rebounds over his last four games.
Carmichael aces the eye test at 6'9'' with 240 pounds of thick, defined muscle. One of the features of his game that attracts NBA attention is his ability to score from the high post, a rarity at the college level today.
He's capable of creating shots and converting them with his back to the basket, and he has a soft touch both inside and in the mid-range.
Last year he did things that suggested there was NBA promise, and this year he's following through. Consider him a second-round prospect with room to grow.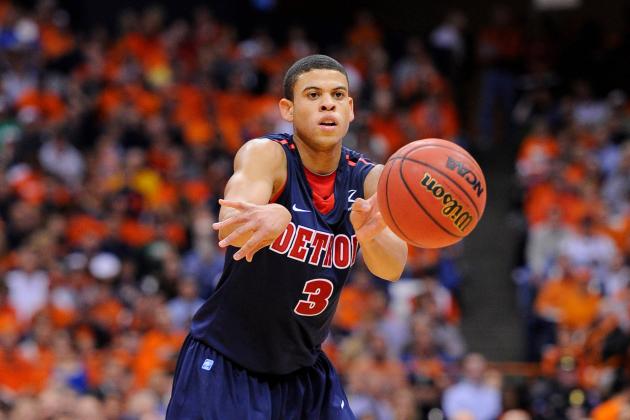 Rich Barnes-USA TODAY Sports

Ray McCallum was a non-factor in Detroit's loss to Syracuse, finishing with just nine points and four assists.
McCallum has been around for a while now, and though his numbers are up a bit from last year, he still hasn't done anything to stand out among his positional competitors.
This year is a deep class for point guards, and with so few job openings at the next level, McCallum is going to have to leapfrog some prospects to solidify his spot in the 2013 draft.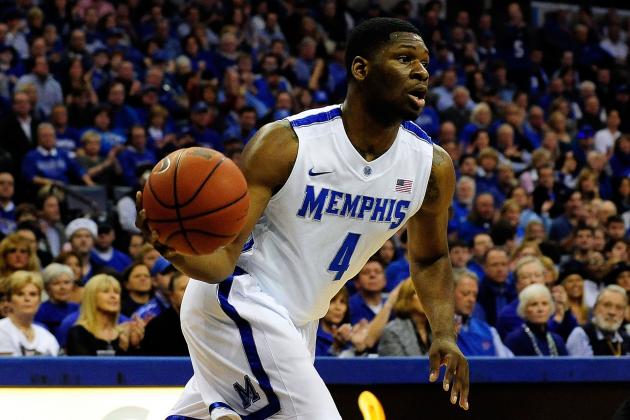 Stacy Revere/Getty Images

Adonis Thomas was invisible in Memphis' loss to Louisville, finishing with four points in 33 minutes.
It's becoming a theme for Thomas, who struggles to get himself involved because of the inability to create his own shot.
He's an athletic specimen built for professional sports, but whether there's a position for him in the NBA still remains to be seen.
Thomas is only shooting 18 percent from downtown and 43 percent from the floor, two sad numbers for someone with his rare and valuable gifts.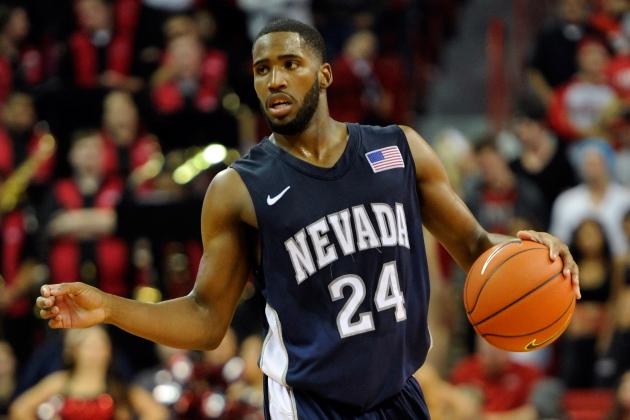 Ethan Miller/Getty Images

After scoring 25 and 29 points back to back, Deonte Burton finds himself in a mini-slump, averaging only 7.3 points over his last three games.
At 6'1'', Burton won't be the same scorer in the pros as he is in college, where he's averaging 16.8 points per game.
His build and athleticism are fit for the point guard position, but Burton must do a better job of channeling his talents to give him the best shot at an NBA career. He's only averaging 3.3 assists to 2.3 turnovers, although he's getting to the line a bit more and attempting fewer three-pointers.
Burton has a better chance at impressing during individual workouts than he does during game-play because of the restraints the college game has on guards who need freedom.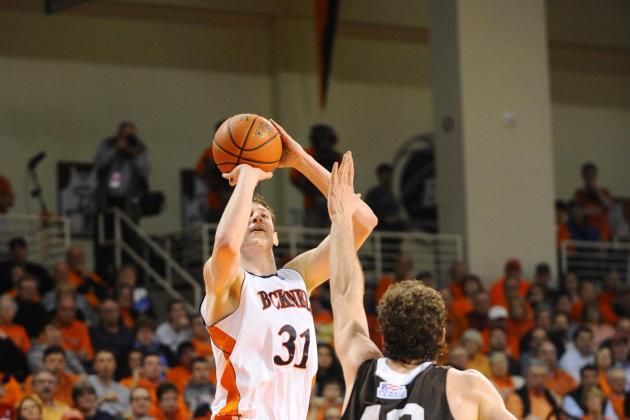 James Lang-USA TODAY Sports

Last year Mike Muscala raised the attention of scouts, but this year he's grabbing it.
He's averaging 18.6 points, 10.8 rebounds and 2.5 blocks a game, posing as a two-way, inside-outside center.
Muscala isn't the most explosive athlete, and the eye test is probably his enemy, but he's consistently producing and showing the ability to create his own shot in the post. He also stepping out in the mid-range and knocking down face-up 17-footers.
With solid fundamentals, Muscala will be a name to watch during individual workouts and pre-draft festivities.