5 Point Guards Who Could Steal Rajon Rondo's Throne as NBA Assist King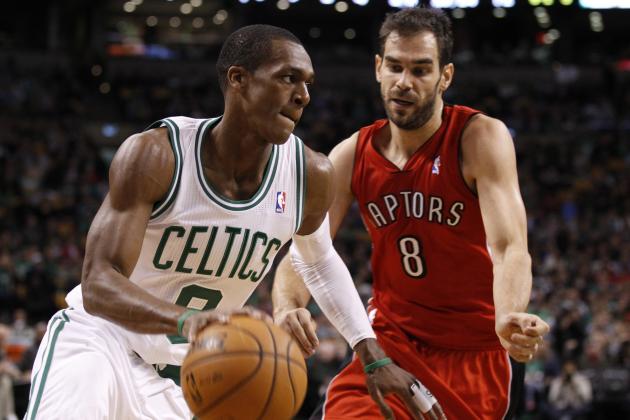 David Butler II-USA TODAY Sports

When Rajon Rondo was on his incredible run of double-digit assist games, there was no one in the NBA who could hope to surpass him.
Now, however, Rondo's streak is over, and he has visibly changed as a player. He has only surpassed nine assists once in the Celtics' last five games. His assists per game still leads the league at 11.9. In fact, no other player is even in double digits.
If Rondo does continue to ratchet up his scoring, since that is what Boston needs, then his assists will slip slightly. The more shots he takes, the less opportunities he will give his teammates.
There are other point guards in the NBA right now with a chance to see their assist numbers rise as the season progresses. Some have great scorers coming back from injury, while others are returning from injury themselves.
Rondo finished 2011-12 averaging 11.7 assists per game to win the NBA's assist crown. These five players have the best shot to keep him from repeating.
Begin Slideshow

»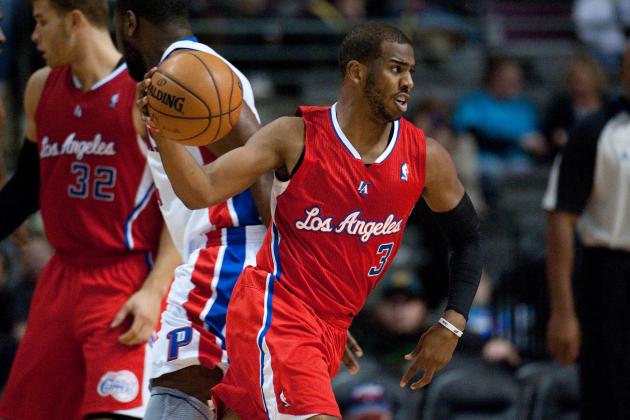 Tim Fuller-USA TODAY Sports

2012-13 Assists per Game: 9.5
The most obvious choice to unseat Rajon Rondo as the NBA's premier distributor is the man sitting in second place.
Chris Paul has molded the Los Angeles Clippers into one of the league's best teams. His play has the Clippers at 22-6 and in first place in the Western Conference.
Paul's assists are actually down in 2012-13 in comparison with his years in New Orleans. If he is to best Rondo this season, he is going to have to get back to those numbers. At 9.5 per game, he is still only 1.4 assists per game shy of where Rondo is right now.
The things holding Paul back are that the Clippers are really maxing out right now on his assist opportunities. They rank No. 3 in the NBA in shooting percentage as a team, hitting 47.9 percent of their shots. The Clippers do not run a very fast-paced offense, though. They are down at No. 21 in terms of shot attempts per game. They are getting off an average of 80.8 attempts a night this season.
The other detriment is, of course, Paul's other offense. Rondo's game revolves around passing as a first, and often second, option. The Clippers need Paul to score, and his 16 points per game illustrate that.
More attempts would mean more assist chances for Paul, but if the Clippers can't up the pace, it is unlikely he will be able to catch Rondo.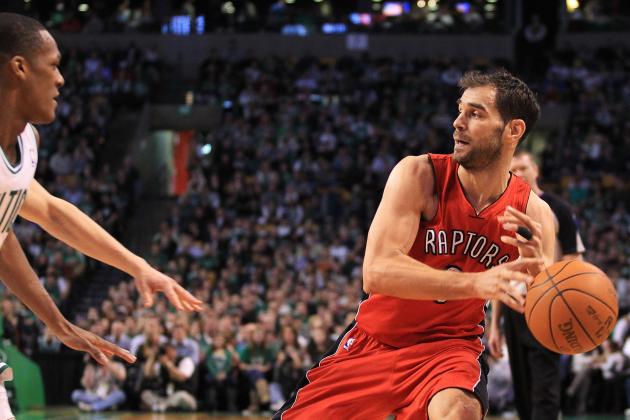 Mark L. Baer-USA TODAY Sports

2012-13 Assists per Game: 7.5
Jose Calderon has come on like a bat out of hell in late December. His sizeable bump in minutes has helped the Toronto Raptors reel off five wins in their last six games.
In his last five games, Calderon is dealing 11.2 assists a night. His season average is down at 7.5, but that has a lot to do with the limited role he played behind Kyle Lowry.
Calderon is limited by his team's talent deficiency. As a whole, the Raptors shoot just 43 percent from the field, heavily limiting Calderon's assist efficiency. Lowry's presence, when he returns from a triceps injury, will also deplete those chances even more.
Calderon has the experience of being a great distributor for years in Toronto. He has hovered around nine assists per game in four of his seven previous NBA seasons.
Toronto is currently being hamstrung by injuries, further hampering Calderon's abilities to rack up assists. With Andrea Bargnani, Lowry and now Jonas Valanciunas all out, the pool of shot-makers is drying up.
This is the final year of Calderon's contract with the Raptors. The expiring deal and the encroachment of Lowry makes for an interesting situation in Toronto. The Raptors could look to deal Calderon to a contender in need of a point guard should another team be bitten by the injury bug.
A player with his game management abilities, playing with a much better supporting cast, would be a treat to watch. That would be the best way to elevate into Rajon Rondo assist-territory.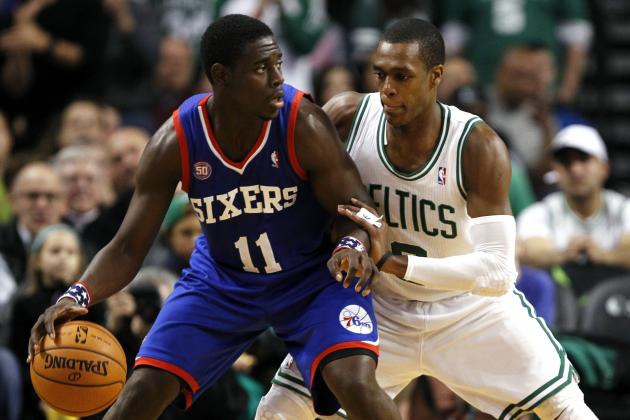 Mark L. Baer-USA TODAY Sports

2012-13 Assists per Game: 8.8
After an outrageously hot start to 2012-13, Jrue Holiday has slowed slightly and is dealing with some injuries.
Holiday was averaging 9.3 assists per game in November, a number that has fallen to 7.6 this month. He has struggled through a recent foot injury that forced him to miss four games, all losses for the Philadelphia 76ers.
The 76ers run a very fast-paced offense that gets off 84.2 shots per game. That number is mostly offset by the poor 43.7 percent shooting Philadelphia has posted this season. Despite that and the absence of Andrew Bynum, Holiday ranks No. 3 in the NBA in assists per game. His 8.8 trails only Rajon Rondo and Chris Paul.
The Bynum conundrum is the biggest weight on Holiday's candidacy as the the NBA assist champion. Holiday is posting 8.8 assists per game with Lavoy Allen and Kwame Brown as his starting centers.
If and when Bynum returns, that field-goal percentage is bound to increase. Holiday can pick up a couple assists more per game passing inside to Bynum.
Holiday is putting up 17.3 shots per game in December, a bit too many for a point guard. Bynum's presence will lessen the need for Holiday to look for his shot.
A healthy Andrew Bynum and Jrue Holiday would not only spell great things for the 76ers, but for Holiday's chances at a surprise assist crown as well.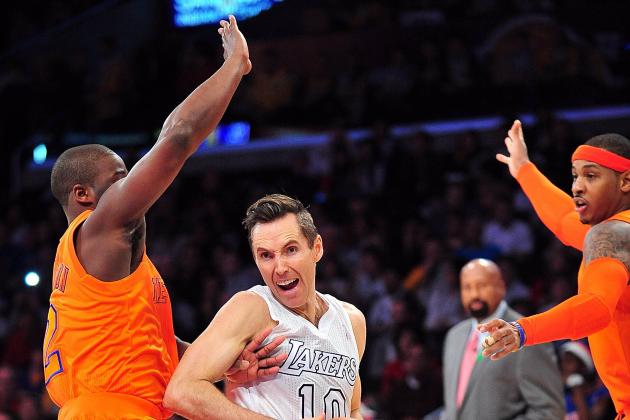 Gary A. Vasquez-USA TODAY Sports

2012-13 Assists per Game: 7.0
One would be foolish to exclude the last assist leader not named Rajon Rondo.
Steve Nash is averaging only seven assists per game this season, but has only played in five games. After missing essentially the first quarter of the season, Nash has averaged 8.7 assists per game over his first three contests back.
He has played 41, 38 and 31 minutes in those games, so he appears to be at near full-strength, and neither he nor Mike D'Antoni will be holding anything back.
Nash was in double digits for assists in each of the past three seasons. His 10.7 per game last year ranked second behind Rondo, but Nash took the assist title the previous two seasons.
He posted that 10.7 mark in 2011-12 while playing for an average team in Phoenix. Now with the Los Angeles Lakers, Nash is surrounded by a much more talented starting unit and is reunited with D'Antoni, who coached him to back-to-back MVP awards.
Obviously, the injury risk will be there from now on, but a healthy Nash in that new system with that supporting cast is a scary notion. His assists should continue to rise steadily.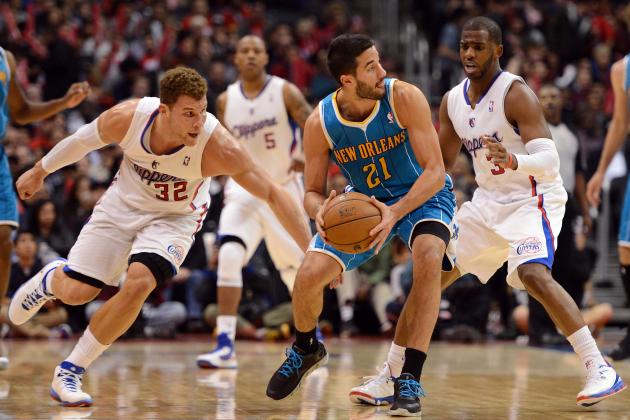 Harry How/Getty Images

2012-13 Assists per Game: 8.7
An unlikely source is in contention for the assist crown through a quarter of the 2012-13 season.
Greivis Vasquez is putting up career numbers in New Orleans and proving that the long-term starting job at point guard should be his. The 8.7 assists he is doling out on a nightly basis has him ranked No. 4 in the league.
Despite playing for a team that is heavy in the loss column, Vasquez has shown some light for the Hornets and is developing right along with the rest of the young talent employed by the franchise. He is developing important relationships on the court with newcomers Anthony Davis and Ryan Anderson.
This a very young and new team. Vasquez has had to develop chemistry on the fly with a lot of players. Davis has eased that effort recently. The No. 1 overall pick this season has fallen into a nice groove after missing 13 of their first 19 games.
Anderson has been a great addition for Vasquez, particularly behind the three-point line. A high-volume deep threat who is shooting 40 percent from downtown makes picking up a couple extra assists incredibly easy.
Another thing going for Vasquez is the impending return of Eric Gordon. The Hornets' star shooting guard has missed the entire season and most of 2011-12. That provided little time for anything to develop between he and the starting point guard.
Either way, a scorer of Gordon's caliber has to have a positive impact on the assist totals. Vasquez is already distributing the ball masterfully, and major weapons are still returning and settling in.