WWE's 10 Most Obvious New Year's Resolutions for 2013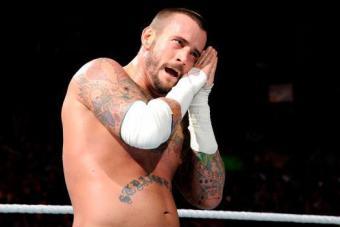 (B/R photo)
It's almost New Year's Day, and that means everyone will be making resolutions.
Some will resolve to lose weight. Some will resolve to find a better job. Others will resolve to find Mr. or Ms. Right.
No one is above resolutions—not even WWE. 2012 had its ups and downs for the company, and hopefully, the WWE Creative Team has learned from its mistakes in 2012 to attempt to correct them in 2013.
With that in mind, let's look at some obvious suggestions for what WWE should resolve in 2013.
Begin Slideshow

»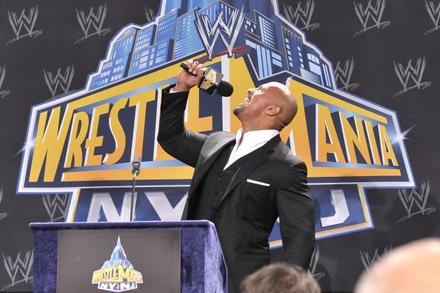 (B/R photo)
WWE has to realize that it really is not necessary to have a pay-per-view each month.
We already have the Big Four in WrestleMania, SummerSlam, Survivor Series and Royal Rumble that happen once a quarter. Then there are the second-tier PPVs like Elimination Chamber, Money in the Bank, Hell in a Cell and TLC.
Unfortunately, those PPVs that were founded on a gimmick—steel cages for HIAC and pods for Elimination Chamber—have begun to lose their edge. There are almost as many traditional matches in those PPVs as there are gimmick matches.
While it cannot be said for sure, it can be assumed that the total revenue generated by those second-tier PPVs does not equal the amount from, say, WrestleMania.
WWE should make better use of its over-the-air programs like Raw and SmackDown to build feuds that could be culminated at one of the top-level PPVs. That way, we would not see matches on a second-tier PPV that look eerily similar to matches already on Raw, SmackDown or even Main Event.
Then, we would not be half as disappointed as we are paying $50 or more for matches that we could have watched on free TV.
And speaking of TV…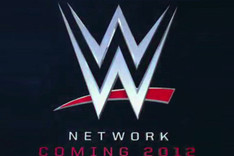 (B/R photo)
It's been promised now for what seems like an eternity. The WWE Network, with all its original programming plus retrospectives on wrestling glory, is coming—or so we are led to think.
Earlier this year, WWE announced that the 24-hour wrestling channel would be a premium channel offered by all the major TV cable and satellite carriers. But when pressed to announce a launch date, WWE hesitates.
If WWE was so high and mighty on getting that network launched, then why is it so heavily invested in shows on Hulu Plus or YouTube? Sure, that might be to complement its broadcast programming.
But even if WWE were to launch the network tomorrow, they have cried wolf so many times with it that eventually the WWE Universe may not even care. Therefore, WWE needs to make a decision this year—launch the WWE Network or just let it go the way of the XFL.
And speaking of network programming…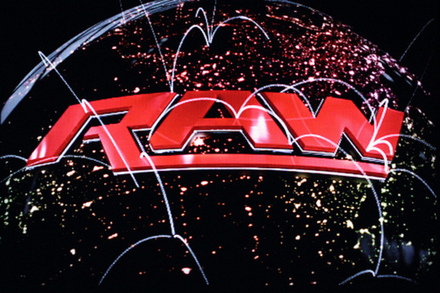 (B/R photo)
Rumors of a merger between the Raw and SmackDown shows have circulated for what seems like forever. WWE has even teased it by interchanging its stars frequently between shows and producing programs like Raw Supershow and SuperSmackDown Live.
The original premise was to give WWE stars as much TV exposure as possible by assigning one group to the Raw (red) brand and the other to the SmackDown (blue) brand. The Raw show was more storyline heavy while the SmackDown show was focused more on in-ring action.
WWE even had PPV matches where a group of Raw stars would face off against a group of SmackDown stars.
But that has now evolved into what we see today. With the exception of John Cena and CM Punk, SmackDown stars regularly appear on Raw TV shows and vice versa. And that has prompted the speculation about whether or not to unify the brands into one.
Brand unification may not be at the front of the consideration line for WWE this year, but it definitely needs to be addressed before 2013 is out.
Regardless of what is decided, the shows are only as good as their content. And that leads us to the next group of resolutions…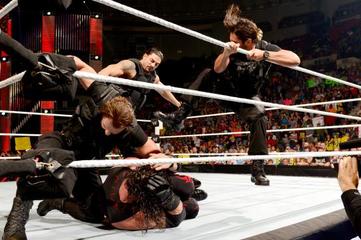 (B/R photo)
WWE struck oil late in 2012 with the debut of The Shield. This trio of NXT stars Roman Reigns, Seth Rollins and Dean Ambrose first appeared at Survivor Series when they attacked Ryback, and they have continued to fight against "injustice" wherever it may be. In addition to Ryback, The Shield has left its calling card with John Cena, Randy Orton, Team Hell No, The Miz and Tommy Dreamer.
In an effort to piggy-back on that success, WWE trotted out NXT star Big E. Langston to attack Cena on Raw and SmackDown.
In 2013, WWE needs to continue to bring up NXT talent to push the existing main stars. The debuts of The Shield and Langston have shown that WWE may not have to rely as heavily on dusting off old superstars as they did in 2012.
If these four are any indication, WWE will be good to go for many years.
Of course, in order to make room on the roster for up-and-coming talent, WWE will have to stick to the next resolution…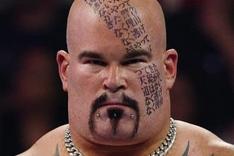 (B/R photo)
Why is Lord Tensai still working in WWE? The same question can be asked about The Great Khali, Santino Marella, Zack Ryder and even Hornswoggle.
All these stars are as stale as week-old bread, yet WWE has not seen fit to put them out of their misery and release them.
Tensai is perhaps the biggest bust of 2012. Originally billed as a monster from the East who was going to run roughshod over the rest of the WWE roster, the WWE Superstar formerly known as Albert has been reduced to nothing more than a jobber and comic relief.
The same could be said for the others mentioned. It's painful to watch Khali wrestle. It's boring to watch Marella because he does the same old shtick. Zack Ryder has done everything he can Twitter-wise to make WWE hand him his walking papers.
And Hornswoggle is…well, Hornswoggle. And that should be reason enough.
Try as they may, these guys will never be upper-card material. Which brings us to our next resolution…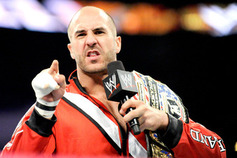 (B/R photo)
Anyone who has watched Antonio Cesaro or Wade Barrett in the ring this year has seen that these men need to be removed from the midcard ranks and elevated to main-event status.
In just a few months, Cesaro has gone from being Aksana's boyfriend to being the United States Champion. And he has done so with an anti-American sentiment that has not been seen in WWE since the days of the Iron Sheik.
Recently, WWE has taken the training wheels off of him by putting him in the ring against Sheamus and John Cena. Cesaro did not job to those two stars, either. While he may have been counted out both times, he brought the fight to both of them. All he has to do now is shake off the U.S. title, and the upper card will await.
As for Barrett, he tasted the upper card with his time as Nexus leader. That was followed up with a lame stint on the midcard as a member of the Corre.
When he struck out on his own as a singles wrestler, it appeared he might be back on the path to the main event. But an elbow injury sidelined him for several months.
Now, Barrett is back meaner than ever with a finishing move in the Bull Hammer elbow that can be felt throughout the ring.
It's possible he will have to do some time as Intercontinental champion before getting back into the upper card, but think of that time as being in a kitchen: The longer it takes to prepare a great dish, the better it will taste once it is ready.
Speaking of long preparation…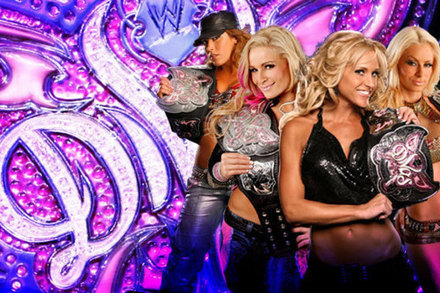 (B/R photo)
At the beginning of 2012, it looked like two WWE divisions—tag team and Diva—were biding time until being dissolved.
But then, something happened. WWE realized that the tag team division was worth saving, so it started paying more attention to developing teams (Team Hell No, Rhodes Scholars, Prime Time Players) and less attention to throwing singles stars together (Kofi Kingston and R-Truth, Santino Marella and Zack Ryder).
The result: Tag team wrestling became relevant again in the eyes of the WWE Universe.
If it worked for the tag team division, then why not for the Divas?
The Divas division was dealt several blows last year with the losses of Kelly Kelly, the Bella Twins and Beth Phoenix. The remaining stars were either faces or heels, depending upon how the WWE Creative Team was feeling that day.
There is a good mix of Diva veterans (Natalya, Alicia Fox, Eve Torres) and new talent (AJ Lee, Kaitlyn, Tamina Snuka). Mesh these with some of the talent in the NXT, and you have the foundation to rebuild the division.
And by the way, lose the "Diva" nickname and refer to them as who they are—wrestling stars.
With the women taken care of, that leads us into our next resolution…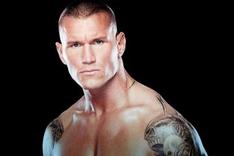 (B/R photo)
Lord knows the fans and Randy Orton himself want to see that happen.
While he definitely has been over as a face, that face turn has run its course. The Viper has faced all (and beaten most) of the WWE heel roster. He really has no more real challenges ahead of him as a good guy.
Perhaps the only thing keeping him on the white-hat side is the potential for a World Heavyweight Championship program with The Big Show. But regardless if that does or does not happen, the bottom line is that Orton is much better and actually looks happier as a heel.
His methodical style is best suited for a villainous character. He easily could join forces with CM Punk, Paul Heyman and even The Shield to form quite a heel faction.
Speaking of character development…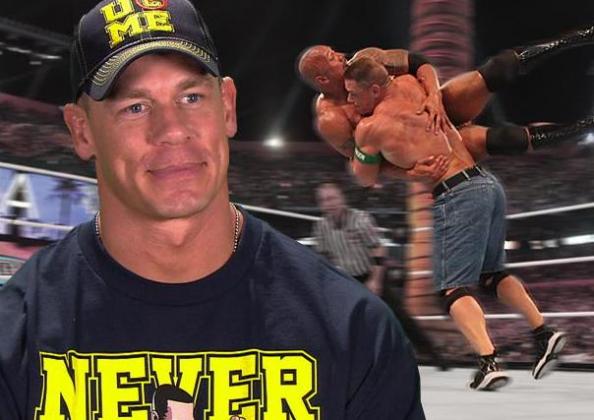 (B/R photo)
The face of WWE needs some character plastic surgery.
The WWE Superman has had the same five finishing moves for so long now that it has become almost as predictable as the way his matches draw out. The boos he gets from the arena crowds often drown out the cheers.
But it is not so much that the boos are for Cena the person as they are for Cena the stale character. Yet WWE continues to push him in the main events.
The Rock is a prime example of an edgy character with a massive positive crowd reaction. While Cena definitely does not need to be a Rock rip-off, there is nothing wrong with giving him back the edge he had when he first came to WWE 10 years ago.
If he really is supposed to embody the triumph of good over evil, then let him punish the heck out of his evil opponent. Evil shows no mercy, so neither should Cena.
Give him a more powerful finisher than the Attitude Adjustment or the STF. Cena is a strong man, so let him put his opponent up in a torture rack or drop him in a power bomb-like move.
Just do something, because the face of the WWE is starting to show his age.
The nine previous resolutions all play a role in the final and most important resolution WWE must make in 2013…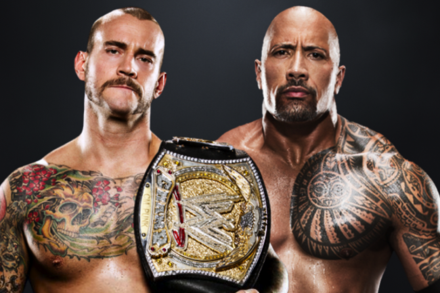 (B/R photo)
Antonio Cesaro vs. The Great Khali for the United States Championship? Three straight pay-per-views of Sheamus vs. Alberto Del Rio for the World title? Anyone vs. Tensai?
This was not a banner year overall for WWE booking.
But what 2012 lacked, 2013 looks like it will make up.
WWE heads into the new year with perhaps its best prospects for setting future programs. You have The Shield attacking stars right and left in the name of justice. You have Ryback, the 2012 breakout star of the year, poised for even more greatness with WWE and World title shot possibilities ahead of him.
You have Ric Flair apparently back in the fold and perched to become a much-needed authority figure on Raw. You have new young talent in Big E. Langston making a statement at the expense of John Cena, and veteran talent in The Rock looking to recapture WWE gold—even if he is only a part-time performer.
In short, you have a multitude of opportunities for solid booking and great programs to carry you through the year, and maybe beyond.
Don't blow it.
Share your ideas for WWE 2013 resolutions in the feedback section.
Bill Atkinson is a columnist for Bleacher Report. Follow him on Twitter at @BAtkinson1963.