As Liverpool head into another transfer window, mired in the mid-table reaches of the Premier League, one or two players might understandably be coming in for a serious review of their time at the club. Due to the high levels he set for himself in years past—and continuing rumours of Jack Butland joining the club—Pepe Reina has found himself as one such squad member.
After joining in the post-Istanbul celebratory summer of 2005, Pepe Reina immediately established himself as the club's new No. 1 goalkeeper and set about breaking records at every turn.
The fastest goalkeeper to reach a century of clean sheets, the most clean sheets in his first 100 league games, winner of three Golden Gloves awards—the former Villarreal stopper seemed destined to prove manager Rafa Benitez right when he claimed he was the best goalkeeper in Spain.
There were dodgy moments, of course.
Much was made of his supposed inability to deal with high balls into the area but in truth this was nonsense; a punch which could see the ball travel half the length of the pitch saw Reina dominate his area entirely and with authority.
Problems came as a result of a simple lapse in concentration most times; the disastrous derby defeat at Goodison Park stands out above all others as his worst moment in the early Anfield years.
Over the past three seasons, though, his authority and confidence in patrolling his own penalty area has diminished somewhat as he had to come to terms with the defensive line dropping so much deeper under Roy Hodgson, then back up the pitch under Kenny Dalglish and now the tactics changing again under Brendan Rodgers.
Yet, 2012 has provided a very up and down year for the Spaniard, and it must be noted that most of the year has been an upward struggle to find his best form.
Early in the year he hardly covered himself in glory at Bolton Wanderers, as the Reds lost 3-1, but such was the torrid performance of the entire team that the goalkeeper was one of those not really spoken of at the time.
For the rest of the season, though, Reina continued along the same vein, with the team struggling for consistency and their goalkeeper mirroring that form.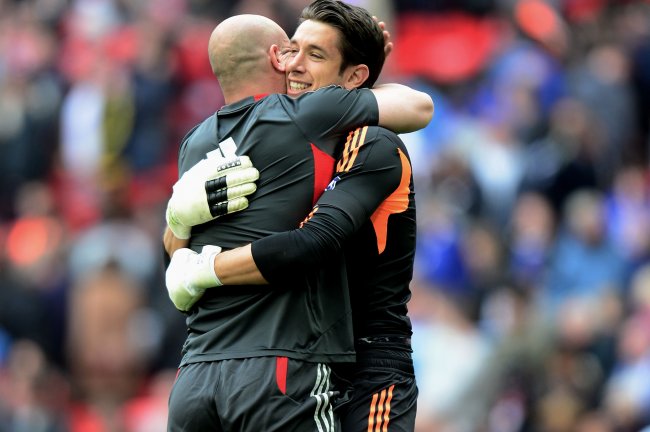 Shaun Botterill/Getty Images
A red card for violent conduct against Newcastle meant that he missed out on a Wembley date against Everton in the FA Cup semifinal, and when the Reds reached the final itself he was too easily beaten at his near post, a continual weakness, as Liverpool lost to Chelsea.
While the team itself was far better at the time, and performing well and confidently, the difference in goals conceded during the 2008-09 campaign to the 2011-12 one was huge: 0.71 in the earlier season, with 20 clean sheets in 38 games, to 1.03 conceded per game last year and only 12 clean sheets from 34.
The new campaign brought what should have been a chance to rediscover his top form, but early in August, Reina seemed perhaps slightly overweight, bogged down by his mistakes mentally and unable to find that consistency in his game again.
Mistakes and unconvincing displays against Arsenal, Hearts and Norwich City saw further questions asked of him, though he was clearly trying his best to save everything—the frustrations he showed against the Canaries where an indication of his state of mind over his own performances.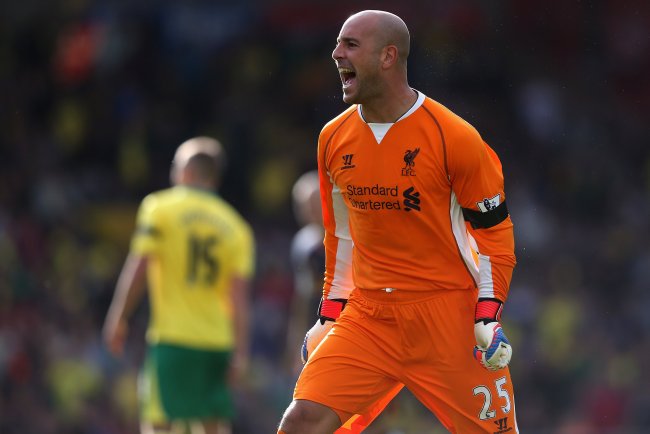 Julian Finney/Getty Images
After Reina suffered an injury on international duty and his deputy Brad Jones performed admirably in his absence there were calls for the Aussie to get an extended run in the team; in truth Jones had not been top class, but such was the drop in ability from Reina's best days that anything resembling consistency was looked upon favourably by supporters.
Since returning though, Reina has hinted at a return to good form.
Five clean sheets in nine league games since mid-November are a source of hope, though the goals conceded to Spurs and Aston Villa left plenty of room for improvement on the part of the entire defence.
Who do you want to see as LFC's first choice goalkeeper come August?
Reina will surely remain the club's first choice goalkeeper even if they press ahead with plans to sign England youngster Butland, but it would be a very telling sign to Pepe that the replacement and the competition are there, if required.
Jones has had his own new contract and Peter Gulacsi remains an option in the squad, too.
Reina at his best is perhaps the ideal goalkeeper for Rodgers to have available for him. The problem for the manager is just how long he gives his first-team stopper the chance to rediscover that best form, before deciding to look elsewhere.
Liverpool and their goalkeeper ended 2012 with a 3-0 win over QPR. The Reds, along with Reina, could do with plenty more of the same—three points and clean sheets—in the early months of the upcoming year to improve the fortunes of all.
Report conclusion: Must do better, and by the end of the season. Otherwise, Rodgers might well be looking for a new No. 1.
Statistical data from EPLindex.com