The 10 Most Memorable Performances by an Ohio State Football Player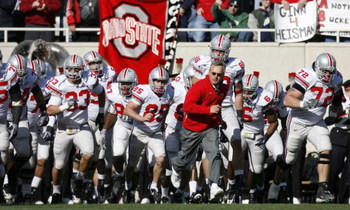 Who turned in the best performance in Ohio State Football history?
The Ohio State University is an institution that is all about winning, playing hard, respecting your opponent, and teaching their student athletes lessons in good sportsmanship, and a winning attitude.
This storied program has had some of the most memorable games and seasons in the history of college football.
From their rivalry with that school up North, to their Rose Bowl games and National Championship seasons; the Ohio State Buckeyes continue to be a force to reckoned with in college football.
10. 1987 Cotton Bowl: Ohio State vs. Texas A&M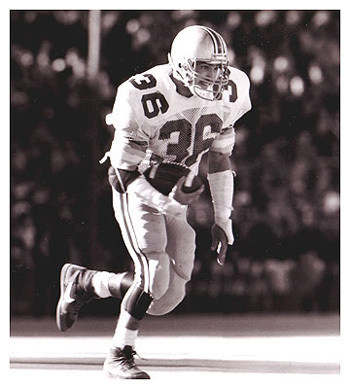 On New Years Day in 1987, The Ohio State Buckeyes linebacker, Chris Spielman, turned this 10-year-old boy into a huge Buckeye fan, as he helped the Buckeyes beat the Aggies 28-12.
He dominated the game with 11 tackles, and he grabbed two interceptions, one of which he returned 24 yards for a go-ahead touchdown.
The performance won Spielman "Top Defensive Player" honors, and the hearts of millions of Buckeye fans.
9. 1995 Ohio State vs. Pittsburgh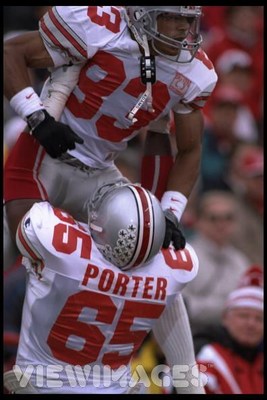 The Ohio State Buckeyes trailed Pitt 20-14 at halftime on Sept. 23, 1995. The Buckeyes came out in the second half playing as if they had heard a "win one for the Gipper" pep talk.
The Bucks ripped off 34 unanswered points, led by receiver Terry Glenn, as he was out to prove he was one of the best receivers in the nation.
Glenn caught nine passes for 253 yards and scored four touchdowns and a two-point conversion.
8. 1968 Ohio State vs. Michigan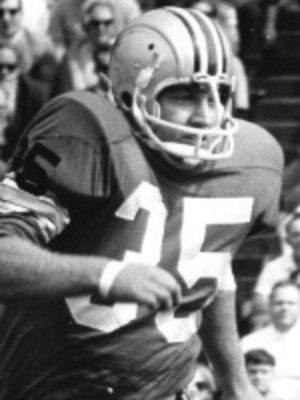 The Ohio State-Michigan rivalry was in full swing in 1968. When Ohio State fullback Jim Otis left his mark. Ohio State took the lead late in the first half and went into the locker room up 21-14.
Otis went nuts in the second half, rushing for 143 yards and four touchdowns, to give the Bucks a 50-14 win. The win sent Ohio State to the Rose Bowl, where they thrashed OJ Simpson and his Trojans 27-16.
7. 1975 Ohio State vs. North Carolina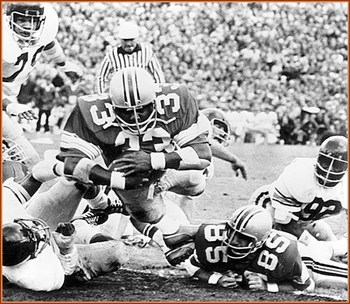 Ohio State's 500th victory came in 1975 against North Carolina, when Ohio State fullback Pete Johnson rushed for 148 yards and a Buckeye record five touchdowns as the Bucks rolled 32-7.
Johnson was a big, bruising running back who bulldozed his way over opponents for 58 touchdowns in his career.
He racked up 348 points for the Buckeyes, a record that stood until 2004, when Mike Nugent kicked his way past him.
6. 2007 Ohio State vs. Michigan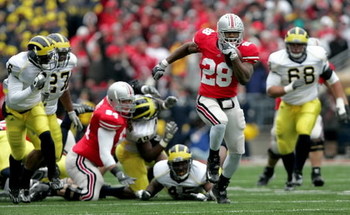 On Nov. 17, 2007, the Ohio State Buckeyes traveled to Ann Arbor, Mich., to do battle with their hated rival.
This would turn out to be the "Beanie" Wells show.
Ohio State tailback Chris "Beanie" Wells put on a clinic, as he rushed 39 times for 222 yards and two scores.
The Buckeyes won the game 14-3. Michigan running back Mike Hart only managed 44 yards and the Michigan Quarterback Chad Henne threw for 68 yards.
5. "The Game" 2006 Ohio State vs. Michigan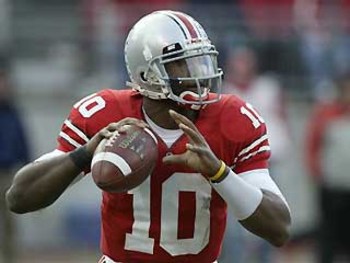 It will go down as one of the greatest games in Ohio State history.
On Nov. 18, 2006, The Ohio State Buckeyes were ranked No. 1 and the Michigan Wolverines were ranked No. 2.
Well, needless to say the stage was set, the blood pressure was rising, and the two teams did not disappoint. They combined for 900 yards of offense.
However, in the end it would be the Buckeyes quarterback, the Heisman trophy winner Troy Smith, who led his team to the 42-39 victory.
Smith threw for 316 yards and four touchdowns. As he became the first Buckeye quarterback in 70 years to beat the Wolverines three times.
4. "Shoeless Keith Byars" 1984 OSU vs. Illinois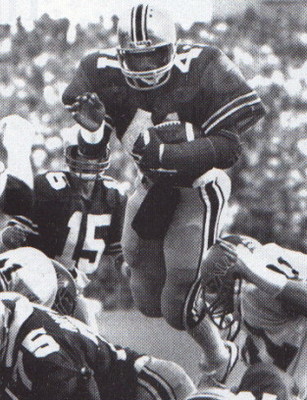 In 1984, Ohio State trailed the Fighting Illini 24-0, and things did not look good for the boys in Scarlet and Gray. That was, until tailback Keith Byars took over, rushing for 274 yards and five touchdowns.
Byars fourth touchdown will never be forgotten. As Keith took the handoff and scampered down the field, his left shoe came flying off. It took no toll however as he went into the end zone from 67 yards out.
Byars fifth touchdown of the day came with 36 seconds on the clock.
3. "Making of a Legend" 1972 OSU vs. North Carolina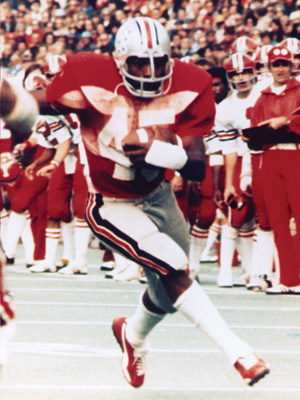 In a game where freshmen are supposed to sit, watch, and learn, this freshman was about to prove otherwise.
Freshman tailback Archie Griffin was a short, quick and powerful running back. In his first game as a Buckeye, Griffin had one carry and one fumble. But, not in his second.
In a come from behind win against North Carolina, Griffin got his chance to shine, and he did. He rushed for 239 yards on 27 carries, breaking the Ohio State single game rushing record. His record stood for 27 seasons.
2. "Eddie's Revenge" 1995 OSU vs. Illinois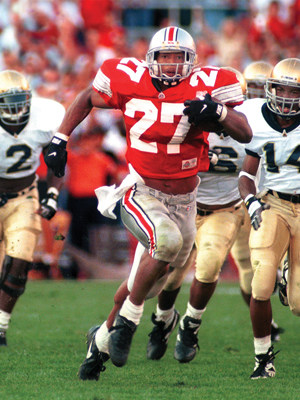 When Ohio State tailback Eddie George was a freshman, he had a horrible game against Illinois. Eddie fumbled the ball twice inside the 5-yard line.
One was returned 96 yards for a touchdown, and the other was turned into the game-winning drive.
In 1995, Eddie's senior year, he got his revenge. On Veteran's Day he didn't only hold on to the ball, he ran it all over the Fighting Illini.
He rushed for a school-record 314 yards, and three touchdowns. The performance helped George win the Heisman Trophy.
1. "One Man Band" 1950 OSU vs. Iowa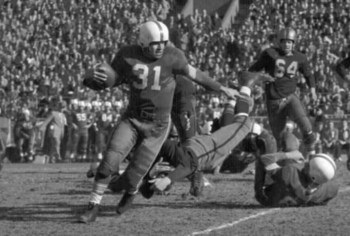 If you want to talk about a game where a single player completely took over a game, this one sounds almost untrue, but it is true.
In 1950, The Ohio State Buckeyes had a man named Vic Janowitz on the roster, Janowitz was considered the best player ever to wear the Buckeye uniform.
He did it all, he rushed, passed, kicked, caught and played defense.
In a game against Iowa, Janowitz took over, he ran for two touchdowns and went 5-for-6 passing with four touchdowns.
He also set a Big Ten record as he kicked 10 extra points. He returned a 69 yard punt for a touchdown. He recovered a fumble, and intercepted a pass on defense.
He and the Buckeyes stomped Iowa 83-21. He won the Heisman in 1950. I dare anyone to dig up a better performance than that by an individual in a Division I college football game.
Keep Reading

Ohio State Football: Like this team?