Los Angeles Lakers vs. Denver Nuggets: Live Score, Results and Game Highlights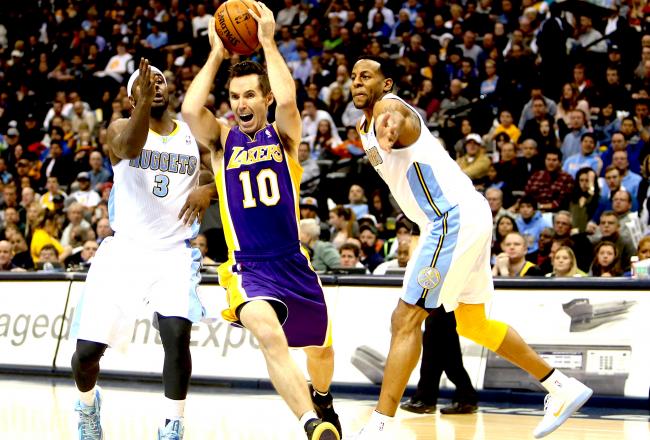 The L.A. Lakers are no longer struggling. Now as winners of their last five, they've pulled even to .500 and will face off against a 15-14 Denver Nuggets squad that is loaded with talent but short on superstars.
Let's have a look at tonight's game.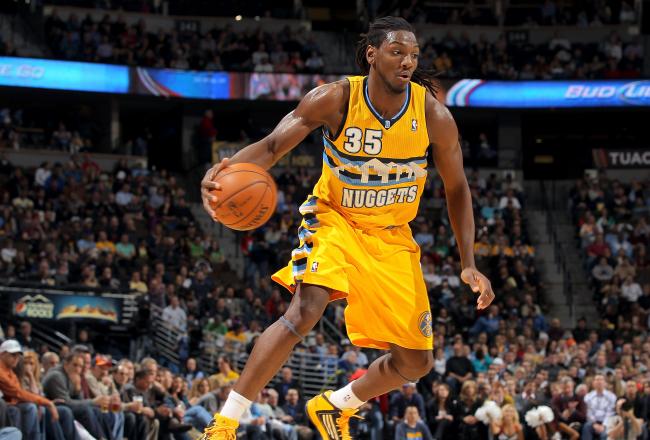 The Lakers poor rebounding is a huge culprit in the loss for them tonight. Beyond the poor rebounding, the Nuggets were also on fire from three point range. And Denver is the worst three point shooting team in the league.
All of the defensive issues that were prevalent in the Lakers' struggles resurfaced tonight. Kobe Bryant had 40 points, but it just wasn't enough for Laker nation—not with Kenneth Faried and the Nuggets beating them up on the offensive boards.
The Nuggets didn't even look to run clock in the closing minutes, but rather continued to have fun at the Lakers expense, running up the score.
FINAL SCORE: NUGGETS 126, LAKERS 114
Metta World Peace just fouled out for the second straight game. No Dwight, no problem. No Metta? Might as well put this one in the books. I guess.
NUGGETS 120, LAKERS 109 — 1:44 Remaining in Game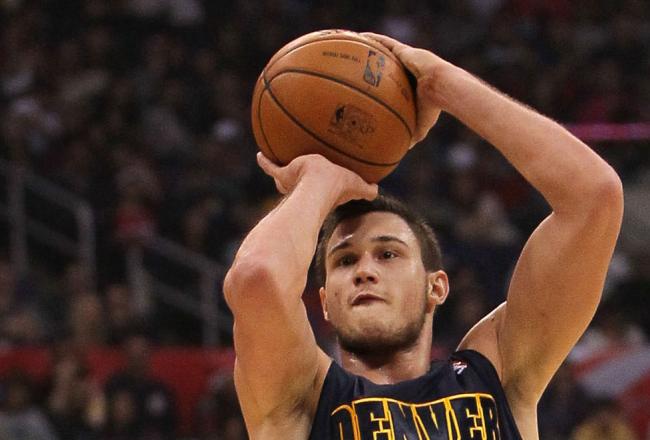 Danilo Gallinari was 1-of-10 from the floor last game against the L.A. Clippers and he's nailed 6-of-10 tonight. Then again, the entire Nuggets team is cooking.
Six Nuggets in double figures, as the lead balloons to 12.
NUGGETS 118, LAKERS 106 — 3:15 Remaining in Game
The Nuggets are 9-of-19 from behind the arc tonight and are just clicking on all cylinders. Danilo Gallinari teed one up to give the Nuggets a 12 point lead, and they are continuing to attack the basket when not launching threes.
If you thought the Lakers' D was bad, it's even worse without Howard on the court. George Karl told the Nuggets to attack the basket with Howard gone.
NUGGETS 113, LAKERS 102 — 5:09 Remaining in Game
Corey Brewer has been a huge difference maker. Brewer drew a charge playing aggressive defense on Metta World Peace. He also has 21 points in 14 minutes of play.
This was the guy that the Minnesota Timberwolves thought they were getting when they spent the No. 7 overall pick on him in 2007.
NUGGETS 104, LAKERS 91 — 8:40 in 4th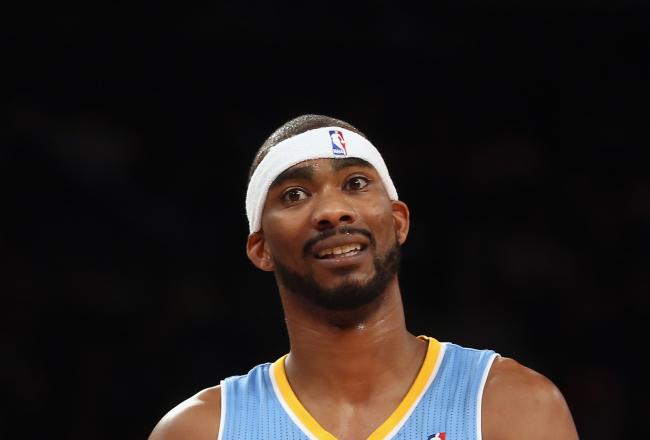 Corey Brewer just hit a momentum builder (or drainer for the Lakers) at the buzzer, to give the Nuggets a nine point lead heading into the fourth quarter.
Brewer has been aggressive (and on fire) all night. 18 points on 6-of-9 shooting (3-of-3 from three) for the swingman from Florida.
NUGGETS 96, LAKERS 87 — End of 3rd
Steve Nash is a perfect 6-of-6 from the floor, including having hit both of his threes. There's little sign of the fact he missed most of the season, and he looks deadly on-point. With Howard hitting the locker room, Nash may have to look for his offense some more.
And why not? He hasn't missed, as we already established.
NUGGETS 88, LAKERS 81 — 2:20 in 3rd
If the rebounding problems weren't bad enough already, the Nuggets should have an even easier time exploiting the Lakers with Dwight Howard gone for the night.
Kenneth Faried could be on his way to a 20-20 game—at least.
NUGGETS 87, LAKERS 78 — 2:49 in 3rd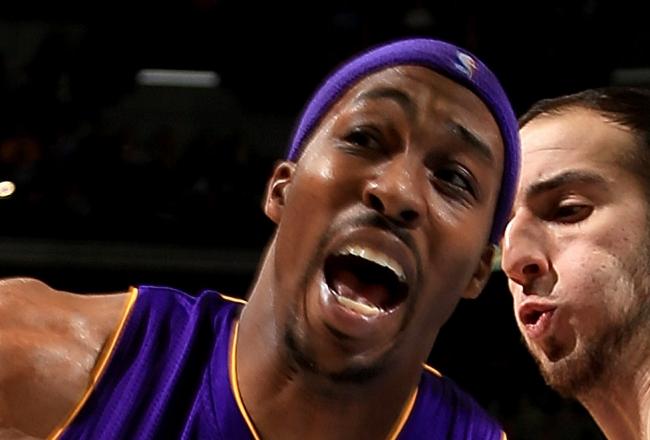 Dwight Howard just committed a dirty foul on Kenneth Faried, who hit the floor hard. Dwight made no play at the ball and it was his fourth foul. The refs are discussing whether it is a flagrant one or a flagrant two, and the hit to Faried was right to the face.
Again: no attempt made at the ball at all.
Faried rose relatively quickly, but that's because he's a Manimal.
And the verdict is in: Flagrant two. See-ya, Dwight.
NUGGETS 79, LAKERS 72 — 5:02 3rd Quarter
There's no doubt at all that when this game is over, the Lakers are going to be reamed for their lack of rebounding. Andre Iguodala joined the offensive rebounding brigade which led to a JaVale McGee turnaround jumper (and subsequent foul), and two free throws.
The Nuggets have 15 offensive rebounds, and everyone that has played has grabbed at least one except for Timofey Mosgov and JaVale McGee.
NUGGETS 76, LAKERS 67 — 5:38 in 3rd
The Nuggets are continuing to push the pace. Ty Lawson went coast-to-coast to get two free throws and put the Nuggets up ten. Lawson may be starting to hit his stride after a rough start to the season. 12 points and 7 assists for Lawson.
NUGGETS 73, LAKERS 60 — 7:51 in 3rd
Kobe Bryant began the first quarter with a nice take to the hole, but the Lakers continued to give up offensive rebounds. Kosta Koufos grabbed another.
Kenneth Faried now has 16 points and 11 rebounds, and could be on his way to a career night.
NUGGETS 62, LAKERS 58 — 9:48 in 3rd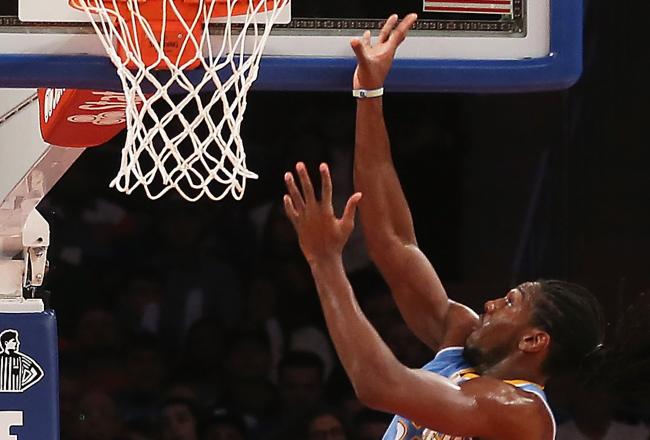 A frenetic first half comes to an end.
Kenneth Faried has been the Manimal that he is and already has a double-double at the half.
Pau Gasol banged a couple of treys in the closing minutes of the half, and has 13 points and four rebounds. So, maybe Pau just got off to a slow start this season, as he is looking more like the Pau Gasol of old right now.
Ty Lawson has been aggressively looking for his offense and has more shots in the game than anyone not named Kobe Bryant, who leads all scorers with 15 points on 5-of-11 shooting.
The Lakers have to start boxing out and keeping Faried and the other Nuggets bigs off the offensive glass, or they just can't win this game. The Nuggets had 13 first half offensive rebounds.
NUGGETS 57, LAKERS 54 — Halftime
Steve Nash picked up his third foul, bringing on more Chris Duhon time, much to the chagrin of Lakers fans. Nash had six points and six assists in 13 minutes of first half action. See ya in the second half, Steve-o.
NUGGETS 51, LAKERS 48 — 3:41 in Half
It's been a game of runs. The Lakers have now reeled off an 8-2 run, which featured a deep 27 foot three by Kobe Bryant with the shot clock running down. Two free throws by Andre Miller ended the bleeding, but Pau Gasol answered back for his second consecutive basket.
NUGGETS 44, LAKERS 42 — 5:44 in Half
Following an Andre Miller/Kosta Koufos pick and roll which resulted in a converted three point play, Corey Brewer got a run out and had a nice dunk to cap off a 5-0 Nuggets run.
Mike D'Antoni didn't like what he saw, and Pau Gasol slipped on a wet spot on the court.
NUGGETS 40, LAKERS 32 — 8:01 2nd Quarter
Pau Gasol just got rewarded for running the court as Jodie Meeks pushed it in transition. Meeks got his shot swatted by Jordan Hamilton and Gasol was there to clean up the garbage.
NUGGETS 35, LAKERS 32 — 8:38 in 2nd Quarter
The Nuggets now have 12 second chance points, and the latest culprit was an Andre Miller offensive rebound which led to a self-appointed post up. Corey Brewer cut to the hole for an easy layup, and Dwight Howard—again—was no where to be found.
NUGGETS 33, LAKERS 30 — 9:28 in 2nd Quarter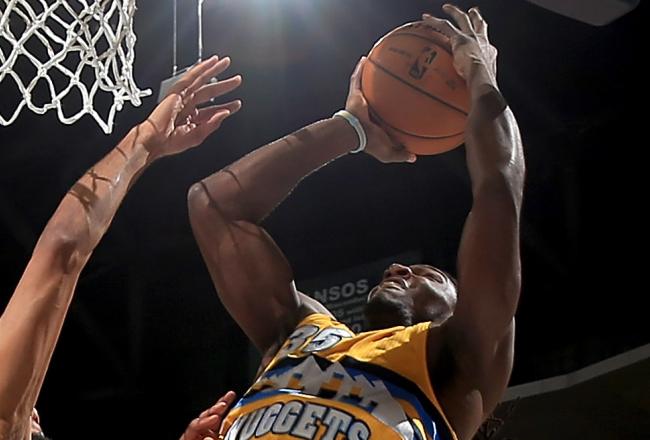 The Nuggets had seven offensive rebounds in the first quarter. Kenneth Faried was the owner of five of those, as Faried already almost has a double-double with 11 points and nine rebounds total. Faried leads all scorers.
NUGGETS 29, LAKERS 26 — End of 1st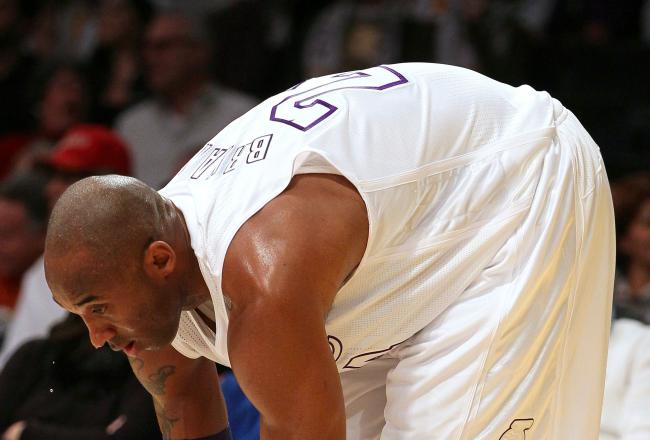 The Lakers just ignited a nice run and took a one point lead, forcing George Karl to call a timeout. Steve Nash and Kobe Bryant have combined for 13 points, and the run began when Dwight Howard hit the bench. Coincidence?
LAKERS 24, NUGGETS 23 — 2:22 in 1st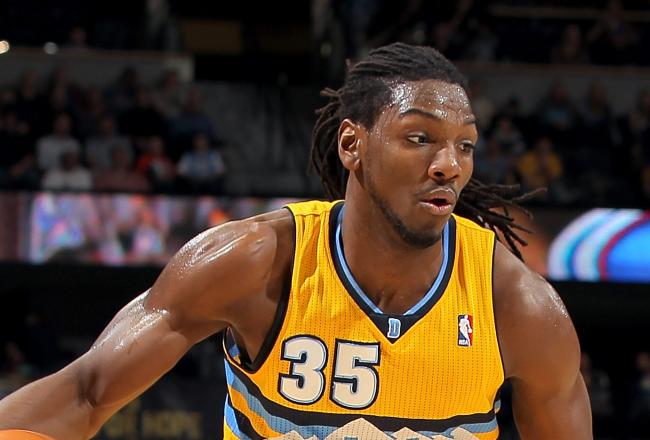 Anyone remember when Dwight Howard used to be an intimidating presence in the paint that made it difficult for teams to penetrate and get good looks?
The Nuggets don't.
It's been a dunk parade, as Kenneth Faried just hammered home a two handed tomahawk. Dwight Howard heads to the bench as Kobe knocks down one of two free throws.
NUGGETS 22, LAKERS 18 — 3:42 1st Quarter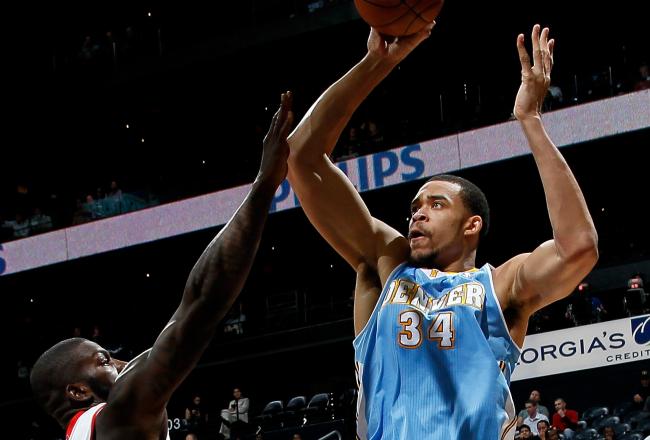 Denver is on an 11-2 run, forcing Mike D'Antoni to call timeout. JaVale McGee has made a quick impact with a couple nice looks, including a powerful dunk. With both Kosta Koufos and McGee playing well, the Nuggets have a very strong interior. That's not even to mention "The Manimal" Kenneth Faried.
NUGGETS 16, LAKERS 9 — 6:03 1st Quarter
JaVale McGee checks into the game and misses what could have been a man's dunk. McGee got the call after Kosta Koufos picked up a second foul early on. Can McGee earn his starting spot back?
NUGGETS 12, LAKERS 8 — 6:54 in 1st Quarter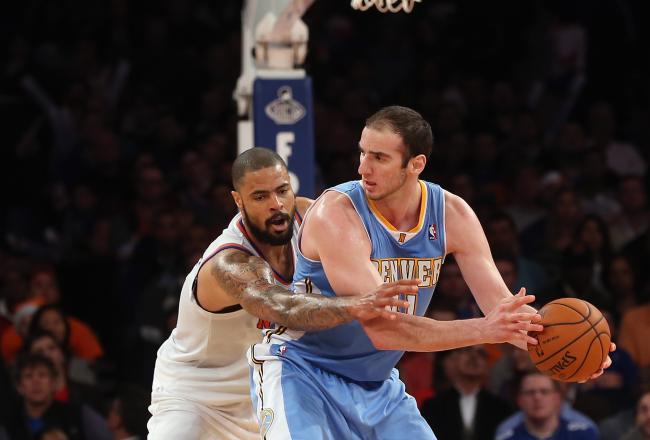 Kosta Koufos scored the first bucket for the Nuggets. Koufos has scored 16 in each of the last two games and is appearing to be a much improved offensive player, despite season averages of just around seven points and six rebounds per game.
LAKERS 7, NUGGETS 5 — 9:08 in 1st Quarter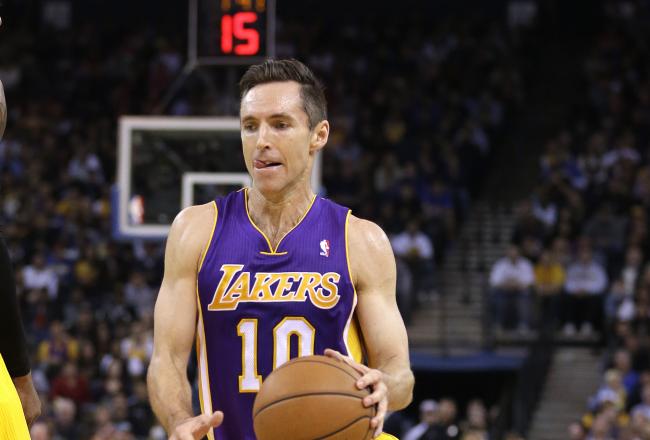 Steve Nash has picked up right where he left off and has seen 37 and 40 minutes in his two games back. Nash is averaging 14 points per game and 10 assists per game since returning from injury, and it's resulted in two Lakers wins. Nash picks up a foul right off the opening tip, and three seconds into the game the refs are already reviewing the opening play.
This article is
What is the duplicate article?
Why is this article offensive?
Where is this article plagiarized from?
Why is this article poorly edited?