Buffalo Bills' 3 Biggest Offseason Decisions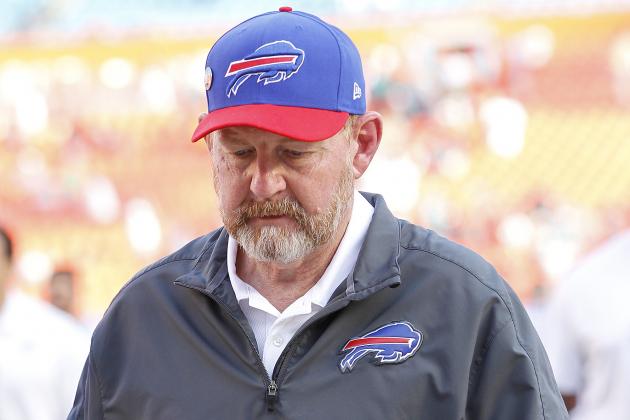 Joel Auerbach/Getty Images

Chan Gailey struts towards the tunnel at Sun Life Stadium in Miami, head down and mind wandering, knowing full well that the onus will fall on him for another season of failed expectations.
Fans of the Buffalo Bills are long accustomed to the mind-defying losses that have piled up in 13 straight playoff-less seasons. The numbness of those losses is never more present as they are now with a usually raucous Ralph Wilson Stadium failing to sell out over the final weeks.
Sunday's finale against the New York Jets is a humorous, but fitting end to the 2012 season for both teams.
Not only will the stadium be at half capacity on the final Sunday of the year, but the game will also be blacked out in local television markets. A result that may have been on the Santa lists for fans of both teams.
Major decisions loom for a Bills franchise that is losing support by the truckload, even with the team agreeing to a 10-year lease agreement with Erie County to keep the team in the area. Coaching and personnel decisions will be top priorities once again in what has been a repeated formula every two or three seasons.
Three tough decisions will fall at the feet of the Bills' brass this offseason and they can not afford to make the wrong choice again.
Begin Slideshow

»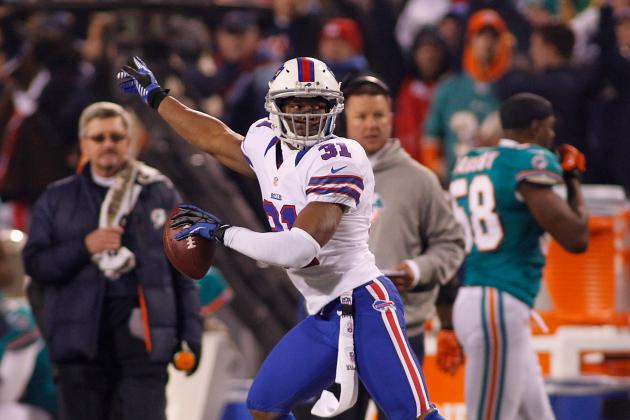 Rick Stewart/Getty Images

It has been a while since the Bills have had to make decisions on the expiring contracts of two Pro Bowl-caliber players.
Jairus Byrd and Andy Levitre were both predictably snubbed on Wednesday night by the joke of a voting system that is currently held in practice by the league. Bills players are often left out of consideration despite outperforming a player or two that does get voted onto the team.
The All-Pro teams should alleviate those gross oversights.
Byrd has been the most steady Bills defender since he was drafted by the team in 2009 and he has taken his game to another level this year. He has four forced fumbles and five interceptions, which is among the league-leaders in each category.
The former Oregon product is reportedly asking for Eric Weddle-type money, which would make him one of the highest-paid safeties in the league. Byrd's playmaking abilities can turn the tides of a game and it is a little disconcerting that Buffalo has not been able to get close to his asking price.
Levitre had his best season as a Buffalo Bill, mostly due to the fact that he was not shifted through different positions on line as he was in past seasons because of injuries to other players.
Also playing in the great state of Oregon in college, as a Beaver, Levitre was selected only nine picks after Byrd. The Bills traded their third- and fourth-round selections that year to get back up into the second round to grab Levitre.
The guard is an important cog to the interior line stability for Buffalo and they may not have as easy a time re-signing him.
Interior lineman have received big pay days during the last few free agency periods and despite fans not giving Levitre the credit he is due, you can bet that other teams have taken notice of his skill set.
Resigning both players is a must if this team wants to start building a contender. Letting one or both go could have a damaging effect on development of the team and the attitude of the fanbase.
The Bills will also have to make decisions on players like Leodis McKelvin, the first-round pick in the same draft which Byrd and Levitre were selected, and defensive end Kyle Moore.
McKelvin has disappointed as a starting cornerback in the NFL, but his return abilities are second to none. If Jacoby Jones hadn't returned three kickoff returns for touchdowns, McKelvin might have gotten a nod for a Pro Bowl bid.
The fourth-year corner played well in the slot this year, but he still makes bad decisions and gambles when in man coverage. Keeping him just for his return skills is a decision that the front office will probably toil through and my guess is that they let the former University of Troy player walk in the offseason.
Moore was a nice surprise after getting picked up from the Lions' practice squad last season. Injuries to Mark Anderson and Chris Kelsay sprung Moore into action opposite Mario Williams on the line.
The 2009 fourth-round draft pick has three sacks on the season, but has not played very well down the stretch.
If Buffalo can find a way to get Moore on a cheap two-year contract with some incentive bonuses built in, then I think it would be worth bringing him back to be a reserve end.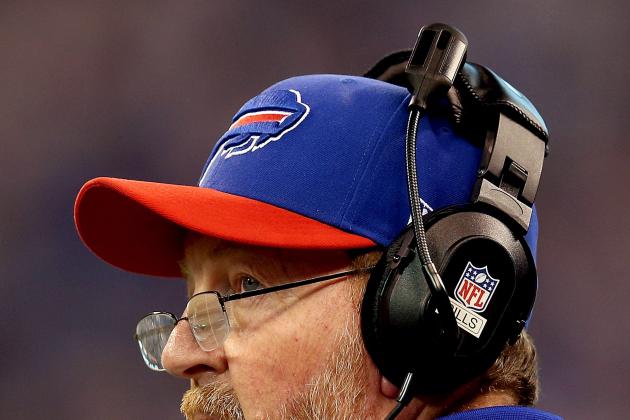 Matthew Stockman/Getty Images

Do you see the look on the face of the man above?
It is a look of being lost. A look of confusion. A look of defeat.
I do not know if Chan Gailey knows that the end is near in Buffalo, but he certainly can't feel good about his chances after guiding the team to a 15-32 record in three seasons at the helm.
If you divide that record out, he has lost two complete seasons worth of games in three years on the job. Could anyone survive such a performance in any other profession?
For Buffalo, the firing or support of Chan Gailey is going to come down to the dollar sign, which is often the case for the small franchise.
Everyone with a tiny hint of football knowledge knows that Gailey deserves to be fired for a variety of factors, including but not limited to: the misuse of C.J. Spiller, not hiring the correct coordinator(s) and sticking with Ryan Fitzpatrick so long.
Don Banks of Sports Illustrated speculates that Gailey will be let go on the dreaded "Black Monday" following the games this upcoming weekend.
Gailey has done a few things well as head coach of the Buffalo Bills, but there are too many things he has botched to warrant being given another opportunity.
The talent should have been enough to win a playoff bid, but instead the team is jockeying for a top-five pick in next April's draft.
Which brings me to my next point.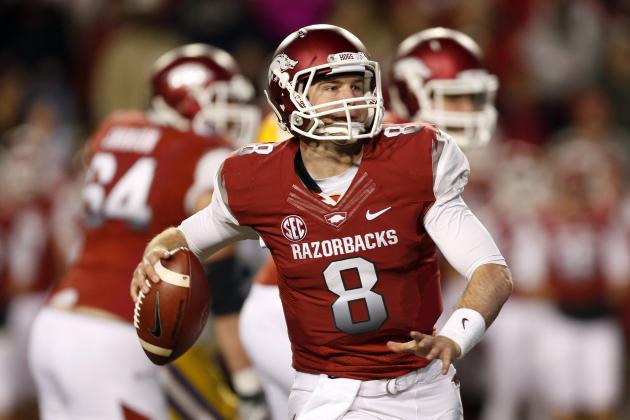 Wesley Hitt/Getty Images

Buffalo currently sits at sixth in draft positioning, but can rise as high as fourth if a lot of things happen this weekend. A draft pick percentage calculator has the Bills most likely receiving the fifth or eighth picks.
Unfortunately for Buffalo, they have the New York Jets in town on Sunday, which would be the perfect situation to ruin their draft stock by winning the game.
It is no secret that I have been blazing the Manti Te'o trail since the midseason point, assuming that the Bills will even have a shot at him. At the current spot, Te'o should fall into their laps, but anything further and he could be long gone.
After Te'o, Buffalo would likely focus their attention to the best-player-available tactic or take a risk on a quarterback.
As mentioned in the Don Banks article which was linked on the last slide, Buddy Nix has come out and said that he desperately wants to draft a quarterback.
The word desperately should worry Bills fans because Buffalo may be thinking about reaching on a player that they could get later in the draft.
Tyler Wilson, Mike Glennon or Ryan Nassib are all players I could see Nix taking a chance on, but only Wilson will likely garner a first-round grade. Even still, Buffalo should focus their attention on other players that would represent better value.
A receiver is also a huge priority and I can see Buffalo using their first three picks to grab some combination of receiver, quarterback and inside linebacker.
There is not a Dez Bryant or A.J. Green type of draft pick in this first round, but Keenan Allen and Terrance Williams are both players that could interest Buffalo in trading back into the back half of the round.
The Bills need a true No. 1 receiver, so they can move Steve Johnson into a slot position where he can have more freedom to get open.