2012 Little Caesars Bowl: Central Michigan vs WKU Live Scores, Analysis, Results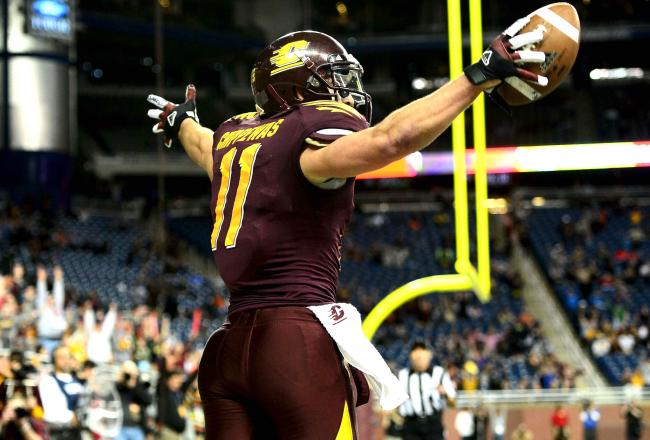 Final Score - CMU 24, WKU 21
The Western Kentucky Hilltoppers were unable to stop the Central Michigan Chippewas passing attack and fell 24-21 to the hometown team in the 2012 Little Caesars Pizza Bowl at Ford Field in Detroit, Mich.
Senior quarterback Ryan Radcliff completed 19-of-29 pass attempts for 253 yards and three touchdowns in the victory, while junior running back Zurlon Tipton racked up 103 rushing yards on 23 carries.
The Hilltoppers were led by junior running back Antonio Andrews, who finished the game with 180 all-purpose yards, which is well below his season average of 248 yards per contest.
After the Chippewas took the regained the lead with 5:11 remaining in the fourth quarter, Western Kentucky drove all the way down to Central Michigan's 19-yard line and opted to go for it on fourth-and-two rather than attempt a game-tying field goal.
Senior quarterback Kuwaun Jakes could not connect with senior tight end Jack Doyle, and the Chippewas ran out the clock for their third bowl win in school history.
Be sure to check out the game grades for each of the position groups from this bowl game as well.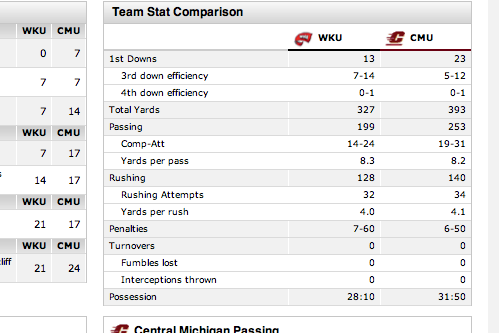 Final stats per ESPN.com.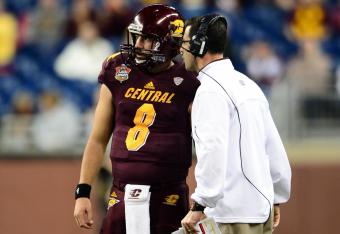 Central Michigan won because it had the most efficient quarterback. Ryan Radcliff threw for 253 yards and three touchdowns, while Zurlon Tipton did enough on the ground to keep Western Kentucky's defense honest.
The Chippewas were able to contain Antonio Andrews and helped the MAC improve to 1-2 in bowl games this year.
Dan Enos' rebuilding project will get a shot in the arm heading into next season thanks to the postseason victory, and the Chippewas will look to build off of a 7-6 effort in 2013.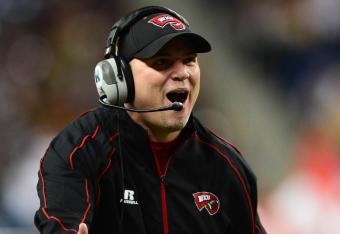 The Hilltoppers put forth a great effort in their bowl debut, and played to win the game in the final minutes rather than attempt a game-tying field goal, which is exactly the kind of football Western Kentucky played all year long.
Central Michigan simply had an answer for Antonio Andrews and forced Kuwaun Jakes to beat them through the air. The senior quarterback could not burn the Chippewas enough times to pull out a victory at Ford Field.
Going forward, the Hilltoppers should have an explosive offense with Andrews returning and new head coach Bobby Petrino coming in. Defense has never been Petrino's specialty, though, so it will be interesting to see what happens to the No. 1 ranked unit in the Sun Belt Conference next season.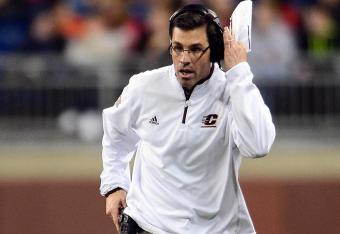 CMU takes two knees and the game is over.
CMU improves to 7-6 on the year, while the Hilltoppers fall to 7-6 and are unable to win their bowl debut.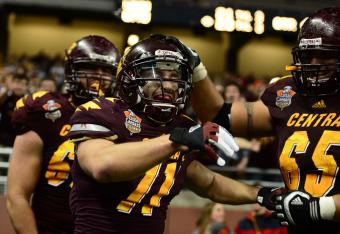 Incomplete pass! Jakes had Doyle open along the sideline, but he could not hang on. Jakes made a perfect pass over the safety and Doyle couldn't quite get a firm grip on the pass.
CMU takes over and the game will likely be over since WKU only has two timeouts left.
I'm with Nick. Play to win:
Go for itttttttttttttttttttttt

— Nick Baumgardner (@nickbaumgardner) December 27, 2012
Fourth-and-two coming up. WKU is going to take a timeout and think about this one.
McNeal comes up big again. WKU inside the CMU 30-yard line and it is letting the clock run to prevent the Chippewas from getting the ball back with enough time to win if the Hilltoppers are able to score.
Jakes hits McNeal for a big gain, but Anthony Young jars the ball loose. Fortunately, Vasquez got there in time to recover.
WKU's hopes at winning its first bowl game are still alive.
Big third-and-short coming up for WKU:
Kawaun Jakes, senior quarterback, now given the opportunity to cement his legacy. It's now or never for the Hilltoppers.

— Chad Bishop (@MrChadBishop) December 27, 2012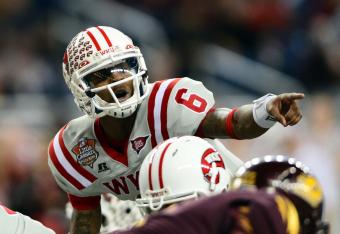 WKU needs Andrews to get it going on the ground and for Jakes to hit a few big passes on its upcoming drive.
Touchdown CMU! CMU 24, WKU 21 - 5:11 4th Quarter
Wilson goes over 100 yards receiving with that 11-yard touchdown reception. CMU retakes the lead.
This is where CMU got bogged down last time. The Chippewas need to spread out WKU's defense, because the Hilltoppers can shut down the run with ease in the red zone.
Correction on that last post: CMU takes over at the 26-yard line. Two pass interference penalties move the Chippewas to the WKU nine-yard line.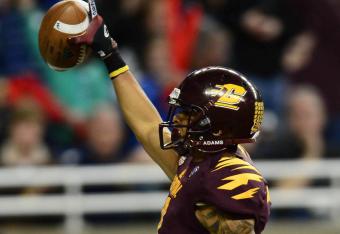 A low snap allows the Chippewas to get a hand on the punt and CMU will take over with great field position.
First down Chippewas at the WKU 17-yard line.
The Hilltoppers are really handcuffed with this field position. Third down coming up and this is going to be a dangerous play for WKU.
The ruling on the field is overturned. No touchdown. WKU ball at its own one-yard line.
Touchdown #Chips being reviewed Guidry screamed for that TO. He looks short from here. #LCPB

— Little Caesars Bowl (@LCPizzaBowl) December 27, 2012
Touchdown CMU! CMU 23, WKU 21 - 9:21 4th Quarter
Tipton runs right behind Eric Fisher for a touchdown. Western Kentucky challenging the play, though, and the sideline reacted like Titpon was down when the first replay went up on the video board.
Decision time. Fourth-and-goal from the one-yard line coming up. CMU is going for it.
Tipton nearly slipped away from the WKU defense, but the Hilltoppers did a nice job of gang tackling after the first missed tackle.
Third and goal coming up.
Freshman running back Saylor Lavalli picks up 26 yards after breaking a tackle in the backfield. First and goal Chippewas.
Backed up to the 34-yard line after an illegal formation penalty:
Chips down to the WKU 29.

— Chad Bishop (@MrChadBishop) December 27, 2012
No surprise that a majority of CMU's runs have been off of the left side since its future first round draft pick is blocking there.
This article is
What is the duplicate article?
Why is this article offensive?
Where is this article plagiarized from?
Why is this article poorly edited?