New York Giants: 5 Reasons to Watch Week 17 Matchup with Philadelphia Eagles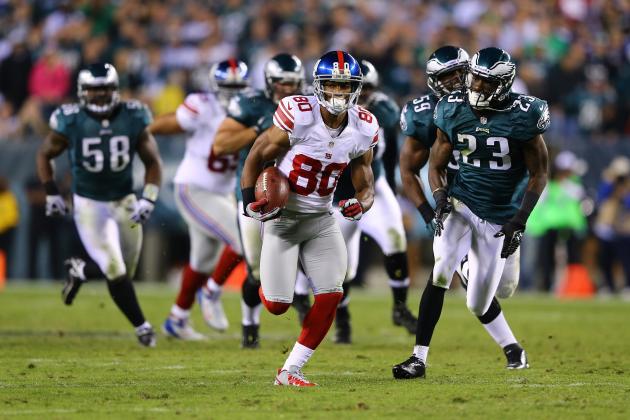 Al Bello/Getty Images
WR Victor Cruz escapes a pack of Eagles in Week 4.
There's no way around it—the New York Giants have been extremely disappointing since their Week 15 beatdown of the New Orleans Saints. They have been outscored 67-14 in the two games since their last win, and now, the battered New York squad is preparing to host the hapless Philadelphia Eagles in Week 17.
With an 8-7 record, Tom Coughlin's team can produce a nine-win regular season at best. At the season's midpoint, the Giants sported a 6-2 record, but they have since dropped five of their last seven matchups.
Understandably, some Giants fans won't be tuning in to watch their team's Week 17 battle with its division rival. After all, the playoff chances are slim, and the last two games have been flat-out painful to watch.
However, this Sunday's Giants vs. Eagles matchup should be a must-watch for New York fans. This slideshow will explain why.
Begin Slideshow

»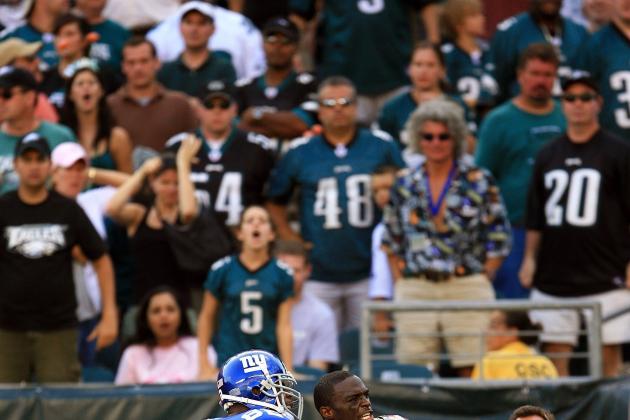 Jamie Squire/Getty Images
WR Plaxico Burress capped off the Giants' incredible comeback victory over Philly in '06 with a TD grab in OT.
There is an unmatched, deep-seated hatred between the New York Giants and Philadelphia Eagles dating back to 1933 when the two squads first met. The Giants took that contest by a score of 56-0, and every get-together since then has been a bloodbath.
The two cities, separated by less than 100 miles, despise each other's respective football team, as the Giants and Eagles have consistently met twice a year since the formation of the NFC East division in 1970. The Giants currently lead the all-time series versus Philadelphia, sporting a record of 83-76-2 (via Pro Football Reference).
However, as of late, the Eagles have dominated the rivalry. Since December 2008, New York has only emerged victorious once, while Philadelphia has claimed the other eight matchups.
These two teams have produced several of professional football's most memorable moments. Whenever they meet, you can throw away the records, because it's guaranteed to be a dogfight.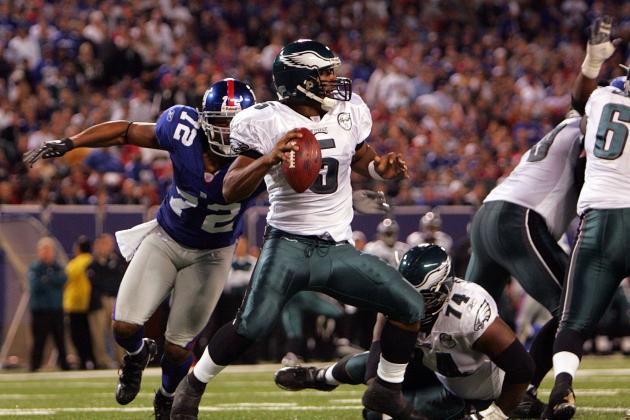 Nick Laham/Getty Images
DE Osi Umenyiora sacked Donovan McNabb 6 times in one game in '07.
Earlier this week, Giants defensive end Osi Umenyiora claimed that this Sunday could be his final game with Big Blue. In fact, he said it's a "high probability."
After countless contract squabbles and loudmouth remarks over the years, many Giants fans will be happy to part ways with Umenyiora. Those fans should pause for a moment to understand the magnitude of what may potentially be the pass rusher's final push in New York.
Umenyiora, a 10-year veteran, is one of two holdovers from the Jim Fassel era (the other is tackle David Diehl). Drafted by former general manager Ernie Accorsi in 2003 out of Troy, Umenyiora has made a living with the Giants by striking fear in opposing quarterbacks.
Manning the blind side at right defensive end, Umenyiora has collected 75 sacks in his career to date. In addition, he has recorded 32 forced fumbles and 13 fumble recoveries. He even scored three touchdowns during his tenure in New York.
Umenyiora made the Pro Bowl in 2005 and 2007 and was honored with an All-Pro selection in '05 as well. He has been one of the Giants' biggest difference-makers on defense for the past decade.
Hopefully, if this Sunday proves to be Umenyiora's last game with New York, he will show shades of the six-sack performance he had against Philadelphia on Sep. 30, 2007.
Streeter Lecka/Getty Images
A few crazy New York Giants fans.
Since the team's founding in 1925, the Mara family—and the Tisch family since 1991—have done everything in their power to provide the New York fanbase with a highly competitive football squad. All they ask for in return is loyalty and devotion.
For the most part, the owners have pulled through on their end of the bargain. With the exception of the forgettable decade (1970s), the Giants have historically been considered the class of the NFL.
The Giants have reached the Super Bowl five times—only four NFL franchises have appeared in more: the Pittsburgh Steelers (eight), Dallas Cowboys (eight), New England Patriots (seven) and Denver Broncos (six).
In the process, New York has claimed four Lombardi Trophies, including two in the past five years. The franchise also has four NFL championships to its name (1927, 1934, 1938 and 1956).
Sure, the Giants aren't having one of their most historic seasons in 2012, but the fans should still feel prideful of the organization as they watch the team square off with the Eagles in the final week of the season.
The Giants may have lost control of the NFC East race with their Week 15 loss to Atlanta and subsequently lost control of their playoff destiny with a loss to Baltimore in Week 16, but—believe it or not—the Giants' postseason hopes are still not completely squashed.
With a win on Sunday and a little bit of help, the Giants can make the playoffs for the sixth time during the Coughlin regime. In addition to a win over the Eagles, the Giants need Dallas, Minnesota and Chicago all to lose in order to secure a playoff spot.
Given the way New York has played lately, picking up a win against even the lowly Eagles may end up being a struggle. Dallas and Minnesota losses are both likely, as those two teams are underdogs to Washington and Green Bay, respectively. A Chicago loss will be far less likely, though, since they will be taking on the floundering Detroit Lions.
It's not a great position to be in, but the odds are certainly greater than one out of a million.
Cue Lloyd Christmas.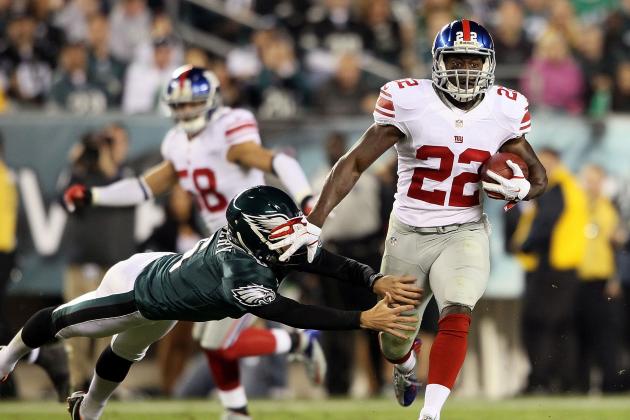 Alex Trautwig/Getty Images
RB/KR David Wilson had a big day against the Eagles in Week 4.
If for nothing else, Giants fans should tune in for the 1 p.m. start on Sunday to catch a glimpse of the future. With little to lose, New York should finally unleash its young guns, giving Giants fans the satisfaction they've been denied for almost the entire 2012 season.
Rookie running back David Wilson has experienced an increased workload in the games since his breakout performance against the Saints. With veteran Ahmad Bradshaw's health deteriorating down the stretch, Coughlin should try to put the ball in Wilson's hands close to 20 times against the Eagles.
Rookie wide receiver Rueben Randle is in the same boat. The Giants have utilized his talent sparingly in 2012, but he has the physical ability to become one of New York's top receivers in seasons to come. He caught a 43-yard bomb against the Ravens last week; hopefully, we'll see a little more of him versus Philadelphia.
The Giants may undergo a defensive shake-up this offseason, as several veteran defenders have underperformed in 2012. Keep an eye out for youngsters like Prince Amukamara, Jacquian Williams and Will Hill, who may land pivotal responsibilities in future seasons.