Ty Isaac vs. Derrick Green: Breaking Down Which 5-Star RB Is Better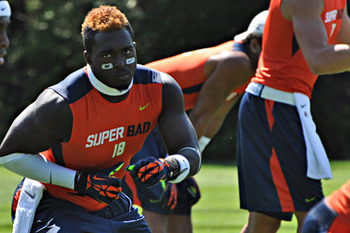 247Sports.com
As we continue our evaluation series of breaking down two recruits into scouting positional categories, evaluating them and drawing a conclusion on who's the better player, here's the newest edition.
Today, we'll look at two of the best RBs in the country this year in Ty Issac and Derrick Green. Both backs are great prospects and have a good chance to make an early impact in college. Yet they get it done in contrasting styles.
Isaac, from Illinois, has his way of doing things, while the Virginia-native Green has his own way. Let's break them down and see who's better!
Size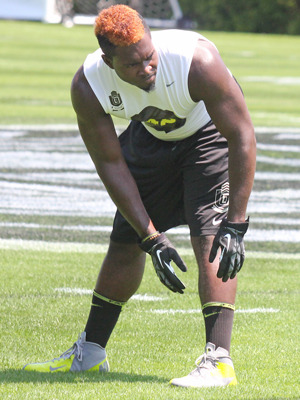 247Sports.com
Isaac:
Isaac is between 6'2" and 6'3" and weighs from 215-220 pounds right now. He has a tall frame, with some bulk, and he could easily fill out to 230 pounds at USC. With his height and growing bulk, you have to dig his size.
Green:
Green goes 6'0" and weighs about 220-pounds. He has an extremely thick frame that is solid and mature. Getting into the 235-240 pound range is likely for him in college. I love Green's size and frame.
Advantage: Green
Vision and Instincts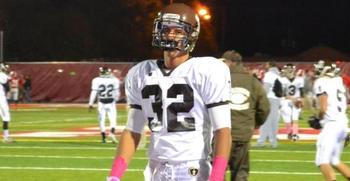 247Sports.com
Isaac:
Isaac shows excellent patience and a natural feel for reading blocks. He's a back that runs with good vision, awareness and shows the knack for reading front seven alignments well. He can trick linebackers and keeps tabs on where defenders are at all times when he has the ball.
Green:
Green is more of a no-nonsense type of runner who knows he has the size, strength and downhill speed to attack defenders. This style puts less emphasis on natural vision and patience. Yet, Green does show flashes of understanding how to read blocks.
Advantage: Isaac
Change of Direction Skills, Quickness and Elusiveness with the Ball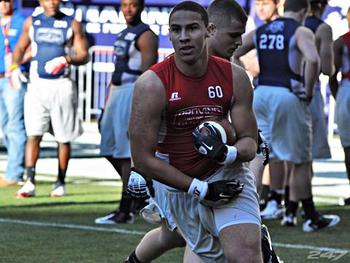 247Sports.com
Isaac:
For a back of Isaac's size, he's impressive in this category. He shows very good change of direction ability, agility and quickness. Isaac has a burst to and through holes, can dodge laterally and can slip defenders with solid elusiveness within the first two levels of a defense.
Green:
Showing solid quickness through alleys, Green can come downhill hard. A tank-line runner, he will elude when he can, but this isn't his strong point. He won't make many miss in college, but I don't think he prefers that method.
Advantage: Isaac
Strength, Tackle Breaking and Yards After Contact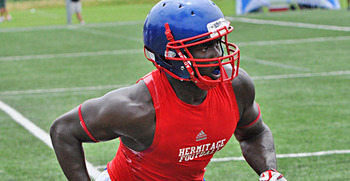 247Sports.com
Isaac:
Showing improving strength, Isaac's frame helps his tackle-breaking ability. He runs hard consistently and he can pop defenders and escape their wrap ups and move after contact. His tall frame forces him upright at times, but Isaac has developed more strength and can exploit leaking yardage tacklers.
Green:
This is what makes Green such a wonderful runner. He has excellent power, and if you notch a solo tackle on him head up, consider that a huge honor. Green runs strong, stout, powerful and hard. He's arguably the best "power" runner in the country, and just because you make contact with him doesn't mean the play is over.
Advantage: Green
Speed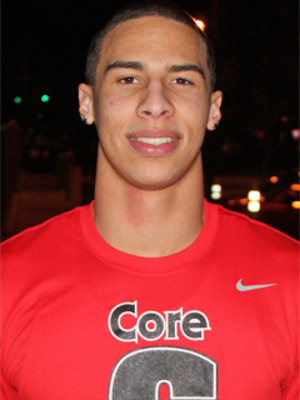 247Sports.com
Isaac:
Isaac has very good play speed and can hustle up field to rip off long runs. His burst is pretty sharp, and he's a solid threat to eat up a large chunk of yards when out of the flush. Isaac has good long speed and his motor can allow him to pull away from defenders every now and then.
Green:
Speed running isn't Green's strong point, but this guy is not slow by any means. His burst can be surprising to defenses because he's such a thickly built runner. If he gets going in the open field, the big man can jolt to big yardage.
Advantage: Isaac
Hands and Ability to Factor in the Passing Game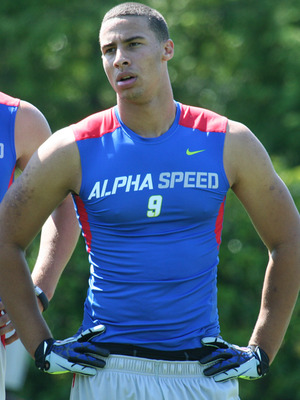 247Sports.com
Isaac:
This is the area where I think Isaac separates himself from many backs around the country this year. I've seen him line up and run routes like a WR, showing natural ball skills. He can and should be a big weapon in the USC passing game as his career wears on.
Green:
Not to be outdone, Green has solid hands in his own right. He lacks the all-around receiving talent and versatility that Isaac has, but he can catch swings, flats, screens and check-downs well.
Advantage: Isaac
Blocking/Blitz Pick Up
247Sports.com
Isaac:
Isaac's strength isn't where it should be yet, and college linebackers will be able to rock him back at the point of attack when he picks them up while blitzing. His frame and athleticism will allow him to help block in space when asked, but Isaac must get college-ready to pick up the blitz.
Green:
Green has the frame and strength to become a great blitz protector. Once he learns better technique and hand use, he'll be able to stand up blitzing 'backers and give his QB good protection.
Advantage: Green
Conclusion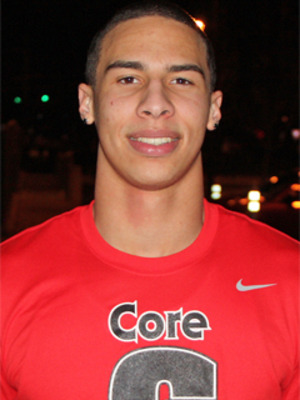 247Sports.com
The back that I like and prefer is Ty Isaac. I grade him higher than Green and I really dig his size, good speed, quickness and love his receiving skills.
Green should also be a good, starting-caliber, college runner in his own right. His thick frame, outstanding run strength, deceptive speed and quickness will be a hit.
Just for me, the back that I think is better is Isaac.
Edwin Weathersby is the College Football Recruiting Analyst for Bleacher Report. He has worked in scouting/player personnel departments for three professional football teams, including the New York Giants, Cleveland Browns and the Las Vegas Gladiators of the Arena League. He spent a year evaluating prep prospects and writing specific recruiting and scouting content articles for Student Sports Football (formerly ESPN Rise-HS). A syndicated scout and writer, he's also contributed to WeAreSC.com, GatorBait.net and Diamonds in the Rough Inc., a College Football and NFL Draft magazine.
Keep Reading