UFC: Power Ranking the 30 Best Knockout of the Night Performances in UFC History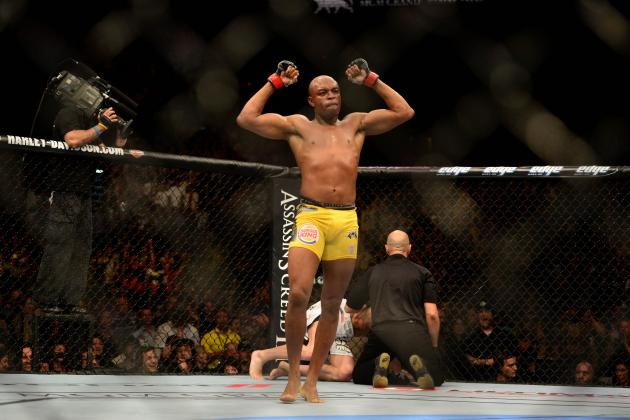 Mark J. Rebilas-USA TODAY Sports

Nothing quite compares to the power and allure of a vicious knockout.
It's a macabre scene—one man bludgeons another man's skull to the point of unconsciousness—but there is just something so captivating about such a moment.
It is as beautiful as it is violent, and a well-executed knockout enthralls fans like nothing else.
In honor of the best brain-jarring moments in UFC history, I present the 30 best Knockout of the Night performances.
Start the slideshow, and watch your head for the ride's duration.
Note: The Knockout of the Night award was first given at The Ultimate Fighter 3 Finale. Therefore, no knockouts before this date were considered for the list.
Note #2: Due to Zuffa's copyright regulations, I removed the gifs from the article. I realize this makes the article nearly worthless, but what can you do? If you Google Image search "Name vs. Name gif," they will show up.
Begin Slideshow

»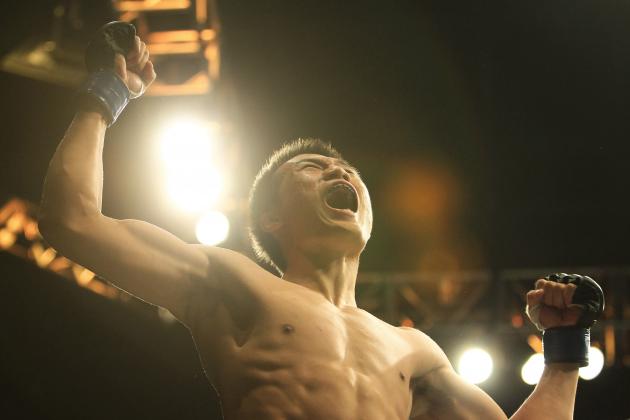 Tom Szczerbowski-USA TODAY Sports

With only 30 spots reserved for the best of the best, some absolutely remarkable knockouts had to miss the cut.
They don't go unnoticed in my eyes, though, and the following is a list (in no particular order) of close calls for your enjoyment.
Yes, it's a bit lengthy, but each knockout is awesome and worth a look before we get to the meat of our list.
Chan Sung Jung vs. Mark Hominick
Chris Weidman vs. Mark Munoz
Justin Lawrence vs. John Cofer
Anthony Pettis vs. Joe Lauzon
Siyar Bahadurzada vs. Paulo Thiago
Donald Cerrone vs. Melvin Guillard
Jeremy Stephens vs. Rafael dos Anjos
Junior dos Santos vs. Fabricio Werdum
Mike Swick vs. DaMarques Johnson
Quinton "Rampage" Jackson vs. Chuck Liddell
James Irvin vs. Houston Alexander
Erik Koch vs. Raphael Assunção
Cain Velasquez vs. Antonio Rodrigo Nogueira
Nate Marquardt vs. Demian Maia
Anthony Johnson vs. Kevin Burns
Lavar Johnson vs. Joey Beltran
Patrick Cote vs. Kendall Grove
Those get your blood pumping? Continue on for our top-30 in UFC history.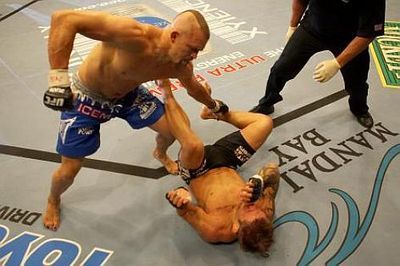 CREDIT: fighttimes.com
Widely considered one of the premier knockout artists in UFC history, it may come as a surprise to most that Chuck "The Iceman" Liddell only has one Knockout of the Night award to his credit.
In his defense, most of his prime was spent when no such award existed, so he was a victim of poor timing where that is concerned (although I must say, Mr. Liddell did just fine without the extra bonus money).
At UFC 62, Liddell notched his lone Knockout of the Night with an impressive stoppage over Renato "Babalu" Sobral.
With the knockout, Liddell defended his Light Heavyweight championship strap and proved once again that he was the baddest 205'er on the planet.
As a disclaimer, this is not my favorite knockout, nor do I think it is among the 30 most impressive in UFC history, but Liddell's services deserve recognition, and this is his only eligible performance.
Because of this, "The Iceman" kicks off our list at No. 30.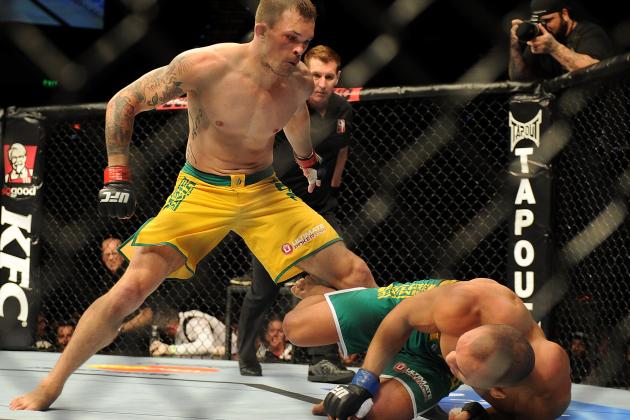 Matt Roberts/Getty Images

Australian The Ultimate Fighter: The Smashes teammates Ben Alloway and Manuel Rodriguez may have become close friends throughout the show's duration, but if they did, no camaraderie was evident in this matchup.
Rodriguez worked Alloway to the ground early and came close to sinking in a rear-naked choke, but Alloway got back to his feet, where he found his groove.
After a kick to the groin dropped Rodriguez in pain, prompting the referee to awkwardly call the fight, realize his mistake and then restart the fight, Alloway threw a push kick to keep his foe at bay.
The catch?
Rodriguez changed levels at the most imperfect time possible, and Alloway's kick caught him square on the jaw, knocking him unconscious.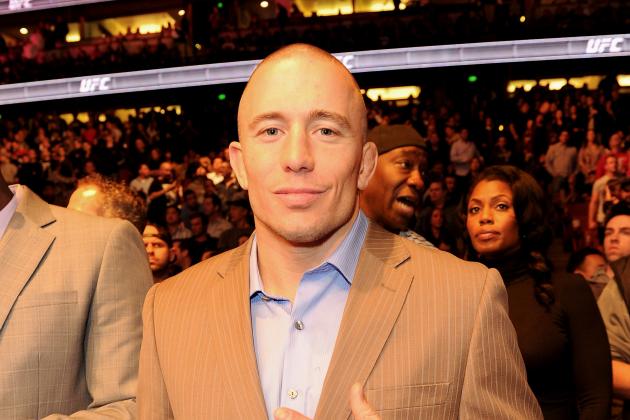 Jason Merritt/Getty Images

Welterweight king Georges St-Pierre captured the UFC's 170-pound belt in dramatic fashion against rival Matt Hughes at UFC 65.
St-Pierre caught Hughes with a ferocious head kick and promptly finished his work with some nasty elbows from Hughes' guard.
To this day, this stands as my favorite GSP moment, and it reminds us, if only briefly, how capable he is as a finisher inside the Octagon.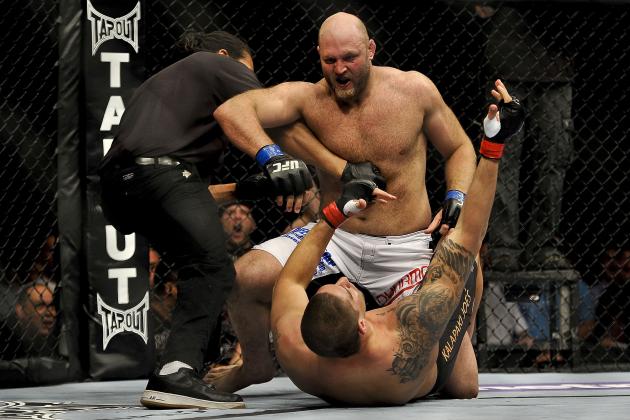 Paul Abell-USA TODAY Sports

At UFC 145, Ben Rothwell needed a big-time win.
He was 1-2 during his UFC stint, and many people questioned his conditioning after a horrendous unanimous decision loss to Mark Hunt at UFC 135.
Rothwell came into his bout against Brendan Schaub looking leaner and meaner than ever, and this paid off for him in a big way.
Rothwell rocked Schaub early in the first round and finished the former The Ultimate Fighter finalist with pinpoint punches on the ground.
What is more awesome about this, however, is Schaub's unconscious self. It's brutal to poke fun at somebody's misfortune, but...
HOW DO YOU NOT LAUGH AT SOMEBODY GRAPPLING INVISIBLE BUTTERFLIES?!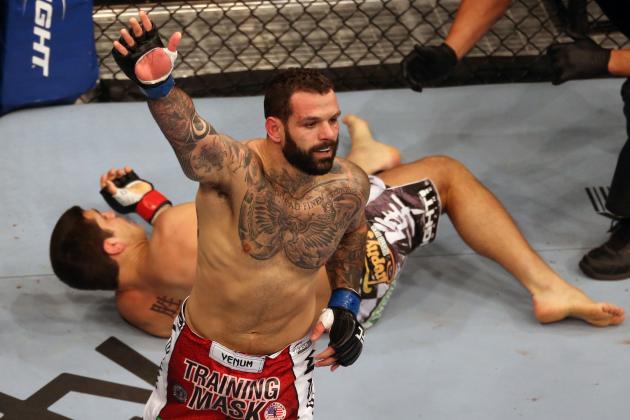 Tom Szczerbowski-USA TODAY Sports

Like Rothwell vs. Schaub, I like this knockout more because of the victim's reaction than the knockout itself.
Don't get me wrong, Sakara's kick was nice, but Vedepo's delayed, spaghetti-legged reaction is classic.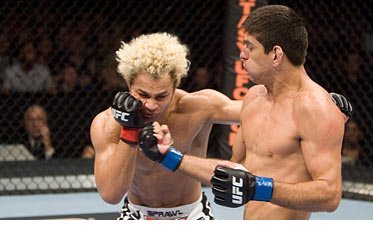 CREDIT: mmafighting.com
When Josh Koscheck met UFC newcomer Paulo Thiago at UFC 95, fans expected a knockout...by Koscheck.
What we got instead was a hellacious uppercut from the Brazilian that sent Koscheck and his Q-tip head tumbling to the canvas in dramatic fashion.
Koscheck may have found more success since this fight, but Thiago's uppercut will forever dominate UFC highlight reels.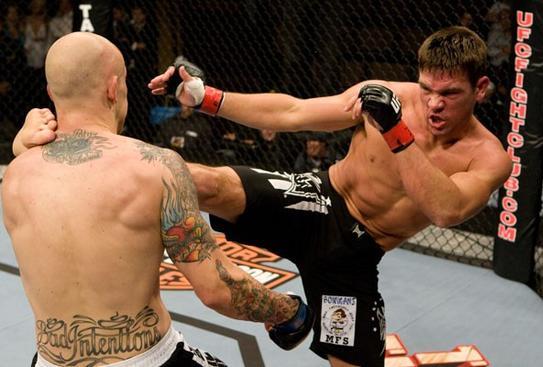 CREDIT: cagepotato.com
Rory Markham and Brodie Farber are long past their UFC days, but this picture-perfect head kick will live forever in the Zuffa vault of past highlights.
Go ahead and and watch that one a few times.
Beautiful, ain't it?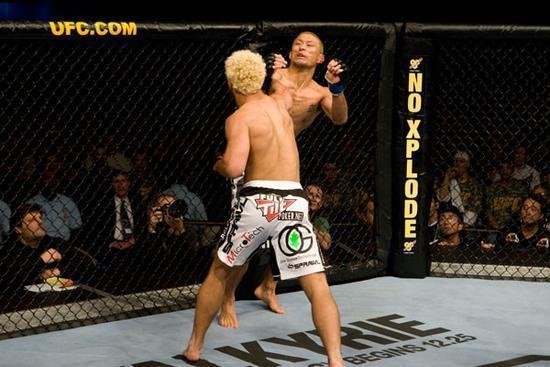 CREDIT: fanpop.com
This classic knockout is a big reason why fans and critics expected Josh Koscheck to steamroll Paulo Thiago at UFC 95 (of course, we just saw how that went...).
Koscheck was riding high after his right hand decimated Yoshida at UFC: Fight for the Troops, and he had every right to celebrate his success.
While this knockout was sensational, it also created the punch-first, wrestle-second Koscheck that we know today, and it has arguably hampered him in bouts where he constantly looked for his huge overhand right rather than mixing up his attack and relying on his world-class grappling skills.
Regardless of your opinion on the matter, this knockout rules.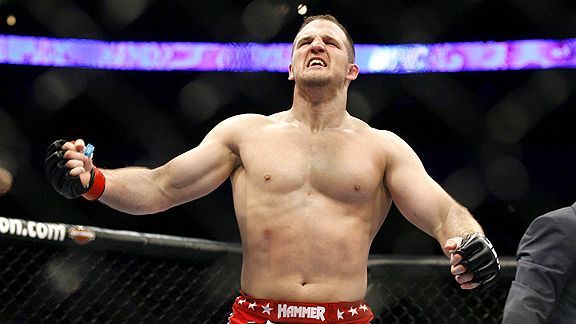 CREDIT: espn.go.com
If you told me Matt Hamill would pencil his name into UFC lore with one of the sport's most brutal head kick knockouts to date, I would laugh directly in your face.
Mr. Hamill, I can't believe you did this, but you did, and I thank you for it.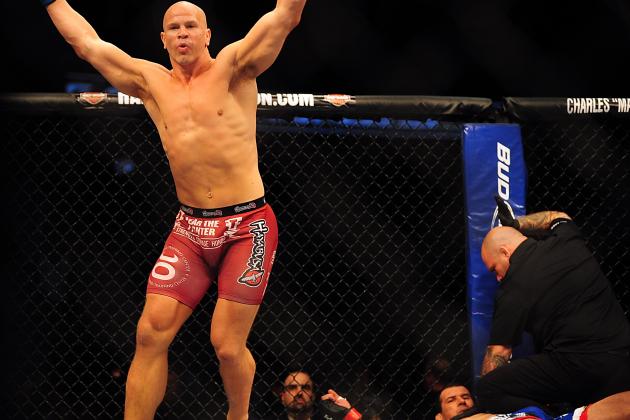 Anne-Marie Sorvin-USA TODAY Sports

Everybody loves a super quick performance (except my ex-wife).
At UFC 149, Ryan Jimmo needed only seven seconds to dispose of his opponent, Anthony Perosh, and for this remarkable quickie, Jimmo comes in at No. 21 on our list.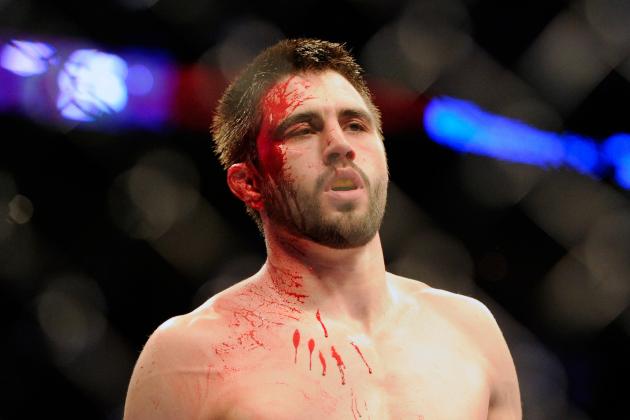 Eric Bolte-USA TODAY Sports

No, he didn't fight them at the same time, silly!
Vicious welterweight Carlos "The Natural Born Killer" Condit has earned two Knockout of the Night awards in his UFC career, and I just could not choose between them.
On one hand, you have the perfect left hook he unleashed on British standout Dan Hardy.
But then there is the flying knee/ground and pound combination of doom that crushed South Korean grappler Kim Dong-Hyun in devastating fashion.
Decisions, decisions...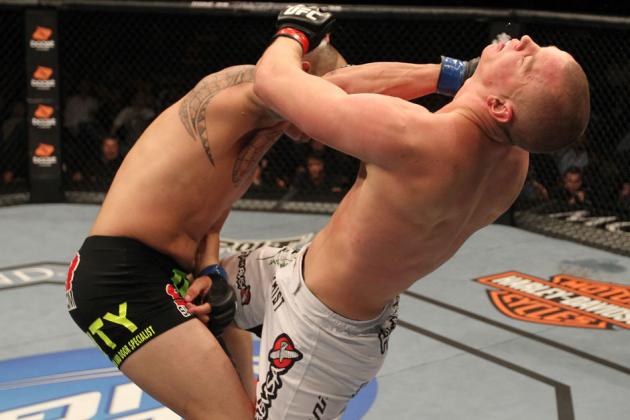 CREDIT: fightstylez.com
UFC 130 saw Travis Browne unleash the best superman punch in promotional history on lanky heavyweight Stefan Struve.
Struve's body bends at a gruesome angle en route to an impromptu naptime, and for that, Browne earns a cushy No. 19 spot on our list.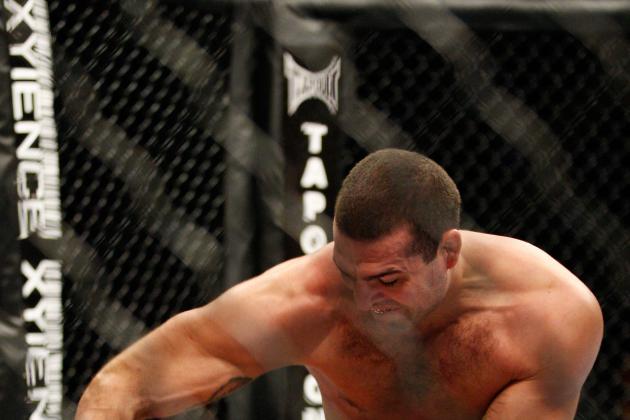 Richard Wolowicz/Getty Images

There is a saying in basketball that was popularized by Rasheed Wallace that simply states, "the ball don't lie."
This means that whenever a player feels he or she was unjustly called for a foul, the upcoming foul shot will prove the call's validity.
If the player makes the shot, the referee made the right call; if the player misses, the foul was bogus.
If an MMA equivalent of this theory exists, it was put on display for the world to see at UFC 113 when Mauricio "Shogun" Rua and Lyoto "The Dragon" Machida squared off for a second time inside the Octagon.
Their first matchup at UFC 104 saw Machida take home a hotly-contested decision victory, and many felt that "Shogun" deserved the judges' nod.
There are no balls in MMA (don't go there), but the "ball didn't lie" in this case, as "Shogun" brutalized Machida with a vicious right hand and captured the UFC strap.
Rasheed would be proud.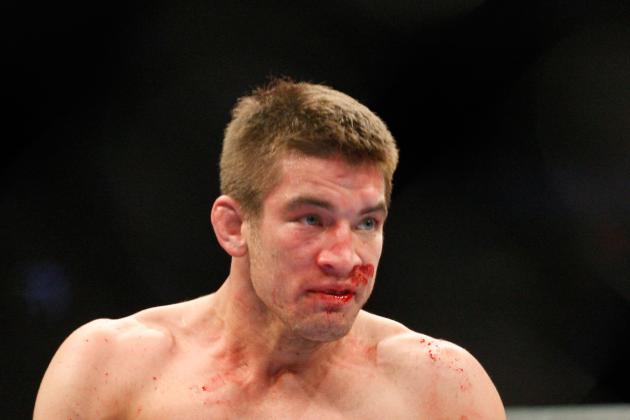 Richard Wolowicz/Getty Images

This is one of those knockouts that you just can't unsee.
At UFC 131, Sam Stout clipped Yves Edwards with a perfect punch that sent the Thugjitsu master to the ground in scary fashion.
Edwards eventually left the cage with help from the ringside doctors, but no one will ever forget the tense moments when Edwards was out cold.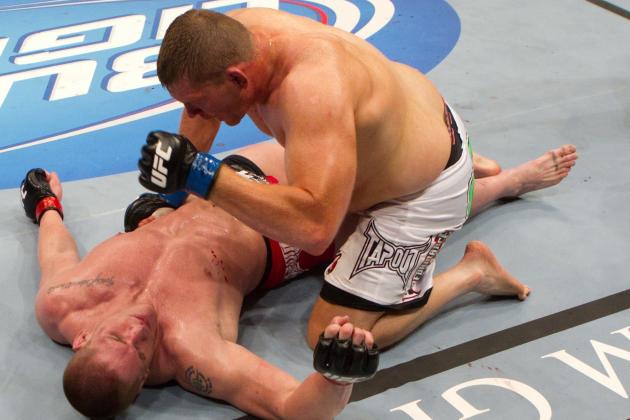 CREDIT: openwalls.com
Nobody expected the chubby former cop Mike Russow to defeat the huge, ripped and athletic rising star Todd Duffee at UFC 114.
After two rounds of dominant action by Duffee, fans anxiously awaited the finishing blow from the fists of Duffee.
What we got was something a little different...
Ladies and gentlemen, the hammerfist of doom.
Enjoy.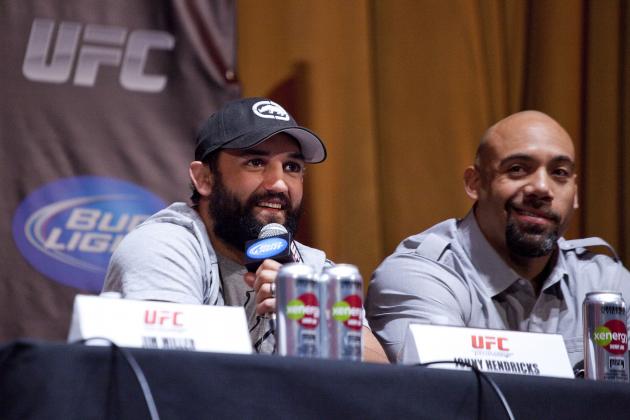 Michael Nagle/Getty Images

Why choose between Johny Hendricks' knockout of Jon Fitch and his knockout of Martin Kampmann when you can have both?
These almost identical knockouts have defined Hendricks' career to this point, and the H-Bomb 2.0 comes in at No. 15 on our list for its purely destructive nature.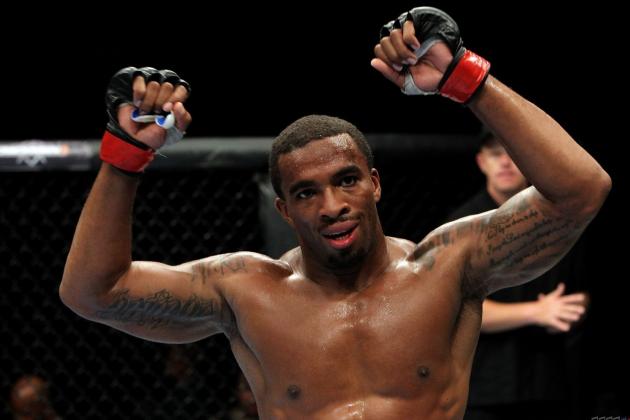 CREDIT: openwalls.com
Why did the David Branch cross the road?
Because he had no sense of direction after being slammed through the canvas by Gerald Harris at UFC 116, and he wanted to harvest a potato.
Damn, that joke sucked.
At least the knockout was cool!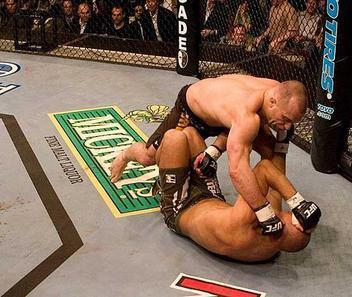 CREDIT: sportschatplace.com
This knockout would not make it anywhere near the top of this list without the seemingly insurmountable odds title challenger Matt Serra faced going into the bout.
Yes, Serra reigned down some ferocious punches, but the moment is really what made this one so incredible.
Serra shocked the world, and for that, he finds himself just outside the top 10 at No. 13 on our list.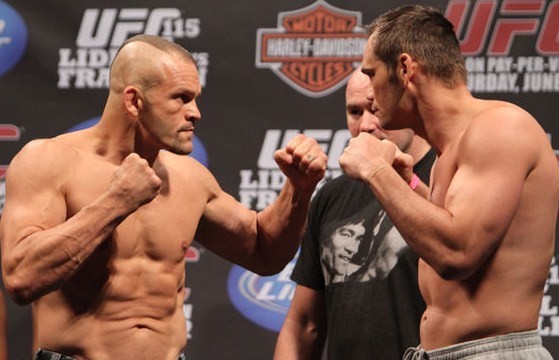 CREDIT: prommanow.com
Chuck Liddell dominated the first four minutes and 50 seconds of his fight with Rich Franklin at UFC 115.
The fight only lasted one round.
That sounds good for Liddell, right?
Sadly for "the Iceman," this is MMA, and anything can happen at any time.
In one of the best examples of how things can change in an instance, Franklin clipped Liddell with a straight right hand as Liddell charged in, ending "The Iceman's" night (and his career).
This was a horrible, devastating smudge on Liddell's resume, but it remains one of the defining moments in the career of "Ace" Franklin.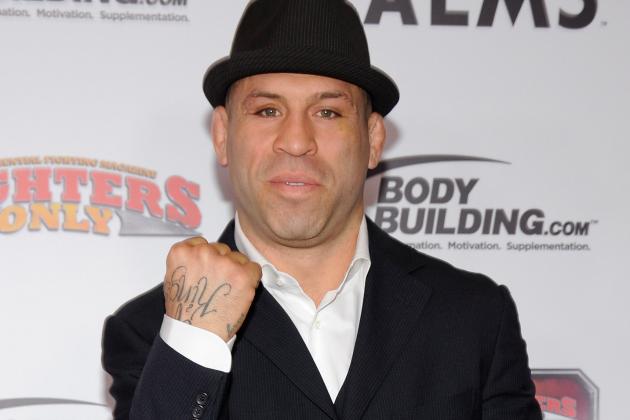 Ethan Miller/Getty Images

Did Keith Jardine harm Wanderlei Silva's family or something?
Judging from the punches and ground and pound Silva unleashed on Jardine during their UFC 84 encounter, one has to wonder what exactly Jardine did to receive such cruel treatment.
Oh, that's right—he stepped into the Octagon with a mean and motivated Wandy.
Maybe you should have faked a training injury, eh, Keith?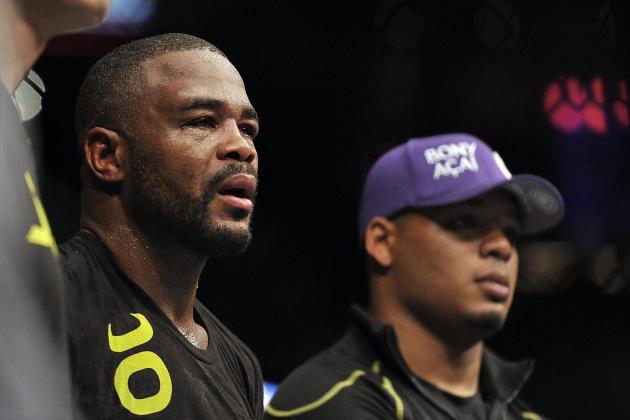 Paul Abell-USA TODAY Sports

Love him or hate him, there is no way you can deny Rashad Evans' power inside the Octagon.
At 5'11", 205 pounds, Evans' stout frame packs a serious punch, and he has not been shy about showcasing this explosiveness all over his opponents' faces.
At UFC Fight Night: Evans vs. Salmon, "Suga" delivered a head kick from hell that gave us a glimpse of the type of striking the wrestling-minded Evans could deliver.
He then one-upped himself at UFC 88 with a crashing overhand right that sent UFC legend Chuck Liddell down for the count.
Needless to say, the "wrestler" Rashad Evans is more than capable on his feet, and his fists and shins have provided two of the most spectacular knockouts in UFC history.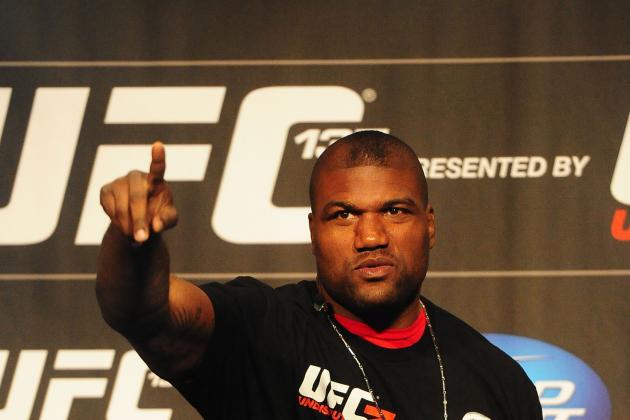 Mark J. Rebilas-USA TODAY Sports

Is there any way a matchup between Rampage Jackson and Wanderlei Silva doesn't end in a knockout?
Apparently not, as each of their three encounters resulted in concussive finishes worthy of the replay button.
Their third matchup at UFC 92 was Jackson's sole victory in the trilogy, but he made it a good one.
After avoiding Silva's attack with some excellent head movement, Rampage countered with a perfect left hook that flattened his foe.
Silva penned a nice intro and body for the story of their encounters, but Jackson's conclusion is unforgettable.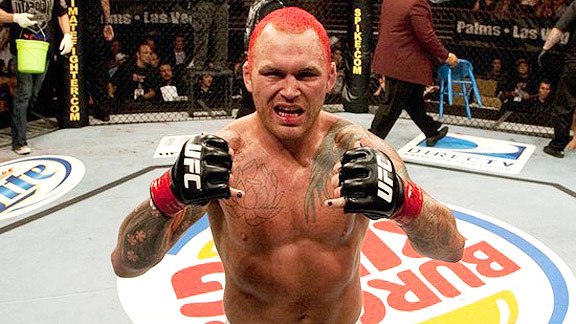 espn.go.com
Words really cannot do this one justice, so I urge you to look up the gif.
Concrete skull, right?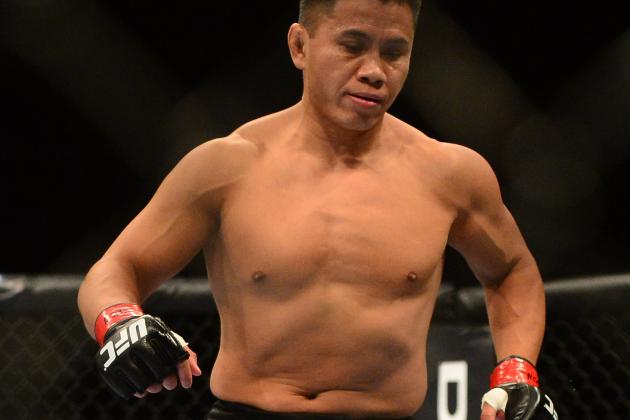 Mark J. Rebilas-USA TODAY Sports

This one-punch stunner just happened, but I can't help but feel like it will live as one of the greatest knockouts in UFC history.
You have to feel a little bad for the consummate fan favorite Franklin, but a great knockout deserves recognition no matter who is on the receiving end.
This just happened to be Franklin's unlucky day, and Le's perfect punch resulted in one of the best knockouts you will ever see.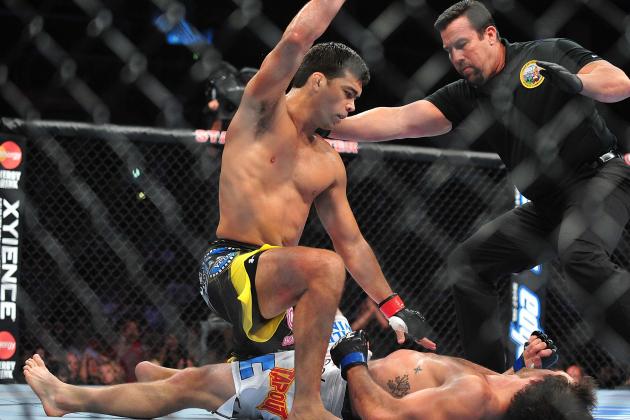 Gary A. Vasquez-USA TODAY Sports

How does one choose Lyoto Machida's best Knockout of the Night performance?
Do you go with his last-second knockout of Thiago Silva at UFC 94?
Maybe you prefer his downright humiliating flurry on "Suga" Rashad Evans at UFC 98?
If you want to include those, you can't forget his crane kick on Randy Couture, can you?
Whichever you prefer, there is no denying Machida's ability to end a fight in a hurry, and he has turned in three spectacular Knockout of the Night performances for our collective enjoyment.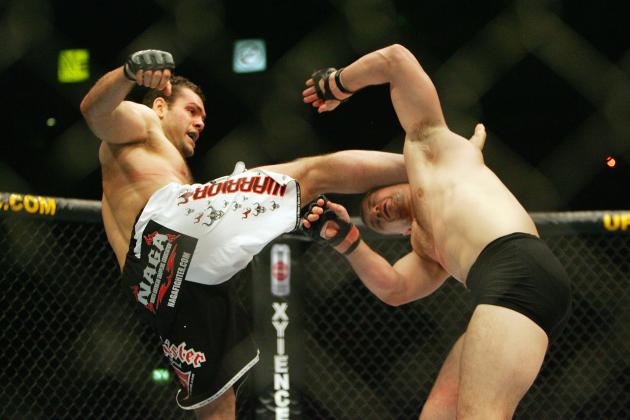 Gary M. Prior/Getty Images

It is highly unlikely that a more unexpected head-kick knockout will ever occur inside the UFC Octagon.
Gabriel Gonzaga, the Brazilian jiu-jitsu ace, versus Mirko Cro Cop, the finest kicker in MMA, was supposed to result in a knockout.
Check.
It was supposed to make highlight reels.
Check.
It was supposed to show how scary Cro Cop was on the feet!
Ehh...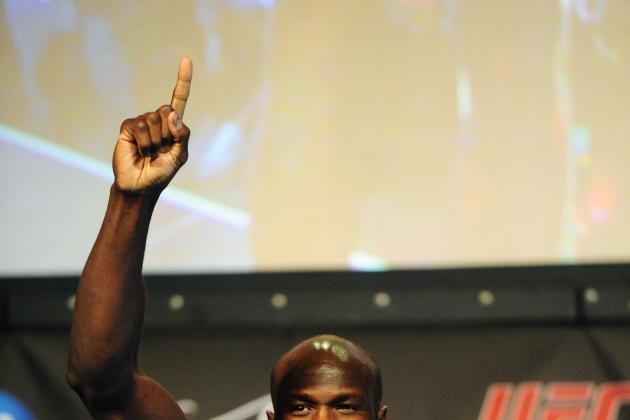 Mark J. Rebilas-USA TODAY Sports

It is literally impossible to come closer to losing than Cheick Kongo did against Pat Barry during their UFC Live: Barry vs. Kongo encounter.
Barry rocked Kongo repeatedly with hard punches before getting caught with a violent uppercut/straight right hybrid from Hades that turned out his lights and concluded the bout for good.
I highly doubt we will ever witness a more unlikely comeback in UFC history, so enjoy this one.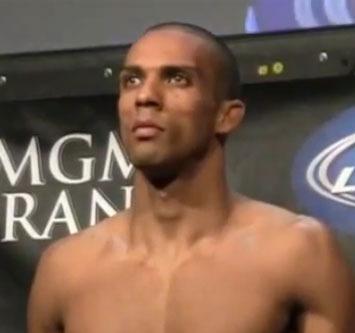 CREDIT: cagewall.com
Come on, like you didn't know this one would be in the top three...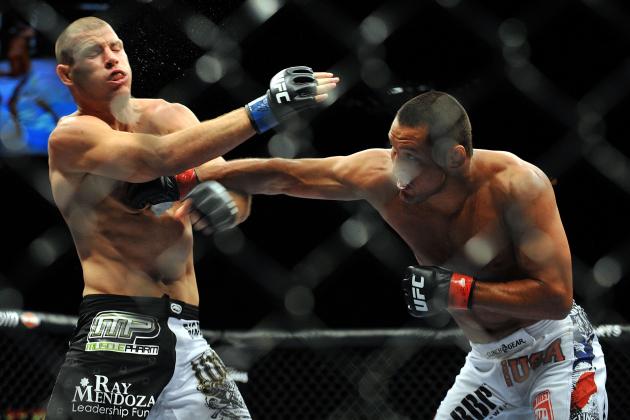 Jon Kopaloff/Getty Images

UFC 100 offered the grandest of grand stages with one of the most stacked lineups in UFC history, and Dan Henderson capitalized on the moment in the most emphatic fashion possible.
After a tension-filled season of The Ultimate Fighter saw the two coaches bump heads on multiple occasions, the stage was lit for their final showdown.
There was no more talking, only action.
Boy, was there ever action.
With one huge right hand and a follow up flying-death-forearm, Dan Henderson showed the world what the H-Bomb was all about.
This one was sweet on multiple levels, folks.
USA! USA! USA!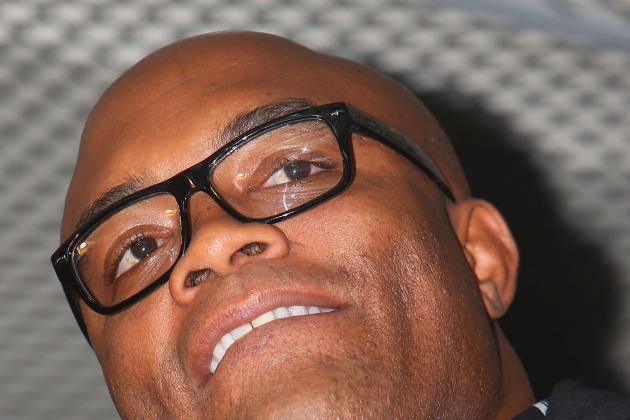 Tom Szczerbowski-USA TODAY Sports

No fighter in MMA history has been more consistently perfect than Anderson Silva.
His UFC debut against Chris Leben at UFC Fight Night 5 saw one of the most accurate displays of striking proficiency in the sport's history.
His follow-up performances against Rich Franklin saw him knee his way to UFC gold (an honor he has defended a record 10 times for those keeping score at home).
At UFC 101, Silva ventured to the light heavyweight division for a showdown against former 205-pound champion Forrest Griffin.
Griffin was supposed to pose problems for Silva with his relentless attitude and toughness.
Nope.
And then came his "toughest test to date" (as it always is) against Vitor Belfort at UFC 126. Could Silva handle Belfort's power and speed?
Could he, for once, be the victim of a knockout rather than the assailant?
You tell me.
All things considered, it would be criminal to separate Silva's seven Knockout of the Night awards and deny other combatants the chance to shine on our list.
Because of this, our top honor showcases the greatest fighter in UFC history in his element where none can top him.
He is the greatest striker in the sport's history and to think otherwise is foolish (just ask Leben...Or Yushin Okami, Forrest Griffin, Vitor Belfort, Chael Sonnen, Nate Marquardt...you feel me?).