New York Mets: 5 Big Offseason Questions That Still Need to Be Answered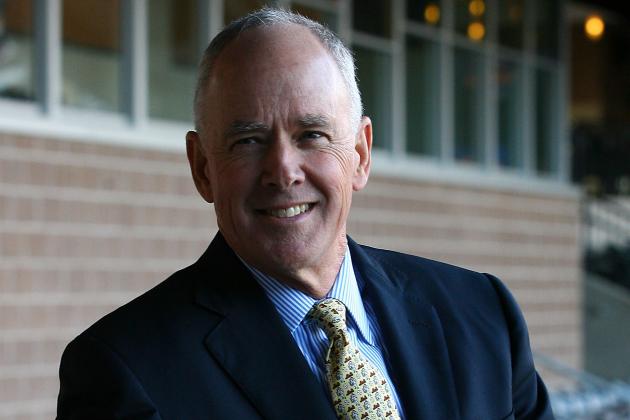 Andrew Burton/Getty Images

The Mets recently pulled off a blockbuster trade that sent reigning NL Cy Young Award winner R.A. Dickey plus catchers Josh Thole and Mike Nickeas to the Blue Jays for catchers Travis D'Arnaud and John Buck, as well as pitching prospect Noah Syndergaard and outfield prospect Wuilmer Becerra.
While it was unfortunate to see someone like Dickey depart, the trade will benefit the Mets quicker than most may think. D'Arnaud could be ready for a major league call-up as soon as late April, while Buck could serve as an adequate catcher for the Mets until then. Syndergaard is highly regarded and Becerra could be a potential steal from the trade as well.
However, the Mets still need to make some more trades and signings before their 2013 roster is ready to go in April. Some areas of the team are already solidified, but other areas need major improvements.
Here are five big offseason questions that the Mets have yet to answer.
Begin Slideshow

»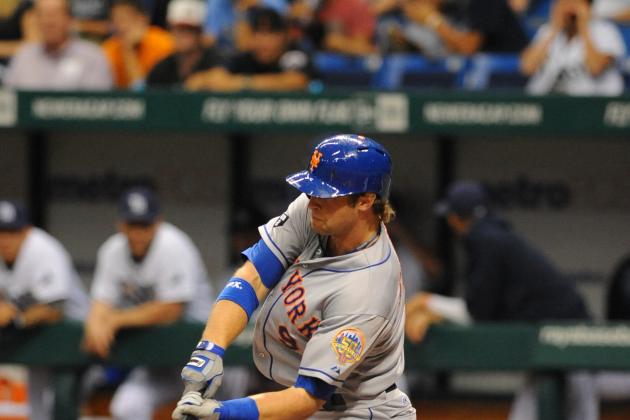 Al Messerschmidt/Getty Images

Going into the 2013 MLB season, the Mets offensively already have a very solid infield, and they now have some legitimate depth behind the plate with Travis D'Arnaud and John Buck. However, their outfield is still a mess and urgently needs to be addressed.
If the 2013 MLB season were to begin today, Lucas Duda would play left field, Kirk Nieuwenhuis would be in center field and Mike Baxter would be stationed in right field. While each of these players have potential of some sort, none are elite or even very good outfielders. All three are young and unproven left-handed hitters.
With Duda and Nieuwenhuis having played more of an everyday role for the 2012 Mets, it appears that Baxter will be demoted to the bench if the Mets end up making a signing or trade to get another outfielder. One outfield trade that has already been made was with the A's for Colin Cowgill. Cowgill is a right-handed hitter and could possibly be productive in a backup or platoon role.
However, in order for the Mets' outfield to really get upgraded, they would have to trade for or sign an established outfielder that has a noticeable track record of success. A right-handed hitter with power would certainly help the Mets even more.
The Mets will very likely make at least one more big move this offseason to upgrade the outfield. Whether they decide to bring back a familiar face or go in a different direction in the coming weeks will be fascinating to watch unfold.
Alex Trautwig/Getty Images

One of the biggest bright spots for the 2012 Mets was the hitting of veteran outfielder Scott Hairston.
Hairston this past season batted .263 with a career high 20 home runs, plus 57 RBI, 25 doubles and a .504 slugging percentage. He did all this as more or less a part-time player in the first half of the season, before poor performance by other Mets' outfielders led to him being a starter in the second half.
Hairston, though, hit even better against left-handed pitching in particular. He batted .286 with 11 home runs and 30 RBI against southpaws. He did not fare as well against right-handed pitching, but on a team that did not have much right-handed power besides himself and David Wright, Hairston certainly did his job and played well in clutch situations with seven home runs and 40 RBI when there were runners in scoring position.
Defensively, Hairston was not as skilled and did not have particularly great range.
He is versatile enough to be able to play all three outfield positions, but he also is not particularly fast. Nevertheless, Hairston had a .994 fielding percentage and just one error last season. He can still play the outfield well, but will not necessarily amaze fans with many, if any, spectacular catches. As long as the ball does not go over his head too often, the Mets could handle having Hairston in their outfield.
Hairston is currently looking for a multi-year contract and most likely a starting job as well. The Mets would be wise to re-sign him because he has proven he can hit well against left-handed pitchers and has power that the Mets desperately need in their lineup. Furthermore, the options for outfielders to sign or trade for is becoming more and more limited, so the Mets should try to re-sign Hairston as soon as they can.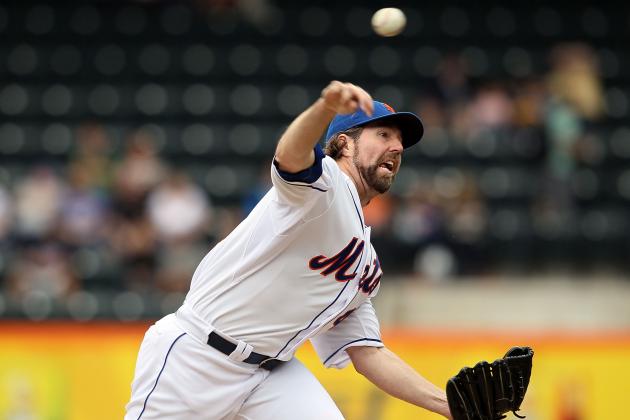 Alex Trautwig/Getty Images

Now that R.A. Dickey is a member of the Blue Jays, the Mets have a missing hole in their rotation. Jon Niese is currently the most likely Opening Day starter for the Mets, who also have Matt Harvey, Johan Santana and Dillon Gee in their rotation. The Mets also have pitchers such as Jenrry Mejia and Collin McHugh in their depth chart, but the Mets would prefer to sign or trade for a veteran starter.
One possibility was recently eliminated when former Met Mike Pelfrey signed with the Twins. The Mets were hoping no other team would sign Pelfrey so they could have brought him back on a minor league contract, but that was not meant to be.
Another option that no longer exists is that of Francisco Liriano, who recently signed a two-year contract with the Pirates.
One other former Met that could be brought back is veteran Chris Young, who has spent the past two seasons with the Mets. In 20 starts, Young was 4-9 with a 4.15 ERA. He did not pitch particularly well throughout the season but was reliable and stayed healthy since his return from an injury in June. The Mets could look to bring him back once again on a one-year contract with incentives for performance and staying healthy.
Other possibilities to fill the Mets' rotation would have to come from someone currently outside of the organization. Current free agent starters include Kyle Lohse, Derek Lowe, Shaun Marcum, Daisuke Matsuzaka, Carl Pavano, Jonathan Sanchez and Joe Saunders. It will be interesting to see if the Mets go after any of these pitchers, and if so, the amounts of years and money they would commit.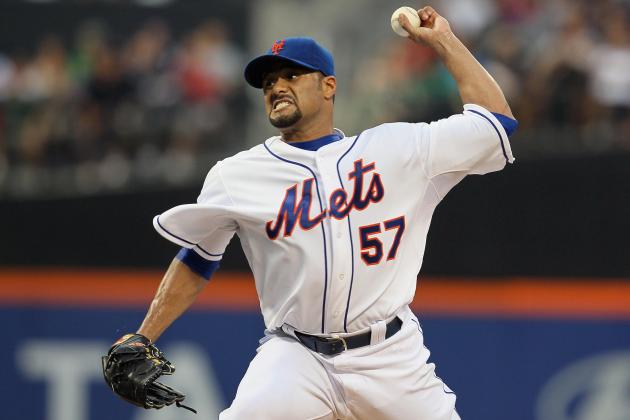 Mike Stobe/Getty Images

One new starting pitcher may not even be enough to improve the Mets' rotation in 2013. With the uncertainty of Johan Santana's health and effectiveness on the mound, the Mets would be wise to sign another pitcher to provide additional depth in the starting rotation.
Santana is going into the final year of his six-year contract and will almost certainly not be a Met in 2014, assuming the team does not pick up his option by then. He went 6-9 with a career high 4.85 ERA in 21 starts. He pitched well in the first half, which of course included his no-hitter, before falling apart after the All-Star break.
Santana battled an ankle injury in July and missed a few starts from that, but by August he was pitching terribly, and the Mets ultimately shut him down in late August with an inflamed lower back. Each of Santana's seasons with the Mets except for his first season in 2008 have ended with him being shut down in late August or early September due to an injury. This just goes to show how much of a bust Santana has become compared to the expectations he had when he became a Met.
Only time will tell if Santana will be healthy for the entire 2013 season, or how long he will last on the Mets before the injury bug likely catches up to him once again. Furthermore, if Santana is actually healthy, it's no longer guaranteed he will pitch very well as shown in the second half of his 2012 season.
If Santana is healthy but not pitching particularly well by June, it's possible that his spot in the rotation could be replaced by top prospect Zack Wheeler once he is ready to get called up.
When exactly Wheeler gets called up has yet to be determined, but if Santana lands on the disabled list at some point in the season, it could make the Mets' decision on calling up Wheeler a whole lot easier. The Mets and their fans are anxious to see Wheeler pitch and a potential Santana injury could help this happen sooner than expected.
All in all, the 2013 season will be Santana's victory lap as a Met, for better or worse. The Mets would better off signing a second veteran pitcher that could pitch in the Mets' rotation in case Santana gets hurt again and they are not ready to promote Wheeler.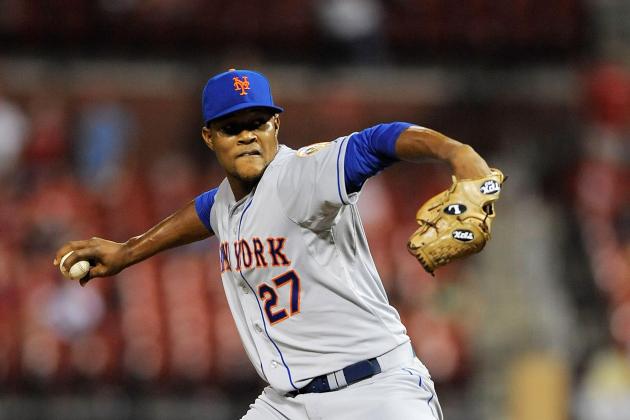 Jeff Curry/Getty Images

The Mets' bullpen was one of the worst units in all of baseball last season with the second worst bullpen ERA and too many blown saves.
As always, a bullpen's success starts and ends with the closer. Frank Francisco had a poor 2012 season that is highlighted by a career high 5.53 ERA in 48 appearances. At times, Francisco pitched very effectively, but in other appearances he simply could not get the job done and even let his emotions get the best of him in multiple occurrences. Furthermore, he missed over a month with an oblique injury in June and July.
The Mets are stuck with Francisco for another season. Hopefully, he improves his pitching and gets back to being a productive closer, but if not, the Mets could turn to Bobby Parnell to close.
Parnell closed for the Mets while Francisco was on the disabled list, but was inconsistent in his new role. Overall, Parnell was 5-4 with a 2.49 ERA and arguably was the Mets' most consistent reliever this past season. He also had 61 strikeouts in 68.2 innings pitched as he used his high velocity to his advantage.
Alongside Francisco and Parnell in the Mets' projected 2013 bullpen will be long reliever and spot starter Jeremy Hefner, right-hander Jeurys Familia and southpaws Josh Edgin and Robert Carson. With a standard bullpen consisting of seven relievers, it appears the Mets will have one open spot during Spring Training. That is, unless they decide to sign another reliever before Spring Training.
Scott Atchison, Matt Capps, Todd Coffey, Francisco Cordero, Chad Durbin, Jason Frasor, Mike Gonzalez, Kevin Gregg, LaTroy Hawkins, J.P. Howell, Matt Lindstrom, Brandon Lyon, Kyle McClellan, Brett Myers, Will Ohman, Vicente Padilla, Manny Parra, J.C. Romero, Rafael Soriano, Hisanori Takahashi, Jose Valverde and Brian Wilson are just some of the current free agent relievers out there.
It's definitely possible that the Mets will target some of these names. Even some of the closers out there could be potential targets for the Mets if they decide to bring in a new closer to overtake Frank Francisco in that role.
Jenrry Mejia could be an option in the bullpen, but the Mets seem more inclined to have him pitch as a starting pitcher for the near future. Elvin Ramirez spent a good chunk of the 2012 season on the Mets, but was not particularly consistent and should be considered extra depth. The Mets are even bringing back Tim Byrdak, even though he will miss most of the 2013 season while recovering from a shoulder injury.
All in all, the Mets could really use at least one new addition to their bullpen. More additions can be made as well depending on how much the Mets' front office wants to help improve the bullpen's production.