Rockets vs. Timberwolves: Live Score, Results and Game Highlights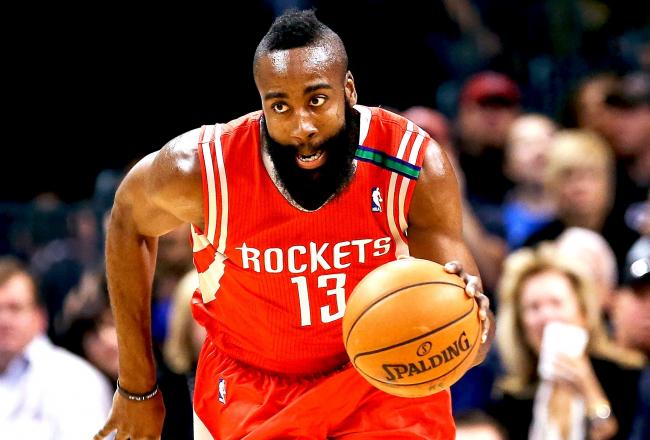 After an exciting contest, Houston pulled away behind a strong fourth quarter performance from James Harden. The 87-84 win marks their fifth straight, as Minnesota drops to .500.
And that's a wrap! It was a thriller, with numerous lead changes throughout 48 minutes of compelling action. Despite pushes from Minnesota, however, Houston emerged on top. Here's why:
No Love: Kevin Love was on pace for a double-double at the end of the first, with seven points and six rebounds. After that, he notched another six boards, but failed to score again for the remainder of the game.
He was forced into the center position following an "illness-break" for Pekovic, but even then failed to get anything going on offense. His two missed threes with the game on the line summed up a terrible night for the All-Star power forward.
Keeping it close: Minnesota had its fair share of runs, but even then, Houston managed to keep the score close. They capitalized off of Minnesota's dry spells, and never let the game get out of hand. Once crunch time began, they took control, and despite never pulling too far ahead, stayed in control until the final buzzer sounded.
James Harden: Announcer's described Harden's night as quiet after three quarters, prompting the bearded wonder to go on a tear. Finishing with 30 points, Harden showed the world why he deserves to be in contention for the MVP race, leading Houston to a victory, despite poor performances elsewhere.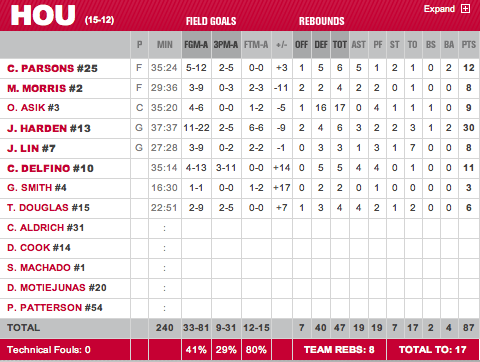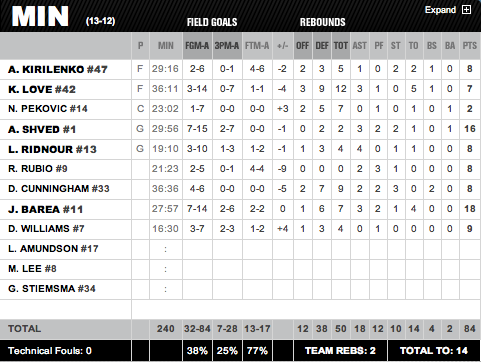 Here are your box scores from tonight. (Via NBA.com)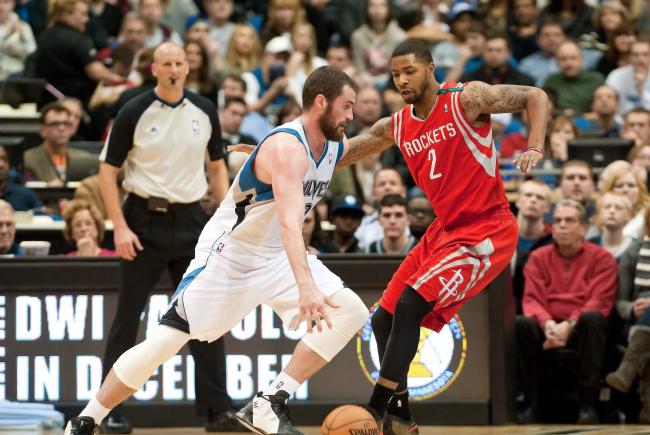 Minnesota 84, Houston 87; End of game
Ball touches hands of Love, Barea, and finally Schved who misses a heavily contested three.
So, that's it. The end of a thriller. Houston extends their streak to five, despite scoring minimally.
Rockets have only lost once this season when Harden hits the 30 mark.
Harden with 17 4th quarter points, finishes consecutive drive. Rockets up 3, 11.7 seconds left. Harden has 30. He's very good at baskeball.

— Jonathan Feigen (@Jonathan_Feigen) December 27, 2012
Minnesota 84, Houston 87; 0:11 remaining in 4Q
Harden with the go-ahead bucket. Barea loses control, and Harden hits another one. Who takes this last shot for Minnesota—or do they go for the two and foul?

Love hasn't scored since 3:54 remained in 1st qtr. He had 7 pts then, still does on 3/14 shooting. Wolves lead 84-83 w/ 44.1 secs left

— Jerry Zgoda(@JerryZgoda) December 27, 2012
Minnesota 84, Houston 83; 0:44 remaining in 4Q
Each team trading baskets. Cunningham pulls down to big boards, but Minnesota fails to convert on both. Houston's ball—most likely—when we return from this review.
Here's a look at Dante Cunningham's top play.
Minnesota 81, Houston 81; 2:27 remaining in 4Q
A lot of jump balls tonight. Schved grabs hold of Lin's ball, loses the jump—but Asik is called for a foul. T-Wolves enter the bonus, as they look to re-gain the league.
A HUGE break for Minnesota.
Minnesota 81, Houston 81; 2:56 remaining in 4Q
Holy Schved! A big three from the rookie, only to be matched by a jump shot from Lin.
Minnesota 78, Houston 79; 4:05 remaining in 4Q
Harden catching fire. He's scored their past nine points, as they re-claim the lead.

Know Pek is under the weather tonight, but Asik has owned that matchup and been terrific on glass (16 rebs) vs. NBA's top rebounding team.

— Jason Friedman (@JasonCFriedman) December 27, 2012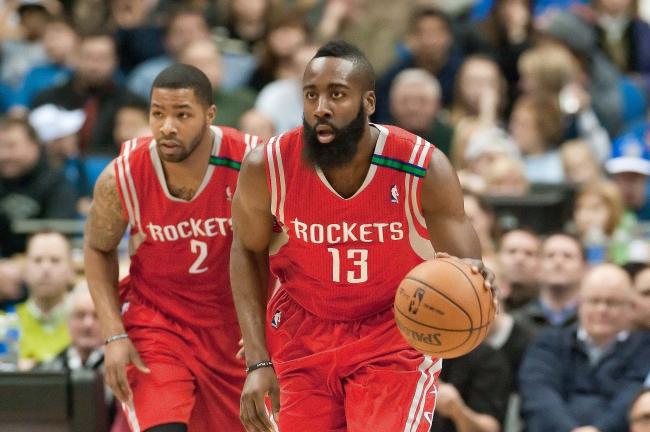 Minnesota 76, Houston 72; 5:39 remaining in 4Q
So James Harden is in that category now where 17 points is considered a quiet night?
Overall, its been a quiet night. Only five scorers in double digits.
Someone want to explain to me how on earth JJ Barea (listed at 6'0'', but more likely around 5'10'') has seven boards? It's almost as impressive as Zach Randolph's rebounding ability, when considering his vertical is about half of my little sister's.
Minnesota 76, Houston 72; 6:19 remaining in 4Q
Harden connects on both from the line, his 16th and 17th points of the night. He has hit 20 in his past nine, a career high.
Minnesota 76, Houston 70; 7:00 remaining in 4Q
Both teams struggling to hit lately, with Asik and Pekovic going at it on the boards. Those two are very fun to watch.

Wolves' offense simply lacks for spacing w/ Budinger out and Love's 3-pt shot MIA. Have to keep them out of the paint and off the FT line.

— Jason Friedman (@JasonCFriedman) December 27, 2012
Minnesota 73, Houston 66; 9:19 remaining in 4Q
Derrick Williams with the nice spin move, leading to the score. Showing flashes of why he was drafted second overall.
Delfino hits a long three, and Barea answers. He leads all scorers tonight with 16.
Minnesota 68, Houston 63; 10:39 remaining in 4Q
Barea heads to the line, hits both. Someone want to explain how Minnesota is winning this one?
Minnesota 62, Houston 61; 11:16 remaining in 4Q
Rubio heads to the line, as Kevin Love takes a seat on the bench. He hasn't scored since the first quarter.
Barea's been hot tonight.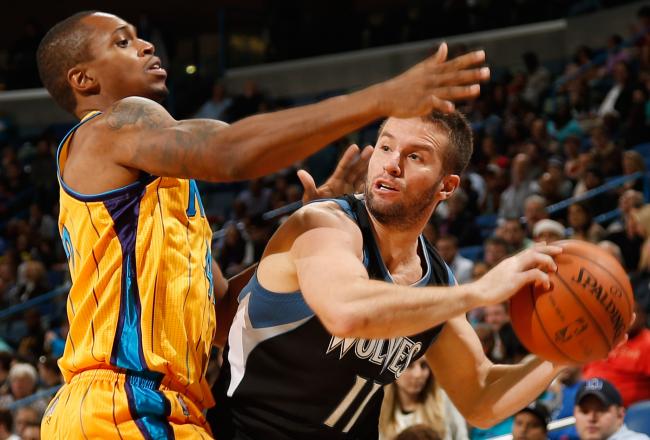 Minnesota 64, Houston 60; End of 3Q
JJ Barea scores the first points for the Wolves in over five minutes, reachind double digits for the twelfth straight game.
A really, really, really ugly quarter of basketball.
Minnesota 62, Houston 60; 0:47 remaining in 3Q
A bad loose-ball foul call on Cunningham draws boos from the Minnesota crowd. Pekovic to check in.
Minnesota 62, Houston 60; 1:59 remaining in 3Q
Greg Smith splits at the line after missing a dunk and hitting the ground hard.
Derrick Williams checks in for the Wolves. Maybe he'll be their savior, and will give the team a few more reasons to hang onto him.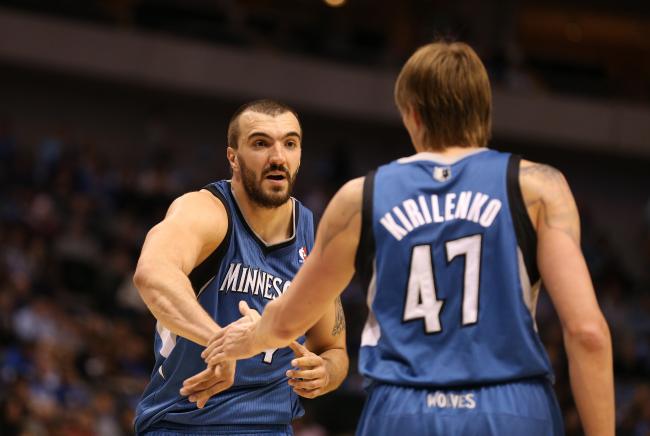 Minnesota 62, Houston 57; 2:41 remaining in 3Q
Good news (for Minnesota fans): Pekovic is back on the bench, fully suited up. Perhaps his return will give the struggling Wolves a push.
This article is
What is the duplicate article?
Why is this article offensive?
Where is this article plagiarized from?
Why is this article poorly edited?