7 New Year's Resolutions for LA Lakers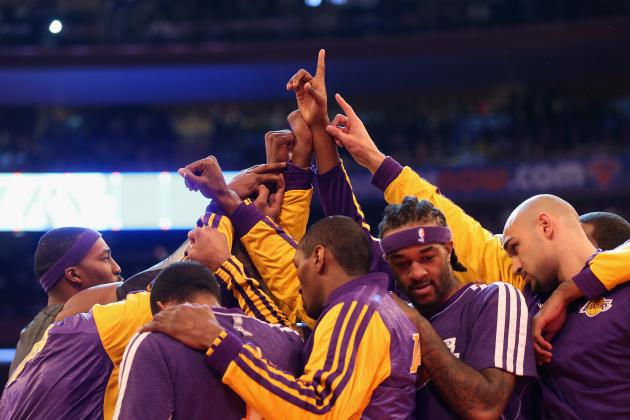 Bruce Bennett/Getty Images

A new year provides a clean slate. For most of us, it provides an opportunity to enrich our lives. It could be a resolution to watch our diets, increase our exercise, spend more time with our family or grow as a person. No matter what it is or who we are, each and every one of us can use it to improve some aspect of our lives.
The same can be said for sports teams; in this case, the Los Angeles Lakers. The Lakers have had an eventful year, full of a lot of change. They've gone through numerous head coaches, had a lot of roster turnover and have failed to live up to the lofty expectations placed upon them before the season.
Just like the rest of us, the Lakers can use the clean slate the new year provides as an opportunity to improve themselves. They can self-reflect, figure out what went right, figure out what went wrong and what they can improve going forward. Speaking of which, here are seven New Year's resolutions for the Los Angeles Lakers.
(Note: All stats used are current through games played on Dec. 25.)
Begin Slideshow

»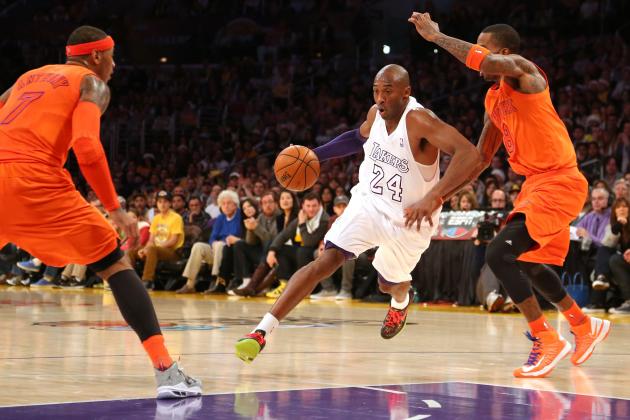 Victor Decolongon/Getty Images

Oftentimes with our New Year's resolutions, we're dealing with some sort of major lifestyle change. For the Lakers, that's not necessarily needed. That's because Los Angeles is currently in the middle of a five-game winning streak. All it needs to do is keep the momentum going.
For the first time since following a Nov. 30 victory over the Denver Nuggets, the Lakers are back at .500. They're also only a half-game out of a playoff spot, trailing both the Denver Nuggets and Utah Jazz, who are both sporting 15-14 records.
With a win over the Nuggets on Dec. 26, the Lakers can not only get into a playoff spot, but they can also keep riding the momentum of their winning streak.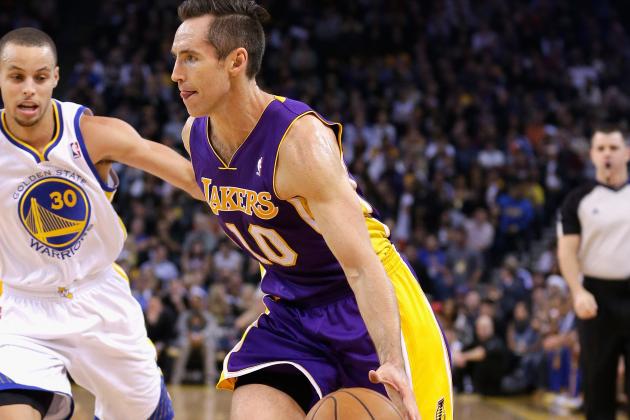 Ezra Shaw/Getty Images

There has been a lot of change for this franchise over the past year. Heck, there has even been a lot of change within the past few months, with the firing of coach Mike Brown, the tenure of interim head coach Bernie Bickerstaff and the eventual hiring of Mike D'Antoni. Three different head coaches in a span of 28 games is a lot to overcome.
That's not even to mention the roster turnover the Lakers have seen in the past year. Most notably, Andrew Bynum is gone; Steve Nash and Dwight Howard were brought in. But there have been a lot of changes in role players too, from Matt Barnes to Jodie Meeks and Ramon Sessions to Antawn Jamison.
One of the Lakers' biggest resolutions to the New Year should be increased continuity. The franchise needs to pick a coach and stick with him. It needs to build a roster and stick with it. That way, it can maximize the pieces it has.
Which brings me to the next point...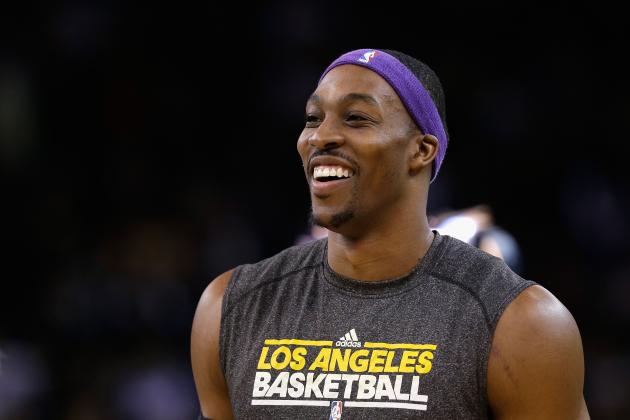 Ezra Shaw/Getty Images

Finding a way to keep Dwight Howard goes along with the previous slide—increased continuity. Not to mention, Howard is a top-shelf center, so the Lakers surely want to keep him for that reason alone.
With Howard's contract set to run out after the season, the Lakers need to find some sort of resolution, preferably with the team reaching an agreement with D12 on a long-term contract.
Let's face it: Howard can be the present and the future of this organization. With Kobe, Nash and Gasol surely closer to the end of their careers than the beginning, locking up Howard will give the Lakers a franchise cornerstone even when those other three are gone.
The remainder of this season needs to be about convincing Dwight to stay. Part of that is success on the court and in the playoffs. The other part is making sure he feels wanted.
Howard's proved with his handling of his situation with the Orlando Magic that he's not concerned with loyalty; he's concerned with himself. The Lakers need to make sure he's convinced Los Angeles is the right place for him, because as he's shown in the past, he has no qualms about walking away.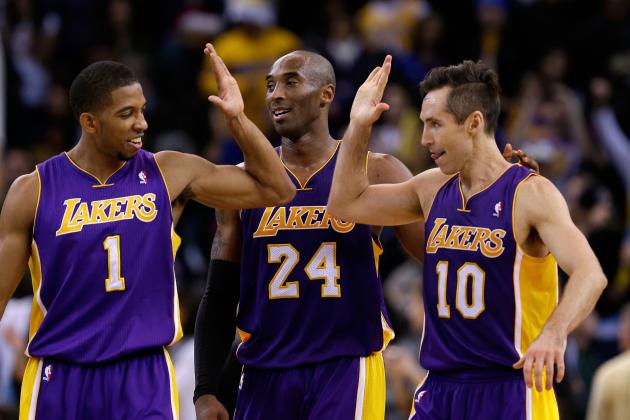 Ezra Shaw/Getty Images

Based on its talent, this Laker team should be able to win nearly every game it's in. Over the course of an 82-game season, that's an unrealistic expectation, but it's something that should be a goal. So far, however, the Lakers have lost quite a few games to inferior competition.
The Lakers have losses to the Dallas Mavericks, Portland Trail Blazers, Sacramento Kings, Orlando Magic and the Cleveland Cavaliers. That's five of L.A.'s 14 losses (more than one-third) to teams that are below them in the standings, and that's with the Lakers starting slow.
Twenty of the Lakers' remaining 54 games are against teams that have inferior records. This team can and likely will play better going forward. But it already put itself in a bit of a hole as far as playoff seeding is concerned. To make up some of that ground, it needs to start beating up on inferior teams.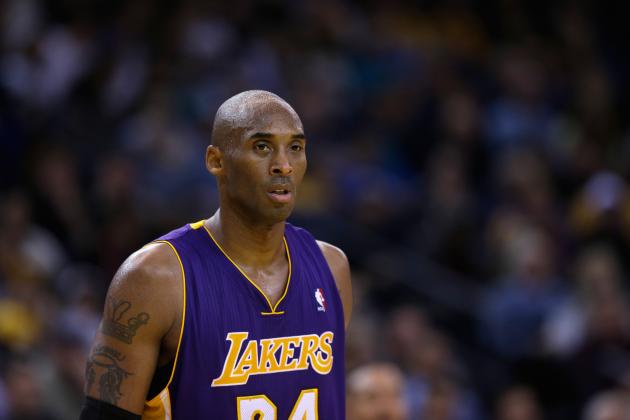 Ezra Shaw/Getty Images

There's no denying that Kobe Bryant is still an elite player in the NBA. There's also no denying that at 34 years old, Bryant could use some extra rest before the playoffs.
Bryant is currently averaging 38.8 minutes per game. That's the most he's averaged since the 2007-08 season, when he was 29 years old and averaged 38.9 minutes per game. He's also logged the second-most minutes played this season, trailing only Luol Deng, and he is fifth in minutes per game.
Bryant would benefit from some more time on the bench, even if it's only an extra minute or two per game. It would keep him fresher for the postseason. And with such a talented roster surrounding him, D'Antoni should be able to find a way to give Kobe a bit more rest without costing the team games.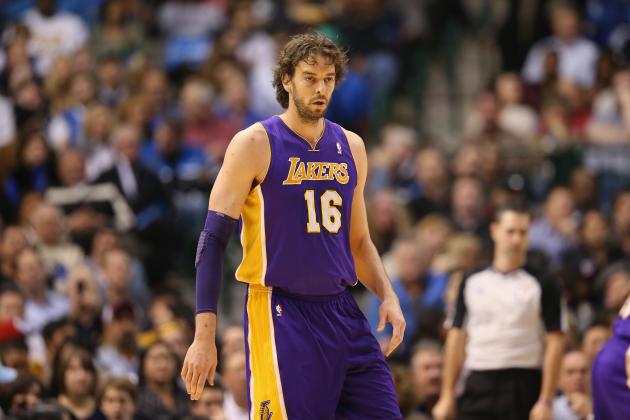 Ronald Martinez/Getty Images

Pau Gasol is one of the biggest weapons the Lakers have. Instead, he's been more of an afterthought for most of the season.
Gasol is having the worst season of his career—by far. His scoring (12.3 points per game), shooting (41 percent from the field) and his free-throw attempts per game (3.5) are all career lows. And it's not like Gasol dramatically improved in the two games since Steve Nash returned from his injury.
In fairness, Gasol has been hurt, missing eight games with an injury. He's also only played four games with Steve Nash, Kobe Bryant and Dwight Howard.
But even if Gasol isn't an ideal fit in D'Antoni's offense, which he isn't, the Lakers still need to find a way to get him involved. He's too much of an asset to not be one of the team's top contributors. Whether it's passing, stretching the defense with his outside shooting or running the pick-and-roll with Nash, he needs to be utilized.
Ronald Martinez/Getty Images

The Lakers were last in the NBA in bench points per game during the 2011-12 season, with 20.5 points per game coming from that unit. The acquisitions of Antawn Jamison, Jodie Meeks and Chris Duhon, as well as retaining Steve Blake and Jordan Hill, were expected to reverse the trend.
However, through the first 28 games, the Lakers haven't seen the improvements they'd expected. Antawn Jamison has been incredibly inconsistent and has seen his minutes disappear as a result. In fact, he hasn't even played in the team's last three games.
Jodie Meeks has been solid from three-point range (37.4 percent) but is inconsistent overall (39.6 percent from the field). Jordan Hill has been a solid interior defender but hasn't provided much at all on offense. Steve Blake has been hurt for most of the season. Chris Duhon has actually played pretty well in Blake's absence.
Even with the additions, the Lakers are 28th in bench scoring at 25.5 points per game. It's a five-point increase from last season, but it's still not where it needs to be. Getting more production out of the bench needs to be a New Year's resolution for Los Angeles.