BCS Championship 2013: More Likely to Throw Pick, Everett Golson or AJ McCarron?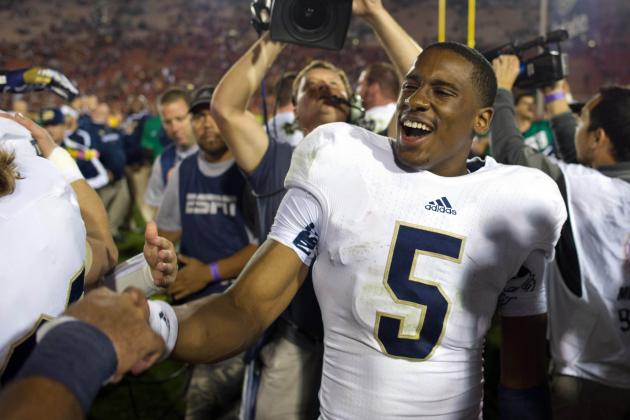 Matt Cashore-USA TODAY Sports

Big games often come down to one or two plays that make the difference in who stands up on the podium holding the crystal at the end.
This year's BCS Championship Game shows every indication of being one of those type of games. With the current point spread being just a couple of points over one touchdown in Alabama's favor, one mistake or turnover could turn the tide (Tide?).
Add to that the fact that Notre Dame and Alabama have not necessarily been high scoring teams this season—at least, not when faced with worthy opposition—and it adds even more drama to potential interceptions or fumbles. Less margin for error, if you will.
So, is the Irish's Everett Golson or Bama's AJ McCarron more likely to throw a costly pick?
Let's examine what we know.
Begin Slideshow

»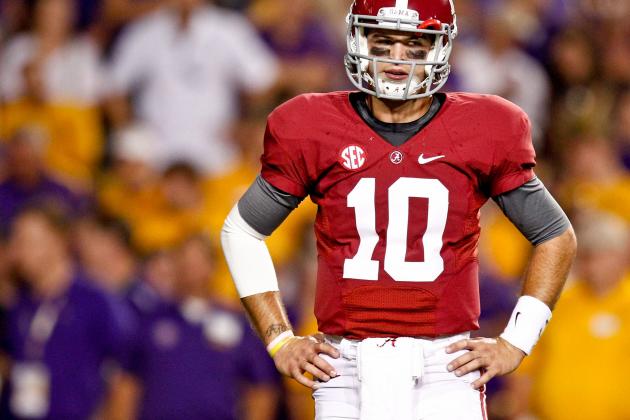 Derick E. Hingle-USA TODAY Sports

AJ McCarron is a better quarterback than Everett Golson.
At least, that's what ESPN's quarterback passing ratings would have us believe. Golson has had way more success running the ball than McCarron, scoring five touchdowns rushing compared to one for McCarron. Golson often had positive rushing yardage this season, where as McCarron only ran when he had to and the results were often negative yardage.
However, for the sake of the premise, we are only looking at the two quarterbacks' passing game.
McCarron is ranked No. 1 in the nation for passing efficiency with an overall quarterback rating of 173.1. He has completed 66.8 percent of passes attempted in 2012, with only three interceptions. McCarron was sacked 22 times this season; remember this factoid, as it will be on the test later.
Golson has a 58.9 completion percentage, with five interceptions and 13 sacks. His QB rating of 131.8 puts Golson way down the list at No. 65 among active Division 1-FBS quarterbacks.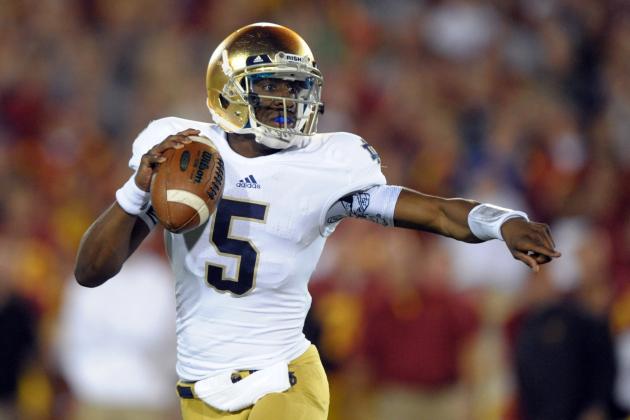 Kirby Lee-USA TODAY Sports

It's interesting to note that three of Golson's five interceptions came early in the season during the month of September, including two of the three in the Michigan game. Since that game on Sept. 22, Golson has thrown only two picks—one in that tough Pittsburgh game on Nov. 3, and one against Wake Forest on Nov. 17.
McCarron, on the other hand, was perfect until that you-know-who game on Nov. 10, when he threw not one, but two, interceptions against the Aggies. McCarron's other pick came in the SEC Championship game against Georgia on Dec. 1.
One could make a case that Golson has the picks out of his system, and that McCarron started stronger than he finished.
But wait, there's more.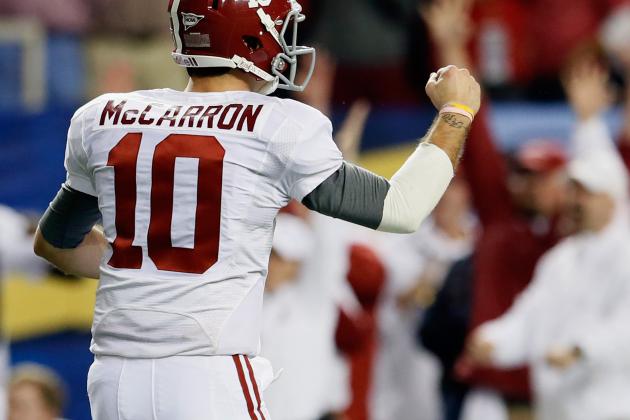 Kevin C. Cox/Getty Images

I think it's safe to say that the 2013 BCS National Championship game is a fairly big event. As in, the most important game of Golson and McCarron's young lives.
How has each of the quarterbacks fared throughout this season in games on big stages?
In the Notre Dame games that I consider "big"—Michigan, Michigan St, Stanford, Oklahoma and USC—Golson performed admirably under pressure in all but the Michigan game.
Alabama only had four "big" games this season—Michigan, LSU, Texas A&M and Georgia—and McCarron's stats dropped off somewhat in all four of these games. In other words, McCarron put up good numbers against mediocre opponents, but struggled some against the good teams.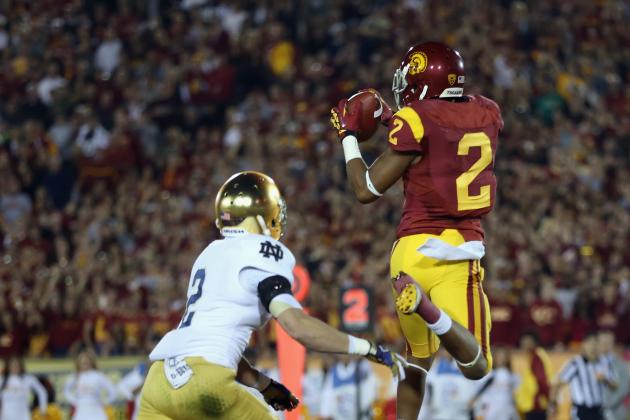 Jeff Gross/Getty Images

Alabama and Notre Dame are two very good defensive football teams, and that will certainly factor in to which quarterback makes the fewest mistakes.
Alabama is ranked first nationally in total defense; Notre Dame is sixth.
More crucial to this conversation, Alabama has intercepted 17 passes this season; Notre Dame has grabbed 16. (By comparison, No. 1 in this category, the Oregon Ducks, have picked off 24 passes.)
Also, important evidence is that Alabama ranks sixth in passing defense, and Notre Dame is down the charts a little at No. 21. Both defenses get to opposing quarterbacks. Notre Dame has 34 sacks on the year and Alabama has 33.
My point is that both of these teams defensively can, and probably will, make life miserable for opposing quarterbacks.
So, who has the edge? McCarron or Golson?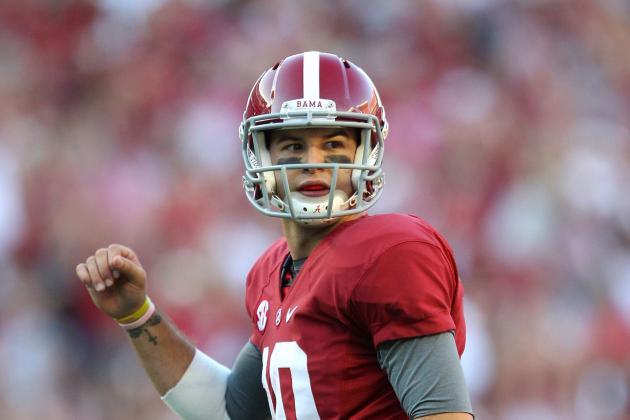 Mike Zarrilli/Getty Images

I wish I could see both Golson and McCarron's grade point average before I make this call. Both quarterbacks strike me as smart kids, and the smarter the quarterback, the less likely he is to make a dumb move at the wrong time.
But because we can only assume that both quarterbacks are intelligent and in command of the situation, all we have to go on is their past performance.
In summary, McCarron has the better overall passing stats, and his defense has a slight edge over the Irish's.
But Golson is peaking at the right time, and has made very few errors late in the season. And while McCarron has certainly performed well on the big stage in the past (last year's BCS Natty MVP, for instance), Golson has been better under the stress of this season's big games.
I love statistics because they rarely lie. And here's the one that will answer our question: McCarron has been sacked 22 times this season (first slide, remember?). But Golson has only been sacked 13 times.
That tells me that McCarron may have to scramble more in this game than Golson. Scramble, hurry up, whatever you want to call it, when a quarterback is forced to react quicker than he wants, he will usually make more mistakes.
AJ McCarron is more likely to throw a pick in the big game than Everett Golson.
Kay Jennings is a member of the Football Writers Association of America.