English Premier League: 10 Things We Learned from EPL Week 19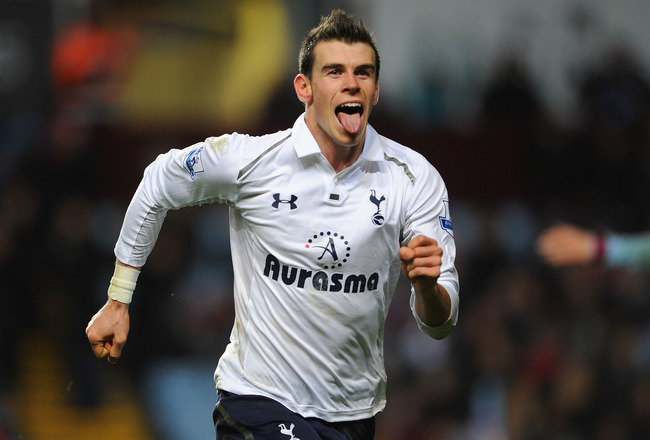 Michael Regan/Getty Images
With the Christmas festivities upon us, the English Premier League joined in the party act this week—turning in a magnificent round of matches and results.
Manchester City was upset once more by Sunderland, Chelsea snapped Norwich City's home streak, Tottenham Hotspur ran riot over Aston Villa and Manchester United extended their lead on top of the table with another come-from-behind victory.
It was another great week of matches. With the results still fresh in our minds, let's take a look at 10 things we learned from the Premier League this week.
1. QPR Are Back on the Bottom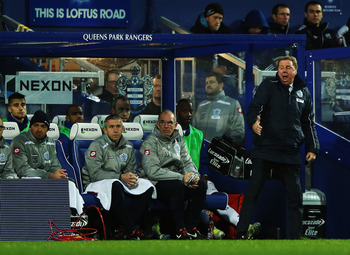 Ian Walton/Getty Images
Since appointing Harry Redknapp as the new manager, Queens Park Rangers had seemingly turned the corner in terms of performance—ending their incredible losing streak to start the year and actually playing some competitive football.
They chalked up three consecutive draws before finally winning a match—taking them off the bottom of the ladder in the process—before going down in a tough loss away from home to Newcastle United last week.
However, with another tough loss—this time at home to West Bromwich Albion—and a surprise draw by Reading against Swansea City, the London club moved back to the bottom of the ladder where they occupied so much of the first half of the season.
Rangers are still two full wins inside the relegation zone and will need to pull off a minor miracle if they want to avoid the drop at the end of the year. On what they've displayed in the past two weeks, they're competitive but not quite consistent enough for the Premier League.
They are unable to take their game to the next level.
Time will tell if that equals relegation for Redknapp's men.
2. Manchester United Are Rescued Again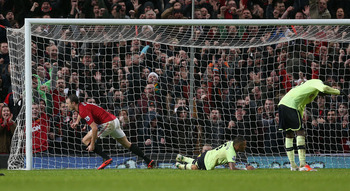 Clive Brunskill/Getty Images
One of these days, Manchester United are going to concede an early goal or two—falling behind—and they're not going to be able to run down their opponents.
One of these days, the Red Devils won't be able to turn to Robin van Persie and Javier Hernandez in the final 30 minutes and expect that they will be able to fix the situation.
However, until that day, United will march on victorious.
It was another 90th minute goal—this time to Hernandez—that sparked wild scenes at Old Trafford as United came from behind to beat Newcastle United 4-3.
The Red Devils had already dropped points in the title race last week against Swansea City, so to pick up all three this week was undoubtedly an important result.
Especially when the news filtered through of City's performance.
3. Sunderland Are City's Bogey Team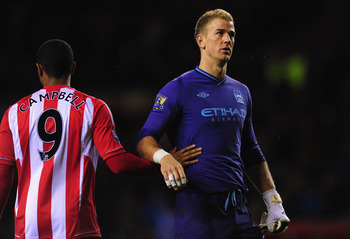 Stu Forster/Getty Images
Last year, Manchester City had their problems away from the Etihad Stadium—dropping points they shouldn't have dropped and failing to score goals they really should have scored.
Those problems still remain to an extent this year, but Roberto Mancini's men have proven that they are a far better road team this season than they have been in years gone by.
With the exception being Sunderland.
The Stadium of Light is a tough venue to travel to for most teams, but for City, it's becoming somewhat of a bogey ground.
And the Black Cats have become the bogey team for Manchester City—with City winless in their past three away matches to Sunderland.
The Black Cats just made that four matches in a row with a surprise 1-0 victory this week.
Former City winger Adam Johnson proved to be the difference between the two teams as City's slipup extended United's lead on top of the table to seven points at the halfway mark of the year.
City have only won two of their past seven games against Sunderland.
Bogey team.
4. Dimitar Berbatov Is Better Than His Team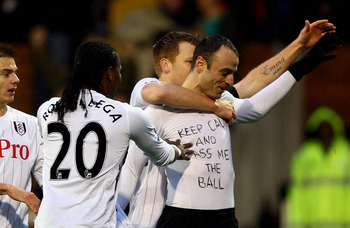 Clive Rose/Getty Images
Once again, summer signing Dimitar Berbatov found the back of the net for Fulham—only for his side to be unable to hang on for victory.
The former Manchester United striker has been a revelation since his move to Craven Cottage, but he has been largely let down by his teammates this year—both in attack and defense—as he tries to carry the Cottagers back into the top half of the table.
Berbatov hasn't scored in a Fulham win since September 15, and Martin Jol needs to recognize that he isn't being given the assistance and quality support that is required from his teammates, particularly going forward in the back half of the season.
Players like Hugo Rodallega simply aren't cutting it at the moment. Maybe Fulham would do well to heed the advice that Berba had for them under his jersey this week.
5. Aston Villa Are Having a Tough Week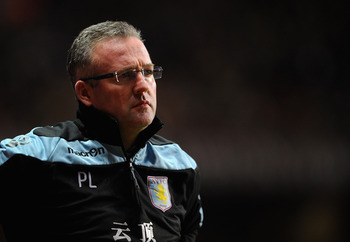 Michael Regan/Getty Images
The signs for Aston Villa were looking so good.
After being belted 5-0 at the Etihad Stadium by Manchester City, Paul Lambert's men then went undefeated through their next five matches to move out of the relegation zone and up the league ladder.
They drew against Arsenal, QPR and Stoke City and recorded wins over Reading and Liverpool, the latter of which came at Anfield in an incredible 3-1 upset.
Throw in a semifinal berth in the Capital One Cup, and things were starting to look really good for Villa.
Until they traveled to Chelsea, that is.
Humiliated 8-0 by the Blues, the Villans had a great chance to turn it around this week at home when they welcomed Tottenham Hotspur but once again ended up on the back of a hiding—this time going down 4-0 to Andre Villas-Boas' men.
Twelve goals in the space of three days isn't what you'd call a great week for Aston Villa. In a two-game period, that would be a Premier League record.
6. What to Make of Everton?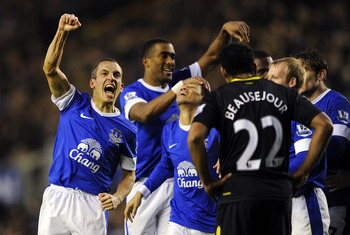 Chris Brunskill/Getty Images
Last week, following Everton's come-from-behind win against West Ham, I posed the question as to whether the Toffees were exposed at the moment or not.
And whilst I'm still convinced that they are to an extent, credit must be given where it's due. Their seventh match in a row without a loss must be applauded.
Having said that, they were not convincing, they were at home and this was only Wigan Athletic, so I'm still unsure what to make of the Toffees at this point.
The Merseyside club remain in the Top Four for now, but with injuries and several unconvincing performances in a row under their belt, there's definitely reason to be cautious in declaring David Moyes' side as completely problem free at the moment.
Yes, they are in fourth and not even playing their best football, so imagine what they can do when they start playing well. Trust me, I know that argument well, but I'm still not convinced on Everton.
Maybe just watch this space for the time being.
7. West Brom on the Up Once More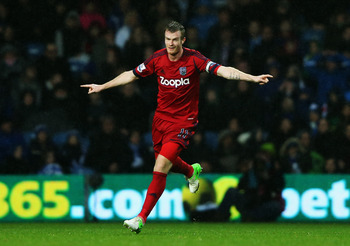 Ian Walton/Getty Images
West Bromwich Albion are without doubt the surprise package of the year—now only a goal difference away from a Top Four spot heading into the New Year.
Steve Clarke's men have played well against the top teams, have now won consecutive matches once more—breaking their winless slump—and are certainly back on the up heading into January and all that 2013 has in store for the English Premier League.
The Baggies picked up a hard-fought 2-1 victory over Queens Park Rangers this week. The trip to Loftus Road to play a desperate side was certainly not an easy task for any team.
With no other competitions to focus on, West Brom can continue to give their attention to the league in the new year and continue to build on the solid work they have already done so far.
And who knows, maybe that Top Six finish won't be so unrealistic after all!
8. Gareth Bale Is World Class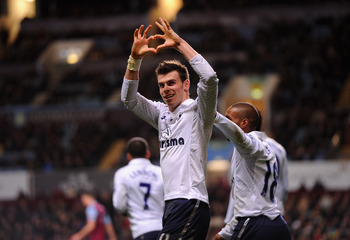 Michael Regan/Getty Images
In the transfer speculation, Real Madrid were reportedly willing to pay around £60 million for Tottenham Hotspur midfielder Gareth Bale (per The Metro).
The figure was so ridiculous that it was never going to be true, but after watching the Welshman simply carve open Aston Villa this week, maybe that value isn't as ridiculous as it first seemed.
Okay, so it's still ridiculous, but Bale is truly a world-class player and proved just how deadly he can be for Spurs this season—turning in three goals and creating a number of other goal-scoring chances en route to a big victory for the North London club.
Bale finished with seven shots—three of which were goals and several others induced great saves from Villa goalkeeper Brad Guzan—and also created four goal-scoring opportunities for his teammates throughout the match (per StatsZone App).
His importance to Tottenham is going to be even clearer through the latter half of the season as Spurs chase down that Top-Four spot they desperately desire.
9. Swansea City Blew 3 Points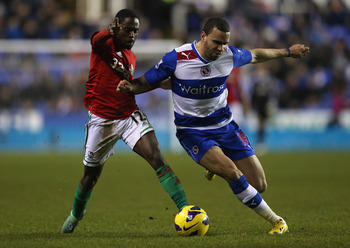 Warren Little/Getty Images
Fresh from their huge performance last week against Manchester United, Swansea City traveled to last-placed Reading this week, and many expected an easy win for the Swans.
Reading had lost seven straight, and Swansea were playing exciting, attacking football—two parallels that were largely expected to yield victory for Michael Laudrup's side.
And looking at the statistics, you'd have thought they did.
In addition to the Royals missing Jason Roberts, Sean Morrison and Alex McCarthy due to injury, Swansea dominated the match from start to finish—having goals cleared off the line and disallowed—but could not find the goal they so desperately desired.
Here are some stats:
10 shots to three for the match.
551 passes completed to 141.
88 percent completion rate compared to 64 for the opponent.
72 percent possession for the match.
Were it not for Adam Federici's brilliance, this would have been an easy win for Swansea.
However, with it, the result became a tough 0-0 draw for both sides that Swansea will walk away from very disappointed with—they know they should have won all three points.
Michu hobbled off in the second half also. Just to help the situation.
10. Is the Title Race over Already?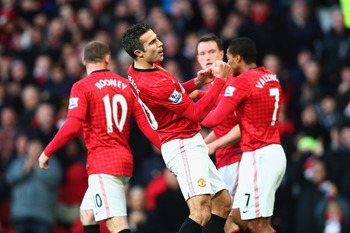 Clive Mason/Getty Images
With Manchester United winning and Manchester City losing, the biggest question to emerge out of this weekend is whether the title race is already over.
United are set to get Shinji Kagawa and Nani back from injury soon, and Anderson and Wayne Rooney should return a few more weeks after that.
Yet despite their injuries and defensive inconsistencies, United sit seven points clear on top of the table and in complete control of their destiny this season.
Sir Alex Ferguson's men have won 11 of their past 13 matches and have already beaten both their rivals this year—Manchester City and Chelsea—at their respective home grounds.
They have scored over 10 more goals than any other team in the league so far and are simply too strong in attack to keep quiet week in and week out in the Premier League.
Seven points is not insurmountable, as we saw last season, and there's still 19 weeks left to play, so it's hard to say that the title race is definitely over already.
But heading into 2013, you'd rather be on United than any other team at the moment. They are the clear favorites to win the league and deserve to be in that position.
Whether they go on and win it? Well, that's next year's business.
What did you learn from the Premier League this weekend?
Comment below or hit me up on Twitter: Follow @dantalintyre
Keep Reading