Ranking the 10 Most Underappreciated Players of the 2012-13 NBA Season So Far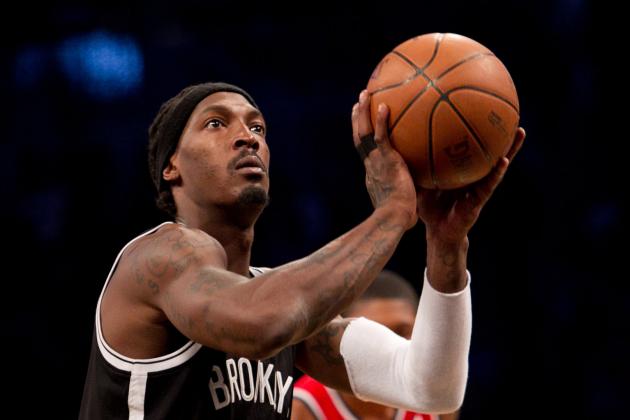 Debby Wong-USA TODAY Sports

Each NBA team has its stars, but also boasts under-the-radar performers who don't get nearly enough credit. The players that fit these labels make irreplaceable contributions on their respective squads.
Take Gerald Wallace (pictured), for example. He is not a lethal scorer and doesn't have much size at 6'7", 220 pounds, yet has developed into one of the best defenders in the league.
Similarly, Greivis Vasquez is one of the league's premier young point guards but has yet to become a household name due to him playing in a small market, not to mention on a bad team.
Talents like Wallace and Vasquez are vastly underappreciated, though their value to their team is unquestionable. They rarely get their due respect, but it is time for that to change.
Starting with this top 10 countdown.
Note: All statistics are accurate as of December 25, 2012.
Begin Slideshow

»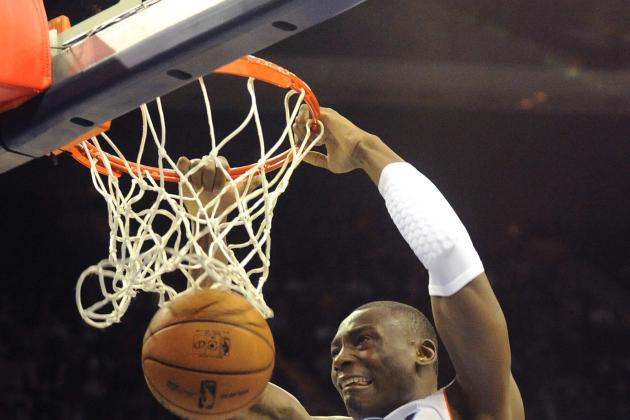 USA TODAY Sports

2012-13 Stats: 4.9 PPG, 6.6 RPG, 1.7 BPG
Bismack Biyombo is only 20, but he is slowly turning into an elite interior presence. He has decent size at 6'9", 245 pounds, and his rebounding and shot-blocking have shown improvement this season.
In the month of December, Biyombo has averaged 7.9 rebounds and 1.2 blocks per game, but he gets almost zero attention because he plays for the small-market and perennially losing Charlotte Bobcats. In fact, the team has not won a single game this month despite Biyombo's fine play in the paint.
I's time for the rest of the league to start taking notice. In time, Biyombo is going to become a force on both sides of the floor.
To simply toss him aside because he plays for a losing team is not just unfortunate, but borderline criminal.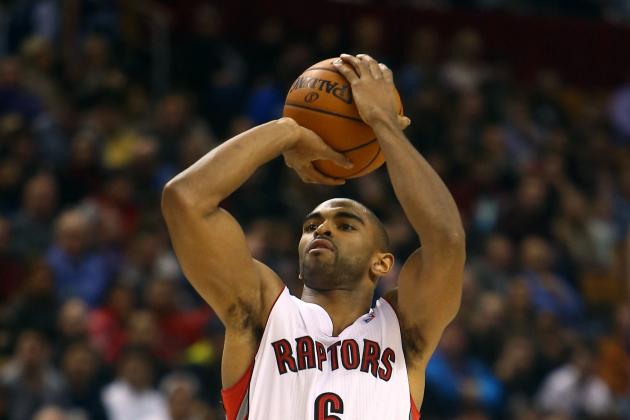 Tom Szczerbowski-USA TODAY Sports

2011-12 Stats: 10.4 PPG, .333 FG%, .364 3P%
Like Biyombo, Alan Anderson is a talent that doesn't get any attention because he plays for a weak team in the Toronto Raptors. He is actually a talented shooter who, despite needing a great deal of improvement in terms of shot selection, can be relied upon to provide a jolt on offense.
Anderson's ability to contribute offensively helped key the Raptors' recent five-game winning streak. Over that stretch, he averaged 14 points per game and shot an incredible 43 percent from long range.
It's unclear just how much longer Anderson's stretch of success will last. Landry Fields is close to returning from an elbow injury, and rookie Terrence Ross is continuing to show gradual improvement. Somewhere down the road, there may not be a place for Anderson.
Regardless of that, his three-point shooting speaks for itself, and head coach Dwane Casey should take notice. In fact, so should the rest of the NBA.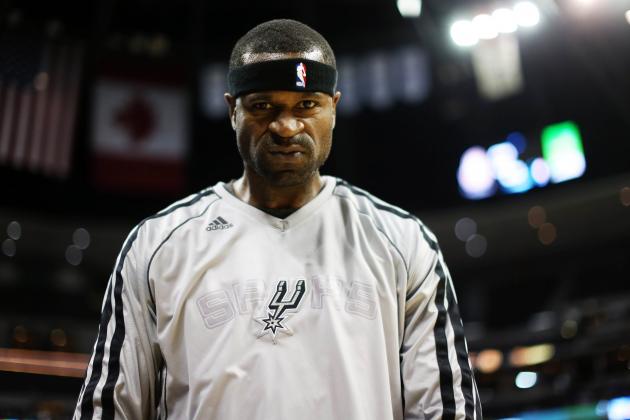 USA TODAY Sports

2012-13 Stats: 7.6 PPG, 3.9 RPG, 0.7 SPG, .385 FG%, .292 3P%
At first glance, Stephen Jackson's numbers aren't anything special. However, it should be noted that he is only just coming back from a finger injury that forced him to miss 14 games. For all we know, he could still be getting back into the swing of things.
Stats aside, Jackson is an electrifying on-court presence and makes an impact on both ends of the court. When he's not sinking key three-pointers, he's playing tight perimeter defense. He plays his heart out night after night, regardless of how many minutes he receives.
And yet, fans seem to remember him more for his attitude than for what he does when fully focused. The fact is, the man is a phenomenal contributor and gets nowhere near enough appreciation for his hard work.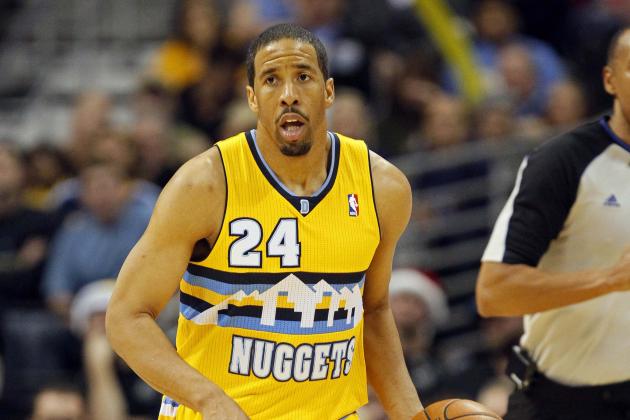 Isaiah J. Downing-USA TODAY Sports

2012-13 Stats: 8.7 PPG, 5.4 APG, .464 FG%
Even at 36 years old, Andre Miller is a fine point guard. He gets good minutes off the bench in Denver—25 per game to be exact—and still has spectacular court vision.
Nevertheless, because NBA fans tend to gravitate toward good young players, they focus more on starter Ty Lawson than they do Miller. In reality, the two are not that much different from one another, and saying Lawson is far better is arguably a stretch.
Look at it this way: Every 36 minutes, Lawson averages 14.2 points, seven assists and 1.7 steals—not bad numbers at all.
Over that same stretch, though, Miller averages 12.5 points and 1.2 steals, but also contributes 7.7 assists. The differences are not vast, but do demonstrate which point guard's court vision may be a bit better.
That isn't to say that Miller should start over Lawson. The former Tar Heel is the future of the Nuggets and should get as much playing time as possible.
Miller, however, needs to get his fair share of credit as well.
USA TODAY Sports

2012-13 Stats: 11.3 PPG, 6 RPG, .492 FG%
Prior to this season, Andray Blatche's reputation was that of a head case. He spent the first seven seasons of his career with the Washington Wizards and had earned a reputation as a talented big man whose attitude prevented him from fully blossoming. Over the summer, Washington amnestied him, and he later signed with the Brooklyn Nets.
In Brooklyn, Blatche has been a changed man. Instead of playing with a chip on his shoulder, he appears to be legitimately happy as the Nets' backup big man. He is posting respectable numbers off the bench and has had some incredible games, including a double-double against the Boston Celtics on Nov. 28 and a 23-point effort against the New York Knicks on Dec. 11.
Despite his resurgence, however, Blatche gets little appreciation. Here is a man who has averaged 19.4 points and 10.3 rebounds per 36 minutes this season and will likely demand a good contract next season, but his name has generated little buzz throughout the league.
If the Nets get out of their funk and go on a run, keep an eye on Blatche. Teams will be lining up to try and land his services, but with how good his situation is in Brooklyn, will he listen to any of them?
Jayne Kamin-Oncea-USA TODAY Sports

2012-13 Stats: 10.6 PPG, 5.2 RPG, 1.3 SPG, .500 FG%, .333 3P%
Matt Barnes is a great athlete overall and possesses a great skill set, but he has remained a journeyman throughout his career. The Clippers are one of eight teams he has played for since joining the league out of UCLA in 2002, and his second stint in Lob City has proven to fit his style of play quite well.
Los Angeles is now on a 14-game winning streak, and Barnes has averaged 13.3 points and 4.9 rebounds over that stretch.
In the team's Christmas Day game against the Denver Nuggets, Barnes had a great night. The former UCLA Bruin compiled 20 points, eight rebounds, three assists, two blocks and three steals in 32 minutes of play, outscoring both Blake Griffin and Chris Paul.
Barnes has been a good swingman off the Clippers bench all season long, but his numbers did not receive one nod of recognition until after the Christmas Day game was over. This needs to change going forward, as teams that write him off will likely learn the hard way after he plays his way into the box score.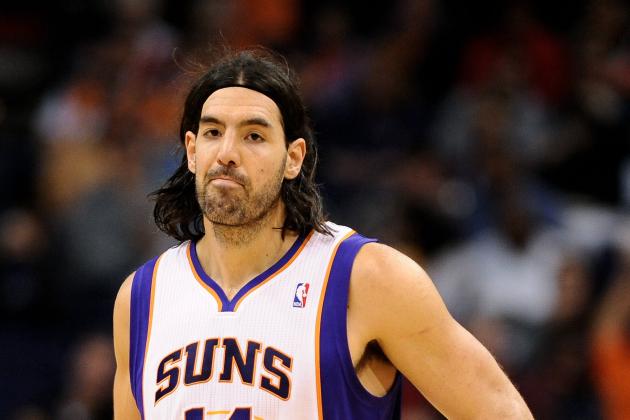 Jennifer Stewart-USA TODAY Sports

2012-13 Stats: 11.9 PPG, 6.3 RPG, .469 FG%
Luis Scola joined Phoenix after being amnestied by the Houston Rockets over the summer. At first glance, his ability to stretch the floor and provide tough defense on the inside seemed like a good fit for the fast-paced Suns.
However, for some reason or another, head coach Alvin Gentry benched Scola after a 4-7 start in favor of second-year forward Markieff Morris. The struggling Suns proceeded to go 3-8 with Scola coming off the bench and have gone 4-2 since he returned to the starting lineup.
Love him or hate him, the man can play. He never gives more than his best effort on both sides of the floor and plays unselfishly. He rarely takes an unnecessary or unwarranted shot.
His type of on-court IQ is hard to find, and the fact that Scola was benched in the first place is borderline insulting. He is just the veteran the young Suns need to lead them over the hump, and that means the more playing time he receives, the better.
Oh, and let's not forget that the man was talented enough to be included as part of the proposed trade that would have sent Chris Paul to the Lakers.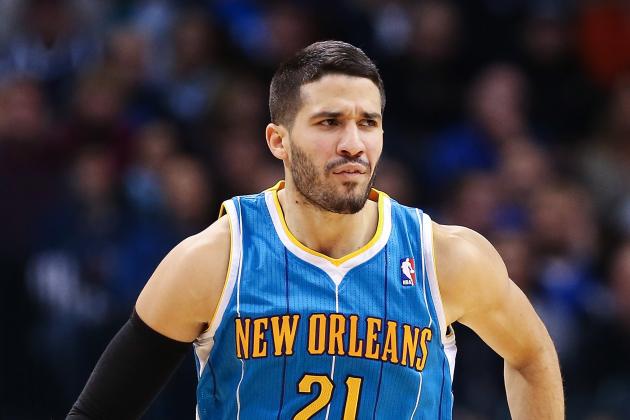 Kevin Jairaj-USA TODAY Sports

2012-13 Stats: 12.6 PPG, 8.7 APG, 4.1 RPG, .410 FG%, .363 3P%
Greivis Vasquez is not built like a typical point guard. He has good height at 6'6" and uses this size advantage to create mismatches against smaller opponents.
His young New Orleans Hornets are struggling mightily, but he has been one of the team's few bright spots this season along with rookie Anthony Davis. His 8.7 assists per game rank fourth in the league, trailing just Rajon Rondo, Chris Paul and Jrue Holiday. That's pretty good company, if you ask me.
Vasquez is also a phenomenal athlete in general, and he has a knack for making clutch shots. Unfortunately, as good as he is, he often gets put on the back burner because he plays on a bad team in a small market. Were Vasquez in a bigger city like Los Angeles, New York or Chicago, he'd be much more of a household name.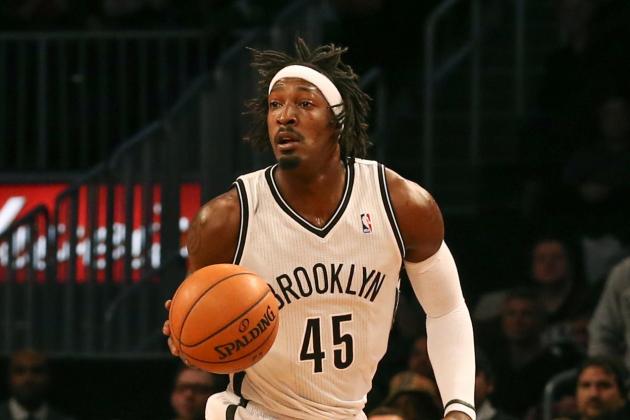 Anthony Gruppuso-USA TODAY Sports

2012-13 Stats: 11.3 PPG, 5.7 RPG, 2.7 APG, 1.6 SPG, .450 FG%, .364 3P%
Gerald Wallace is 30 years old and definitely the type of player who could put up way more points if he wanted to, but he instead chooses to focus on defense. In doing so, he has become one of the league's premier pests despite seeming undersized at 6'7", 220 pounds.
The man's willingness to toss himself around the court without any regard for his physical well-being has earned him the nickname "Crash" and helps explain why he has only reached the 70-game mark four times in 11 seasons.
Apart from his fine defense, Wallace is also a good three-point shooter, an asset that only adds to his value. Unfortunately for him, most NBA fans are drawn to offense, and he thus takes a back seat to those who can score in high volume.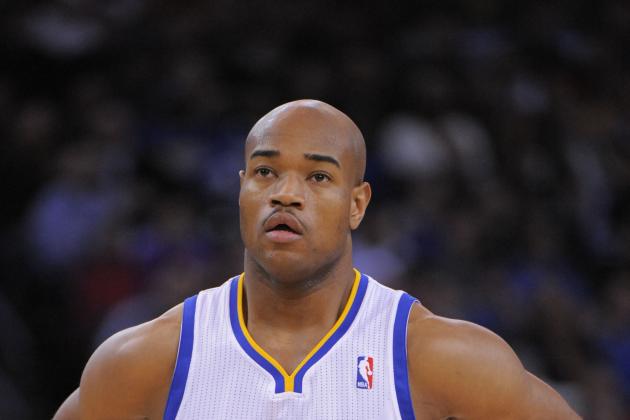 USA TODAY Sports

2012-13 Stats: 12 PPG, 5.2 APG, .492 FG%, .423 3P%
When people think of a backup point guard, they usually think of someone who can provide solid minutes off the bench but do little else. In terms of overall production, there is usually little to write home about in that department.
This season, Jarrett Jack has raised the bar in terms of being a backup. Not only has he flourished in scoring and passing, but his numbers mirror that of someone who could easily be a starter even though he has not started one game this season.
Jack's performances over his last five games have been even better. He has posted 19 points and 7.6 assists per game, while shooting an astounding 55 percent from both the field and long range. Should starter Stephen Curry go down with an injury, Jack will be able to provide more than just a body to place in the lineup.
And yet, everyone seems to forget about the man. He was a fine young point guard in three years at Georgia Tech and was drafted in the first round in 2005—but he has always either been stuck on bad teams or flown under the radar.
Consequently, NBA fans have forgotten about him and his dynamic skill set, which is a shame considering how well he has played this season.