EPL Week 20 Predictions: Players Sure to Land in All-EPL Team for Week's Clash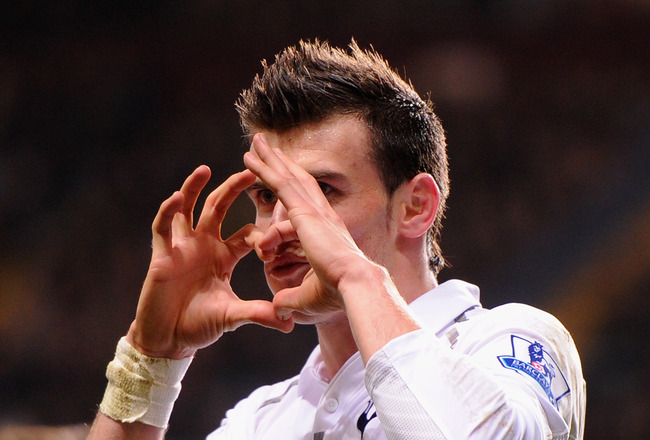 Michael Regan/Getty Images
After a set of wild mid-week matches, the English Premier League's biggest stars must rest up and prepare for a quick turnaround, as this weekend will feature another full slate of fixtures.
At one point on Wednesday, Manchester City seemed destined to narrow the gap between themselves and first-place Manchester United. But Sunderland winger Adam Johnson got revenge against his old club and Javier Hernandez scored another late winner to push the Red Devils seven points clear atop the table.
Now, a new set of top performers must take center stage and continue the drama that has been building throughout this EPL season.
Here are the players who will outshine their peers this weekend.
Goalkeeper: Tim Howard, Everton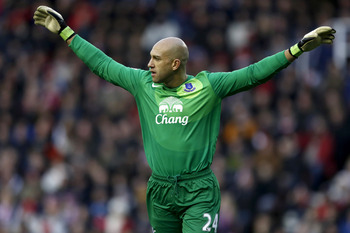 Paul Thomas/Getty Images
Tottenham denied Everton a spot in the top four, and the Toffees will need a victory over Chelsea to stay keep the pressure on Spurs.
In order to get three points, Everton will need a top-class performance from goalkeeper Tim Howard.
A victory would allow Everton to jump over the Blues in the table, but it will have to get three points without Marouane Fellaini. The talented Belgian has been the Toffees best field player this season, but he is currently serving a three-match ban for his hijinks against Stoke City earlier this month.
Howard will need to be at his very best in this fixture, and he will deliver several fantastic saves in order to push Everton past Chelsea.
Left-Back: Leighton Baines, Everton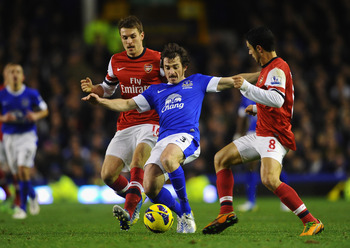 Laurence Griffiths/Getty Images
England's two best left-backs will go up against each other when Everton takes on Chelsea, and Leighton Baines will fare far better than Ashley Cole.
While Cole has held a tight grip on the national team's starting spot at the position, Baines will prove to be the better player in club football.
The Everton outside back has had a fantastic season, and his partnership along the left flank with Steven Pienaar has produced moments of exceptional quality. Baines' skill going forward and reliability in defense will be completely apparent in this match.
The same will not be said about Cole, and Baines' ability to threaten along the sideline will help Everton earn an impressive result.
Centre-Back: Jan Vertonghen, Tottenham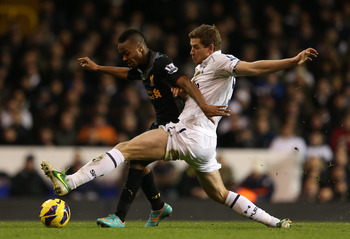 Julian Finney/Getty Images
Jan Verntonghen has proven to be the epitome of a modern centre-back this season.
He clearly has the strength and stature to excel with his defensive duties, but he also has the agility and athleticism to move out wide and contribute as an outside back. To complete his skill set, he has a fantastic touch on the ball and exceptional vision.
His presence at the heart of the Tottenham back line has helped Spurs during their current run in which the team is playing as well as any squad in the Premiership.
Both Vertonghen and Tottenham's form will continue this weekend when they earn another victory against Sunderland.
Centre-Back: Ashley Williams, Swansea City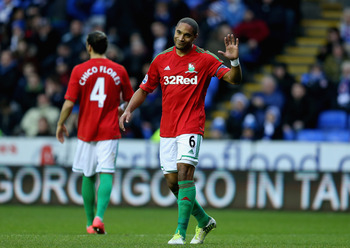 Warren Little/Getty Images
Swansea City's attack has been frustratingly inconsistent this season, and somehow failed to score against Reading's porous defense in its most recent match.
But manager Michael Laudrup has been able to count on centre-back Ashley Williams to perform consistently all year. Williams has played every minute of Swansea's current Premiership campaign, and he has been a rock at the back for the Welsh side.
In addition to strong defensive play, Williams has completed 88.1 percent of his passes this season, according to Whoscored.com. This has allowed Swansea to continue playing an attractive style of football.
He will have his hands full with Fulham's Dimitar Berbatov this weekend, but the Welsh centre-back will have another admirable performance to help Swansea to a victory at Craven Cottage.
Right-Back: Pablo Zabaleta, Manchester City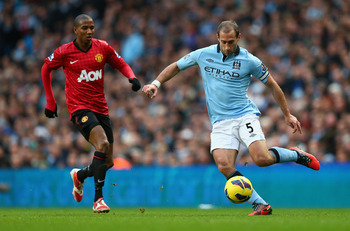 Clive Mason/Getty Images
Pablo Zabaleta is another player who has performed consistently on a team that has had far too many ups and downs this season.
Manchester City lost even more ground in the title race with its loss to Sunderland, and the Citizens cannot afford another slip up this weekend at Norwich City.
The Canaries are having an impressive campaign, and they will certainly make City work for points in this match. Roberto Mancini will need to throw players forward in order to crack Chris Hughton's back line.
Zabaleta's runs up the sideline will be an important contribution to the City attack, and Manchester United should not start clearing space in its trophy cabinet just yet.
Left Midfielder: Gareth Bale, Tottenham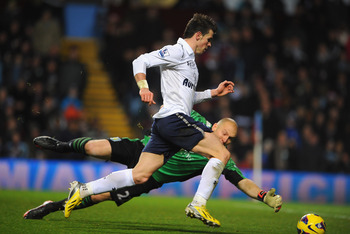 Michael Regan/Getty Images
After Aston Villa's shaky defense allowed eight goals against Chelsea this past weekend, Paul Lambert was likely praying that lingering issues with Gareth Bale's hamstring would slow him down. This was not the case.
Bale recorded the first Premier League hat trick of his career against the Lions, and he is in fantastic form.
The Welsh winger is a prodigious talent, and when he is playing with confidence, he is impossible to defend. He has pace, skill, thunderous striking power and shows no fear when heading towards goal.
Tottenham will face Sunderland this weekend, and while the Black Cats are coming off of a surprising victory over Manchester City, Martin O'Neil's side will not be able to record another upset. Bale will run wild once again in his next match.
Central Midfielder: Michael Carrick, Manchester United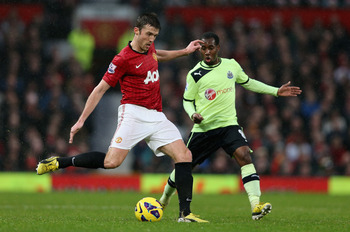 Clive Brunskill/Getty Images
Michael "Xavi" Carrick dominated Manchester United's match against Newcastle and turned in his most impressive performance of this season.
The 31-year-old's campaign had been characterized by his inability to be a dominant defensive force as a holding midfielder and his lack of incisive passes when going forward. But Wednesday's match featured a drastically improved outing that was more reminiscent of the Barcelona maestro than any previous performance Carrick had delivered this season.
He had two assists, including a spectacular ball that landed directly on Javier Hernandez' foot for the Red Devils' game-winning goal.
With the memory of such a quality match just a few days old, Carrick will continue playing at an extremely high level when United attempt to protect their lead atop the table against West Bromwich Ablion this weekend.
Central Midfielder: Juan Mata, Chelsea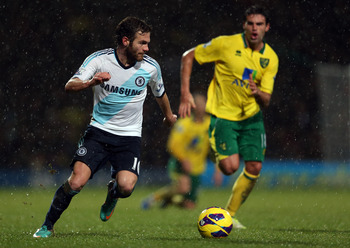 Julian Finney/Getty Images
Chelsea is another Premier League giant that has struggled at times this season, but regardless of his team's struggles, Juan Mata has been magnificent throughout this campaign.
He has shown all the necessary qualities to become the next great Spanish midfielder, and he has seven goals and seven assists this season. His most recent goal was a remarkable shot from well outside the penalty area that gave the Blues a 1-0 victory over the Canaries.
Few players in the world have the ability to be so dangerous as both a goal scorer and a distributor, and Mata will turn in another fine performance against Everton.
However, he will need help from his teammates in order to take down the Toffees, and he will not receive it this weekend.
Right Midfielder: Theo Walcott, Arsenal
Clive Brunskill/Getty Images
While Arsene Wenger granted Theo Walcott's wish to play striker in Arsenal's most recent match, the longtime manager will not keep Olivier Giroud on the sidelines against Newcastle, and Walcott will be back on the wing this weekend.
His blinding speed makes him extremely effective running up the sidelines, and Gunners supporters are likely frustrated over his fascination with the centre-forward spot.
Winger is his natural position, and Wenger will use him there against Newcastle. The Magpies are struggling this season, and they will have no answer for Walcott's pace and skill.
The talented Englishman will have another excellent performance amid a flurry of transfer rumors.
Striker: Robin van Persie, Manchester United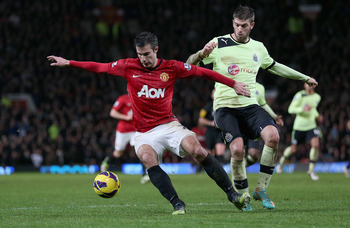 Clive Brunskill/Getty Images
Robin van Persie has exceeded the lofty expectations he faced when he moved to Old Trafford with a league-leading 13 goals this season.
He scored once again while Manchester United was trailing in a thrilling 4-3 victory over Newcastle, and he has managed to maintain an impressive form throughout his current campaign.
While his finishing ability is unparalleled in the Premiership, his contribution to United as a distributor and a playmaker has been invaluable. In addition to his goal total, he has six assists this season.
Wayne Rooney is sidelined with a knee injury, and van Persie will increase his efforts against West Bromwich Albion in order to lead the Red Devils to a victory.
Striker: Kenwyne Jones, Stoke City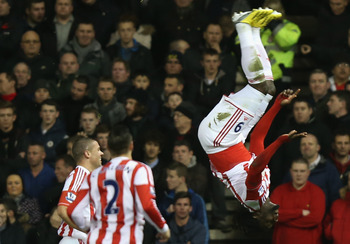 Bryn Lennon/Getty Images
A nasty knock to Peter Crouch's mouth gave Kenwyne Jones a chance to prove his worth to Tony Pulis, and he has certainly succeeded over the past few matches.
He has two goals in his past three matches and was one of the best players on the pitch when Stoke defeated Liverpool 3-1 in its most recent win. His recent form will make it extremely difficult for Pulis to keep him on the bench this weekend against Southampton.
Jones is an incredible powerful player with fantastic athleticism for a striker his size. He is an ideal frontman for the Potters due to his willingness to challenge every ball in the air.
He provides relentless effort, and he has done everything his manager could possibly ask of him. He will get a chance to deliver another fine performance against the Saints this weekend, and he will help the Potters continue their winning ways.
Keep Reading