2012 MLB Offseason Awards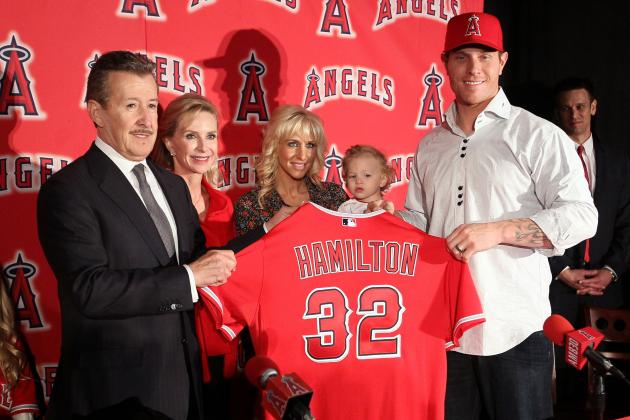 Victor Decolongon/Getty Images
What kind of award(s) does the Angels' signing of Josh Hamilton deserve?
With pitchers and catchers not reporting until February and most of the top free agents already signed, baseball fans are going to have a hard time keeping themselves entertained over the next few weeks. They may even have to resort to doing crazy things, like watching basketball.
On the bright side, enough has happened this winter to a point where we can sit back and take stock of it all. Now's as good a time as any to dish out credit and scorn without sounding too premature.
And what better way is there to dish out credit and scorn than with a few awards? Among the categories to be considered are best and worst GMs, best and worst signings, best and worst trades and a few more lighthearted ones that I conjured just for funsies.
Let's take a look.
Note: Stats courtesy of Baseball-Reference.com unless otherwise noted. Salary and payroll information courtesy of Cot's Baseball Contracts.
Begin Slideshow

»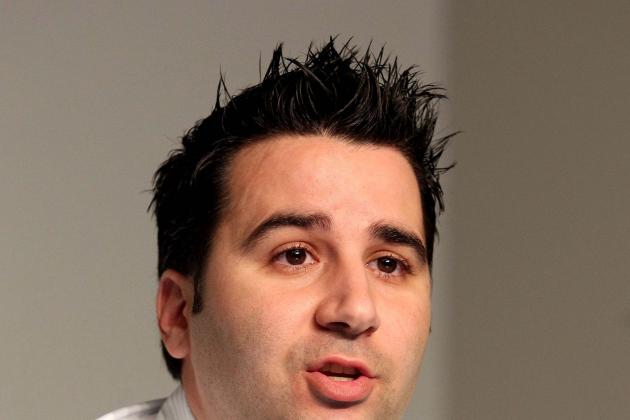 Brad Penner-USA TODAY Sports

No team in baseball has made more improvements this winter than the Toronto Blue Jays. They've taken an AL East that had been bullying them for years and put it in their pocket.
And for this, hats must go off to Alex Anthopoulos. That's an order.
Anthopoulos' first big headline-grabber was the trade he pulled off with the Miami Marlins, in which he landed All-Star shortstop Jose Reyes, two major rotation upgrades in Mark Buehrle and Josh Johnson and speedy utility man Emilio Bonifacio.
That trade alone would have been enough to make the Blue Jays a serious threat in the AL East. But then Anthopoulos went on to sign Melky Cabrera to patrol left field, and then he traded for NL Cy Young winner R.A. Dickey.
With Dickey joining Buehrle, Johnson, Brandon Morrow and Ricky Romero in Toronto's rotation, the Blue Jays now have one of the best rotations in all of baseball. Reyes and Cabrera will form a classic one-two duo at the top of the club's lineup in front of a very strong collection of power hitters.
You'd think that this overhaul cost a fortune to pull off, but that's not really the case. Toronto's Opening Day payroll in 2012 was about $84 million, and their 2013 payroll is projected to be just over $110 million. That's not so bad in a day and age when the going rate for an elite team is at least $150 million.
The bigger hit has been on the club's farm system, but that won't matter if the Blue Jays contend right away in 2013 and keep contending in the years after. Anthopoulos equipped them with the pieces to do just that.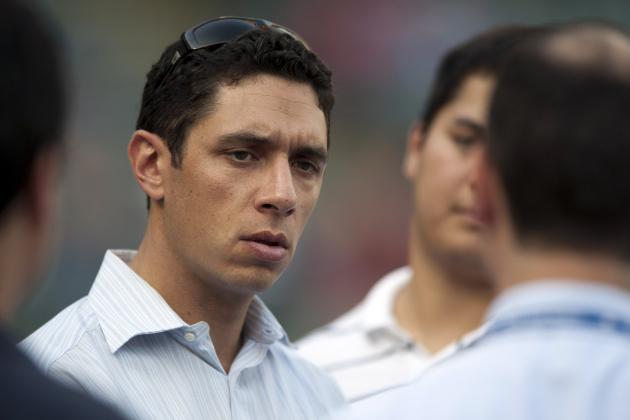 Cooper Neill/Getty Images

This award comes down to a simple question: Who's done the least with the most?
That would be Rangers GM Jon Daniels. He entered this offseason with money to spend and trade chips to deal, yet the Rangers have gotten worse under his watch rather than better.
Indeed, Texas' offseason has been defined by talent going out rather than coming in. The Rangers have lost Josh Hamilton, Mike Napoli, Ryan Dempster, Mike Adams and Koji Uehara to free agency, and the big-name players they've sought have managed to slip through their fingers.
Most notably, the Rangers were said to be going hard after ace right-hander Zack Greinke at the winter meetings, with the idea being to sign him and then to trade for a bat to take Hamilton's place in their lineup. Arizona Diamondbacks right fielder Justin Upton was the hitter most often linked to them.
Daniels swung and missed on Greinke, who signed with the Los Angeles Dodgers. He supposedly could have pulled off a trade for Upton had he agreed to include Elvis Andrus in the deal, but he chose not to do that and the Diamondbacks went on to fill their need for a shortstop elsewhere.
Then Hamilton signed with the Angels, prompting Daniels to whine to the media about not getting a chance to make a final offer.
To be fair to Daniels, he has made some solid additions, namely Joakim Soria (more on him in a moment) and A.J. Pierzynski. But the flavor of Texas' offseason is what might have been rather than what is, and there's no escaping the sense that maybe Daniels was trying to do too much at one time.
"They had too many balls in the air," said one AL exec to ESPN's Jayson Stark. "They had too many things going on. You have a chance to get shut out when you do that. And that's exactly what happened."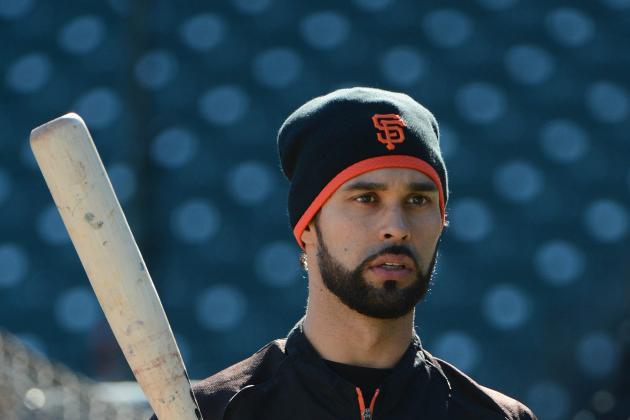 Kyle Terada-USA TODAY Sports

Angel Pagan is going to be 31 years old in July and has yet to post an OPS over .800 over a full season, and the San Francisco Giants will be paying him $40 million over the next four seasons.
This is not a gripe. "Yet" or "but" would have made it a gripe. "And" makes it a compliment.
A $40 million contract may seem like an overpay in Pagan's case, as he has a relatively mediocre career track record and is a little old by baseball standards. But in light of the contracts that other outfielders have gotten this winter, it actually looks like steal.
Shane Victorino will be making $13 million per year over the next three years. Nick Swisher will be making $14 million per year over the next four years. B.J. Upton will be making about $15 million per year over the next five years. Josh Hamilton will be making $25 million per year over the next five years.
We don't even know the whole story yet. Michael Bourn is still out there looking for work, and it's a good bet that Scott Boras will find a way to land him a monster contract eventually.
So $10 million per year for a guy who's solid at the plate and dependable on the basepaths and in the field, not to mention a very good clubhouse guy? That's not bad at all.
A couple years from now, when outfielders are making an average of $20 million per year, we'll probably be wondering how the heck Brian Sabean managed to talk Pagan down to $10 million per year.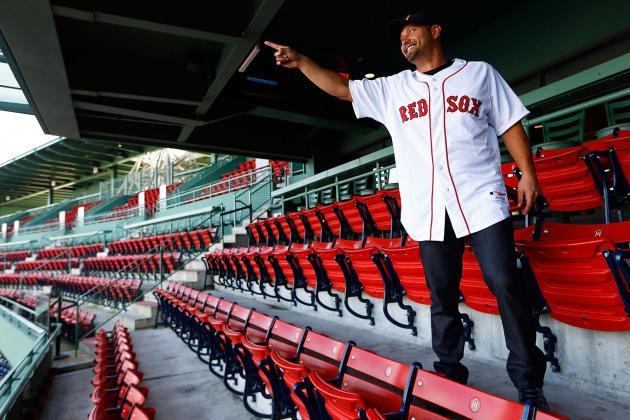 Jared Wickerham/Getty Images

There's always one signing every winter that makes you think, "Holy smokes, what the heck are they doing?"
This year, the (dis)honor goes to Shane Victorino's three-year, $39 million deal with the Boston Red Sox.
The Red Sox agreed to give Victorino $13 million per year despite the fact he was truly awful in 2012 with both the Philadelphia Phillies and the Los Angeles Dodgers. In all, he managed just a .704 OPS and a slash line of .230/.295/.332 against right-handed pitchers.
Boston is banking on Victorino getting back to where he was in 2011, when he posted a career-high .847 OPS and finished with a career-high 5.9 WAR, according to FanGraphs. If he does, the Red Sox will be getting a steal for their $39 million.
The problem is that Victorino's 2011 season stands out as a clear outlier, and he's not exactly getting any younger. There will also be a natural cap on his ability to churn out good value so long as Jacoby Ellsbury is in center field and in the leadoff spot in Boston's batting order.
Since Victorino's deal is only for three years, the Red Sox don't have to worry about it becoming a franchise-killer like a couple recent contracts they've handed out. But at the rate they agreed to pay him, it's a wonder that they didn't sign someone else (see Swisher, Nick).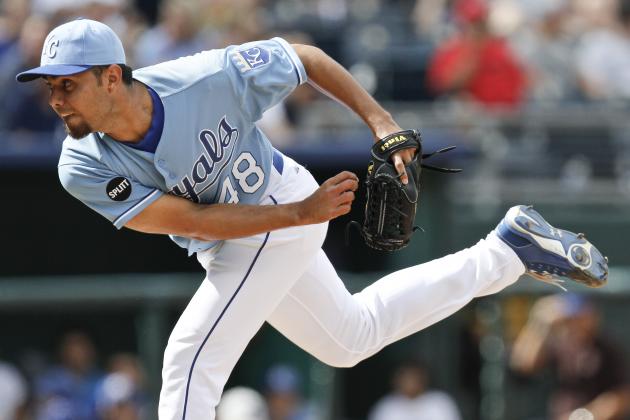 Ed Zurga/Getty Images

I meant everything I said when I ripped Jon Daniels for the offseason he's had. He deserved it.
...But since I'm really a nice guy at heart—you'll have to trust me on this one—I'm also going to give Daniels credit for making the best high-upside signing of the offseason: Joakim Soria's two-year, $8 million deal.
Soria missed the entire 2012 season recovering from Tommy John surgery and likely won't be able to pitch until May of 2013, but he could end up giving the Rangers more than enough value for their $8 million throughout the life of his contract. All he has to do is go back to being his old self.
And what a pitcher his old self was. Between 2008 and 2010, Soria racked up 115 saves and compiled a 1.84 ERA and a 1.01 WHIP. He finished in the top 10 in the AL Cy Young voting in 2010.
It may take a while for Soria to get back into the swing of things, but in the meantime he'll be setting up for a guy who should give him hope. Joe Nathan had Tommy John surgery in 2010 and had a rough return in 2011, but he bounced back to have one of the best seasons of his career in 2012.
If Soria bounces back in the same fashion, he and Nathan are going to be a killer one-two punch in Texas' bullpen. Few leads will escape their grasp.
It may be hard for the Rangers to establish these leads, mind you, but they should be safe once they're in place anyway.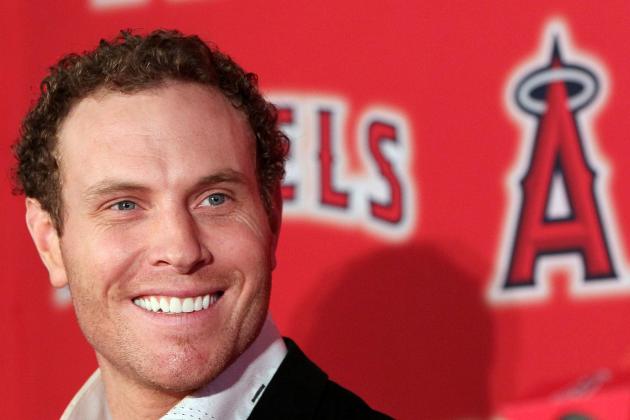 Victor Decolongon/Getty Images

I have no doubt that the Angels are going to get great returns on their investment in Josh Hamilton.
...At first.
Hamilton is one of baseball's elite players for now, as he's a former MVP who's coming off a year in which he hit a career-high 43 homers in 148 games. With him, Mike Trout and Albert Pujols at the top of their lineup, the Angels are going to have a scary offense in 2013, and maybe 2014 as well.
Beyond 2014, though, things probably aren't going to be so rosy.
Hamilton has never been the most consistent player under the sun. He's prone to both nagging and more severe injuries, and he's also been known to endure lengthy slumps. As he advances deeper into his 30s, these problems are far more likely to get worse than they are to get better.
Then there's the matter of Hamilton's declining plate discipline. And the matter of him moving from Rangers Ballpark in Arlington to Angel Stadium of Anaheim. And the matter of his ongoing recovery from drug and alcohol addiction. And so on.
The Angels are a World Series-caliber team with Hamilton in their lineup, but they're going to have to win the World Series right away to validate his contract. A few years down the road, there's a good chance that ship will have sailed for good.
And then the Angels will have to hope that they can still sign Trout to an extension even with Hamilton and Pujols sucking up payroll.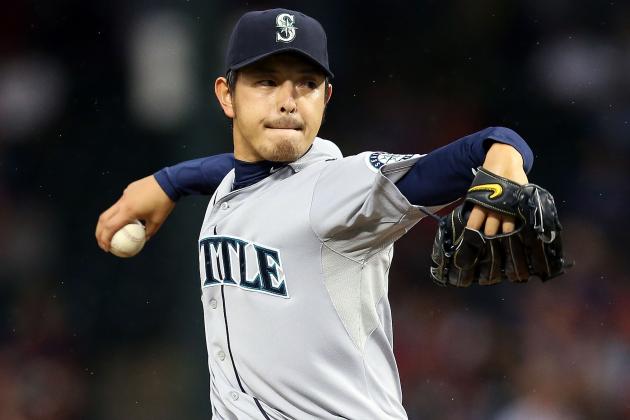 Ronald Martinez/Getty Images

I'm guessing that maybe three or four people outside the greater Seattle area jumped for joy when Hisashi Iwakuma inked a two-year deal worth $14 million to stay with the Mariners.
This is probably because few people outside of Seattle are aware of just how good Iwakuma proved to be as a starting pitcher in 2012.
Iwakuma was wasted in long relief before he finally got a chance to start in July, and he ended up being one of Seattle's best starters down the stretch. In 16 starts, he compiled a 2.65 ERA and struck out about 20 percent of the batters he faced.
Repeating this performance over a full season won't be easy, but it's not like Iwakuma is an amateur who just happened to have a few good months. He was a very successful pitcher in Japan, and he got his feet wet against elite competition in the World Baseball Classic in 2009. It's not so crazy to think that he might just be a really good pitcher.
Iwakuma would have become a free agent had the Mariners not agreed to terms with him when they did, and they probably saved themselves from having to pay a fortune for Iwakuma in doing so. He's going to be making less money over the next two years than Joe Blanton, Brandon McCarthy or Ryan Dempster, and he may be better than any of them.
If only he could hit...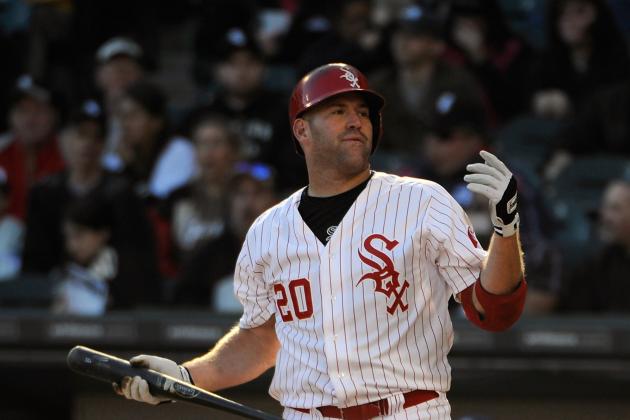 David Banks/Getty Images

It's not all that uncommon for a player to jump ship from the Boston Red Sox to the New York Yankees and vice versa. In fact, it's quite common.
But judging from how people reacted to Kevin Youkilis' one-year deal with the Yankees, you'd think it never happens. His exodus from Boston to New York was headline news for days.
Which, in retrospect, makes no sense at all. Youkilis joined the Yankees by way of the Chicago White Sox, who acquired him in a trade because the Red Sox basically didn't want him anymore.
This was not a case of a Red Sox star turning coat. It was a case of a former Red Sox star getting a job, plain and simple.
And we're not even talking about a good former Red Sox star. Youkilis' hitting has been in sharp decline for two years, and he's also had trouble staying healthy. The Yankees shouldn't expect to get anything significantly better than the .745 OPS Youk posted in 2012, nor should they expect Gold Glove defense from him at the hot corner.
Contrary to what the headlines suggested, Youk going to the Yankees was not an outrage, a steal or a coup. It was a case of a desperate team replacing a broken-down player who can't hit with another broken-down player who can't hit.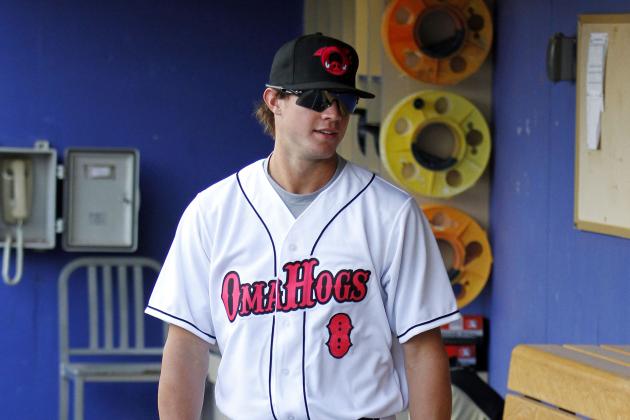 Matt Ryerson-USA TODAY Sports

The trade that sent James Shields and Wade Davis from Tampa Bay to Kansas City wasn't the disaster for the Royals that many made it out to be. They added a front-line starter and a good back-end starter to a rotation that desperately needed help. The trade should pan out for them in the short term.
But if Wil Myers is who the experts say he is, then there's little question that the Rays got the better end of this trade as far as the long term is concerned. They traded two years of Shields and a pitcher they didn't need for a potential All-Star outfielder.
Myers was named Baseball America's Minor League Player of the Year in 2012, and the award was well deserved. In 134 games between Double- and Triple-A, Myers slugged 37 home runs and compiled a .987 OPS.
Myers should become Tampa Bay's everyday right fielder at some point in the 2013 season, and the smart money is on the Rays signing him to a club-friendly extension that will keep him around for years to come. It's what they do, after all.
In addition to Myers, the Rays also got a potential midrotation starter in Jake Odorizzi and a young lefty in Mike Montgomery with very good stuff. Rays pitching coach Jim Hickey could work his magic and turn Montgomery into something special.
The Royals will be better right away after this trade. But a few years down the road, it's going to be hard for them watching the Rays succeed with talented young players who could have been theirs.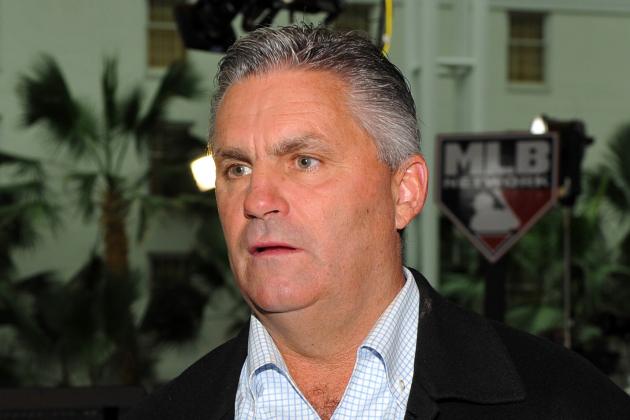 Don McPeak-USA TODAY Sports

When it comes to elite young prospects, patience is a virtue.
Evidently, Arizona Diamondbacks general manager Kevin Towers is not a patient man. If he was, he would not have given up on Trevor Bauer so quickly.
That's essentially what Towers did when he agreed to send Bauer, the third overall pick of the 2011 draft, to the Cleveland Indians as part of a three-team trade that netted Cincinnati Reds shortstop prospect Didi Gregorius, lefty reliever Tony Sipp and first base prospect Lars Anderson.
Gregorius was the prize of the trade for Arizona, but there are some legit question marks about his future. He certainly has a major league defensive skills, but not so much a major league bat. He managed just a .699 OPS in his five years in the minors, as well as a mere .323 on-base percentage.
Bauer, meanwhile, dominated minor league hitters in his first full season as a professional in 2012, posting a 2.42 ERA and a 10.8 K/9 in 22 starts. He did have a rough stint in the majors, but indications are that wasn't what convinced the Diamondbacks to jettison him.
According to Bob Nightengale of USA Today, the problem was Bauer's attitude. He refused to fall in line when he was promoted to the majors, and he rubbed everyone the wrong way in doing so.
If Bauer does indeed have an attitude problem, it's up to the Indians to get it straightened out. What doesn't need to be straightened out, however, is Bauer's talent, which far exceeds that of Gregorius.
Bauer has the potential to be an ace, whereas Gregorius has the potential to be little more than the next Brendan Ryan.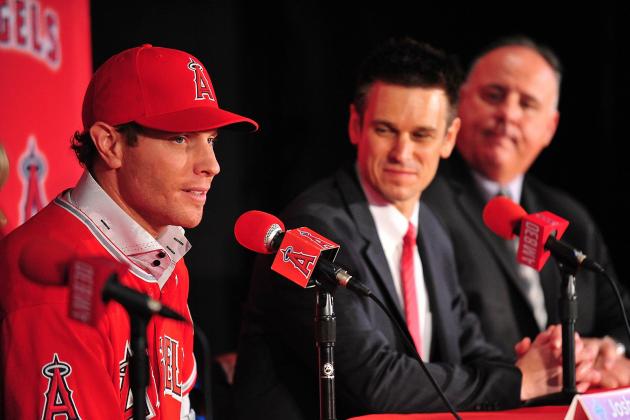 Gary A. Vasquez-USA TODAY Sports

The Angels may come to regret Josh Hamilton's contract in the long run, but what they should be proud of for now is how quietly they made it a reality.
It's not easy to keep your courting of a big-name free agent out of the hands of the media, but the Angels managed to do just that with their pursuit of Hamilton. In the weeks after Hamilton first entered the market, he was tied to pretty much every team in the majors except the Angels.
In fact, the Angels weren't even mentioned as a suitor for Hamilton until word of his agreement first started leaking out. They weren't even speculated as a fit for him, as writers and fans both dared to assume that the Angels were going to leave "good enough" alone where their outfield was concerned.
True enough, Angels GM Jerry Dipoto's preference may have been to leave his outfield alone, as indications are that team owner Arte Moreno may have ordered the signing as a response to all the headlines being generated by the Los Angeles Dodgers. To boot, the signing may have come together quickly because the Angels were the first team to offer Hamilton five years.
Whatever the case was, the deal certainly came out of nowhere. If the idea was to shock the world, the Angels succeeded.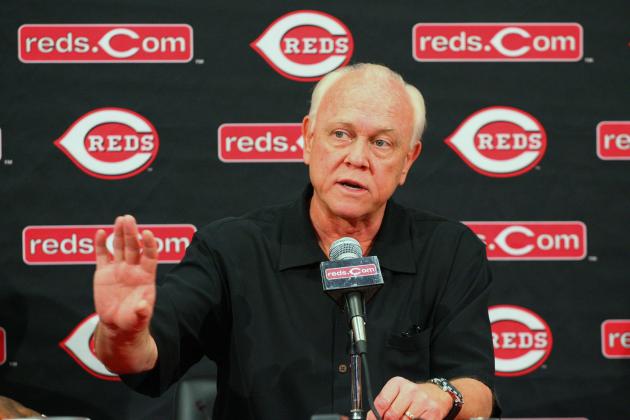 Hunter Martin/Getty Images

I made the mistake of underestimating the Reds' chances of contending in 2012, and one look at their roster is enough to convince me that I shouldn't make the same mistake in regards to 2013.
The Reds do, however, have some major pitfalls that could trip them up if their luck goes south.
The Reds have made three notable moves this winter: the trade for Shin-Soo Choo, the signing of Jonathan Broxton and the transition of Aroldis Chapman into their rotation. Thanks to these moves, the Reds are lined up to have a right fielder in center field, a setup man as their closer and a closer in their starting rotation.
The Reds are downgrading their center field defense in a major way in going from Drew Stubbs to Choo, who has played a grand total of 83 innings in center over eight seasons. The change isn't going to help their pitching staff, which is very good but already has a disadvantage in having to pitch at Great American Ballpark on a regular basis.
Broxton, meanwhile, is a downgrade from Chapman in the ninth inning. Broxton's best days as a closer are behind him largely because he can't blow his fastball by hitters anymore. He used to strike out over 10 batters per nine innings, and now that number's dwindled down to around seven.
Chapman could turn into an ace starting pitcher if he uses his changeup consistently and stays healthy, but it's not encouraging that he dealt with shoulder problems as a reliever in 2012. He could go the way of Daniel Bard and Neftali Feliz rather than the way of C.J. Wilson.
If their gambles pay off, the Reds are going to be a powerhouse team in 2013, just as they were in 2012. If things don't go so well, a promising season could easily go flying off the rails.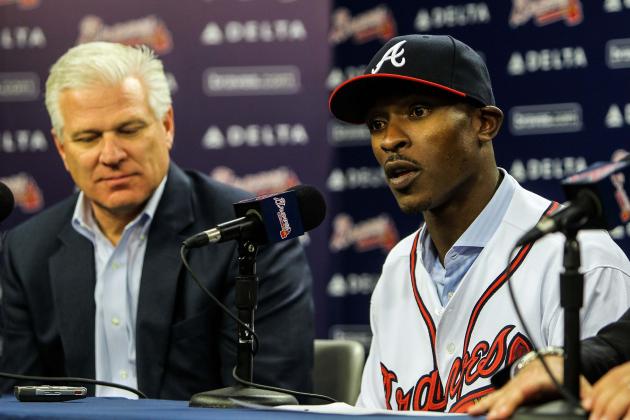 Daniel Shirey-USA TODAY Sports

Generally speaking, teams pay massive amounts of money to free agents only if they've been productive throughout their careers.
The Braves' signing of B.J. Upton is different. The five-year, $75 million contract they gave him is based not on production that has been there, but rather production that might be there.
Upton has the tools to be a 30-30 guy year after year, but he has yet to realize his potential due to a handful of frustrating habits. Worst of all is his plate discipline, as he's routinely among the league leaders in strikeouts that help result in maddeningly low on-base percentages.
Over the last four seasons, Upton compiled a mere .316 OBP. His OBP bottomed out at .298 in 2012, making him one of only 16 everyday players to post an OBP under .300.
If Upton doesn't straighten things out at the plate, the Braves aren't going to get fair value for their $75 million. Their hopes aren't necessarily misplaced due to Upton's considerable talent and his youth, but at the same time it's not like he's a young, up-and-coming prospect.
No sir. Upton is an established major league veteran. At this point, it could be that he is who he is, and no amount of money may be able to change that.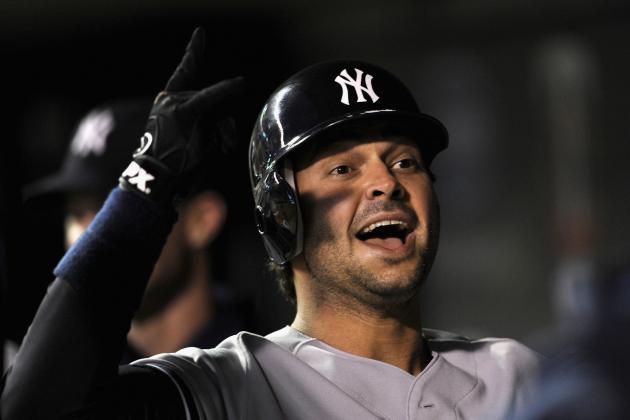 Hannah Foslien/Getty Images

How did the Indians, a team with one playoff appearance in the last 11 years and limited financial resources, lure Nick Swisher to Cleveland?
By treating him like the king of Ohio for a day, of course.
As recounted by Paul Hoynes of The Plain Dealer, the Indians pulled out all the stops when Swisher dropped by for a visit last week. Typical things like fancy meals and a tour of Progressive Field were part of his visit, but the Indians went the extra mile by appealing to Swisher the Ohio State alum in addition to Swisher the baseball player.
This involved the team putting together a video featuring Urban Meyer and Thad Matta, both proven recruiters, urging Swisher to sign with the Indians. Swisher was also treated to a surprise visit by former Ohio State head football coach Jim Tressel.
These things apparently made an impression. Well, that and the four-year offer that the Indians made Swisher.
Regardless, the club's pitch to Swisher was nothing if not original. And since it worked, one wonders if more and more teams will try to follow in their footsteps whenever local players are looking for work.
Unwittingly, the Indians may have started something.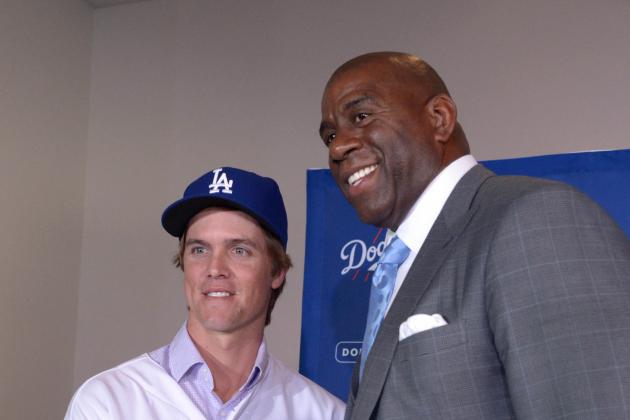 USA TODAY Sports

Remember when CC Sabathia became a free agent a couple years ago and everyone and their uncle knew he was going to sign with the Yankees?
Of course you do. That signing could be seen a mile away.
Zack Greinke signing with the Los Angeles Dodgers this winter had the exact same kind of vibe. It was big news when it happened, but it felt more like a fulfilled prophecy than a big surprise.
Greinke and the Dodgers were simply meant for each other. He was the best pitcher on the market who was likely to land the biggest deal of the offseason, and the Dodgers were (and still are) the richest team in baseball who were looking to make it rain on a right-hander who could back up Clayton Kershaw in their rotation.
Said Dodgers GM Ned Colletti, via MLB.com: "It was very important to us to let Zack know how serious we were about making this team as great as we could make it and the part that he could play in it would be a major part."
Translation: Shut up and take my money!
And Greinke did just that.
If you want to talk baseball, hit me up on Twitter.