BJ Penn and 8 Fighters Competing in the Wrong Weight Division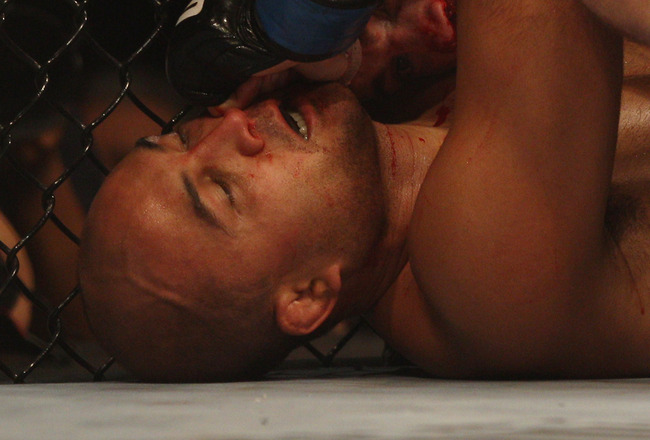 Mark Kolbe/Getty Images
Weight cutting and making weight has been an essential element of MMA ever since the sport introduced weight divisions.
Fighters will try and maximise their advantage in a contest by being as heavy as possible while dunking just under the bar on the night of the weigh-in.
The whole process is an exact science which requires skill and dedication to accomplish. But it takes its toll on a fighters body and there are some fighters that are just kidding themselves when it comes to what weight division they belong in.
BJ Penn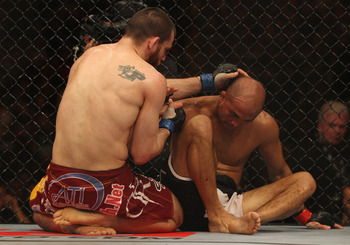 Mark Kolbe/Getty Images
It's hard to tell a fighter who's been a champion in two weight divisions that those ambitions are now beyond his reach.
Back in 2004 BJ Penn, having failed in his bid to become lightweight champion, was able to quickly move up to welterweight and take the belt from legend Matt Hughes. But that was in 2004.
In 2012, the competition is just too great for him to give up such a big size advantage to men who cut down to 170 pounds from 190 pounds, while he only walks around at around 160 pounds.
His recent losses to Nick Diaz and Rory MacDonald was testament to this.
Roy Nelson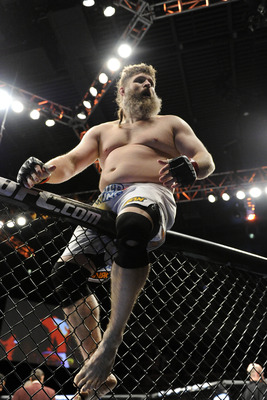 Josh Holmberg-USA TODAY Sports
There is no doubt that Roy Nelson is a highly talented mixed martial artists. A BJJ black belt with knockout power makes for a dangerous combination and he's shown that ability time and again with some outstanding performances against top opponents.
But he only makes heavyweight thanks to the excessive amount of fat he carries around his belly. As such, he'll never be more than a gatekeeper unless he can learn to seriously trim down and compete one division below.
With three wins and three losses in his last six fights, its clear that he can never truly be a contender at 265 pounds.
Dan Henderson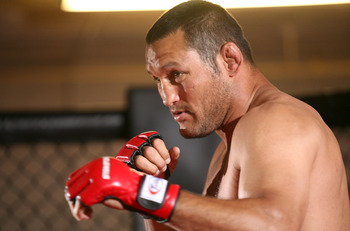 Valerie Macon/Getty Images
Dan Henderson has fought in three weight divisions in his career but arguably his best performances have come at 185 pounds.
There's no doubt that he can compete at 205 pounds—with his talent and experience, he's even looked good fighting heavyweights.
But 185 pounds is his natural weight class and where he belongs, and if he could stay off the junk food and cut down, he'd take that division by storm.
Cole Miller
Gary A. Vasquez-USA TODAY Sports
At 6'1" fighting at 145 pounds, featherweight Cole Miller looks like a freak in the Octagon.
However, in 2011, after a win over TJ O'Brien at lightweight, he made the decision to try and drop down to featherweight and lost both his next two matches against Steven Siler and Nam Phan.
Considering he's looked so good at 150 pounds, its clear that Miller is in the wrong weight class.
Thiago Alves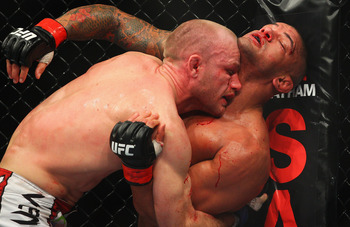 Mark Kolbe/Getty Images
Thiago Alves has struggled to make welterweight throughout his career. You wouldn't think it should be that much of a problem for him at only 5'9", but he's so muscled out that he struggles to make 170 pounds.
At UFC 66, against Tony DeSouza, he tested positive for diuretics, which he used to get himself down to welterweight.
In 2008 and then again in 2010, against Matt Hughes and Jon Fitch respectively, he failed to make both times and the match had to be fought at catchweight.
Alves should know by now he's fighting at the wrong weight class and needs to move up to 185 pounds.
Mark Hunt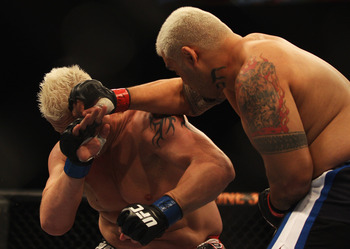 Mark Kolbe/Getty Images
What could be said of Roy Nelson could be said of Mark Hunt. "The Super Samoan" is one of the shortest fastest heavyweights in MMA and at one point was in the middle of six back-to-back losses inside the cage.
He's since turned that around, demonstrating, like Nelson, that knockout power counts for a lot in this sport. However, a more athletic and in-shape Hunt should be fighting at least one division below.
Lyoto Machida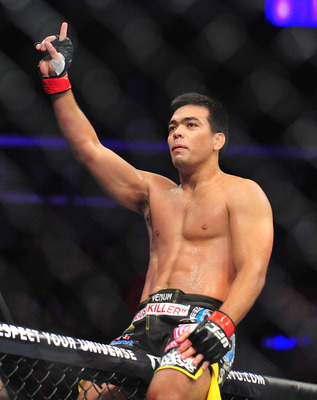 Gary A. Vasquez-USA TODAY Sports
There are many light heavyweight fighters that would be more suitable as middleweights. Men like Rashad Evans and Ryan Bader, for example, have the physiques of 185 pound fighters rather than 205. Both men cut a relatively small amount—15 pounds, to get to light heavyweight.
However, Lyoto Machida reportedly only cuts 10 pounds and is much more naturally suited to fighting at middleweight.
Indeed "The Dragon" has recently talked about doing just that, and perhaps its only the fact that his close friend Anderson Silva is champion at that weight which dissuades him from making the move.
Rousimar Palhares
Joe Camporeale-USA TODAY Sports
After two straight first round TKO losses, Rousimar Palhares is a spent force at middleweight.
He's by far the shortest 185-pounder fighting in the UFC, at only 5'8", and his incredibly muscular frame seems clearly unsuited to that weight division. His recent loss to Hector Lombard should be a sign for him to try his luck at welterweight.
Keep Reading