WWE: What You Probably Missed During the Last Week of 2012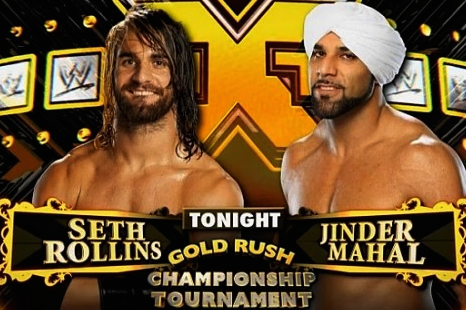 Image retrieved from TheWrestlingFlock.com
The new year marks a time of renewal and fresh starts. It's a time when people make promises to better themselves, to improve on the year that just passed, to create new memories to remember 364 days from now.
Can the same things be said about WWE programming?
It seems that shows like Superstars and Saturday Morning Slam are constantly tinkering with the presentation of their content and the sorts of segments they feature to fill the time.
Shows like Main Event and NXT continue to evolve their purpose as they fit into WWE's ever-changing long-term plans.
Just as important as the format of the shows or the purpose for which it exists, the real product being developed on these programs are the superstars themselves. The stars we see regularly performing on these shows are the stars that WWE continues to mold until they find a permanent spot on the WWE roster.
As we analyze these shows and try to decide which superstars came out looking the best and who came out looking the worst, we can't overlook what is being recapped, especially since this week's review is full of shows that were merely annual recaps (other than Main Event).
Remember, WWE isn't necessarily going to show us what was genuinely the "best of the year." They're going to show us what they want us to remember from 2012. This will be an indication as to who WWE is pushing, who they're losing interest in and who is being underused and undervalued.
To that extent, every week I take a look at WWE's four "other" shows: NXT, Main Event, Superstars and Saturday Morning Slam. After we review everything that happened on these shows, we'll decide who benefited the most last week and who needs to be sending feelers to TNA and ROH.
My "highlights" version of all four shows is below.
If it piques your interest enough to read on, the slideshow breaks down the shows individually, segment by segment, complete with my questions, predictions and/or honorable mentions. If you disagree with my selections for who benefited/suffered the most, there's a comment section below.
Highlights
On NXT, as part of this year-in-review episode, we watched Seth Rollins defeat Jinder Mahal in the finals of the Gold Rush Tournament that crowned the first NXT Champion. We also witnessed a very quick match in which Bray Wyatt defeated Aiden English.
Big E. Langston defeated Camacho in a match related to their angle with Vickie Guerrero, and we witnessed several promos and New Year's Resolutions from the NXT stars, including Langston himself.
In the main event, Kane defeated Cody Rhodes in a match that had previously been un-aired.
On Main Event, The Great Khali won a 20-man battle royal to earn a United States Championship match against Antonio Cesaro for the first Main Event of 2013.

The night continued with tag action featuring Justin Gabriel and Tyson Kidd defeating 3MB members Jinder Mahal and Drew McIntyre in a really solid match.
This week's Superstars was the second half of a two-week year-in-review, showcasing the best of Monday Night Raw from 2012. This week's episode includes promos and vignettes about The Big Show's heel turn, the "End of an Era" Match, Kane and Daniel Bryan's anger management, Raw 1000 and CM Punk's championship reign.
Matches that were shown included Show vs. Sheamus in a Lumber Jack Frost match, Team Hell No vs. The Primetime Players, and CM Punk vs. John Cena for the WWE Championship.
On Saturday Morning Slam, we got a another "best of" episode. The two replayed matches included Daniel Bryan defeating Tyson Kidd and John Cena defeating Heath Slater.
Cena also got a brief Superstar Spotlight segment.
Now, if you care to read more about any of these happenings, please enjoy the slideshow.
Begin Slideshow

»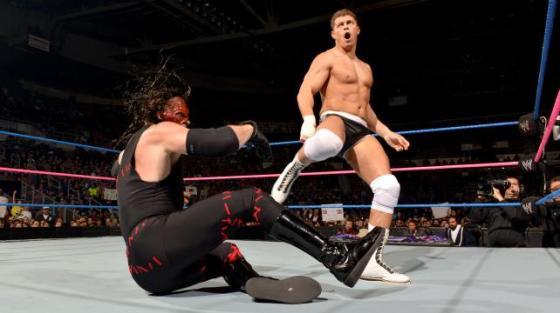 Image retrieved from According2Sources.com
As it was announced last week, this week's episode of NXT is simply a year-in-review of the best moments from NXT in 2012. This is the holiday season, so lazy television programming is to be expected.
However, in this instance, there may be a little more to it than that. After all, these shows are all taped long in advance, so if they had really wanted a completely fresh episode, they had all of the film they needed to put one together.
But with the recent introductions of The Shield and Big E. Langston into WWE's main event scene, you've got to believe that interest in NXT has reached all new levels among the casual and hardcore fans, especially if they hadn't given NXT a chance before.
This week's episode will give casual fans a better understanding of how Rollins, Ambrose, Reigns and Langston got their start and what NXT is all about. This was probably a really good move on the part of WWE.
Tony Dawson is our host, and we kick off the show with the match that crowned the first-ever NXT Champion.
Seth Rollins vs. Jinder Mahal (televised match length 4:19)
Gold Rush Tournament Finals: NXT Championship Match

We join this contest in progress and you can feel that the end isn't incredibly far off, as both men seem frustrated at every near-fall. They did a great job with the atmosphere to make this match seem big. Jim Ross, William Regal and Byron Saxton are all on commentary. Dusty Rhodes is seated at ringside with the NXT Championship belt. The NXT roster is out in full-force, watching the match from the top of the ramp.
The majority of the offense is displayed by Rollins, but Mahal's refusal to stay down and his ability to sell Rollins' moves makes Mahal look like a true pro. There's no question in my mind that both of these men are capable of working a marquee match when needed.
Of course, Rollins wins in the end. The move that finally kept Mahal down was the Black Out.
Bonus Question: What will they rename this move? I assume they won't let him keep it named "Black Out," since that's a reference to his former in-ring name, Tyler Black.
Once Dawson takes over hosting again, we get some quick highlights of the rematch between Mahal and Rollins, which Rollins won again. Dawson then briefly mentions Rollins' involvement with The Shield and Commissioner Rhodes' encouragement to the entire NXT roster to make an impact.
Before a commercial break, we get a montage of NXT superstars that made some noise this year, including (but not limited to) Big E. Langston, Audrey Marie, Bo Dallas and Richie Steamboat.
When we return from the commercial break, we get a strange video package promoting Bray Wyatt. He's out in the woods with what appear to be several "family members." He goes into his normal cult-leader monologue and voice. I'm very interested in where this is going.
After a brief comment from Dawson, we're taken to Wyatt's appearance on the July 11, 2012 edition of NXT. This was not his debut as Wyatt but clearly one of his earliest appearances as the cult leader. He has a match against Aiden English.
Aiden English vs. Bray Wyatt (match length 1:47)
William Regal and Byron Saxton are on commentary and they are overselling Wyatt's psychosis and his evil side. Wyatt completely dominates this short match, but it felt much longer due to his extended introduction.
This was followed by a fresh (yet creepy) promo from Wyatt in which he wishes the viewers a happy new year. This sends us to a commercial break, but not before finding out we get to see a match between Kane and Cody Rhodes that has not previously aired.
A really solid Kassius Ohno vignette follows the commercial break. I can't wait for Ohno to get the call up to the bigs. He also gets a fresh promo in which he talks about how 2013 will be an "OK" year for "KO."
This is followed by a CM Punk promo. He recalls his last visit to NXT in which he encouraged NXT Champion Seth Rollins to beat respect out of people. Now Rollins is a part of the Shield. He reminds us that NXT hosts the future of the WWE. He also says he's going to defeat The Rock at the Royal Rumble.
After another commercial break, we get a Big E. Langston video package, followed by a match of his from Nov. 21.
Big E. Langston vs. Camacho (match length 2:16)
Tony Dawson and Jim Ross are on commentary for this match, and according to JR, no one has been able to get any offense in on Langston up to this point. This is fresh enough of a match that it encompasses the "bounty" angle that involves both of these men and Vickie Guerrero.
Camacho slapping Langston is the only offense he experiences for the entire match. Langston wins with the Big Ending but Camacho receives another one post-match for Langston's trademark five-count. Langston actually leaves the ring, but then gets the urge for yet another Big Ending and another five-count.
This is followed by a replay of when Langston attacked Cena on Raw. Dawson interviews the mammoth, and he says he only attacked Cena to help his friend AJ and that his New Year's Resolution is to take Rollins' NXT Championship.
Kane vs. Cody Rhodes (televised match length 9:09)
Tony Dawson and Tom Phillips are on commentary for this never-before-seen match from the Full Sail Academy in July. A production miscue from the commentary team, as they act as if this is a "grudge match" related to their most recent feud, although this match happened months before Rhodes' injury.
As the match opens up, Rhodes continually hops out of the ring when he can't get the upper hand. Although Kane dominates the opening minutes of the match, by the time we get to a commercial break, Rhodes is in charge and gets a two-count on the big red monster.
In case any of the younger crowd is tuned into NXT, we get a 40-second promo from John Cena (in which he tells us how important NXT is) before we return to the match.
When we get back to the action, Rhodes is working on Kane's legs. It's not long, however, before Kane takes over again, playing up his obvious size and strength advantage. Rhodes manages a reversal and even lands a Disaster Kick for a near-fall in what would be his last chance to score an upset.
Kane, however, won't stay down and gets the win with a chokeslam soon thereafter.
In what I believe to be further evidence that NXT is receiving a lot more views as of late (and that WWE desperately wants NXT to retain that level of attention), Dawson "has it on good authority" that The Shield will be wreaking havoc on NXT in 2013, as well as on Raw and SmackDown.
Dawson goes into a promo for next week's episode, which will include Seth Rollins vs. Corey Graves for the NXT Championship, Bo Dallas vs. Epico, as well as Kassius Ohno and Leo Kruger vs. Tyson Kidd and Justin Gabriel. But as he's completing his last sentence, The Shield's feed interrupts and we get a message from them instead.
It's a fairly standard Shield promo, with the exception that Rollins gets the vast majority of the mic time and they are acknowledging Rollins as the NXT Champion.
Prediction: Now that the NXT writing has caught up to WWE storylines, including The Shield and Langston's involvement in the WWE main event scene, I expect more WWE regulars to make appearance on NXT, especially 3MB as they continue to further tweak their gimmick.
Question: Will they finally begin to acknowledge the NXT Championship on Raw and SmackDown?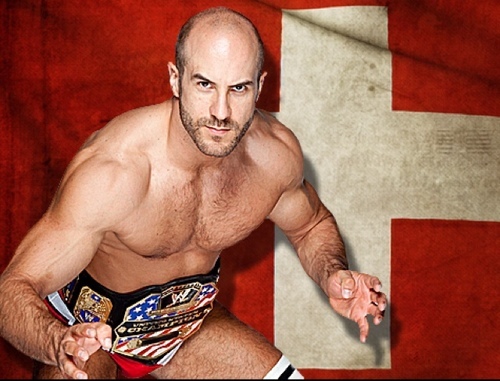 Image credit: Twitter.com/AntonioCesaro
We're in Rochester, N.Y., as Michael Cole and The Miz are hosting Main Event, in what I assume will be the only show in this week's review that will only feature original programming. Antonio Cesaro is a guest on commentary as the program opens by showing competitors for the 20-Man Battle Royal filling the ring.
The winner of the opening contest will receive a United States Championship match against Cesaro on next week's Main Event.
20-Man Battle Royal (televised match length 14:19)
No. 1 Contender for the United States Championship
The Great Khali is the last man introduced to the match, and since he's also the biggest man in the contest, everyone in the ring (except for Santino Marella) looks at him when the bell rings. No one, however, has the guts to challenge the Punjabi Playboy except Yoshi Tatsu, who is eliminated by Khali immediately.
Before the first commercial break, Primo is eliminated by Brodus Clay. Tyson Kidd eliminates Drew McIntyre (who then returns the favor as Kidd is distracted by Jinder Mahal), which is immediately followed by Justin Gabriel eliminating himself and Mahal. One has to assume this will culminate in a match (or a brief program) between 3MB and the Kidd/Gabriel combo.
The in-ring psychology is spot-on for a battle royal featuring so many tag teams. As the commentators point out, many of the teams are working together early on in the match, in hopes that they'll be the final two. Battle royals (including the Royal Rumble) should always feature such in-ring psychology, in my opinion.
Also, if you're a fan of The Miz or Antonio Cesaro, you would probably enjoy their constant banter during this match.
When we return from the commercial break, by my count, no one else has been eliminated.
Wade Barrett hurls one of the Usos over the top rope for his first elimination, followed shortly by Damien Sandow eliminating William Regal. Marella eliminates Epico after skinning the cat, and Khali wins the battle of the two biggest men in the ring as he eliminates the Funkasaurus.
Zack Ryder scores an elimination by shoving the other half of the Uso twins off of the apron, and Khali goes on a chest-chopping spree around the ring as we go to another commercial break.
There are eight men left after the commercial break: the Primetime Players, Team Rhodes Scholars, CoBro, the Great Khali and Wade Barrett.
In a time-span of less than one minute, Khali manages to eliminate Titus O'Neal, Darren Young, Cody Rhodes and Damien Sandow (in that order). That leaves us with CoBro, Khali and Barrett as the final four.
Marella hits Barrett with the Cobra and Ryder sets Barrett up for the Broski Boot. In a very unexpected move, Ryder hits the Boot but is immediately eliminated by Marella. As the Milan Miracle apologizes to his tag partner, Barrett gets up and eliminates him. We're down to Barrett and Khali.
Will we see a match between two of WWE's young, up-and-coming heels? Or is Khali receiving a legitimate push, a US Title match along with his strange, triangular union with Natalya and Hornswoggle?
We get the answer after Khali attempts to toss Barrett over the ropes, only for Barrett to land on his feet on the apron. Khali turns around, sees Barrett on the apron, and eliminates him with his signature chop to the head.
Post-match, Cesaro gets in the ring with his US Championship and simply shakes hands with Khali.
After a commercial break, Matt Striker is backstage to interview Khali. Before Khali can answer the first question, he is attacked by Cesaro. As Khali starts to get back up, while still on his knees, he delivers a chop to Cesaro's chest that knocks the champion down. Cesaro flees, sans belt, and Khali picks up the title saying, "Happy New Year, see you next week" (as interpreted by Michael Cole).
We get a Raw Rebound retelling the happenings from the incredibly cheesy Christmas Eve episode of Raw. 3MB make their way to the ring, as McIntyre and Mahal are set for tag action with Heath Slater in their corner. We aren't told who they're facing, but we are told that (after the commercial break) we'll find out why they had to push back the release date of their hit single.
When we return from the break, instead of going straight to the match, we get a replay of MizTV from Tribute to the Troops, featuring Kermit the Frog, Miss Piggy and Damien Sandow.
Back in the ring, 3MB are showing off their air-guitar skills. When they finally take a break and pick up a mic, they explain that Slater has all but lost his voice, no thanks to Tyson Kidd and Justin Gabriel, who intentionally injured Slater's larynx out of jealousy.
McIntyre also blames them for costing himself and Mahal a shot at the US Title, and we're ready for the second match of the evening. There's more than 15 minutes of programming remaining as Kidd and Gabriel make their way to the ring for a tag match against two other WWE superstars who were born outside of the United States.
Drew McIntyre and Jinder Mahal vs. Tyson Kidd and Justin Gabriel (televised match length 13:09)
When you have a tag match in which Jinder Mahal is probably the weakest worker of the four competitors, you have the potential for a really solid match. While Kidd and Gabriel aren't likely to ever get further in their career than a tag or mid-card title, five years from now, Mahal and McIntyre could be involved in the main event scene.
After some impressive double-team and high-flying offense, Kidd and Gabriel stand high in the ring as 3MB tries to regroup outside. We head to a commercial break. The action is back in the ring when we return from break, and the faces are still in control.
Once again, Cole makes a reference to Mahal playing the "air sitar" as opposed to "air guitar." He says that this is a claim Mahal regularly makes, although I've never heard him say it. I mentioned this last week, but I don't think Cole can say something like that unless Mahal has, indeed, said it first himself.
McIntyre is in the ring near the end as Gabriel gets the hot tag. His momentum is stopped after McIntyre avoids Gabriel's top rope moonsault. McIntyre gets a near-fall after a brutal boot to the face. McIntyre removes Kidd from the apron with a cheap shot and tags in Mahal. The isolation of Gabriel is under way.
Gabriel gets a reversal on Mahal that requires McIntyre to break up another near-fall, but Gabriel and Kidd are turning things around. They hit a top-rope double-team move that reminds me of both the Hart Foundation's and the Legion of Doom's finishers, and they pick up the win.
Prediction: Cesaro retains next week, but it will set up a feud between Cesaro and The Miz, which will last until the Royal Rumble.
Question: How long before Kidd and Gabriel are legitimate contenders for the WWE Tag Team Championship?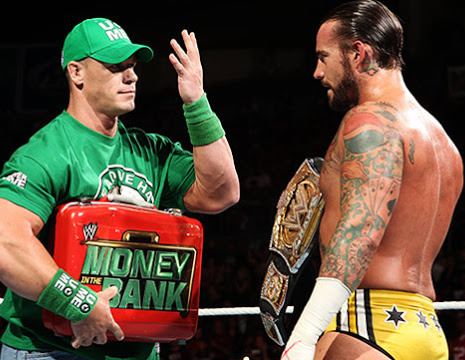 Image credit: WWE.com
This week's episode of Superstars was the second half of a two-part "Best Of The Year" special. Essentially, they are running down the biggest moments from Raw in 2012. Rather than going into any real detail, I'll just list everything you can see in this episode:
The Big Show's heel turn
The Big Show vs. Sheamus (Lumber Jack Frost Match)
"End of an Era Match" vignette
Superstars' reactions to "End of an Era Match"
Anger management and eventual formation of Team Hell No
Team Hell No vs. Primetime Players
Highlights from Raw 1000
CM Punk vs. John Cena (cashing in Money in the Bank)
Vignette highlighting CM Punk's WWE Title reign
CM Punk, Paul Heyman and Ryback from Christmas Eve Raw
Question: Will Superstars go under any significant changes in the new year, or will we receive the same formulaic episodes week after week?
Prediction: In 2013, you'll see a lot of NXT regulars on Superstars and a lot of Superstars regulars on NXT.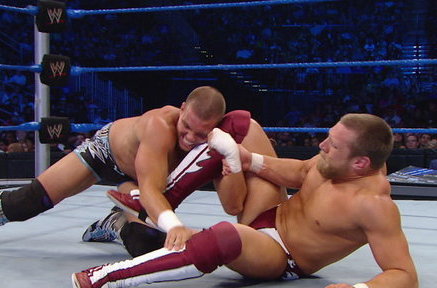 Image retrieved from Break.com
Saturday Morning Slam is another "Best Of" special this week, another show that split it into two episodes. Santino Marella and Josh Mathews are on commentary as the first match begins.
Daniel Bryan vs. Tyson Kidd (match length 3:34)
This match was booked perfectly for Saturday Morning Slam. Bryan got frustrated early on, but when he tried to leave the match, Kane came out and refused to let him leave. Back in the ring, Bryan put Kidd on his shoulders to spin him, but continued to do so for a ridiculous length of time, leaving both men dizzy at the end.
Later, Bryan rolled himself into a ball in which it was impossible for both shoulders to be on the mat at the same time. He eventually used this to lure Kidd in and wrap him up for a quick pin. Post-match, Kane and Bryan fought over their title belts.
Honorable Mention: Tyson Kidd had some impressive showings this week. If he had won all of his matches, he may have been declared this week's biggest winner.
After a commercial break, Bryan was featured in a segment in which he answered yes/no questions.
This segued into a John Cena vignette highlighting his personal emphasis on hustle, loyalty and respect.
This was a set-up for the final match of the show, a replay of the leader of the Cenation vs. the leader of 3MB.
John Cena vs. Heath Slater (televised match length 6:11)
Since I just recently wrote about this match, you can read about it here if you like.
Prediction: One of the first matches taped for Saturday Morning Slam in 2013 will be Big E. Langston squashing someone like Yoshi Tatsu.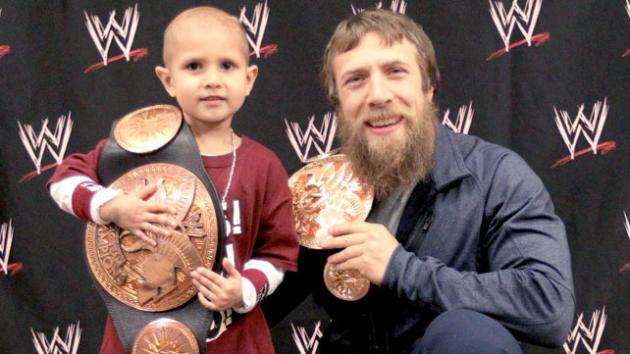 Image credit: WWE.com
After taking a look at all four of WWE's "other" shows from last week, which superstar came away the biggest winner? Who came away the biggest loser?
Biggest winner: Daniel Bryan

Daniel Bryan had direct contributions to two shows this week, coming out on the positive end of both of them.
On the annual review put out by Superstars, Bryan's segments from Anger Management came across as the funniest angle of the year. They also showed how dominating of a team Kane and Bryan are, right before showing a match in which they defeated the Primetime Players. On the mic and in the ring, Bryan was solid.
Then, on Saturday Morning Slam, he had an entertaining and solid victory over Tyson Kidd, showing that he's still a relevant singles competitor. It also showed how well Bryan can adapt his performance to a specific audience when needed.
You could even say he got a bit of a rub from Kane's victory over Cody Rhodes that we saw on NXT. They played up the Hell No/Rhodes Scholars feud, so Bryan was in the back of everyone's mind as his partner defeated a major rival.
After his run with Kane is over, I expect Bryan to be back in the WWE or World Heavyweight title picture in 2013.
Biggest loser: Heath Slater
Although 3MB seem to be receiving a legitimate push from WWE right now, Heath Slater didn't come across looking very impressive this week.
As far as NXT was concerned, Mahal was the only member of 3MB to get a mention. Slater may not have been a regular, but he made several appearances on NXT in 2012 and didn't get a single mention in their year-end review.
Then, on Main Event, Slater was excluded from the battle royal and from 3MB's match against Gabriel and Kidd. He remained in the corner of his stable-mates as they came up short in tag action.
Then, on another year-end review, Slater and 3MB failed to get any sort of recognition on this week's Superstars, despite the fact that 3MB all appear on the show regularly.
Finally, on Saturday Morning Slam, we watched a replay of Slater jobbing to John Cena. Not a great way to end your week.
Perhaps 2013 will be a banner year for Slater, but not if it was anything like his last week of 2012.
Do you think someone else had a better week on these shows than Daniel Bryan? Do you think someone took a bigger hit than Slater? Please, let's discuss!
You can follow Dustin on Twitter, check out his blog or listen to his podcast.