One Bold Prediction for Every NBA Team Heading into 2013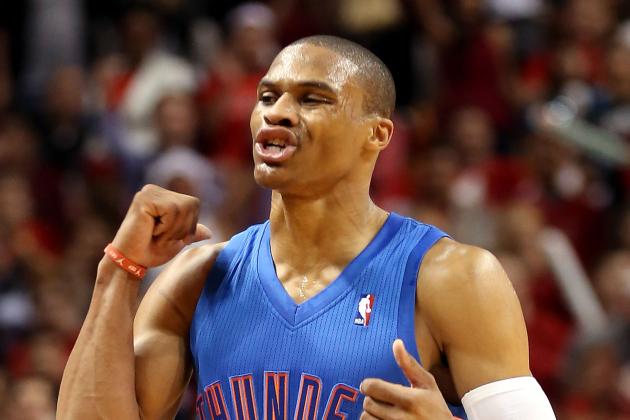 Marc Serota/Getty Images
Always criticized for his play, Westbrook will remain in the middle of heated discussion when he helps Durant and the Thunder win the 2012-13 Finals.
With a little over a third of the NBA regular season completed, there is still time for flip-flopping from offseason predictions and new rest-of-season foreshadowings.
From early-season surprises like the New York Knicks, Golden State Warriors and Memphis Grizzlies to disappointments like the Los Angeles Lakers and Brooklyn Nets, there are storylines to be found in every nook and cranny across the league.
Combine that with the early assortment of major injuries to players like Derrick Rose, Andrew Bynum, Andrew Bogut and Ricky Rubio, and there are many more narratives surfacing in the upcoming months.
Over the next 50-plus games or so, teams will either look to reload for the stretch run, try to keep their momentum going or straight-up tank (see 2011-12 Golden State Warriors).
These bold predictions aren't as bold when we take a deeper look at trends and likely projections that cast over the rest of the season.
There won't be many be-all end-all predictions for each team, as this focuses on the micro-level projections of players, rotations and statistics.
But for the sake of predictions, I do have the Oklahoma City Thunder over the Miami Heat in seven, with Russell Westbrook as the Finals MVP.
How's that for bold?
Begin Slideshow

»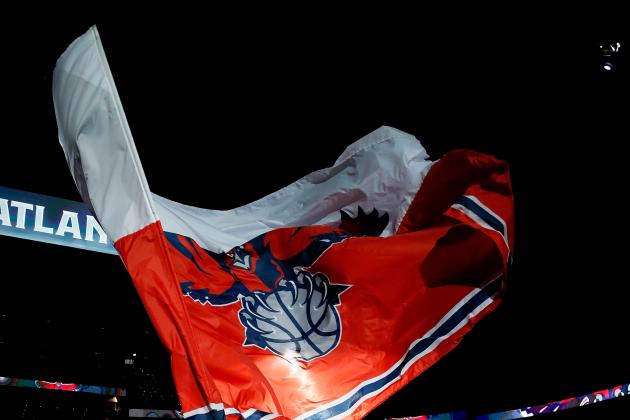 Kevin C. Cox/Getty Images

The Atlanta Hawks will unleash Jeff Teague by midseason and the shooting combination of Kyle Korver, Anthony Morrow and Lou Williams will upset the New York Knicks in the playoffs in seven.
The Hawks are currently 17-9 and third in the Eastern Conference. Jeff Teague has only played 31.4 minutes per game so far, but owns a 16.39 PER and is pretty much impossible to stay in front of.
With the expansion of rotations down the stretch, Morrow and Korver should form a formidable shooting combination that can get hot at any moment.
If Josh Smith isn't traded, he and Horford will provide steady play down low. While they won't beat the Miami Heats or Boston Celtics of the world, they can shoot with the New York Knicks in the playoffs.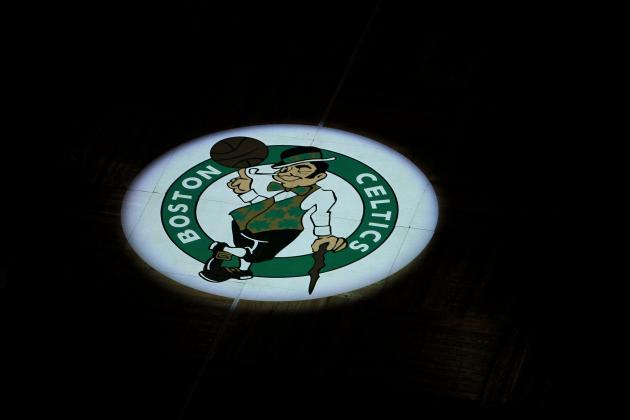 Jim Rogash/Getty Images

Avery Bradley won't be the offensive savior that the Boston Celtics are looking for.
The Celtics are 14-14 so far—having trouble scoring the ball (15th in the league in scoring) and suffering from a lack of depth at the wing spots.
With Bradley set to return in the near future, they'll still have trouble with those two glaring weaknesses and struggle throughout the regular season.
Bradley plays solid defense and can shoot a bit from distance, but he won't solve the glut of mediocre guards in Jason Terry, Courtney Lee and Leandro Barbosa. The Celtics' issues with Jeff Green underperforming will haunt them all season.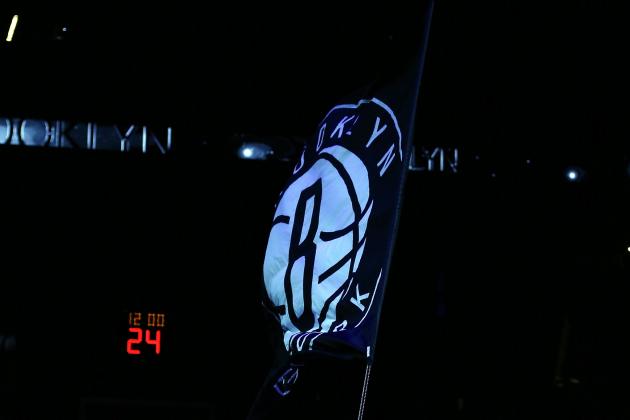 Elsa/Getty Images

Despite the Nets' season-long struggle to make the playoffs, Brook Lopez will establish himself as the best offensive center in the NBA.
Lopez is averaging 17.5 points on 50 percent shooting this season because of a wide variety of post moves and a soft touch.
He even exhibits a rip move that players like Kevin Durant and Kobe Bryant show on a regular basis. If he can stay healthy, he should have no trouble averaging 20-plus points a game while shooting over 50 percent. The percentages are made more impressive when watching the Nets' iso-centric offense.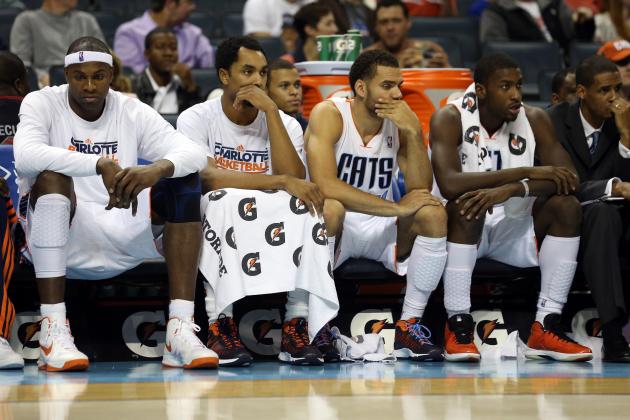 Streeter Lecka/Getty Images

By season's end, Michael-Kidd Gilchrist will be the only player left on the team worth keeping.
Kidd-Gilchrist has issues shooting the ball, but his explosive first step, defense and young age make him the only coveted player on the roster.
This actually isn't that hard to believe when you look at the roster and see players like B.J. Mullens, Ben Gordon, Kemba Walker and Bismack Biyombo.
Sure, there are solid players to be found, but nothing of note when trying to restart a franchise that hasn't ever tasted success.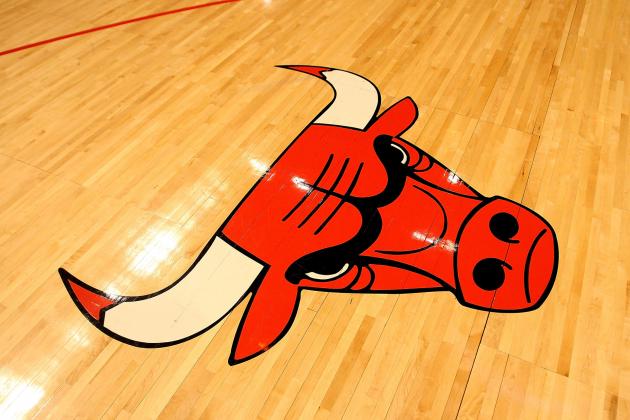 Jonathan Daniel/Getty Images

Derrick Rose will not come back this season and the Bulls will still make it to the second round of the playoffs.
The Bulls defense, led by coach Tom Thibodeau, is the most underrated aspect of the NBA. He simply doesn't get enough credit for having his team thick in the Eastern Conference race and allowing the fourth-least points in the league.
This is without Omer Asik, a defensive stopped down low, and with Luol Deng playing injured as always.
At this point, it may be better if Rose sits out rather than coming back too early.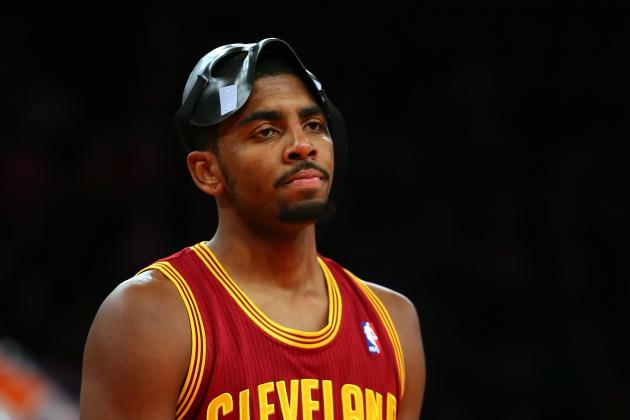 Elsa/Getty Images

Anderson Varejao will get traded.
The Cleveland Cavaliers are as hopeless as any team can get, even with Kyrie Irving/Uncle Drew.
With Varejao playing some of the best basketball of his career, the Cavs would fare well selling high with no set future in place.
After whiffing on Tristan Thompson and maybe Dion Waiters (keep in mind they could have had Jonas Valanciunas and Harrison Barnes, both owning more potential than who they currently own), they need to get as many assets as possible—in the form of picks—to improve the team.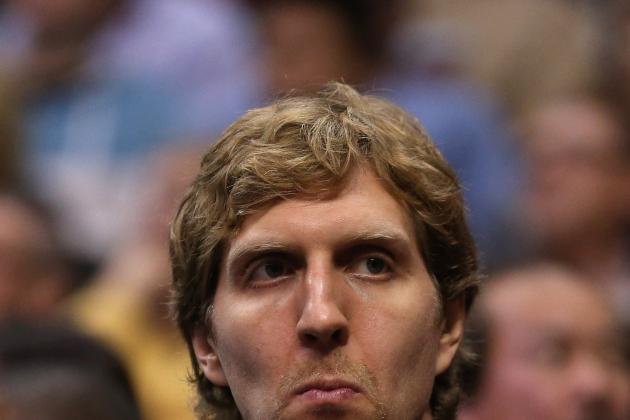 Stephen Dunn/Getty Images

Even with Dirk back, the Mavericks won't make it back to the playoffs.
As of this piece, the Mavs are only three games out of the playoffs, but the Mavericks have overachieved to an extent without the big man from Germany.
O.J. Mayo has already exceeded expectations, and coming back down to earth, plus a Chris Kaman/Elton Brand frontcourt, surely won't hold up for the season.
Dirk will need about 10-15 games to get himself back into game shape, and the Mavs could be out of the race by then with upstarts like the Warriors and Timberwolves starting to solidify themselves as contenders.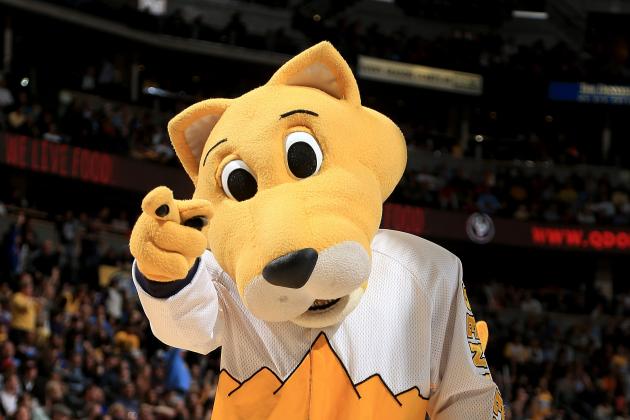 Doug Pensinger/Getty Images

Ty Lawson will rebound from his early-season struggles, but the team won't improve much from distance without a trade and will lose in the first round again.
Be it the contract extension Lawson signed in the offseason or just an extended shooting slump, Lawson should come out of his funk sooner than later and lead his team into the playoffs. His 41.5 field goal percentage and 31.8 three-point percentage do not mirror his career lines of 48.5 and 37.7 percent.
However, because of their inability to shoot from the field—33 percent from distance—the Nuggets will bow out in the first round again, even with improvements on defense with Andre Iguodala.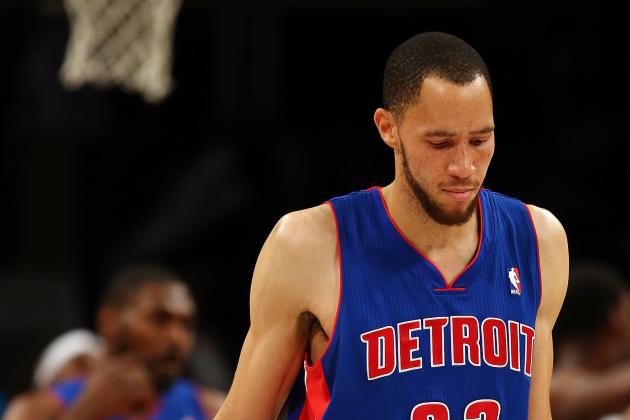 Elsa/Getty Images

By the end of the season, Andre Drummond and Greg Monroe will form one of the best offense-defense combos in the NBA.
So far this season, Drummond has played to the level of a 21.33 PER. However, that is due to the limited minutes he is playing simply because he is a rookie.
His 19.3 minutes per game are alarmingly low for a player who is playing so well on a team that is so alarmingly bad.
By the end of the season, coach Lawrence Frank will understand this and unleash what should be a monster frontcourt of the future.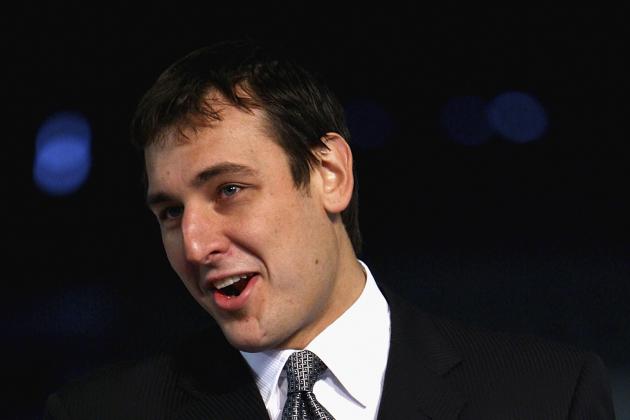 Robert Prezioso/Getty Images

Andrew Bogut will come back near the All-Star break and lead the Warriors to their first playoff berth since the "We Believe" campaign.
Nobody knows when Bogut will be back, but that's why this is a bold prediction, right?
When he does come back near the All-Star break, the Warriors will become even more dangerous with their arsenal of shooters and strong defense. They will capture the seventh seed and bring basketball back to the Bay.
The difference between the "We Believe" team and this year's? This one is here to stay for the future.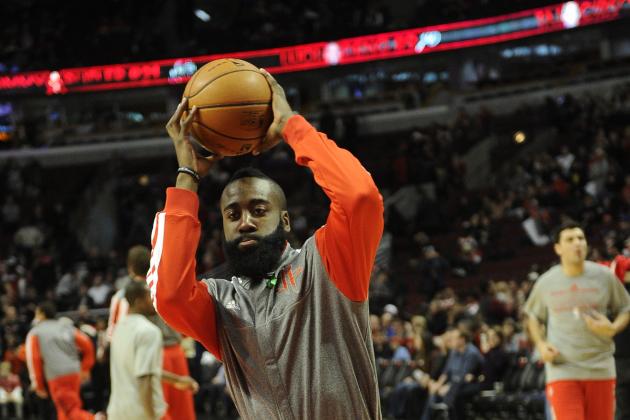 David Banks/Getty Images

Jeremy Lin will be benched a couple of games because of his inconsistencies with James Harden in the lineup.
Even though Lin is starting to play better lately, taking advantage of defenses keying on Harden to drive relentlessly to the hoop, it's hard to believe two dominant ball-handlers will succeed consistently throughout the season.
Lin would fare better off the bench, where he can run the second-team and dominate other teams' bench squads.
And as a bonus prediction, or just the hope of all basketball fans, Royce White will suit up for a game.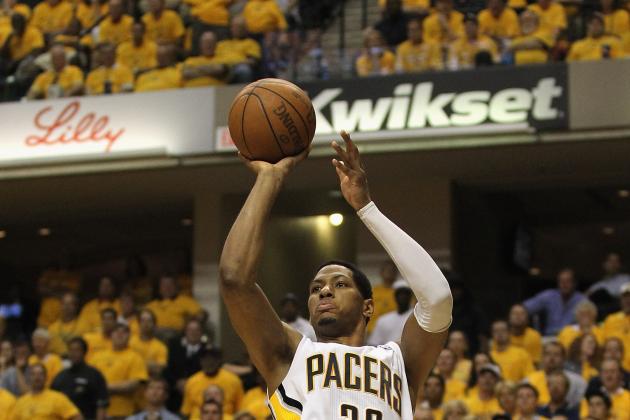 Jonathan Daniel/Getty Images

Danny Granger will be back but won't assume the volume shooting he had during last season's postseason run.
With Paul George emerging as a solid two-way player and David West carrying the team down the stretch of games, Granger's minutes and shots will be minimized.
If Roy Hibbert is able to fix his post moves and field goal percentage, Granger may never be the leader he was for the team, and could be on the trading block sooner than later.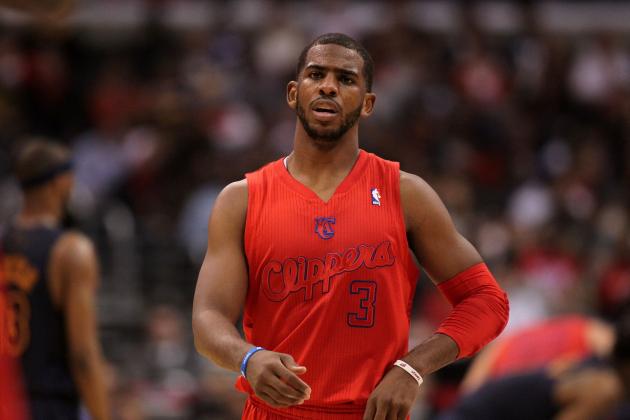 Victor Decolongon/Getty Images

Chris Paul will finish third behind LeBron James and Kevin Durant in MVP voting, but will deserve first place.
Even though the Los Angeles Clippers are arguably the best team in the NBA so far, Chris Paul has gotten little fanfare for being the league MVP.
Even though Jamal Crawford, DeAndre Jordan, Blake Griffin and Eric Bledsoe have made huge strides this year, without Paul this would be a middling team in a loaded Western Conference.
Leadership can be overrated, but Paul's combination of on-court captaincy and ability to run a team shouldn't be overlooked.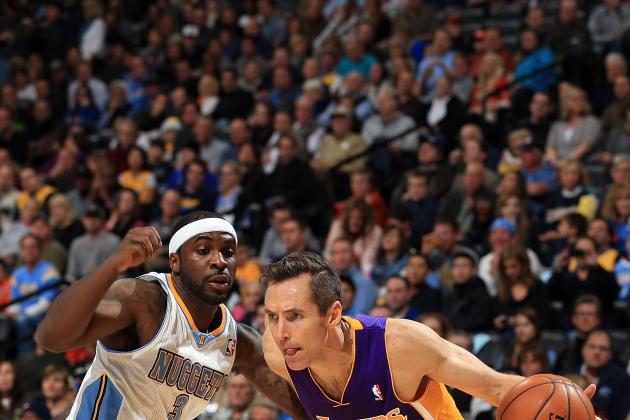 Doug Pensinger/Getty Images

Lakers end up in the Western Conference Finals but fall to the Oklahoma City Thunder.
Even though the Lakers have struggled so far this season, they are starting to turn it around a little bit, even with the constant struggles on defense.
With Dwight Howard unable to play up to his standards because of lingering injuries, Pau Gasol also fighting injury and Steve Nash just coming back, the Lakers don't look like title favorites.
However, I am banking on them simply outscoring opponents in typical Mike D'Antoni style for the rest of the season to get into the playoffs. Since Nash has been back, they have scored about 114 points per game. Nash has been able to find open bigs and make life easier for players like Metta World Peace and Jodie Meeks.
Once they get into the playoffs, they present matchup problems for the Memphis Grizzlies and San Antonio Spurs.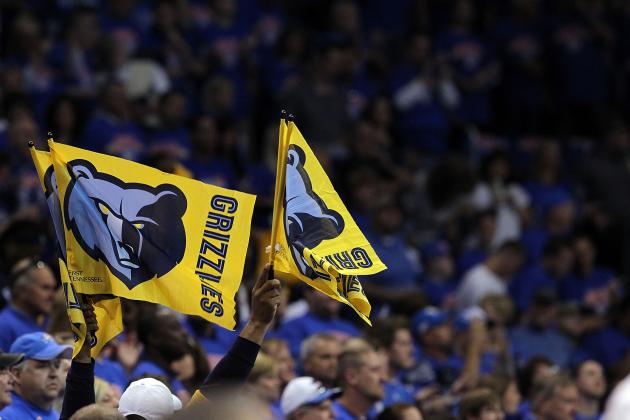 Ronald Martinez/Getty Images

Memphis will finish fourth in a loaded Western Conference and draw the unfortunate task of facing the Lakers in the first round, leading to a quick exit.
This is more about Rudy Gay than anyone else. The Grizzlies play great rugged defense, but the consistently mediocre shooting from Gay will end Memphis' hopes of making it to the NBA Finals.
He simply isn't a good fit with Marc Gasol's great passing abilities and Zach Randolph's strong low-post scoring.
Gay is shooting over three three-pointers a game, but only making 32.5 percent of them. Meanwhile, Gasol is making 49.5 percent of his shots, but only shooting 10 a game.
Memphis would do well to try and get more consistent perimeter scoring.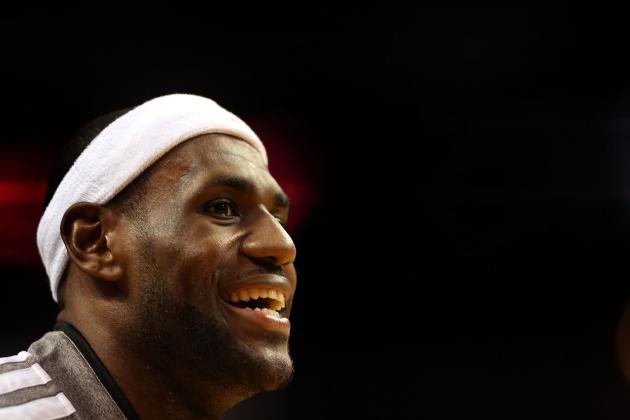 Marc Serota/Getty Images

Chris Bosh slowly usurps Dwyane Wade and becomes the Heat's second-best offensive option.
Dwyane Wade has been fading as an elite offensive player, and Bosh is shooting 54.6 percent from the field. Granted, Wade is still a very good option, but the Heat, namely LeBron James, may look to get Bosh more touches in the post down the stretch and the playoffs.
It isn't as if Wade has been healthy for the past couple seasons either, so seeing Bosh establish himself as the Heat's second-best player may not seem so farfetched by season's end.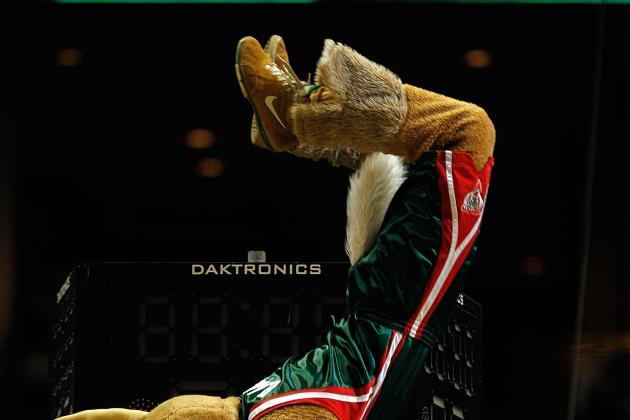 Jonathan Daniel/Getty Images

The Milwaukee Bucks will make the playoffs, but will lose Monta Ellis and Brandon Jennings to free agency by next season.
With Ellis looking to cash in on free agency and Brandon Jennings feeling slighted about his lack of a contract extension before the season, it's hard to see them back next year.
This is a lottery team next year, but hey, at least they have a struggling Ersan Ilyasova signed up for the next five years!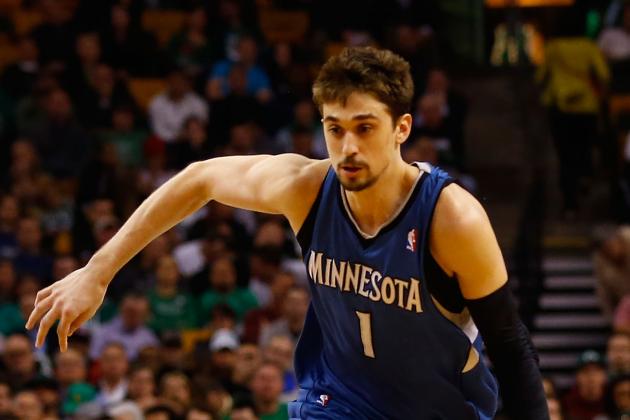 Jared Wickerham/Getty Images

Alexey Shved and Ricky Rubio will form the best passing backcourt in the NBA and the most League Pass-worthy team to watch.
A starting lineup of Ricky Rubio, Alexey Shved, Kevin Love, Nikola Pekovic and Andrei Kirilenko would not only be one of the most unique groups in today's NBA, but would represent the best passing starting five in the league.
Shved has surprised with his ability to create off the dribble, and despite some shooting struggles, will find many more open shots with Rubio on the floor.
Combine that with Love's impending hot streak, and fans should watch the Wolves every night.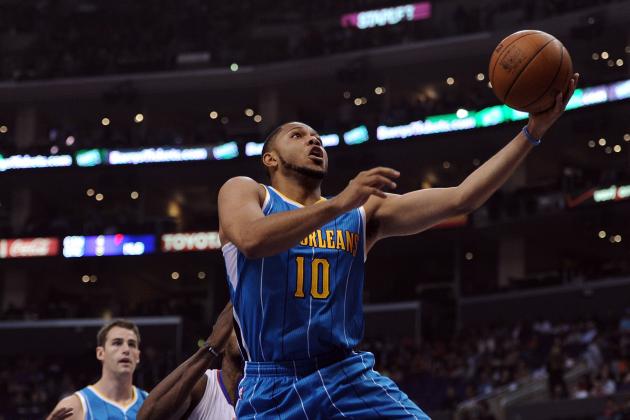 Harry How/Getty Images

Eric Gordon will come back and show why the Hornets gave him the max contract. They will then find out that Rivers duplicates many of his strengths—to a lesser extent—and realize just how bad that pick is.
With Gordon coming back soon, the Hornets will finally see their young team at full strength. Gordon should play well right away, exhibiting the excellent shooting he showed in the limited games he has played in his career.
Instead of trading back or drafting a wing player (a need for the Hornets) like Jeremy Lamb, they elected to draft a tweener guard in Austin Rivers and have watched him struggle all season.
The most important thing here is that Gordon comes back full strength and forms a strong inside-outside combo with Anthony Davis.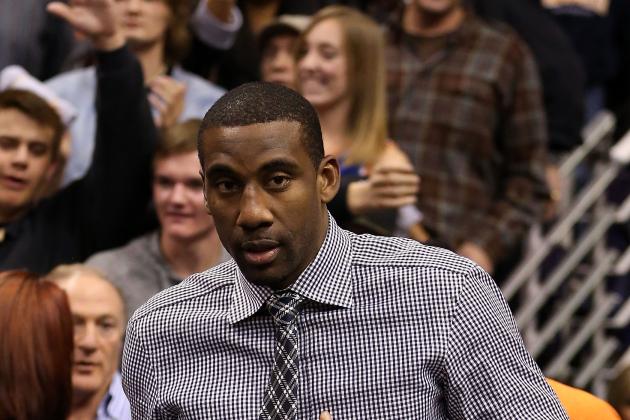 Christian Petersen/Getty Images

The New York Knicks will get a boost from having Amare off the bench, but the injuries to the older players will offset what potential they had for the season. They'll lose to the Atlanta Hawks in the semis.
The Knicks have benefited from resurgent seasons from Jason Kidd and Rasheed Wallace, to an extent, and several huge shots from J.R. Smith.
It's hard to believe they will keep shooting nearly 40 percent three-point percentage and staying healthy all year with their abundance of old players.
It will be tough for them to replicate this success throughout the season, and they will fall to the Atlanta Hawks in the semis when everyone expects them to go seven games against the Miami Heat in the Eastern Conference Finals.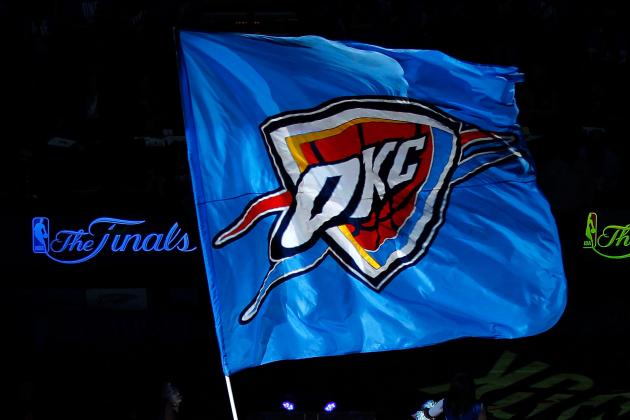 Mike Ehrmann/Getty Images

Nick Collison will be in the starting five by the end of the regular season when Scott Brooks realizes just how poorly Kendrick Perkins has played.
According to 82games, Collison has been a plus-8.4, while Perkins is a minus-5.4 this season. Granted, it has been a small sample size, but Collison's rotations on defense are better than Perkins' (which is the only reason why Perkins is on the floor), and Collison can even make the rare jumper and finish the ball.
To look at a larger sample size, Collison was a minus-2.1 all last season, which isn't good, but Perkins was a whopping minus-6.9.
Scott Brooks should figure it out soon. Right?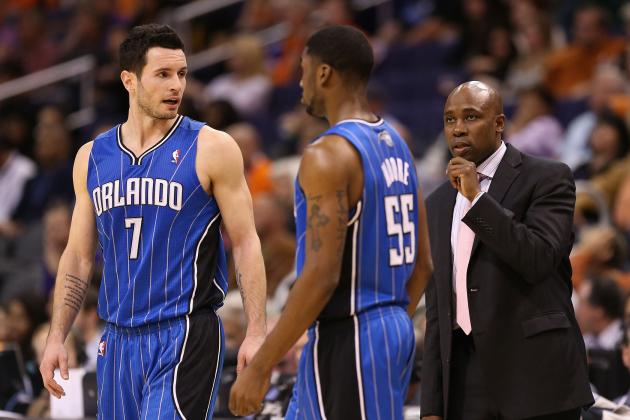 Christian Petersen/Getty Images

Jacque Vaughn joins Dwayne Casey (Toronto) and Monty Williams (Hornets) as a very solid coach of a terrible team.
Without Dwight Howard and Ryan Anderson, the Magic have somehow scraped together 12 wins in 28 games in the middle of the playoff hunt in a weak Eastern Conference.
J.J. Redick has provided solid playmaking, great shooting and underrated defense.
Vaughn has been able to get the most out of players like Glen Davis (still shooting too much, but effective), Arron Afflalo and Jameer Nelson.
Even the young players like Gustavo Ayon, Moe Harkless and Nikola Vucevic have made impacts in several games this season.
It is a testament to Vaughn's schemes and coaching that the Magic are even in games, not to mention winning them.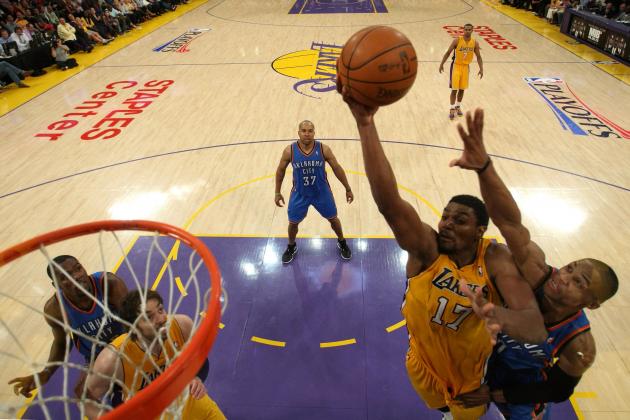 Stephen Dunn/Getty Images

Andrew Bynum comes back, but is relatively ineffective and sits out the rest of the season with lingering knee issues.
Bynum's BowlingGate has done nothing to help him stay healthy in his tumultuous first season with the Sixers. From his injuries to his hair, Bynum has only made headlines this season off the court.
Seeing that he has had injuries in previous seasons (2011-12 notwithstanding), there is no reason to believe a seven-footer will stay healthy when he comes back.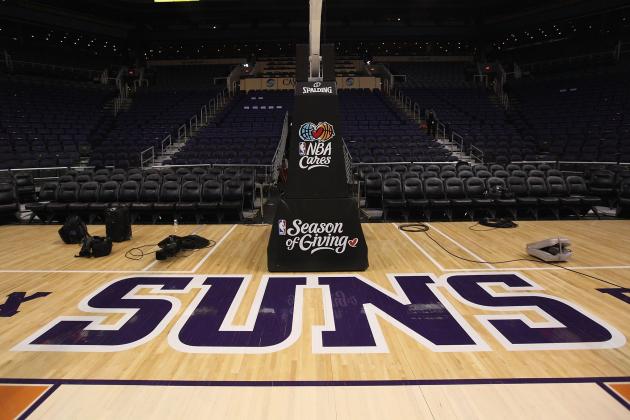 Christian Petersen/Getty Images

A solid tank candidate, the Phoenix Suns will finally realize just how pointless their signings of Michael Beasley and Wes Johnson were and proceed to lose games. A lot of them.
There is no redeeming quality on this middling team in the Western Conference. No one really understood what they were doing signing Luis Scola in the offseason, along with other busts, but it's time to get on the Tank bandwagon.
Look how the Warriors are doing this year.
While Harrison Barnes hasn't been the key to their success, they have proved that finishing in the middle of the draft doesn't help one bit.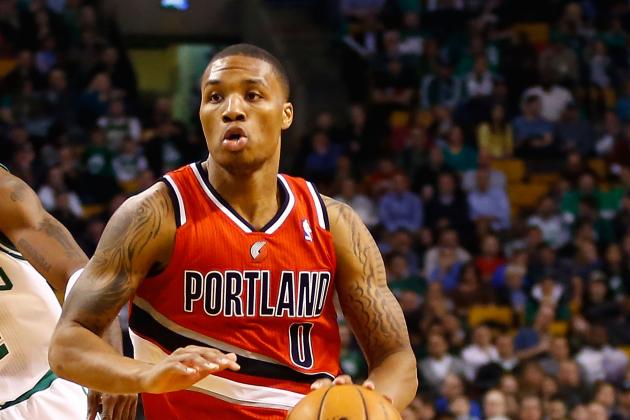 Jared Wickerham/Getty Images

Damian Lillard wins the Rookie of the Year unanimously.
There is still over half a season left, but Lillard has done everything the Trail Blazers have wanted the rookie point guard to do. Or any point guard, for that matter.
His passing, awareness on the court and clutch shooting have elevated him into the middle tier of guards in the league.
Wouldn't you rather have Lillard than John Wall, Jrue Holiday, DeMar Derozan and even Stephen Curry to start a franchise right now?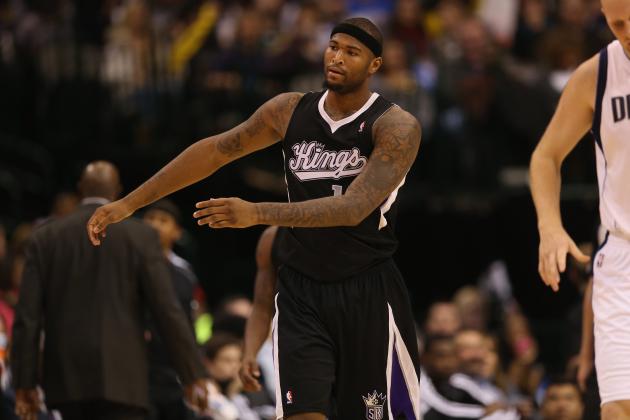 Ronald Martinez/Getty Images

Keith Smart is fired midseason and the Kings trade Tyreke Evans, along with other players, in a fire sale. Jimmer Fredette leads them to several Tim Tebow-esque victories down the stretch.
Pure speculation, but with Fredette's recent scoring binge—he's scored more than 10 points in four of his last six games without playing in more than 23 minutes in either of them—there will be more playing time later on in the season when the Kings clear house.
Besides that, the Kings don't have much hope.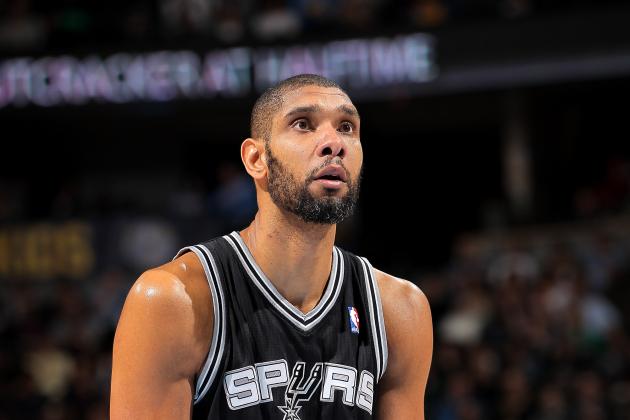 Doug Pensinger/Getty Images

San Antonio Spurs finish with the best record in the Western Conference again, but fall to Oklahoma City in the semis because of their lack of interior defense.
Tim Duncan's resurgent season (25.03 PER, nearly 80 percent free-throw shooting percentage) has the Spurs thinking NBA Finals yet again, but without much help down low next to him, the Spurs will struggle to stop the Thunder.
Unless we see monumental defensive leaps from Danny Green, Kawhi Leonard and an aging Manu Ginobili, the Spurs will continue to fall short.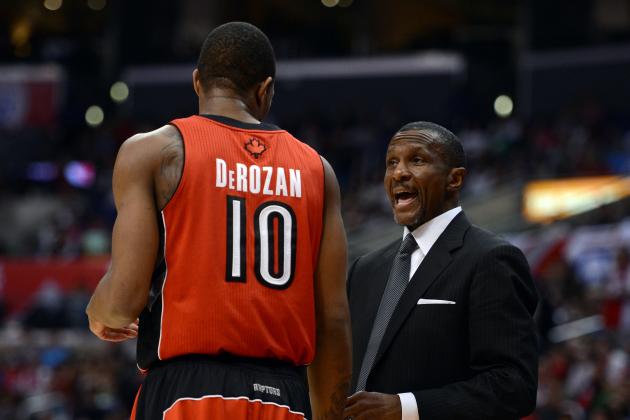 Harry How/Getty Images

Kyle Lowry will finally become the franchise point guard the Raptors signed him to become.
Jose Calderon is a very good point guard, but he doesn't present the same set of skills that Lowry does. Lowry can shoot, defend (when he wants), and even block the ball.
Assuming he has finally shaken off his early-season injuries, he will continue his success from the early stretch of the regular season and form a solid core with DeRozan, Jonas Valanciunas and Ed Davis.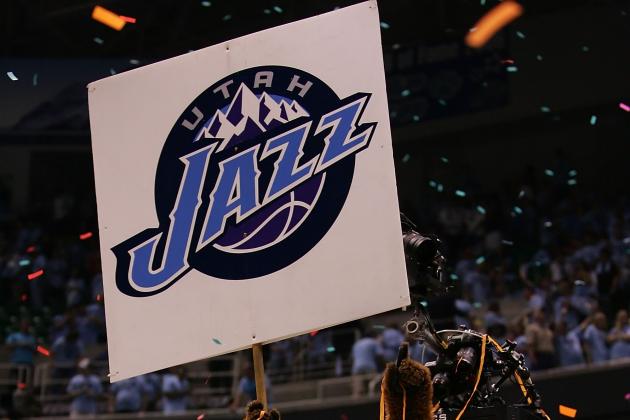 Lisa Blumenfeld/Getty Images

The Utah Jazz should trade Al Jefferson to a contending team for future pieces and play Derrick Favors, but it doesn't seem likely it will happen.
The Jazz will underuse their talented set of forwards and miss the playoffs.
If Mo Williams, Jamaal Tinsley, Earl Watson and Randy Foye are your guard rotation, you have serious issues. The Jazz don't seem to be in any rush to trade their glut of forwards and give Alec Burks and Gordon Hayward (mysteriously on the bench) more playing time.
With so many talented players underused, look for the Jazz to miss the playoffs and fail to capitalize on assets.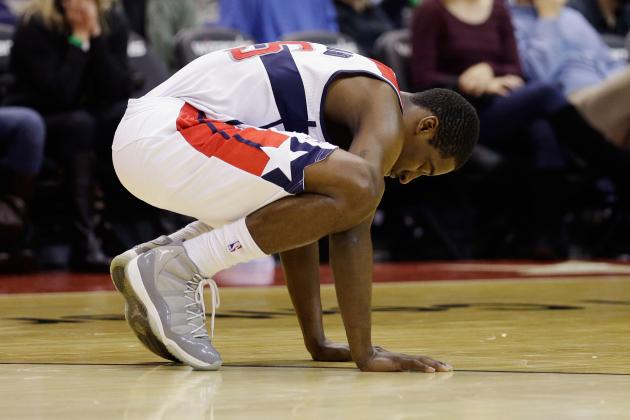 Rob Carr/Getty Images

John Wall will come back in a month and provide a glimpse of the future with Bradley Beal, but the Wizards finish with the worst record in the NBA.
The former portion of that sentence will be as good as it gets for the Wizards for a long, long time.
Wall's ability to slash will present easier scoring opportunities for Beal, but there isn't much to like on the Wizards roster going forward.
With the 2013 NBA draft looking more and more uncertain, the Wizards would do well by emptying as many contracts as they can (ahem, Nene, Emeka Okafor and Trevor Ariza).