The Oklahoma City Thunder franchise has become known for developing young players into stars. Who the team's next rising young star will be is tough to determine, though.
Kevin Durant and Russell Westbrook have become superstars under the tutelage of the Thunder organization. However, they were high draft picks who were expected to be very good players.
The more impressive development job has been Serge Ibaka, a relative unknown who has become one of the best young big men in the NBA in the last five years.
Trying to figure out who the Thunder's next amazing young star will be is no easy task. There are a number of candidates, and each has his reasons for being optimistic and pessimistic about his chances. The three main contenders have all been drafted since 2011, and they all are still very raw in their abilities.
Reggie Jackson
The first of these players is Reggie Jackson, the young combo guard drafted by the Thunder out of Boston College in 2011.
Jackson is a lengthy player who largely relies on his own athleticism to make plays. While he would probably not be considered a "true" point guard by most, he does fall well into the system the Thunder run with Russell Westbrook.
Unlike the other players listed below, Jackson has a year of professional experience under his belt. That serves as an unfair advantage for him in this conversation, as we know more of where he is headed developmentally.
Still, Jackson has been very impressive during his limited time. He has shot 45 percent from three-point range and 42 percent from the field during the 2012-13 season. That fact that he has averaged an assist-to-turnover ratio of 2-to-1 is also a reason for optimism.
Now that Eric Maynor is struggling to return to form after missing nearly all of the 2011-12 season due to injury, Jackson has begun to take his minutes. That shows he has earned the trust of one of the best coaching staffs in the NBA, and that is big in my book.
Jeremy Lamb
The best young piece the Thunder acquired for the future in the James Harden trade was Jeremy Lamb. The young guard out of Connecticut was considered by many to be a lottery-worthy talent in the 2012 draft.
Lamb has done some meaningful things at the NBA level despite getting very few minutes. He's averaged 2.2 points per game while shooting 50 percent from three-point range and putting up a player efficiency rating of 12.50.
However, Lamb has done the most damage at the developmental league level. In seven games for the Tulsa 66ers, he has averaged 23 points, 4.9 rebounds and 3.3 assists per game while shooting 46 percent from the field.
He has been the team's best player in every game he has played for them, which is exactly what you want to see from a player like him.
Lamb is still very raw when it comes to having an impact on an NBA-level game, but he has shown a few things at that level. Combining that with his NBDL dominance shows him to be a player to definitely watch for in the future.
Perry Jones III
The biggest enigma discussed here has to be Perry Jones III.
Lauded for years as a top-10 player in multiple drafts, Jones fell to the Thunder in the 2012 draft due to injury issues. The pick looked like a slam dunk for Oklahoma City, as Jones was considered to have tremendous value at their late pick.
However, Jones has done little since then to convince anyone that he will be as good as many expected him to be in the NBA.
A player efficiency rating that has dropped into the negatives and a 30 percent field-goal shooting percentage are bad enough. The fact that Jones has not been very impressive in the developmental league does not help, either.
In eight games with the 66ers, Jones has averaged 11.5 points and 5.3 rebounds per game. He has also shot just 40 percent from the field and 46 percent from the free-throw line.
While those numbers are not terrible for a rookie who is brand-new, they are lower than what we would like to be seeing from Jones at this point.
Verdict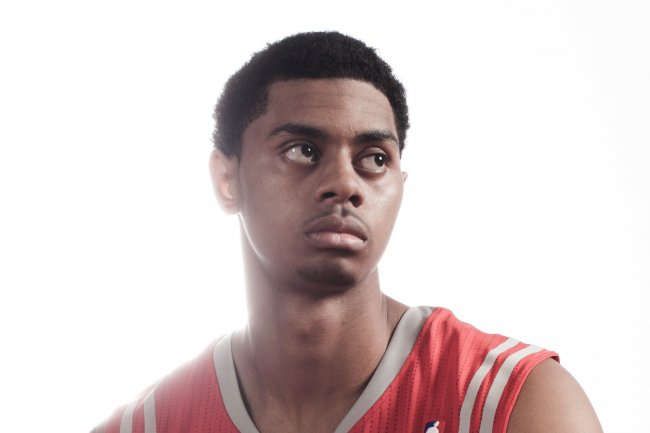 Nick Laham/Getty Images
I'm going to go out on a limb here and say that Jeremy Lamb will be the next big Thunder success story.
It seems that the Thunder are grooming the young shooting guard to take over the sixth man role in a year or two. That could come sooner if the team is unable to re-sign Kevin Martin in 2013.
Lamb has the most potential of the three. Jackson could challenge him for this role, but Lamb has more potential especially as a complementary player to Durant and Westbrook. Jones looks dangerously like a "tweener" to me who will end up being unable to player the 3 or 4 in the NBA.
In Lamb, the Thunder have an athletic 2 guard who can shoot and defend. That is a valuable commodity given that Martin could be gone soon and Thabo Sefolosha is one of the older players on the team.
Ultimately, Lamb has the most upside to develop and is the clearest fit need-wise for the team's future.