5 Most Underappreciated Elements of LeBron James' Game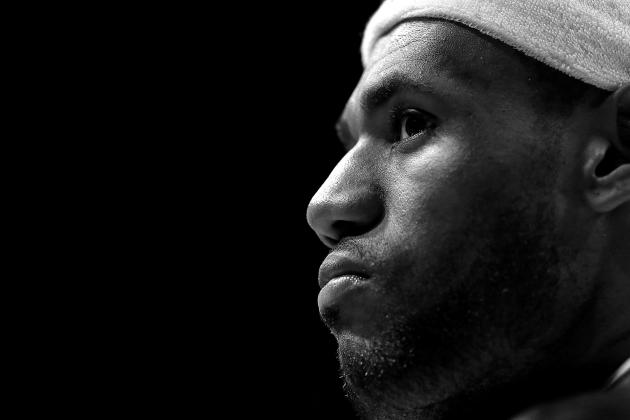 Mike Ehrmann/Getty Images

LeBron James is a once-in-a-generation player.
The three-time MVP is a unique talent who has transcended the game of basketball in many ways. While we've come to expect highlight-reel dunks and monster blocks from him, there are quite a few underappreciated elements of LeBron's game.
Despite the criticism James receives, there is no denying his skills are very entertaining.
Watching LeBron's incredible talents on display over the past decade is something that many of us have taken for granted.
James fills up the stat sheet on a nightly basis, but there are plenty of other ways he affects a game that don't show up in a box score.
Here are the five most underappreciated parts of LeBron James' game.
All Stats are correct as of 12/25/12. Follow Allen on Twitter: @TheNBAllen.
Begin Slideshow

»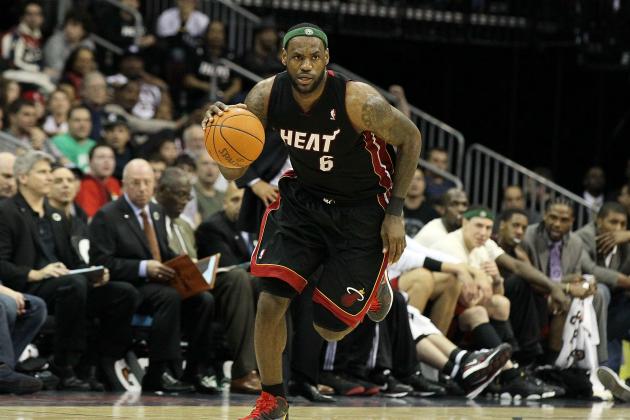 Jim McIsaac/Getty Images

LeBron James has a reputation for his thunderous dunks and unreal athleticism, but his handles are really underappreciated.
We tend to think of point guards like Chris Paul or Rajon Rondo when we think of stellar ball-handlers, but LeBron's ball-handling abilities are rarely noted.
That is because ball-handling is mostly associated with "sick handles" such as an Allen Iverson crossover, but what's impressive about LeBron's handles is his ability to take care of the rock, not break people's ankles.
James is both physical and sleek, allowing him to protect the ball in a very unique way.
He can come barreling down the lane at full speed, while still maintaining full control of the ball to finish at the basket for easy points. It's the fact that he can keep possession of the ball while driving the way he does that is most impressive.
In the Heat's win over Houston earlier this season, James recorded 38 points, 10 rebounds and six assists without turning the ball over.
That's only happened four times in the past decade, according to ESPN's Heat Index.
People don't think of James as an elite ball-handler, but the fact is that he controls the ball like an elite point guard.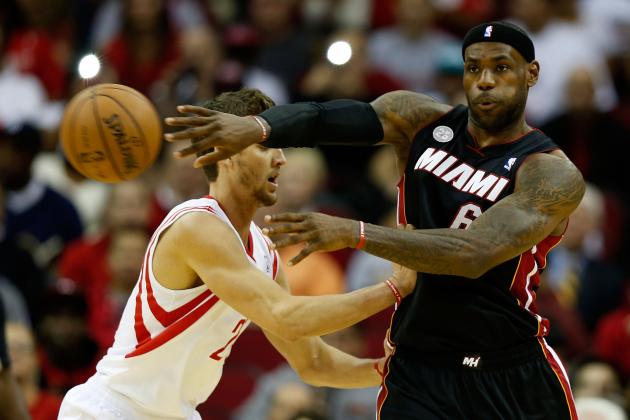 Scott Halleran/Getty Images

Despite having a career average of nearly seven assists per contest, LeBron James' passing skills are widely underappreciated.
Regardless of James positionless role on this unconventional Miami Heat roster, he plays point guard more often than any other position.
James has great court vision that enables him to find open teammates and help his team score without LeBron doing the actual scoring.
It's not James simple passing abilities that are overlooked, it's his strength to see and set up scoring plays with the "hockey assist."
Just like in hockey, basketball tracks (but doesn't record) a player who assists the player who assists the player who scores.
James averaged 1.8 hockey assists per game last year, tied with Derrick Rose for the league lead, according to games tracked by Stats LLC 3-D camera tracking.
The Heat rank fourth in the NBA at 23 assists per game this season, and a lot of that can be credited to James superior passing capabilities.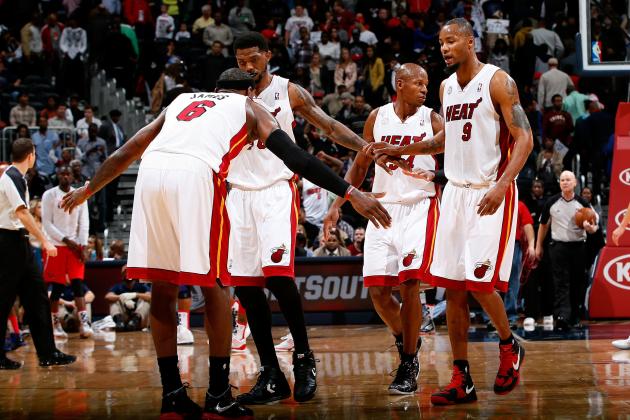 Kevin C. Cox/Getty Images

Probably the most underappreciated element of LeBron James' game is his unselfish nature.
Say what you want to say about LeBron off the court, but there is no denying his unselfishness and team mentality on the court.
"This guy might be the most unselfish superstar we've ever had in the NBA," Charles Barkley said in a TNT broadcast this season.
James has expressed his desire to be more than just a scorer, recognizing that his job is to be a well-rounded player whose talents are maximized when he's rebounding, passing, playing defense, etc.
But, it's not the fact that James just piles up assists in a box score, it's the fact that he wants to always make the best basketball play, and if that means passing up a shot for an open teammate, then it's worth it.
You have to respect a player that is wholeheartedly about the betterment of the team.
James has been criticized for passing up the big shot in certain situations, but it's worked for the Heat this year.
Case in point is the smart pass he made to an open Ray Allen earlier this season in a game against the Denver Nuggets that gave the Heat a victory.
James truly doesn't care about individual success. As much as he has come off as pompous in certain off-the-court situations, that doesn't change his unselfish nature on the court.
Christian Petersen/Getty Images

LeBron James is truly a student of the game.
As much as we want to label him as this superior athlete who's known for his jaw-dropping athleticism, we can't overlook his basketball smarts.
James has become very fascinated with advanced statistics and even gets longer and more in-depth scouting reports to read than the rest of his teammates.
He truly cares about discovering every type of advantage he can about an opponent. LeBron knows his matchup's tendencies on a much deeper level than we can see.
The amount of preparation that James does before a game, a season, a matchup is what makes him so elite and so lethal.
He doesn't purely rely on his athleticism and God-given abilities; he understands the game of basketball and searches for deeper meanings and statistics in order to get a leg up on his opponents.
James' dedication to his craft is a very underappreciated element of his game that cannot be overlooked when discussing his greatness.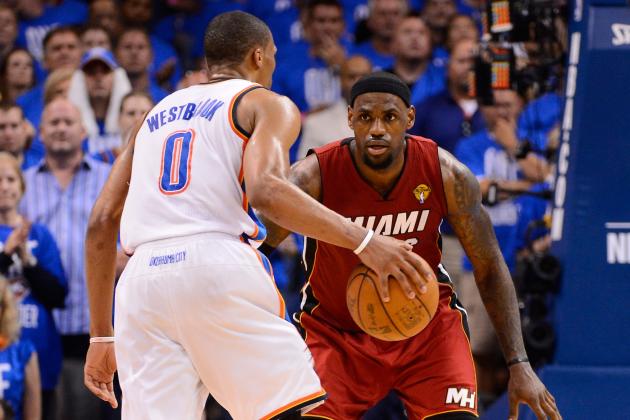 Ronald Martinez/Getty Images

How many players in the league can guard both Russell Westbrook and Kevin Garnett, both Derrick Rose and Pau Gasol?
The answer is a very short list that is headed by LeBron James.
While LeBron's ability to defend 1 through 5 is well-documented, it certainly is underappreciated.
Despite James unique combination of size and strength, it is still extremely difficult to be able to guard the speed of a point guard and the power of a big man.
James' speed and quick feet allow him to guard someone as fast as Rose, while his strength and physicality allow him to defend someone as tall as Gasol.
As much credit as the Heat get for "revolutionizing the NBA" with their positionless style, one thing is clear: It wouldn't work without LeBron James.
Throughout last season's playoff run, James could be seen guarding a variety of players, from David West to Rajon Rondo to Kevin Durant.
All of that, while still averaging 30.3 points, 9.7 rebounds and 5.6 assists per game to lead Miami to a championship.
LeBron's versatility to be able to do that is so underappreciated because not only does it take a lot of energy, but it's relied on for the Heat to succeed.
Hate LeBron James all you want for what you think he represents, but don't forget to appreciate all the undervalued aspects of his game.